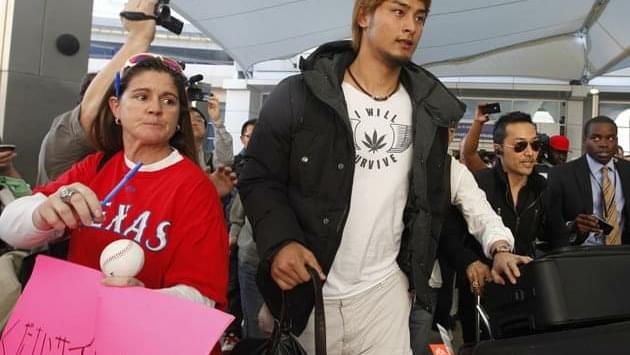 Texas Rangers New Star a Pot Smoker?
The Texas Ranger's new $111 million commitment got off the plane Friday in Dallas-Fort Worth sporting a pot leaf look-alike on his t-shirt. When asked about it he responded by saying he liked wearing shirts with "American writing on them."
It didn't take long for Yu Darvish to experience his first lost in translation moment.
Fresh off a long flight from Japan, the newest Texas Rangers pitcher raised more than a few eyebrows in Dallas-Forth Worth on Friday by wearing a t-shirt with a symbol more closely associated with High Times magazine than Major League Baseball.
That's not exactly the type of thing that the Rangers want to see from a guy they just committed $111 million to, so what gives with the hazy decision? Was the newly-divorced Darvish announcing his intentions to, uh, broaden his horizons? Attempting to make new friends with Tim Lincecum? Playing a pretty good joke on the straight-laced Nolan Ryan?
None of the above, said the 25-year-old righthander, who was quickly asked about the t-shirt at his introductory press conference at Rangers Ballpark. According to several reporters on the scene, Darvish just said he likes to wear shirts with English writing and that he had no idea it signaled an interest in something more.
There was another explanation for the t-shirt, though, and it comes with the explanation that the shirt doesn't show a pot leaf at all.
Darvish received a different type of shirt later in the day. (AP)
According to Konnichiwhoa, reports out of Japan said the shirt depicts a Japanese maple leaf. And the story checks out if you look at this side-by-side illustration of a Japanese maple leaf and a cannabis leaf.
But even if it were a cannabis symbol, it apparently would not carry any extra connotation in Darvish's homeland —which is probably why he said he was in the dark on all the giggles he was hearing.
From Konnichiwhoa:
"In Japan, the marijuana leaf is a popular symbol without any real smoking context. Plenty of native Japanese have leafy t-shirts, or necklaces, or air fresheners in their cars, and don't really know that they're symbolizing a drug.
Marijuana is highly illegal in Japan. It's considered a hard drug, and that's why we recommend in our Japan travel guide that you leave it at home."
So the good news, I guess, is that the Rangers won't see their investment go up in an immediate puff of smoke. And despite the confusion, vendors outside Rangers Ballpark will have one more hot item to go with all those claws and antlers t-shirts they've been selling the past two years.
I'd buy one.