Sarah Silverman shows off her Vape Pen at the Emmys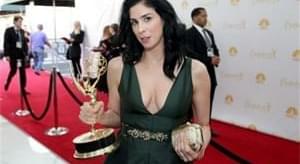 Published on Aug 26, 2014
Sarah Silverman was well entertained at Monday night's Emmys, as she happily showcased her vape pen on the red carpet.
"This is, uh, my pot," said Silverman, as the camera zoomed in on her pen. "It's liquid, uh, pot."

"OK," said Rancic, laughing nervously. "Moving on."

Silverman's not the only comedian into her vape pen. Whoopi Goldberg earlier this year dedicated her first column in The Cannabist to her pen-sized vaporizer, saying "it has changed my life."