The Top 10 Vaporizers of 2020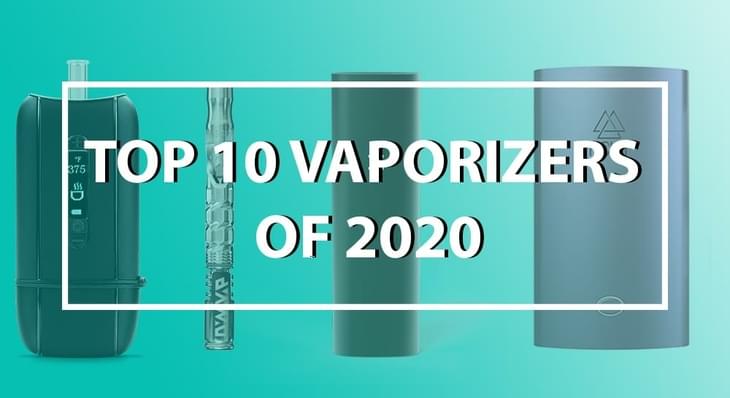 Published on Apr 22, 2020
What features make a vape pen or vaporizer appealing? For many consumers, the answer is a discreet and compact pen vaporizer that won't attract undue attention. In today's busy world, many cannabis connoisseurs are constantly looking for ways to enjoy cannabis without notifying those around them. Luckily, new vaporizer pens are hitting the market at an unprecedented rate and are allowing people to keep their vaping low-key without breaking up the flow of their day. From buttonless and slim vape pens that are incredibly economical, to powerful dab vaporizers and shatter vape pens that can handle the most seasoned consumers, options abound. We're here with a top 10 list of vaporizers that are discreet, compact and most importantly, enjoyable to use.
#10: AirVape XS GO

The AirVape XS GO is the only vaporizer on our list that is a dry herb vaporizer. Dry herb vaporizer pens tend to be less discreet than those using concentrate or shatter as one has to reload them with herb, but this one is worthy of mention for its compact and subtle design, as well as it's price tag. For only $69.00, those of us who are flower purists can enjoy our favorite cannabis strain on the go (make sure you pack it somewhere private!) and unobtrusively. With five heat settings, an included packing tool and one easy control, this pen is perfect for flower purists.
#9: Puffco Plus+

The PuffCo Plus+ dab vaporizer made it onto our list for its thoughtful design and great functionality. This is the perfect vape for any concentrate connoisseur with three different settings within an innovative heating system. Even better? PuffCo Plus+ provides an even heating surface which helps prevent scorching oil to give you more flavor than a standard coil heating system.
#8 DaVinci Ascent

The Davinci Ascent is a high end option for those searching for low key vapes with a high level of refinement. Using a glass mouthpiece and a glass coated ceramic heater, this discreet vape pen guarantees full flavor time and time again. This mini vape pen also has a high level of temperature control, giving you the most enjoyment out of your oil.
#7 Mighty by Storz & Bickel

Mighty: a fitting name for one of the heaviest hitting vaporizers on this list. The Mighty by Storz & Bickel is an uncompromising vaporizer for those that demand quality for everyday usage. Without a single piece of glass in its construction, the Mighty is made to take a beating, while still delivering consistent hits. This durable tank of a vaporizer will surely be the last one you'll ever need if you can afford the hefty price of $280.
#6 KandyPens Special K

The KandyPens Special K is our top vape pen for it's incredibly compact design, elegant styling and consistently smooth functionality. This pen looks like a high-end fountain pen, but is in fact a 510 threaded dab pen that comes with a refillable cartridge. Many pens function well, but few are able to do so in such a discreet package or at such an economical cost only $79.95, backed by a lifetime warranty.
#5 Vessel Vape Pen

The battery on this Vessel Vape pen is incredibly long lasting and the 510 threads are compatible with most oil cartridges. Needless to say, this is a great pen for long distance travel where you may want more than one type of oil to consume. One satisfied customer even dropped their pen in the water, only to find no leaks or malfunctions afterwards. Thanks to Vessel, vaporizer pens can look amazing and function even better.
#4: Dynavap Vapcap M

Simple, sleek and rugged the new Dynavap Vapcap M is the latest rendition of a cult classic. Without the need for a battery, and as long as you have a lighter, you can vape ground herb and extract until your heart's content. Milled out of medical grade stainless steel, the Vapcap M is designed to endure any adventure (and looks pretty cool too).
#3: PAX 3

The PAX 3 is a compact and low-key vape pen that can burn oil or flower without attracting too much attention, making it a great vaporizer for discreet or home use. This long lasting pen maintains a great flavor with minimal scent, also making it great for use outdoors. Simple to use and backed by a 10 year warranty, this is a solid investment for people looking for one vaporizer for all occasions.
#2: PCKT 1 Plus

The PCKT 1 Plus is a top vape pen on the market because of its overall quality. This slim vape pen uses a unique magnetic system allowing almost any 510 concentrate cartridge to work. This alone is a standout feature, but the PCKT 1 plus also delivers quality flavor and a smooth hit, making it an incredibly versatile and user-friendly. This tiny pen packs a punch with three power modes and a built in feature ensures that oils never overheat or burn.
#1: Airo Pro

The Airo Pro is one of the favorites with the team at Where's Weed. With its small, rigid, metal design, it's hard to doubt the quality of this vape pen. Every puff from this device will let you know that it is doing its job with a satisfying vibration. Quirky, sleek and fun, this pen sure can pack a punch. Extract cartridges can be bought at your local dispensary and we know that you won't be disappointed.