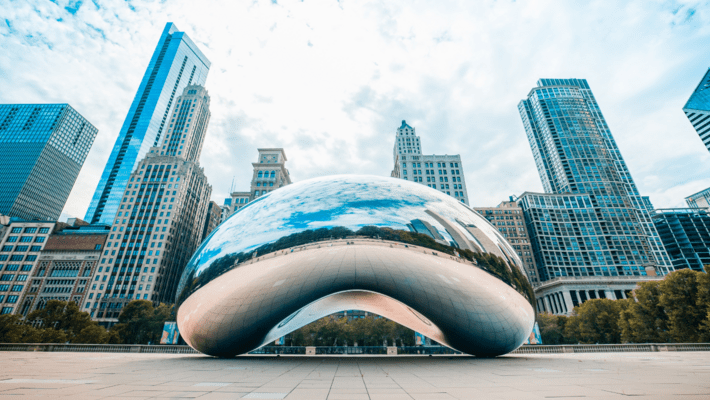 Top 5 Things to Do in Chicago While High
They call it the Windy City because of its weather and its politicians, but when it comes to good mary jane, Chicago is catching up to the rest of the county when it comes to moving air. Both Chicago and the broader state of Illinois have become major hubs for recreational cannabis now that it is legalized. As the third-largest city in the nation, Chicago is significant in just about every industry, including the weed industry. Here are some of the best things to do in the city when blazed.
Chicago and Weed
It is currently legal in Chicago and broader Illinois to purchase recreational cannabis as long as you are 21 years old and have a valid driver's license. Those who are 18 with a valid medical card can purchase medicinal marijuana. Illinois became the 11th state to legalize recreational cannabis in 2020. Although that may not seem like a long time ago, it's plenty of time for businesses to begin to carve out their stake in a city of nearly three million people. However, like any other city with legalized cannabis, you should remember that it is illegal to smoke and drive. Chicago police are often noted as being particularly aggressive in giving out DUIs to out-of-state licenses on cars since it provides them with department revenue.
Things To Do in Chicago While High
Field Museum

Those who like to get high and appreciate fine specimens of the natural world will love the Field Museum, one of the best Chicago activities to be found. The massive titanosaur skeleton, a dinosaur that was one of the largest living creatures in the history of our planet, greets visitors to the paleontology hall. The Fields Museum also boasts Sue, perhaps the most famous dinosaur skeleton around, a female T-Rex with nearly perfectly intact bones, the subject of an ownership squabble for decades. In addition to dinosaurs, the Field Museum has historical and cultural artifacts from Chicago and the wider world and conservation dioramas of rare and endangered animals found on every continent. Located right off Lakeshore Drive, it's a great first stop on a downtown odyssey.
Recommended dispensary: Zen Leaf is a recreational cannabis dispensary found in Chicago's West Loop. They strive to improve the health of their patients by sharing the science behind medical cannabis and dedication to providing patients with top quality products, strains, edible alternatives, and educational materials.
Architecture Tour

The Chicago River flows through most of the downtown area and empties into Lake Michigan. The river itself is fascinating because its systems of canals allow ships to come in or out, connecting the lake to the Mississippi River, allowing trade networks to move back and forth. The river also gives tourists the opportunity to see the city's sights, sailing up and down on a ferry while guides talk about the history, architecture, and the most important parts of the town. You'll find these boats all along the lakeside wharf of downtown, with most of them operating daily in the summertime.
Recommended dispensary: Sunnyside, located in River North, is a new kind of recreational cannabis shop offering adults 21+ a friendly place to explore high-quality marijuana products to improve everyday wellness.
Shedd Aquarium

Perhaps the most popular aquarium that's not on either coast, the Shedd is a fantastic bevy of aquatic life. Visitors can gawk at everything from beautiful jellyfish floating on the current to the dolphins jumping in and out of the waves. The Shedd features a variety of conservation programs dedicated to improving and maintaining wildlife in the world's oceans, lakes, and rivers, meaning that each visitor can participate in these efforts to save natural places. It's also a perfect place to wander around after sparking a joint, taking in the beauty of marine worlds, and wondering what life would be like under the waves. Located on Lakeshore Drive, it's within walking distance from the Field Museum.
Recommended dispensary: Nature's Care is conveniently located in the West Loop, and they offer a full range of high quality cannabis products from all over the state of Illinois. Their care specialists offer one-on-one personalized service that sets the standard for easy, safe, secure and private cannabis sales, everyday.
Wrigley Field

Step into a modern baseball park and you're often bombarded with the glitz and glamor of modern technology, especially in terms of advertisements. A visit to Wrigley Field, however, may feel like a step back in time, to a simpler era before commercials, giant contracts, or performance-enhancing drugs. Baseball is at its simplest at this park, the oldest in all of MLB, where the until-recently loveable loser Cubs have played for longer than some countries have existed. A visit to the field isn't complete without a good bratwurst from the concession stands, which are routinely rated as some of the best in baseball.
Recommended dispensary: Dispensary 33 was the first medical cannabis dispensary to open its doors in Chicago back in December 2015. Located on Clark St. in Andersonville, Dispensary 33 has the most passionate, product-driven and patient-focused team in the city.
Navy Pier

If your idea of a great time with a good buzz is to be out in a crowd, taking in sights and activities alike, Navy Pier has everything you want in an attraction. Part carnival, part shopping arcade, part open-air food restaurant, the Pier is one of the best places to go when you want to get away from it all and have good old-fashioned fun. The Ferris Wheel, built for the World's Fair over a century ago, remains one of the iconic images of the Chicago skyline, while visitors can pull up by their choice of taxi: land or boat.
Recommended dispensary: At Verilife dispensaries in Illinois, you have access to a myriad of different forms of cannabis. You can find flowers, resins, edibles, sprays, tinctures, and all of the cannabis products you want while browsing their Chicago River North location.
Have you ever been to Chicago or lived in Chicago? What are some of your favorite places and things to do? Let us know in the comments below!