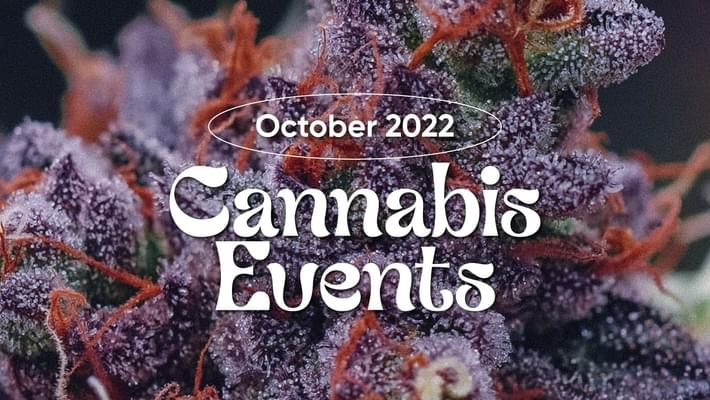 October 2022 Cannabis Events
The days have started getting shorter, and the air is crisp - there's no denying Fall is here. October means that spooky season is in full swing, and there's no shortage of spooky cannabis events this month! Read on to check out everything happening this month in cannabis.
As a licensed, industry-only show, Hall of Flowers is highly curated for B2B and is designed to facilitate commerce between premium licensed cannabis brands and retailers. The OG Hall of Flowers show is back where it began four years ago! The largest Hall of Flowers show is located on the Sonoma County Fairgrounds in the middle of California's wine country. The Fall show combines new products, technology, speakers, and education, to attract retail buyers from all over the state of California. Hall of Flowers is the first show of its kind to deliver an experience that elevates the industry to a new level of cultural significance. Day 1 is reserved for buyers only, but Day 2 allows buyers and the rest of the industry to connect. Apply to exhibit the show, attend as a retailer, or purchase industry tickets for $690.
Join thousands of industry professionals to gain information on the ever-expanding market of the tri-state area to learn more about the business of cannabis, hemp, laws, and regulations. Hosted by Emerging Industry Professionals, this cannabis industry summit and expo is exclusively for those seeking knowledge and contacts in the B2B realm. With over 40,000 square feet of some of the top cannabis industry suppliers showcasing the newest in cannabis production and technology, if your canna-business needs something, you can find it here. Tickets start at just $75 and are available to purchase here.
October 2022 Cannabis Events
October 1, 2022:
October 2, 2022:
October 3, 2022:
October 4, 2022:
October 5, 2022:
October 6, 2022:
October 7, 2022:
October 8, 2022:
October 9, 2022:
October 10, 2022:
October 11, 2022:
October 12, 2022:
October 13, 2022:
October 14, 2022:
October 15, 2022:
October 16, 2022:
October 17, 2022:
October 18, 2022:
October 19, 2022:
October 20, 2022:
October 21, 2022:
October 22, 2022:
October 23, 2022:
October 24, 2022:
October 25, 2022:
October 26, 2022:
October 27, 2022:
October 28, 2022:
October 29, 2022:
October 30, 2022:
October 31, 2022: