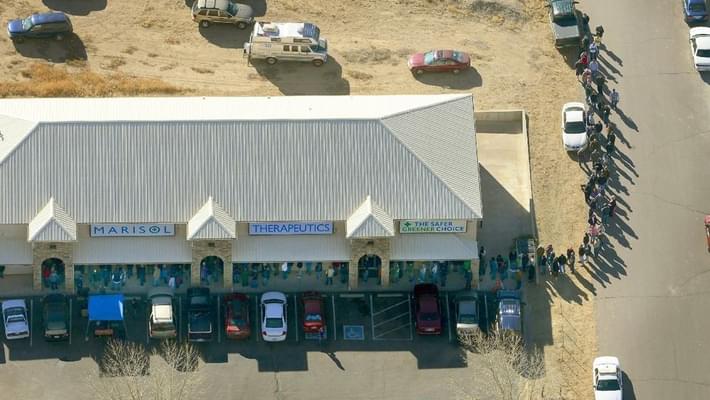 Pot stocks hit highs too as Colorado legalizes marijuana
Washington (AFP) - Stocks of companies involved in the marijuana industry -- medical or otherwise -- hit fresh highs Thursday after Colorado launched the first legal US sale of recreational pot.
Investors took the huge lines outside pot retailers in Colorado as a harbinger of potential growth in the still-new industry.
With one study predicting a $10 billion a year industry by 2018, hopes are that the legalization of private cannabis use could eventually divert the fortunes reaped by illicit growers and traffickers to shareholders.
Most of the companies involved though remain small and untested, and trade on over-the-counter markets.
The biggest gain Thursday was at the well-established MediSwipe, Inc, which sells transaction processing systems to the medical industry.
In October the company launched a cooperative in Colorado to work with licensed marijuana industry participants, most of them too small to afford quality financial processing systems on their own.
MediSwipe shares climbed 69.4 percent to 18.8 cents.
GreenGro Technologies, which sells growing systems and equipment popular with pot farmers, spiked 52.3 percent to 6.7 cents.
GW Pharmaceuticals, which focuses on medicines derived from marijuana, rose 5.7 percent to $3.30.
MedBox jumped 57.2 percent to $28.70. The company makes high-security storage and dispensing machines for controlled medicines, equipment used by marijuana distributors.
Shares of California-based grower Medical Marijuana Inc. were up 22 percent to 18.9 cents, and medicine-focused Cannabis Science surged 44.4 percent to 7.4 cents.
Hemp, Inc, which grows industrial hemp and is starting to market hemp seeds as a nutritious "superfood", gained 50.8 percent at 3 cents.
Acknowledging the difficulty of gauging a mostly illegal industry, analysts put the size of the US market, legal and illegal, in the low tens of billions of dollars a year.
In a study last year, ArcView Market Research put the size of the national legal market at $1.44 billion, and forecast a rise to $2.34 billion this year, helped in a large part by Colorado's move.
The largest state market is California, selling nearly $1 billion worth of marijuana a year for medical use
The ArcView study said the market has the potential to grow to more than $10 billion within five years, especially if other states like California follow Colorado's example.
"Gains will come in the form of increased demand in existing state markets, as well as from new state markets coming online within a five-year horizon."
Pot-related shares though have been a mixed bag, with many in the penny-stock category that lends itself to manipulation.
In August the Financial Industry Regulatory Authority issued a warning over possible scams involving marijuana stocks, including trader "pump and dump" schemes, and companies which advertise big gains but have little real income or experience in the industry.
"One low-priced stock now claiming to be in the medical marijuana business has had four name changes in the past 10 years," FINRA said, while another had just changed from ostensibly being in the coffee industry.