How Much Tax Revenue Could Your State Make From Legal Marijuana?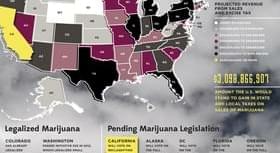 Published on Sep 23, 2014
On Nov. 4, citizens in Alaska, Florida, Oregon and Washington, D.C., will cast their ballots on marijuana initiatives, and other states are also likely to consider legalization in upcoming elections. Colorado, the first state to allow the sale of recreational marijuana, is expected to take in $60 million to $70 million this year in taxes from legal pot sales, according to the Denver Business Journal. Cash-strapped states stand to collect millions if they legalize the drug.
A new analysis at Nerd Wallet tries to provide a rough estimate of what every state could potentially earn per year directly from legal marijuana taxes. In the three places where legalization is on the ballot this November their estimates are:
Alaska – $11,513,846
District of Columbia – $8,769,904
Oregon – $54,558,596
Importantly, these are just broad estimates based on several conservative assumptions to provide a general idea about the short term. Predicting the exact size of the legal market and the price legal marijuana will sell for is very difficult.