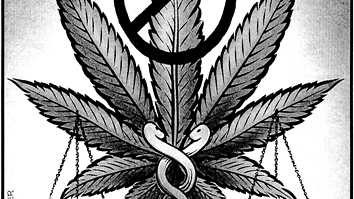 Washington State to Stir Up Marijuana Laws
Seattle medical marijuana lawmakers are looking to shake things up and hopefully springboard 2012 into a big year for the medical marijuana industry. With patients coming from all over the state to purchase medicine in cities like Seattle; new laws may open the door for other cities to begin allowing dispensaries.
SEATTLE — Chris Cody tries to be a good neighbor in White Center, joining in a Christmas
toy drive and local art walks, and keeping the window of his medical-marijuana dispensary as discreet as possible.
He maintains a low profile in part because his shop, Herban Legends, is a block outside the marijuana-friendly Seattle city limits. Inside Seattle, marijuana dispensaries flourish. Outside Seattle, there is no protective regulation.
"It's definitely tricky, causing for more than a little anxiety," said Cody, a 31-year-old carpenter.
Eight months after Gov. Chris Gregoire gutted the state medical-marijuana law with a partial veto, dispensaries have feasted or starved based on the real-estate axiom: location, location, location.
Seattle, Tacoma and a handful of other cities recognize storefront shops as resources for medical-marijuana patients. Most don't, though, citing a muddled state law or the federal marijuana prohibition.
Legislators, still pained by the veto but pressed by cities to fix the mess, are preparing to try again. A hearing is scheduled Wednesday on SB 6265, a bill proposed by medical marijuana's champion in Olympia, Sen. Jeanne Kohl-Welles, D-Seattle, to legalize nonprofit dispensers and kick regulation to cities.
If passed, the plan could clear a legal haze hovering over storefront shops. Although not explicitly allowed under state law, they have operated via legal loopholes, most recently under a broad interpretation of the term "collective garden."
And a new law could open the door to a statewide dispensary boom, especially in some larger cities, such as Bellevue, that have refused to allow them.
"I don't think it's fair that Seattle and Tacoma have people coming from all over the place to purchase marijuana in their jurisdiction," Kohl-Welles said.
The bill sets off what is likely to be a big year for marijuana-policy debates. Lawmakers are expected to send to voters in November an initiative that would legalize and tax recreational-marijuana sales.
Whether lawmakers have the stomach - or the time - to legalize dispensaries is unclear in a session already crowded with a budget deficit of roughly $1.5 billion and a gay-marriage proposal.
Police oppose dispensaries, and federal authorities recently raided some shops.
Cody, who has invested about $20,000 in Herban Legends, said he is patient, if nervous. "We're still in this limbo," he said. "As time goes on, more people will come on board. Things take a while, and they should."
After Gregoire's partial veto of a 2001 bill that would have set up statewide regulation of dispensaries, storefront shops gravitated to perceived safe havens, particularly Seattle.
Sections of the bill that survived the veto authorized 45-plant patient gardens. Those provisions were not intended to create storefront dispensaries, but shops nonetheless reorganized as networks of gardens.
Cities have made their own rules, many enacting moratoriums. Issaquah requires a background check to obtain a regulatory license, and Shoreline this month mandated buffer zones between dispensaries, which are also called "collectives."
The legal uncertainty hasn't ended bigger dreams.
Bellevue real-estate broker Tom Gordon, who has helped 10 dispensaries find storefronts, said good commercial parcels can attract inquiries from 40 to 60 people looking to open dispensaries. Some are Californians or Coloradans who "tell you it's like the Wild West out here, with less competition and a good taxing structure," Gordon said.
"I think we're only at 20-30 percent of capacity," Gordon said, "but you can't find the sites," in part because few landlords are willing to lease to dispensaries.
Storefront dispensaries began popping up at least 10 years after Washington voters in 1998 authorized medical marijuana for qualified patients. In November, federal authorities raided 10 shops, including several in Seattle, accused some of using state law to hide money laundering and, in one case, a backdoor sale of 5 pounds of pot going to the Midwest.
Philip Dawdy of the Washington Alternative Medicine Alliance, a medical-marijuana group, estimates about 135 dispensaries are open now, half in Seattle. He said the new proposal in Olympia is needed to end "a patchwork of regulations."
"Our goal is to have reasonably clear state law that is unambiguous and won't lead to the feds making threats," Dawdy said.
The state Department of Revenue (DOR), which last year warned dispensers they must tax their sales, said 15 marijuana-related businesses paid a total of $243,600 in state and local taxes in the first nine months of 2011, including $52,600 in local sales taxes.
That's nearly tenfold as much as the marijuana industry paid in 2010, "but it is unlikely it represents all the taxable sales taking place," DOR spokesman Mike Gowrylow said.
Although dispensaries say they intend to help those who need marijuana, patients are likely to oppose the legislation Wednesday.
The new bill would guarantee arrest protection if patients join a voluntary registry, an idea that is anathema to some. Those not signed up would have lesser protection - an "affirmative defense," if criminally charged.
"I don't understand why I need to register. It seems like a lot of headache, paperwork and bureaucracy," said Ric Smith, a patient advocate who is on kidney dialysis.
The registry is intended to mute law-enforcement opposition to dispensaries. Police groups favor registries, and Kohl-Welles said a registry was part of a deal to reach "the lowest common denominator of support."
Cities have clamored for lawmakers to clarify dispensaries' status after Gregoire's veto. The new plan would give cities in the nine largest counties the ability to ban dispensaries and would give cities in the 30 other, smaller counties the right to opt in.
While Bellevue is among communities that have denied licenses on the basis that marijuana is illegal, the city "may support" the new bill once the City Council sees it, city spokesman David Grant said.
Tacoma, at one point, had more dispensaries than pharmacies. The city since has installed a moratorium, pending a review of its policy.
"I'm not sure you should be allowed to ban all citizen access to something the citizens of Washington have said they want to allow," Tacoma lobbyist Randy Lewis said.
Gregoire's partial veto last year was based, she said, on a fear that federal authorities could hold state employees liable for regulating dispensaries. Executive policy adviser Jason McGill said the governor finds "nothing objectionable" about the new bill because state employees wouldn't be involved.
Even with Gregoire's support, the proposal's prospects are unclear.
Sen. Jerome Delvin, R-Richland, who co-sponsored this year's dispensary bill, fears lawmakers may be too busy with the budget and other issues.
"I think it falls behind some other pretty big policy discussions," said Delvin, a retired police officer.
If lawmakers act, though, expect more dispensaries. Jake George and his wife, Lydia, a paralegal, opened GreenLink Collective in Seattle's Sodo area after an expensive, six-month fight with Issaquah to open there.
"From our experience, there are people who are curious and want to be involved," said George, 32, a former electronics salesman. "If you take the risk out, you'd see an influx."