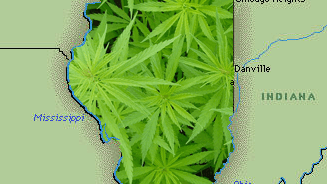 Chicago City Council Overwhelmingly Voted to Decriminalize Small Amounts of Marijuana Today
The Chicago City Council overwhelmingly voted today to decriminalize small amounts of marijuana possession.
Mayor Rahm Emanuel's proposal passed 43-3, allowing Chicago police to issue pot-possession tickets as soon as July. The move makes Chicago among a growing wave of states and several of the largest U.S. cities to adopt reduced penalties.
The ordinance gives Chicago police the discretion to issue citations between $250 to $500 for someone with 15 grams or less of pot.
Chicago officers would continue to arrest people caught smoking marijuana or carrying it on park or school grounds. Authorities also would arrest anyone younger than 17 caught with pot or anyone they believed was trying to sell the drug.
Emanuel made changes to his original proposal to appease aldermen concerned that the city was sending the message that it was going soft on pot. Those changes include allowing potentially forcing those ticketed to take part in drug awareness or education programs. Violators also could be required to do community service. In addition, the city still could impound offenders' vehicles.
In making the case for the city's new approach, Chicago Police Department Superintendent Garry McCarthy said charges are dropped against the "vast majority" of about 20,000 people arrested each year for possession of small amounts of marijuana, McCarthy said. And each arrest takes up to four hours of police time, compared with about half an hour to issue a ticket and test the confiscated weed.
Several of aldermen spoke about how the black and Hispanic communities are disproportionately affected by the city's current policy to arrest people who possess small amounts of marijuana.
"If you had been white and privileged, marijuana has already been decriminalized," said Ald. Howard Brookins, 21st,who spoke in favor of the measure. "The only people arrested for these crimes have been black and brown individuals. . .This is a way to potentially level the playing field."
Ald. Ameya Pawar, 47th, said that the new approach will give officers the ability to fight more serious crimes.
"We need to distinguish between people who are part of criminal enterprise and people who are casual users," Pawar said.
Aldermen who voted against the measure expressed concerns about the message it would send to children. Ald. Roberto Maldonado said 15 grams is a significant amount of marijuana and he felt the new policy would lead to a spike in public use of weed.
"With the adoption of this ordinance, many of those thugs will perceive and misinterpret the law that it is a license to smoke marijuana in public," said Maldonado, 26th. "That's why I cannot come to terms to vote for this ordinance."