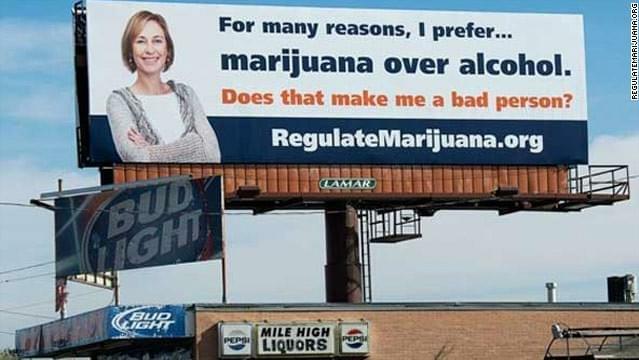 Colorado medical marijuana group argues "weed is safer than booze"
Denver (CNN) -- A Colorado advocacy group is spending thousands of dollars to convince people that smoking pot is safer than drinking alcohol.
It's an attempt by the Campaign to Regulate Marijuana Like Alcohol to rally support for a vote in November that would legalize the drug for recreational use. Colorado legalized marijuana for medical use in 2000.
Last Friday, the group aired an advertisement on a local Denver channel during daytime programming encouraging people to "start your conversation about marijuana." The 30-second spot features a young woman typing a message to her mother on her laptop, explaining that after spending her college years drinking heavily, she now prefers marijuana because "it's less harmful ... I don't get hung-over and honestly I feel safer around marijuana users."
The marketing campaign aims to "break down the stereotype about who the typical marijuana user is," explained the campaign's co-director, Mason Tvert.
"Most of them are professional, hard-working people," he said.
It's less harmful ... I don't get hung-over and honestly I feel safer around marijuana users.
TV ad, Campaign to Regulate Marijuana Like Alcohol
The TV ad, which aired only on Friday, cost about $2,000, according to Tvert. It may run again, depending on fund-raising efforts, he said. Last month, the campaign spent about $4,500 on a billboard near Denver's (Sports Authority Field at) Mile High stadium -- purposely adjacent to the Mile High Liquors store -- to deliver a similar message, Tvert said.
The billboard also features a woman, this one in her 50s, standing with her arms crossed next to the message: "For many reasons, I prefer ... marijuana over alcohol. Does that make me a bad person?"
By attempting to change "stereotypes" about marijuana users, the campaign hopes to make Colorado the first state to legalize recreational marijuana use.
"The goal is the choice -- to make sure adults have the choice to use a less harmful substance than alcohol," Tvert said.
Dr. Otis Brawley with the American Cancer Society questioned that conclusion.
"The problems of excessive alcohol use and the problems caused by any even minor smoking of marijuana are so different, I have difficulty comparing," said Brawley, CNNhealth.com contributor and the American Cancer Society's chief medical and scientific officer.
"There are short-term and long-term primarily pulmonary problems associated with marijuana (and) excessive alcohol use is long-term correlated with GI (gastrointestinal) and neurologic problems."
Study: Occasional pot smoking not as damaging as cigarettes
Also debatable is whether the money generated by legalizing and regulating marijuana through taxes will outweigh the costs of creating government-run marijuana distribution centers.
Tvert says the Campaign to Regulate Marijuana Like Alcohol estimates that legalizing and regulating marijuana could generate $50 million a year in saved expenses and revenue.
Is it time to legalize marijuana?
Medical marijuana in Washington
Pat Robertson wants pot legalized
Can pot smokers breathe easy?
"We've been pushing very hard in Colorado and people agree, it's not worth the law enforcement resources being used (to crack down on marijuana users) and it's not worth losing out on the tax
dollars," he said.
22 million Americans use illegal drugs, study says
Tvert said he was not aware of any criticism for the advertisement, noting that legalizing marijuana is "one of the biggest issues in our state legislature in the last few years."
"We live in a state that has made a lot of progress on the issue," he said. "It's not as controversial as many other issues."
That's partly because of the prevalence of medical marijuana dispensaries across the state. State-sanctioned marijuana dispensaries now outnumber Starbucks in Colorado and there are well over 100,000 people on the medical marijuana registry.
Mobile marijuana clinic for Colorado's rural residents
Six years ago, an attempt to legalize marijuana in Colorado failed. This year's initiative goes much further than the 2006 ballot, because it establishes a system that regulates and taxes the drug, Tvert said. He believes the infrastructure created by Colorado's medical marijuana industry will help boost the chances that voters will approve legal recreational use of the drug.
Residents are also more accustomed to the idea of a legalized form of the drug, now that medical marijuana dispensaries are a common sight across the state, Tvert said.
"We're not asking people to imagine, as we would just two years ago," he explained. "People have seen that just because there's a marijuana center in Colorado ... just because there might be a storefront in your town or city, it hasn't caused any problems."
He noted that the initiative would allow cities and municipalities to "opt out" of allowing marijuana sales, similar to "dry counties" which ban the sale of alcohol.
Colorado isn't the only state where voters will consider legalizing marijuana in the fall: there's a similar ballot initiative in Washington and there could be one in Oregon, as well, if enough signatures are collected.
"There are actually... close to 17 or 18 initiatives working their way to the ballots," according to Sue Rusche, president and CEO of the non-profit anti-drug organization, National Families in Action.
Rusche said her group's main focus is to "force the (marijuana) industry" to ensure that it doesn't market the drug to children.
"We ask a question: if a state actually does legalize marijuana for recreational use... what kind of things can we learn form the alcohol and tobacco industries in the way they've marketed to kids?" she said. "What can we do to prevent that (marijuana) industry from marketing to kids?"
She said setting a legal age limit of 21 is not enough.
"We do not trust the advocates who are trying to legalize marijuana because we don't believe they are willing to look at these other two industries (alcohol and tobacco)," Rusche said. "Everything we read in their initiative has to do with making money and not protecting kids."
What can we do to prevent that (marijuana) industry from marketing to kids?
Sue Rusche, National Families in Action
If any marijuana initiative passes, Rusche said her group is interested in working with the state agencies that write the regulations in order "to force the industry to self-police rather than (have) the taxpayers pay for the cost" of any negative consequences, including addiction treatment and accidents caused by driving under the influence.
"We want people to take marijuana legalization seriously and think seriously about the consequences to kids," she said.
When asked about Rusche's concerns, Tvert said he was confident the marijuana industry would not target its product to minors.
"There's a great deal of self-regulating already taking place -- business owners not choosing marijuana leaves or cartoon characters," he said, referring to the medical marijuana industry. "It's an evolving industry (and) in theory, these are standards that are already being created."
That doesn't mean the marijuana industry won't advertise its product in places where children might be present, though.
"It's worth noting, every young person that walks into a professional baseball game in Colorado (at Coors Field) is walking into a beer commercial," he said. "So the notion that we somehow cannot possibly have marijuana legal because young people will somehow know about it and see it, is unrealistic."