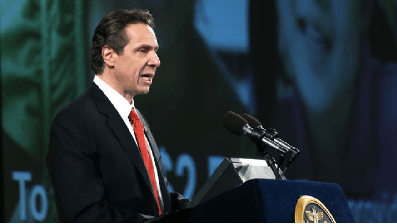 Gov. Cuomo announces New York will allow limited use of medical marijuana
By Fox News, January 9, 2014
New York Gov. Andrew Cuomo officially unveiled a plan Wednesday to allow medical marijuana in the state to help those suffering from cancer and other diseases.
The Democrat announced in his State of the State speech he is using his administrative powers to allow 20 hospitals to dispense marijuana to patients under state Department of Health regulations, rather than craft legislation.
The announcement marks a reversal for Cuomo, who had previously opposed medical marijuana.
While praising the governor's action, some advocates say New York should still enact legislation authorizing a state medical marijuana program that has been blocked so far by the state Senate's Republicans.
Assemblyman Richard Gottfried, a Manhattan Democrat, and Democratic Sen. Diane Savino of Staten Island have recently held hearings on a bill they are sponsoring called the "Compassionate Care Act," which would regulate and tax medical marijuana. It has previously passed in the Assembly, but failed to get through the Senate.
State Sen. Liz Krueger, another Manhattan Democrat, has been pushing legislation to legalize and tax recreational use of marijuana, arguing state policy outlawing the drug has been costly in terms of law enforcement resources and the futures of people convicted of crimes.
In states that permit medical marijuana, it is commonly prescribed for chronic pain, nausea from cancer chemotherapy, glaucoma and some other conditions. Other controlled substances like narcotics are already authorized for medical use in New York. Although marijuana remains illegal in New York, possession of small amounts has been reduced to a low-level violation subject to a fine.
Cuomo used the speech to tout his accomplishments in the past three years as he prepares to run for a second term in the fall.
Cuomo also pushed for all-day pre-kindergarten and for the state to take over construction projects at LaGuardia Airport and Kennedy International Airport, among other issues.
The Associated Press contributed to this report