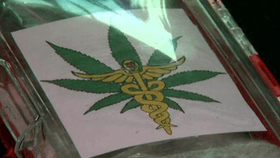 New York Becomes 23rd State To Allow Medical Marijuana
New York has become the 23rd state in the U.S. to authorize medical marijuana – though the state's program is one of the nation's most restrictive.
Gov. Andrew Cuomo signed the measure into law Saturday and held a formal signing ceremony in New York City on Monday to highlight the new law.
When the program gets up and running in about 18 months, patients with diseases including AIDS, cancer and epilepsy will be able to obtain nonsmokeable versions of the drug.
Instead, the drug must be ingested or administered through a vaporizer or oil base.
Cuomo, a Democrat, says prohibiting smokeable marijuana will help keep the drug out of the wrong hands.
"It was almost oxymoronic that a health department would operate a program allowing smoking, which they spend a very significant amount of their time trying to stop people from smoking," Cuomo told WCBS 880′s Ginny Kosola. "Second, you don't need the smoking to get the benefits of the drugs."
The compromise was one of the final measures passed by lawmakers before they adjourned last month.
"This new law takes an important step toward bringing relief to patients living with extraordinary pain and illness," Cuomo said in a news release Monday. "The legislation I am signing today strikes the right balance between our desire to give those suffering from serious diseases access to treatment, and our obligation to guard against threats to public health and safety. I applaud the lawmakers and advocates whose efforts over the past years were crucial in making medical marijuana a reality in New York State."
Under the law, the state will approve and regulate up to five businesses authorized to grow and distribute the drug. The operators could each have up to four dispensaries statewide.
"From this day forward New Yorkers will now have access to the same life-changing treatment that other patients across the country have had," said state Sen. Diane Savino, D-Staten Island, who sponsored the legislation. "This is an historic victory for the countless health care professionals, physicians, advocates, families and patients who know that the safe and reliable use of medical marijuana is a sensible, compassionate course of treatment for debilitating illness and disease. I stand with the thousands of New Yorkers who now will no longer have to suffer needlessly through their courageous medical battles."
Patients would get prescriptions from physicians approved by the state to participate in the program.
Patients who sell their prescribed marijuana could face a misdemeanor. Patients would be required to carry registration cards showing they are authorized to possess the drug and can be prescribed a maximum 30-day supply.
The governor could shut down theprogram if it does not work out.