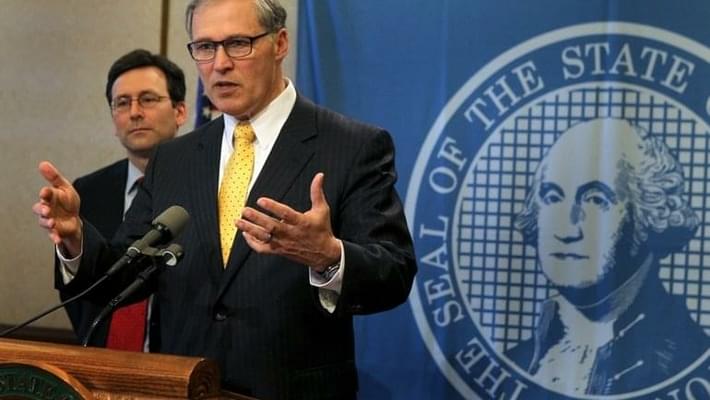 Gov. Inslee ugres feds to issue pot guidelines for banks
With marijuana retail licenses expected to be issued July 1, Gov. Jay Inslee is urging federal banking regulators to move swiftly and offer guidelines to banks and credit unions who want to work with those in the recreational marijuana business.
A letter signed late last week by Inslee and Colorado's Gov. John Hickenlooper points out that lending institutions are waiting to hear from federal banking agencies.
"In the meantime, product sales have begun in Colorado and will soon begin in Washington, exposing all involved to the significant risks of criminal activity associated with accepting, storing and transporting large quantities of cash that can be ameliorated by access to the banking system," the governors wrote.
Banks and credit unions were given a go-ahead, of sorts, in February when the Obama administration made it clear that U.S. attorneys shouldn't prosecute banks in states where selling marijuana is legal, on the sole basis that they are working with those in the pot business.
But if the state wants more banks and credit unions to work with pot stores, "something in writing from these other (federal regulators) would be quite useful," said Scott Jarvis, director of the Washington State Department of Financial Institutions.
Out of the suitcases
The federal government has made it clear it would rather have cash from marijuana-associated businesses floating through financial institutions, "rather than driving around the interstate in suitcases," Jarvis said.
But banks would like to ensure they are complying with the federal regulations and not risking the chance that regulators could "penalize them, threaten their deposit insurance, increase their capital requirements or force them to close accounts or stop providing services," according to a letter from members of Congress to Federal Reserve Chair Janet Yellen.
In 2012, Washington voters approved Initiative 502, which legalized the sale and production of recreational marijuana.
Brian Stroh, who launched Vancouver's first legal pot-growing operation, CannaMan Farms, said he's confident it's only a matter of time before banks start to work with pot entrepreneurs.
Dealing in cash is cumbersome, he said. But "inconvenience is just that," Stroh said. "The safety aspect is something that could change your life. It's everybody's concern."