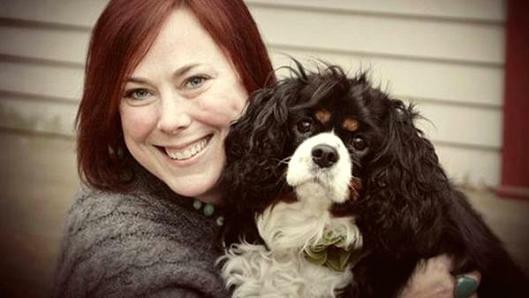 Pot for pets? Cannabis now helping dogs and cats
Georgia, a 5-year-old Cavalier King Charles Spaniel, is a medical marijuana patient. Kelly Conway, Georgia's owner, takes some heat when she tells friends about the unorthodox treatment.
"People will say they can't believe I'm letting her get high, but she's not getting high," Conway said.
No, Georgia is not ingesting the same kind of pot that Snoop Dogg smokes. (Or New York Times columnist Maureen Dowd eats.) Georgia, along with a growing number of pets, eats hemp-based capsules that contain only trace amounts of tetrahydrocannabinol—or THC—the psychoactive ingredient that provides the cannabis high.
Georgia suffered from syringomyelia, a serious neurological disease, and traditional medicine wasn't working. So earlier this year, Conway took her to Dr. Cynthia Graves, who practices alternative veterinary care in Philadelphia. Graves started Georgia on acupuncture, which seemed to help, and then she recommended Canna-Pet, a supplement made from hemp, for Georgia's pain and anxiety.
Conway was skeptical, but to her surprise, it worked.
"It has truly been a miracle and I don't say that lightly," Conway told CNBC. "I feel like I have a whole new dog. Georgia's happy and relaxed. She's not in pain. It's amazing."
Colorado and Washington have legalized and regulated cannabis for human recreational use—and 22 states allow for some form of medical marijuana. But no federal or state agency has made any provisions for the largely unregulated pet supplement industry.
To further complicate matters, the Drug Enforcement Agency still considers industrial hemp a controlled substance even though it is not psychoactive.
But times are changing. On Thursday, the Senate Appropriations Committee voted 22-8 on a plan that would block the DEA—or any federal agency—from spending funds to enforce anti-hemp laws in any state that has received permission to grow it. The full House OK'd the measure the previous week.
Congress' action emerged after the DEA in May seized a shipment of hemp seeds from Italy headed to Kentucky. The state filed a lawsuit against the federal government to get its hemp seeds and now Kentucky, long known for its tobacco fields, has hemp in the ground.
As the nation grapples with this knotty issue, farmers, business owners, patients—and pets—are moving ahead while lawmakers hash it out.