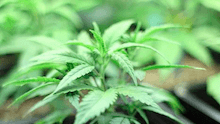 Colorado will spend $10 million researching marijuana's medical benefits
Colorado Gov. John Hickenlooper (D) signed a bill Wednesday that will fund up to $10 million for research into the medical efficacy of marijuana.
"SB 155 invests the dollars collected from medical marijuana fees into a meaningful effort to study the therapeutic and medical benefits of the drug," state Rep. Crisanta Duran (D), a co-sponsor of the bill, told The Huffington Post. "Patients will benefit from this investment and Colorado will become a national leader in developing medical marijuana research."
The bill states the research will help Colorado determine which medical conditions should be added to the state's current list of eight ailments that make patients eligible for medical marijuana. It will also help physicians better understand the biochemical effects of prescribed marijuana, add to the growing base of knowledge built from several state-funded medical cannabis research programs about proper dosing and possibly allow the state to conduct clinical trials, the bill outlines.
"This bill is exciting because it gives researchers the opportunity to show why and how marijuana works, and to do research that the federal government refuses to conduct," Mike Elliott of Marijuana Industry Group told HuffPost.
The research will be funded through the state's $10 million medical marijuana program cash fund.