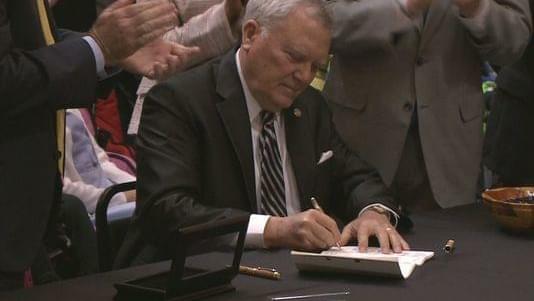 Gov. Nathan Deal signs medical marijuana bill into law
This week the Gov. of Georgia, Nathan Deal signed a bill into law allowing the possession of 20 ounces of medical cannabis oils for specific debilitating conditions. Some of the conditions allowed are, cancer, ALS, Crohn's Disease, and Parkinson's. The law does not account for cultivation or sale of the plant, meaning the patients will have to get their medicated oils from outside sources and illegally transport, but the effected families are working on a bill this year to allow transport for medical card holders.
"It's touched my heart," Deal tearfully said. "I'm just pleased that today we're going to make a difference and it's going to be a good difference."

The law makes Georgia the 36th state plus Washington, D.C., to legalize the use of marijuana extracts for medical use.

Deal stressed that the law does not deal with the cultivation, manufacturing or sale of medical marijuana in Georgia.