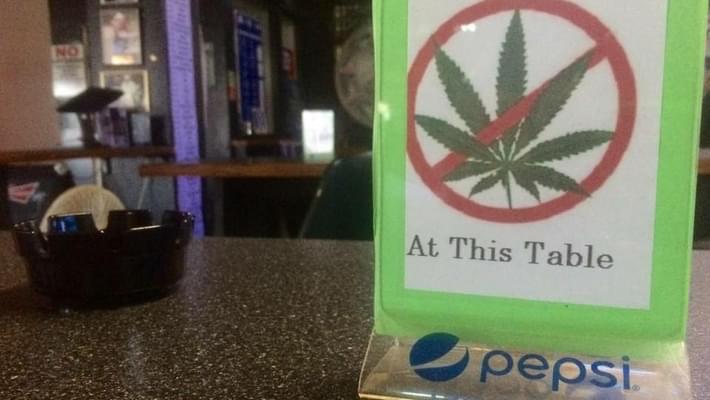 Libertarians defend Olympia bar owner's private marijuana smoking club
A bar on the first floor, a private cannabis lounge on the second floor, and the owner of both is being threatened by the Liquor and Cannabis Board with a 40 day suspension to his liquor license. The board has ruled that smoking cannabis inside a business that serves alcohol is prohibited, despite the club, Frankie's Friend's, being located on a separate floor. The private club owner has been praised by his community for serving free meals to the less fortunate and giving many a safe place to consume marijuana. You can find veterans and protesters every thusday morning waving signs in support of Frankie's Friends, and the owner has stated he will remain open regardless of the suspension. Frankie and his lawyer claim the Liquor and Cannabis Board do not have the power to suspend his liquor license.
The board had initially issued a five-day suspension in 2015, but Schnarrs refused to comply with the suspension or pay a $500 fine. He told The Olympian that shutting down for five days — let alone 40 — would cost him thousands of dollars in business. He also said the $500 fine is a form of extortion.

Schnarrs and his attorney-in-fact Micah Anderson both argue that neither the state nor the Liquor and Cannabis Board have the legal authority to suspend the bar's liquor license. Anderson said the business will challenge the board's ability to enforce such sanctions for legal actions that occurred inside a private club.