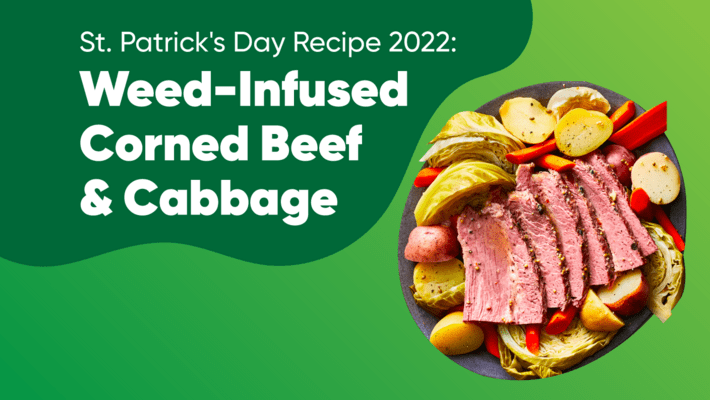 St. Patrick's Day Recipe 2022: Infused Corned Beef & Cabbage
St. Patrick's Day is a holiday that practically every single American celebrates. Whether that be because many of us can trace our ancestors back to Ireland or simply because we love a good reason to eat or drink, you'll see the streets of America flooded with green and shamrock-everything each March. While it's a fun day to be had, have you ever stopped and wondered what the commotion is all about? Keep reading below for a brief history lesson on the holiday and an infused, traditional recipe. Happy St. Patrick's Day from Where's Weed!
Saint Patrick's Day History

Saint Patrick is a monumental character for those who are either Irish or from Ireland. Patrick, who was alive around the 5th century, was born in Roman Britain before being captured and brought back to Ireland as a slave around the age of 16. In short, Patrick is credited with bringing Christianity to Ireland and is Ireland's national apostle and its patron saint. Have you ever wondered why the shamrock was so important? He famously explained the holy trinity (the father, son, and holy spirit) to the Irish using the leaves of the native Irish clover, the shamrock.
The holiday was once widely considered a somber one, where bars were closed, and everyone attended a mass in the morning followed by a military parade in the afternoon. Now, St. Patty's Day is an all-out, all-day affair of drinking and decadent food. With the sheer number of those who have Irish blood in America, mixed with the likes of Guinness, the idea of the Irish Pub and green everything, the holiday has been launched as a good time in the States. Let's dive deeper into an important facet of the holiday - the food.
The Importance of St. Patrick's Day Food

Irish culture is steeped in myth, folklore, fairytale, and legend. Ireland is primarily known and considered an agricultural society, so there is no surprise that there are many fantastical tales involving food and feasts. There are four main pagan Celtic festivals that celebrate the change of the seasons, filled with food and dancing.
You may be surprised by the findings when it comes to the significance of corned beef and cabbage. This dish is not the national dish of Ireland like many think and isn't even thought to be that traditional, either. During the time of immigration, specifically with the first generation of Irish immigrants to America, the Irish were looking for some comfort food from their homeland that they so desperately missed. A more traditional dish was boiled bacon, but it was too expensive. They opted for the cheapest cut of meat, which was beef brisket, to be paired with a very inexpensive vegetable, cabbage.
Irish immigrants typically landed in the melting pot that is New York City and adopted several of the practices of their Eastern-European counterparts. One such practice was the brining of foods, and corned beef and cabbage earned its namesake from the corn-sized salt crystals used in the brining process.
Cannabis-Infused Corned Beef and Cabbage Slow Cooker Recipe

There's no better way to get into the spirit of St. Patrick's Day than trying your hand at this classic, Irish corned beef recipe. What's even better is that the slow cooker does all the work, leaving the house smelling decadent as you all await to dig into the salt-cured meat.
Ingredients:
3 1/2 - 4 pounds beef brisket, remove splice packet
3 - 3 1/2 cups baby carrots
3 - 3 1/2 cups small baby potatoes
1 medium onion, cut into chunks
1/2 whole cabbage head, cut into large chunks
1 cup beef broth, low sodium
1 tablespoon Worcestershire sauce
1 teaspoon ground pepper
1 teaspoon sea or kosher salt
1 teaspoon garlic powder OR 2 fresh garlic cloves, crushed
1/2 teaspoon turmeric
Step-By-Step Guide to the Best Corned Beef and Cabbage
Start by melting the cannabutter in a medium saucepan over medium heat, then add the onion and carrots in for about 8 minutes. Set aside.
Rinse the meat with cold water and trim off any excess fat. Make sure to remove seasoning packet. Set meat aside.
Layer carrots and the onion that you just covered in cannabutter on the bottom of the slow cooker.
Place the meat fat side up on top of the vegetables. Pour in beef stock.
Add in garlic (either crushed or powder), along with salt, pepper, and turmeric (optional).
Cook on low for 8 to 9 hours. After 7 hours, add in the cut-up cabbage.
While doing this, check and see if you need to add more stock or water.
Cook the remaining time and check to see if the meat is tender. If not tender after 8 hours, continue to cook for an hour or so.
Once the meat is tender, slice against the grain.
Plate up with veggies.
Enjoy!
Happy St. Patrick's Day from Where's Weed, we hope you have the best celebrations!