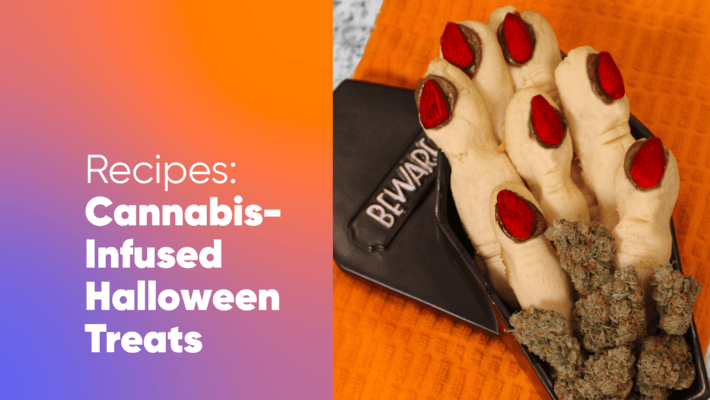 Three Spooky Recipes: Cannabis-Infused Halloween Treats
While every stoner's favorite holiday is surely 420, or perhaps the new 710 if you prefer concentrates, there is much to be said for Halloween. First and foremost, it is one of the least serious holidays, meant for kids and adults to have fun from start to finish. Additionally, it allows a great deal of creativity, from the costumes to the decorations to the treats. Here are some of the most popular pot recipes for the spookiest day of the year.
Finger Cookies

There are so many ways to make spooky but delicious treats: one surefire way to get a reaction is to make them look like body parts. Not just the beginner's run of spaghetti for hair or grapes for eyeballs, but true goodies that look like they have just been cleaved off from the body. Almond finger cookies are a great choice, resembling a witch's finger with an elongated nail that is both tasty and disturbing.
Ingredients:
1 teaspoon red food coloring
1 bag whole almonds
2 eggs
1 teaspoon almond extract
1/2 cup cannabis-infused butter softened
1/2 cup powdered sugar
1/3 cup white sugar
1/8 teaspoon salt
2 cups all-purpose flour
2 tablespoons Nutella
Recipe:

Preheat the oven to 350 degrees F. Line two baking sheets with parchment paper or grease with non-stick spray.
Use a paintbrush to color each almond with food coloring, then lay it aside to dry.
Separate one egg white from the yolk, then mix the yolk with the other egg and the almond extract and set aside.
Use a mixer to add cannabis butter with both sugars until combined, then add the egg mixture and stir.
Add salt and flour. Stir to become dough, divide the dough into two pieces, place on plastic wrap, flatten, and wrap completely, then chill for 30 minutes.
Divide the chilled dough into 30 pieces and roll into finger shapes. Add decorations, like pinching the dough at the knuckles, and place each finger on a baking sheet. Paint the fingers with the remaining egg white and add an almond to the end for a fingernail with the Nutella.
Bake for 12 minutes.
Cannabis Caramel Corn
Sure, you can buy caramel corn in some dispensaries, but making it yourself is much more fun. It is a great group activity, and allows everyone to add their own favorite ingredients (like extra sweet, salty, or even spicy flavors) to the mix.
Ingredients:
12 cups popped plain popcorn
1/8 cup cannabutter
1/4 cup regular unsalted butter
1 cup dark brown sugar
1/4 cup honey
2 tsp salt
3/4 teaspoon baking soda
1 teaspoon vanilla or maple extract
Recipe:

Preheat oven to 225 degrees Fahrenheit and grease 2 large baking sheets.
Melt cannabis butter and regular butter over medium heat, then stir in sugar, honey, and one teaspoon salt. Stir until mixture boils.
Lower heat and let simmer for 1-2 minutes.
Take pan off heat, stir in baking soda and extract.
Pour the caramel over the popcorn and stir to coat it evenly.
Put the caramel popcorn onto the baking sheets and sprinkle with salt.
Bake for 15 minutes, break up any large clusters and bake for another 15 minutes.
Let cool before serving.
Witches' Blood Cupcakes

The centerpiece of any good Halloween party, these cupcakes pack a punch and taste delicious as well. Were they really made from witches' blood? After they kick in, you may find yourself wondering whether it could be true.
Cake Ingredients:
2 1/2 cups cake or pastry flour
1 1/2 cups white sugar
1 tsp baking soda
1/2 tsp salt
6 tablespoons cocoa powder
1/2 cup cannabis oil
1 cup vegetable oil
1 cup buttermilk
2 eggs
2 tablespoons red food coloring
1 tsp white vinegar
1 tsp vanilla extract
Frosting Ingredients:
8 oz room temperature cream cheese
1/2 cup butter
1 tsp vanilla extract
3 1/2 cup confectioners' sugar
Recipe:
Preheat over to 350 degrees F. Line a 24-cup muffin tin with paper liners.
Mix together cannabis oil, buttermilk, eggs, food coloring, vinegar, and vanilla extract.
In another bowl, mix flour, sugar, baking soda, salt, and cocoa powder. Add dry ingredients to wet and mix together until smooth.
Pour batter into muffin cups until each is about 2/3rds full.
Bake for 20 minutes or until a toothpick inserted into the center comes out cleanly. Let cool.
Add cream cheese, butter, and vanilla extract into a bowl or mixer. Mix until light and fluffy. Mix in confectioners' sugar (on a lower speed for an electric mixer) until it is added, then increase the speed or mixing rate until the entire frosting confection is fluffy.
Add frosting to cooled cupcakes.
Do you go all out on Halloween? How have you incorporated Mary Jane into treats or costumes? Let us know in the comments below!