Receive
FREE

SMS Text Messages with specials and deals from businesses near you!
Enter your phone number below and select your desired regions to receive 100% free text message alerts from businesses near you.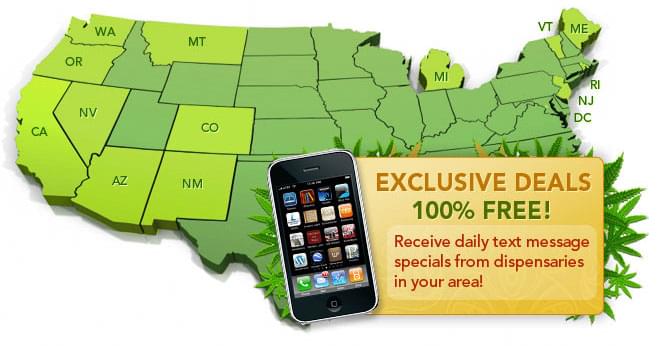 How much does it cost?
It's 100% FREE! We do not charge you a penny to sign up and receive amazing deals from locations near you. Standard text messaging rates may apply*
What kind of deal can I expect to receive?
We work very closely with wonderful dispensaries who offer us exclusive deals and discounts that you cannot find anywhere else. From free grams to buy one 1/8th and get one FREE! The deals keep coming in and we have great specials daily.
What if I want to stop receiving these amazing specials and discounts?
We will be sad to see you opt out but we make sure it's extremely easy for you to do. Simply respond with the text "stop" and you will no longer receive any of the great discounts and deal that our members love to see daily.
Can I sign up for more than one area?
Of course you can! You can sign up for as many areas as you'd like and it takes less than a few seconds to opt out at any time.
SMS Terms of Service
"Message and data rates may apply"
The specific expected message frequency the user will receive. (e.g., "1 message/day", "5 messages/month", "1 message/user request")
"Text HELP to [your short code #] for help." (note that HELP must appear in bold)
"Text STOP to [your short code #] to cancel." (note that STOP must appear in bold)
URL of the SMS terms of service
URL of your privacy policy