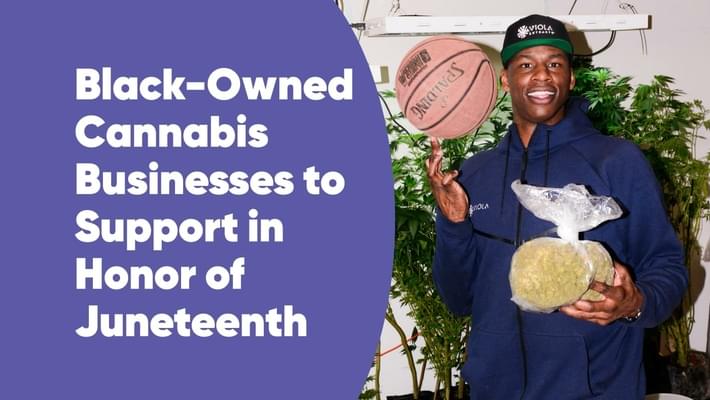 Black-Owned Cannabis Businesses to Support in Honor of Juneteenth
Juneteenth is a holiday that has long been left out of popular culture and given no attention from almost any organization, industry, or institution. That is finally changing, and we want to help honor Juneteenth and everything it represents by providing a list of black-owned cannabis businesses you can support throughout the month of June and every month after. If you want to know more about Juneteenth and use your power as a consumer to show your support, this article is for you.
What Is Juneteenth?
Juneteenth is celebrated annually on June 19th and commemorates the last day of slavery in the United States. While the Emancipation Proclamation was signed in 1862, Texas didn't officially recognize the abolition of slavery until three years later, on June 19th, 1865. And so, Juneteenth is often referred to as Freedom Day and should be both celebrated and used to recognize that there's still work to do.
Why Juneteenth Should Be Important to the Cannabis Industry
We should be especially aware of Juneteenth and its significance/importance as part of the cannabis community. Even though Juneteenth marks the last day of slavery, it does not mark the beginning of equality for black Americans, who have since been disproportionately murdered, harassed, arrested, and discriminated against. The cannabis industry and racism are deeply intertwined, with the War on Drugs systematically oppressing black communities across the nation under the false name of justice. Even now, black Americans are 3.6x more likely to be arrested for marijuana possession.
Despite overwhelming damages committed against non-white communities, Black dispensary owners and black cannabis growers have not been given an equitable piece of the pie as cannabis has gained legality in states nationwide. While many states are working to adopt equity programs for cannabis, it's primarily up to the consumer to shop at canna-businesses run and operated by black Americans to ensure they stay in business and thrive.
Black Owned Marijuana Companies to Support in Honor of Juneteenth

Founded by Jamie Lea in 2020 and based out of Los Angeles, Toastyy is a CBD-wellness brand that focuses on products like bath bombs, lotions, tinctures, and supplements. On top of a great lineup of quality products, Toastyy hosts events and has lots of educational content on its website. If you're interested in giving Toastyy a try, you can add what you want to an online cart and have it shipped straight to your door anywhere in the US.
America's first legally licensed, black-owned dispensary, Simply Pure, has an impressive lineup of THC and CBD products, ranging from premium flower to world-renowned concentrates, edibles, and topicals. This mom-and-pop shop was founded in 2010 by entrepreneur Wanda James and her husband, Scott Durrah. The founders and their dispensary have been featured in the news across the world for their incredible achievements in the cannabis industry. This local dispensary is located on 32nd street in the LoHi district of Denver, Colorado.

This Boston-based biotech and medical cannabis device company was founded in 2015 by Shanel Lindsay, who was tired of having limited inhalation and digestive routes for using cannabis. Their primary product is the NOVA, a laboratory-grade decarboxlyator that allows medical cannabis patients to create edibles at home. The product is fast, odorless, and produces high-quality infused goods for $299. It can be purchased online and shipped anywhere in the United States.
This company, now operational in Colorado, Michigan, California, Oregon, and Canada, was founded in 2011 by NBA veteran Al Harrington. Created after cannabis helped his grandmother's glaucoma side effects, Viola is a premium cannabis producer with various lines of flower, prerolls, rosin, and live resin (note that only flower is available in all four states). If you're in one of its four operational states, you can likely find some of its products at a local dispensary near you.

Founded in 2015 by Amber Senter and Caroline Phillips, Supernova Women is a nonprofit that provides the tools for black and brown people to become shareholders within the cannabis industry. They do so through education, advocacy, and network building and have commissioned a social equity impact report for 2022 that measures the positive return on investment of cannabis social equity programs.
This organization was founded in 2018 by Mary Pryor, Nadir Pearson, and DJ Howard to facilitate fair representation of minority cannabis consumers by providing cannabusinesses with insights to ensure minorities are not overlooked in communications. They offer unique, experienced insights into marketing for cannabis, including assets for targeting minority groups often overlooked by traditional advertising campaigns.

Based out of Oakland and available throughout California dispensaries, Oakland Extracts was founded in 2015 by Terryn Buxon. This black-owned cannabis business features products like small-batch cookies, badders, sugar, diamonds, live resin, and live resin vape. The company's focus is natural flavor and high potency.
This black-owned hemp business was founded by Stuart Mcclean in 2018. Their premium products are organic and THC-free, and their menu includes high-end flower, hemp balm, and tinctures. On top of that, Intertia's Root provides counseling to other hemp organizations on small-batch processing, bulk order wholesale, and more. You can try any of their products by visiting their website and having them shipped to your front door.

Green Qween is one of the best black-owned dispensaries available, and they just opened on April 29th in Los Angeles. It is a space that focuses on being an open and inclusive space for queer members of the cannabis community. Green Qween was founded by Andres Rigal and Taylor Bazley, who spent years fighting for a license to sell cannabis. In addition to what we suspect will be a killer ambiance and quality products, Green Qween will give 10% of all profits to the DTLA Proud LGBTQ+ Community Center. If you're in Southern California, go check them out!
Ernest Toney founded this cannabis advocacy organization in 2020. It is a Denver-based organization that has partnered with Where's Weed and is a black-owned cannabis business membership organization and consulting firm that is dedicated to creating a more equitable cannabis space for BIPOC cannabis professionals. Members gain access to an incredible network of BIPOC-owned cannabusinesses and educational webinars. This organization is paving the way for a brighter, more inclusive cannabis industry.
Do you own or support black-owned cannabis brands in your local area? Let us know what the business is called, where it's located, and what the best products are so we can check it out. Comment below!