Discover trusted marijuana businesses in your community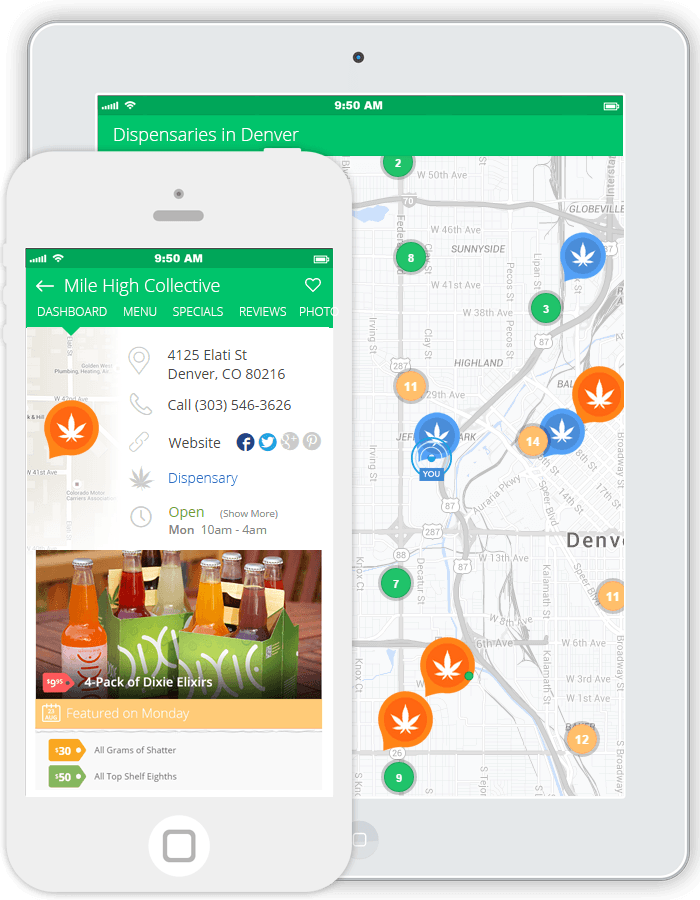 New to Where's Weed?
Where's Weed helps you search, discover and share marijuana businesses in your community. Whether you're looking for a recreational or medical marijuana dispensary, marijuana doctor or even a place to connect with local marijuana users, you've come to the right site!
Create an account
Discover local dispensaries, deliveries, doctors and more
Pre-order your purchases online
Search local specials and events
Review, favorite & share your favorite businesses
Dispensary Reviews
Awsome , I'm from out of town. I did not know much about this delivery service. Tried it anyway. Will definitely use again! You guys Rock!!!

Used to be the best spot to go to..good #'s,good bud..but last few times bud hit like reggie!..Quality has gone down .COME BACK!!

Got the Chemdog 91...CERTIFIED. These guys were on time...ahead of expectations by far. Driver was extremely punctual and contact was plentiful. I love the experience and advocate support. Better than expected after my normals gave me hufflepuff. Great quality buds.

I like the last batch I got. Was good potency. I'll be back soon , I'll maybe try the deal next time.

Awesome service! Delivery driver A-1! They looked out and came through with top quality products! This is my new spot!!!

Went with them three times now and the first experience was great. Fast delivery, great product. The second time i ordered online and did not get confirmation for three hours, then they pushed the time back by 30 minutes, twice. I texted the number listed here told em I'd have to take a rain check. No response. I called, no answer. Driver called me asking where I was at a full five hours after ordering. I really like their budder so ordered again. Placed my order at 3:00, got a confirmation text moments later, said 5:00 ETA. Five calls and numerous messages later, it's 7:05 and no sign of them. C'mon man!!!! Last time fellas

Worst flowers on this where's weed site. This guy is selling mid and giving it different names. Like smoking air stay away. You will regret spending your money on this.

Rove carts were excellent and driver was in communication.

Cool Shid...called, set loc, linked...good shid

Horrible!!! Do yourself a favor and avoid these clowns like the Plague! False Advertisement, Huff ass Flower, and Incompetent Customer Service!! Absolute Worst!! Don't waste your Money or Time!!

DO NOT TRUST THIS COMPANY. They cancelled my order for no reason without a courtesy text explaining why and did not respond to my call or texts. Then deleted the unfavorable review that I gave them. Rating is bogus.

Excellent Service.....experienced, professional outstanding customer service! They deserve more than 5 STARS!!!!!

Great prices, super friendly, and quick to boot! You cant go wrong with Silly Bees!

Going to start looking for some other place to get my stuff from. Which sucks because I like their budder. Last few time though I've had to wait an hour or more past my requested delivery time. They keep changing their hours and delivery times. Just not worth it anymore.

this is my first time and the speediness and professionalism are top notch. Will let you know how the product is later tonight. Thanks again

Herb is by far the cheapest option on WIW. This is usually my go-to service in DC. However, they sometimes forget to confirm your order and send the guy directly after 2 hrs , but the guys do make it. The service is pretty flexible, and the carts have not tampered of anything.

Edibles is my go to with good taste and potency an the strawberry cupcake was it !!!

The service and the product was great. One of the few places I can find sativa edibles. I will definitely be using them again.

Tried ordering with these guys. But no responses today. Idk

Great service, great prices, a wonderful wide range of products, as well as great quality. Best place my husband and I have been in the area, HIGHLY recommend.

Didn't like what they gave me they was fast but bad product these companies Need to have a refund policy

Great service, fast delivery and great bud! Can't really ask for much more from a delivery service. They were on top of everything and prompt from the time i submitted my order to the time the delivery driver pulled up. Will always have my service and they are highly recommended.

I won't go anywhere else ever again. After spending the better part of the past year exploring various businesses, I can truly say that I've made my final decision on my go-to delivery service in D.C. from this point forward. It took me awhile to make this decision and as any true connoisseur knows, this is a slowly pleasurable process, like the foreplay en faire l'amour! :) I wanted to be sure I gave myself ample time to assess the 5 STAR categories rated on Where'sWeed when using each delivery service. So let's break it down. Med Quality: EXCELLENT. I'm not sure if they make their own or what, but LOT'S OF VARIETY which is good (this is obviously one's greatest issue when using a good delivery service for the 710Head or flowerchild- you may find a good one, but then get bored because they always have the same three concentrates or they only carry one type of concentrate, etc., (ex. shatty only). I'm strictly a dabberdoosker, so I enjoy that they have a plethora of GOOD ISH to switch

I was looking for the best gas 🔥🔥🔥 and fire in town and federal reserve has it OMG DC top product, top customer service, top drivers DEFINITELY my new plug in district fam!