Discover trusted marijuana businesses in your community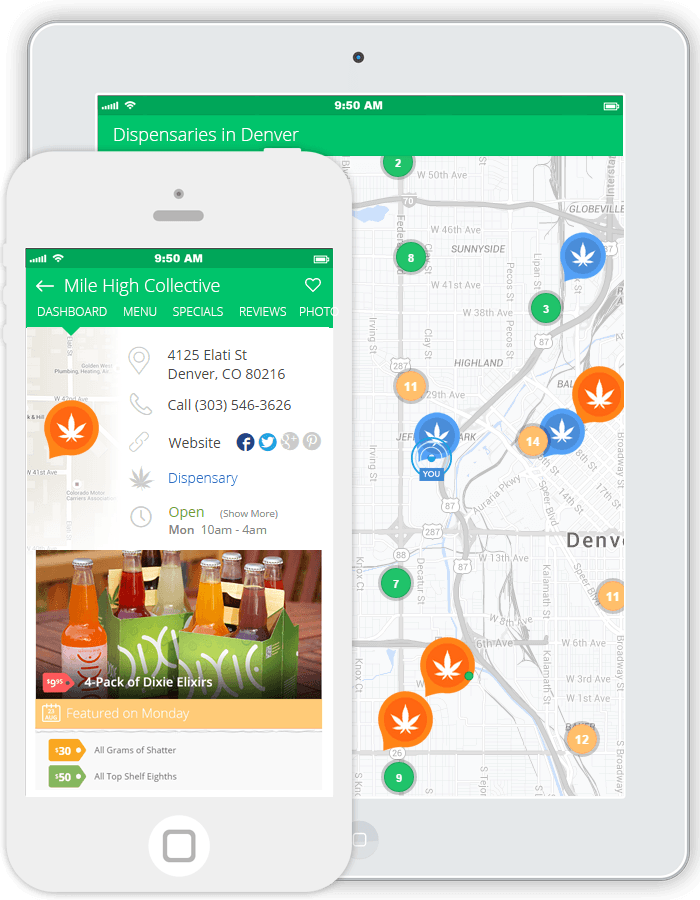 New to Where's Weed?
Where's Weed helps you search, discover and share marijuana businesses in your community. Whether you're looking for a recreational or medical marijuana dispensary, marijuana doctor or even a place to connect with local marijuana users, you've come to the right site!
Create an account
Discover local dispensaries, deliveries, doctors and more
Pre-order your purchases online
Search local specials and events
Review, favorite & share your favorite businesses
Dispensary Reviews
Fast delivery - flower was top shelf - had moonrock joints which were killer.

Great first time experience. Went with the birthday cake and it was great driver was very helpful and professional. Would definitely recommend.

First time customer but will definitely be coming back top notch service friendly easy to use and great deals for good flower and wax varieties I was extremely happy with my purchase. Plus they looked out on some free stuff. If you around dc give them a call

This is definitely the best people to go with there quality is very very good and i always love the freebies they definitely bless

Sticks and pebbles. Never again.

they were a little late but really they were right on time. they even included a free preroll to soften the tardiness. now that's customer service 😚💨💯

Horrible experience, we bought mango kush from them in September which was great then we reordered in January. They forgot about our order and then definitely did not give us mango kush. Will not be buying from them again.

The blue dream is sticky as hellll straight gas. Price can't be beat, quick delivery, and no "free pre-roll for a good review" shit so you know their 5 stars are legit. Will be my go to for tree in the future 🙏⛽️

Well that sure was easy! Thank you!!! Not sure if the preroll was meant to be in my bag but I will take it : ) Be safe everyone!

One of the dopest, nicest people I've been to. Top notch bud and great service.

Love Hyfe. I've shopped around and nobody compares to them. Good quality every time and they are super honest with their products. I never wait long if at all, and I'm always looking forward to try new stuff from hyfe as they have never let me down. Huge menu and great deals. Want some quality products, shop Hyfe. Simple...🤙🏼🌱 🍃

The customer service is top notch.. love this place which is why I frequent them more than any other...however recently the quality of the products seems below average and I am saddened to write this review

Great gas and had great service with them 100% ordering again! 🔥

Cloud 9 has been a wonderful service. Good product, good price and good service! Definitely recommended.

Always on point. Quick delivery and great communication. Beautiful product as well obviously.

Great service and the best presentation also love the gifts! Will be back for sure.

Grabbed the 4 1/8s special. Great communication and the best flowers I've ordered from this site hands down. AAA+ product and service. You pay for what you get with them.

Incredible service, short delivery time

Where do I start?! My husband and I have been using Hyfe for only a short few months and the ONLY negative, is the fact that I wish we had found them sooner! I feel safe in saying we will be lifetime Hyfe customers. From day 1, Hyfe has gone above and beyond. Not only is their customer service 10 steps ahead of others, to say that their product is amazing is just simply an understatement. I have been a smoker for 18 years and have never had the high level of quality that Hyfe's products have. From the A grade up to the AAAA+, each seem to have had the perfect balance. I could go on but to save myself from being redundant, everything that I could say about Hyfe truly is the perfect storm. If I had to leave a suggestion, it would be that the company adopts the motto "Believe the HYFE"!!

Best Buds is always looking out with the freshest products. Well cured buds dripping with crystals and terpenes. Hands down the best around town. They treat me right every time. The are the best!!!

The kush is pretty average, these people leave lots of fake reviews for themselves. Several of these 5-star reviews are from the same few accounts smh

The kush is pretty average, these people leave lots of fake reviews for themselves. Several of these 5-star reviews are from the same few accounts smh

I love Munchies!! I was supposed to leave their review weeks ago but the great service and quality definitely made me remember to order from them today! Keep it up!

Excellent service and product. Best carts never counterfeited. I always feel comfortable buying from them.