Discover trusted marijuana businesses in your community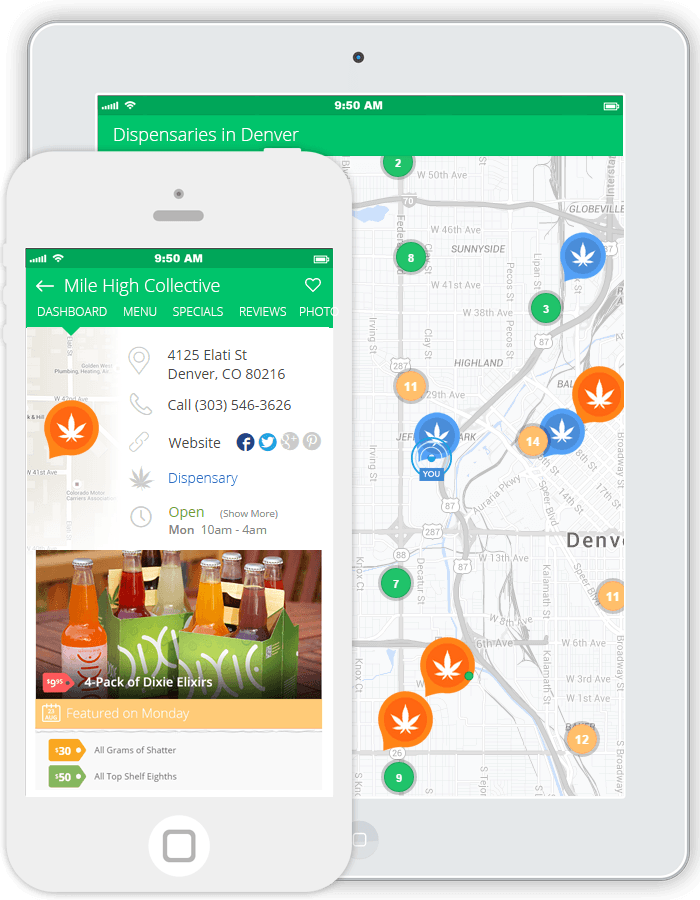 New to Where's Weed?
Where's Weed helps you search, discover and share marijuana businesses in your community. Whether you're looking for a recreational or medical marijuana dispensary, marijuana doctor or even a place to connect with local marijuana users, you've come to the right site!
Create an account
Discover local dispensaries, deliveries, doctors and more
Pre-order your purchases online
Search local specials and events
Review, favorite & share your favorite businesses
Dispensary Reviews
WOW, why did we have to wait so long for this? Delivery on time, quality products, reasonable deals. Do you have a membership :)

Got the Sour Skittles Cartridge. Fire 🔥🔥. Quick delivery.

Awesome place friendly tenders

These guys know good quality😎🚬

I'm not going to go into the delivery issues I had with this place. But through that I continued to order. But this last delivery mishap and quality of bud was ridiculous. The bud has tons of stems. And the high doesn't even last 20 minutes. It's on the level of Reggie. And I ordered the Skywalker og. Other strains I recieved weren't as atrocious as this one. But I'm done with this place. I wish I could post a picture of the bud, stems all in the bud/ bag even when u grind it up.. Just bad. I don't post reviews. But I almost feel like they should know better than to have something that bad of quality.

Great deals and selection on 1g carts. Totally professional and reliable. This is my third order and I'm really happy with these guys. I'll be ordering again. And again.

First time using this service and I am very dissatisfied. Bought the special with flower, gummies and 2 prerolls. They were out of gummies so they said they would sub a pre roll which didnt' seem equivalent but I agreed. Got my delivery, the driver was nice, but when I got inside all I had was my bud only, no prerolls. I contacted the comany, they offered me a few fixes that weren't very satisfactory but we finally decided a driver would return with the prerolls i was missing. driver never showed and when I asked for an ETA I was told the driver was supposed to call me. No call, no show. Not a great way to treat your customers, I don't think I will ever buy from this company again if they don't fix this problem of my missing products.

Always a great selection and quality meds!

Great place! Knowledgeable staff, friendly and helpful

hi am so excited to see ALLEVI8 store and i was intrested to be there and i want to be one of the part of that

I was alright with the service, the product quality and the value. They worked a brother in on a very busy Sunday and the green crack was delicious, scrumptious, tasty, visually appealing, etc etc etc. I can't say enough good things about that particular strain. Been smoking good quality herb all over the world for 35 + years and was very pleased with my first experience with ASSC.

Great experience here! Fast delivery & fire cartridges!

SUPER Awesome... first timer and first time DC delivery-ing... was seamless experience and buds r dank. Will be returning

Absolutely steller gifts. Carts and flower are great. Thank you for taking the time to talk with me. I'll be donating next week and every week after. Cheers!

2nd time using this amazing business!!! Customer service is on point! Have been to many dispensaries and this one is the Top Best 5 places!! Must try!! One Love 💚

Waste of time deal was too good to be true. seems to be run by a bunch of children music loud in background they hung while i was still speaking just avoid

These guys are awesome! They knocked some money off my price! The quality is awesome and I recommend them to anyone!

I love these guys! I use them every time I go into the city! Very Classy Way Of handling things

I really enjoyed our experience with these guys as well. The quality of the product is great an the Price couldn't be beat....

These alguys are always top notch and very quick to respond. Probably one of the best delivery companies in the district!

This has got to be the best delivery place out there. This is the best buds with some great prices and specials. They have everything in one place and have great customer service. After finding these guys i don't use anyone else.

Great customer service. Highly recommend!

First time getting delivery in DC! This was an awesome expierence from start to finish. Such an easy process and legit product. Would defintely recommend!

I have left a review here before when these guys first opened up, i feel inclined to leave another today because time after time they provide a flawless overall experience from start to finish!!!! This company goes above and beyond to make sure you are satisfied, and the product is top shelf, and to top it off they are very helpful and friendly!!! Thanks so much guys keep it up!!!! 💪🏻

Still my favorite delivery service. Consistant quality buds, great communication, and amazing specials!!