Discover trusted marijuana businesses in your community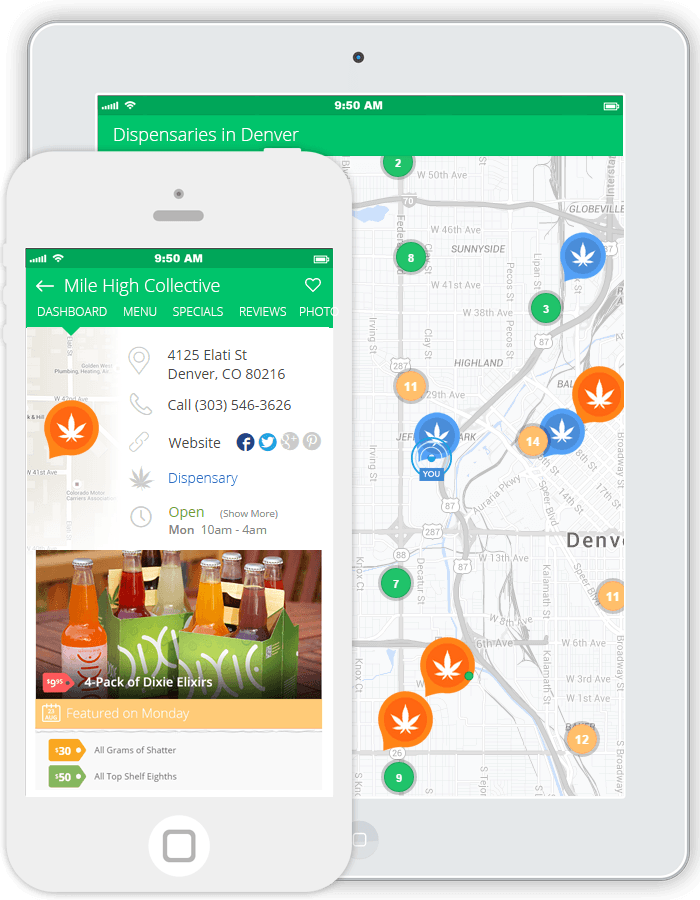 New to Where's Weed?
Where's Weed helps you search, discover and share marijuana businesses in your community. Whether you're looking for a recreational or medical marijuana dispensary, marijuana doctor or even a place to connect with local marijuana users, you've come to the right site!
Create an account
Discover local dispensaries, deliveries, doctors and more
Pre-order your purchases online
Search local specials and events
Review, favorite & share your favorite businesses
Dispensary Reviews
These guys are top notch awesome and perfect. Good everything and had my fave strain on demand. Best for flower in DC. Thanks!

I've ordered from here in the past for oil and was never disappointed. Their carts hit well to. Well worth it. Thanks!!

My best experience with a DC dispensary delivery so far. BEST PRICES ON CARTS IN DC RIGHT HERE!!! They responded quickly to my questions and the delivery driver was on point. The TKO Orange Sherbet .5g cart for $25 was a STEAL! I'm coming straight here when I need to re-up for sure!

Didn't communicate that they were going to be late. No updates. Didn't end up doing the delivery because they didn't show up during the time frame (or alert me that they wouldn't be until I called them after the fact). Figured I should give them a second chance and texted to reschedule... no response. Customer service was subpar at best.

Loved these guys. Till i got home a hit scales. Truly disappointed in my 17 gram ounce. What the fuk.

I got great service, they were very friendly and delivery was super fast!

Aye contact me IKnow where yall phone is at

I. AM. ROASTED OK?! Great service and pleasant driver. Top top it off wonderful deals! Lawd I am going to eat everything in the fridge. *sigh*

One of the best in DC! Great options, timely service, and even found a tech glitch that delivered my request after the time they were closed and reached out to complete the request. That's dedication to a craft!

AWESOME product and service! They were super kind over the phone, extremely professional, and even drove out in the snow to make the delivery! Their prerolls are amazing, and I can't wait to try the rest of their product !!

Literally a painless process. They came way within the drop off time, super friendly on the phone and in person, and the people who I talked to just seemed to like where they were working overall. Defintely recommend and will order again!

How the fuck do u order from this bullshit

Everyone here is super nice and helpful!!

Took advantage of the 160$ oz. blue dream deal, still expecting to get quality buds. Got 10 grams of shake with a zillion little skinny stems can't roll anything with it. The nugs that i did get are smushed and flat. Smokes alright but the weight of the shake is a big killer for me.

These guys are awesome and super friendly. I make sure to place an order every time I come to town. I recommended two other people to give the service a try and both loved it. Thanks CB!

I used to order pretty consistently, but now you require ID to be texted even for existing customers. I can't do that, but miss you guys.

Great place, staff is friendly

Best quality flower I've received after trying out around a dozen dispensaries on this website. Bud was fresh and very high quality. Quick response and delivery.

Placed a recent order and Allie reached out to let me know that they were delayed/waiting on a driver. Even though the order was late, she gave me a free 1/8 and 3 prerolls to make up for the inconvenience. Cannabear by far has been the most consistent delivery service I've used.

This company is legit. They are always flexible, courteous, on-time, constant freebies. This is not the common delivery service. Definite step above on all fronts.

Amazing products always on time what esle do you need

Hit these guys up last minute and they replied quickly with answers to all of my questions. Their brass knuckles cartridges are legit and a great price unlike many of the knock offs out there. Super friendly service, solid quality medicine and I would definitely suggest trying their edibles & candy.

Great service, fast and responsive to questions.

I've ordered from here, as my previous favorite wasn't available, and I haven't looked back since. Fast communication, quality product, and great pricing. What's not to love? Herb is definitely seeing more of my business than others!!