Discover trusted marijuana businesses in your community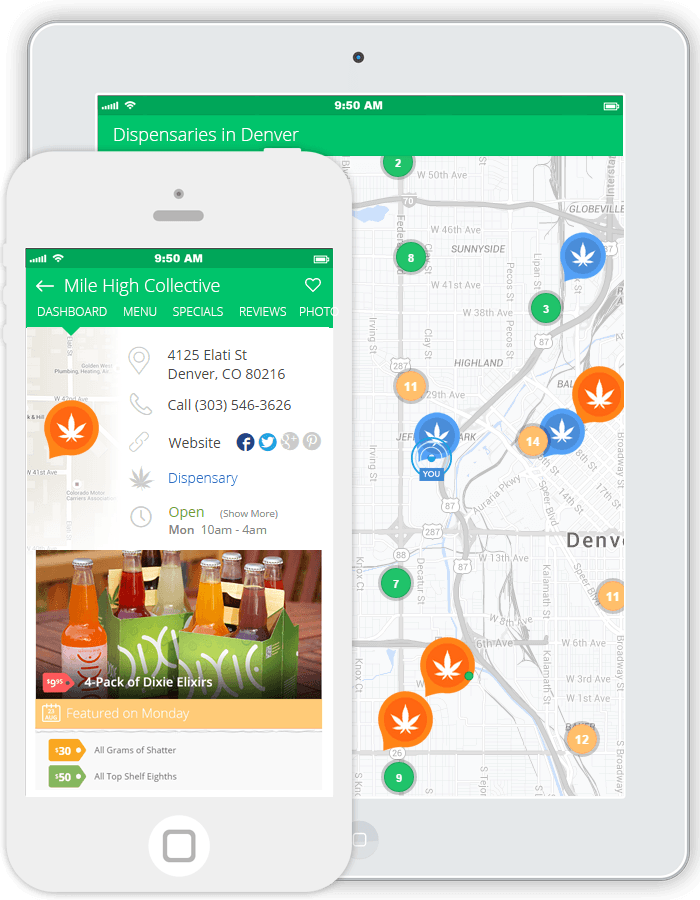 New to Where's Weed?
Where's Weed helps you search, discover and share marijuana businesses in your community. Whether you're looking for a recreational or medical marijuana dispensary, marijuana doctor or even a place to connect with local marijuana users, you've come to the right site!
Create an account
Discover local dispensaries, deliveries, doctors and more
Pre-order your purchases online
Search local specials and events
Review, favorite & share your favorite businesses
Dispensary Reviews
I would normally only ever leave a review to complain about something but HOLY SHIT THESE GUYS ARE INCREDIBLE. First off, the driver is the sweetest, kindest, lady you've ever met and she's totally groovy. Second, the carts hit you hard and make you feel like a kid smoking for th first time again. Finally, the prices are incredible! $150 for 4 full g carts is the best deal I've found in DC. I'm only going here from now on

Driver was very sweet and friendly and she made it easy. Stress-free experience. Will buy from again.

Friendly driver when i got a little confused, great experiance. Much appreciated! :)

The best delivery service to date - arrived within an hour! Great communication and great products. Looking forward to ordering from Art Supply again soon!

Good. Excellent donuts and Bean Coffee

Bagged Budz, gave me the highest quality flower options in the District. You truly get what you pay for! Great customer service.

The first cart I got from here was amazing but for some reason, the second cart I ordered had no effect on me whats over...bummer.

Just donated to puff and the got some pressure quality flowers and delivery fast quick damn I'm high as a kite 😂

I had speedy delivery, and quality great! Love them

The Dank carts we on point and I really enjoyed the free pre-roll. It was the best joint/blunt I've ever had!

I thought I would be shopping with a good company but became highly disappointed. I met with the driver I receive the product in a cool manner. However, as soon as I smell the weed it doesn't have a scent, better yet it smells like a car after it's vacuumed out. I asked the driver is this what I ordered. I know OG I'm a real smoker real consumer. He told me yes, so I took his word for it tried it out I told him if it's good I will give you a good review. I didn't like this Larry OG I purchased from you guys I spent $200 for nothing the weed isn't even smokable. I even tried to get an exchange on something better hoping to at least give them another shot my calls were denied and text messages not answered

They where a little behind but it was not there fault but i can Say i am Beyond pleased with my meds i will Be back here for sure

I called at around 10:30 and they were able to process my order quickly and deliver it with no delay. thank you guys! Keep tokin ;)

Gave me the wrong strain. And I'm not waiting another 2 hours for y'all to bring me what I ordered in the first place. Can't trust you guys...next time they may give me some CBD! On to the next business :)

I came from NC hoping to find a good place to score some quality flower and I'm so glad I found these guys. Thank you for the bud and thank you for the service!

tbh i thought i was gonna give up from all these other companies but y'all changed my mind. imma order again soon

Small Larfy buds. Extremely harsh smoke. Asked for jet fuel they said they only had shake left yet still on menu days later. Wish I could support but this is not it.

Excellent shop. Their herb is fantastic. My god. I was living on another level with dosidos. The gorilla glue amazing way better then other shops. I'm very pleased. This is Thurston. I'll reach back. I hope my review reflects that this shop is good. I've smoked for years. I've gone off of donation amts and the types of grass for years. Anything around 200 and under Is a give away and the shop owner LISTENS. I can't tell you what to say or how to handle your business as a customer but it is a shop, you can call, you talk, they will listen. Man I'm very happy I came across. The nugs were soft moist. I smoke frequently but I tapped on do si dos. Props guys I'll be back soon

Great service. Ordered from them the other day and wasn't disappointed. Great product, great prices and very friendly. Will be ordering again.

This place is phenomenal. Great service, great bud. The deal they are running is great as well, I'll be back for sure.

Never showed. Super rude.

I have been smoking my whole life and know what good smoke is like. I bought a half of their zkittles for 240 since it said it was 29% thc. When I opened it was brown, dry and had a strong, peculiar chemical like smell, which went away the next day almost like they sprayed it with something to make you think it's strong. When I smoked it, I instantly knew it was very low thc and that I got ripped off bad. I paid 240 for something worth 50 at most, and haven't touched it since. Don't read this comment and think that I am just exaggerating. You will get ripped off, but if you're looking to throw away your money, give them a shot.