Discover trusted marijuana businesses in your community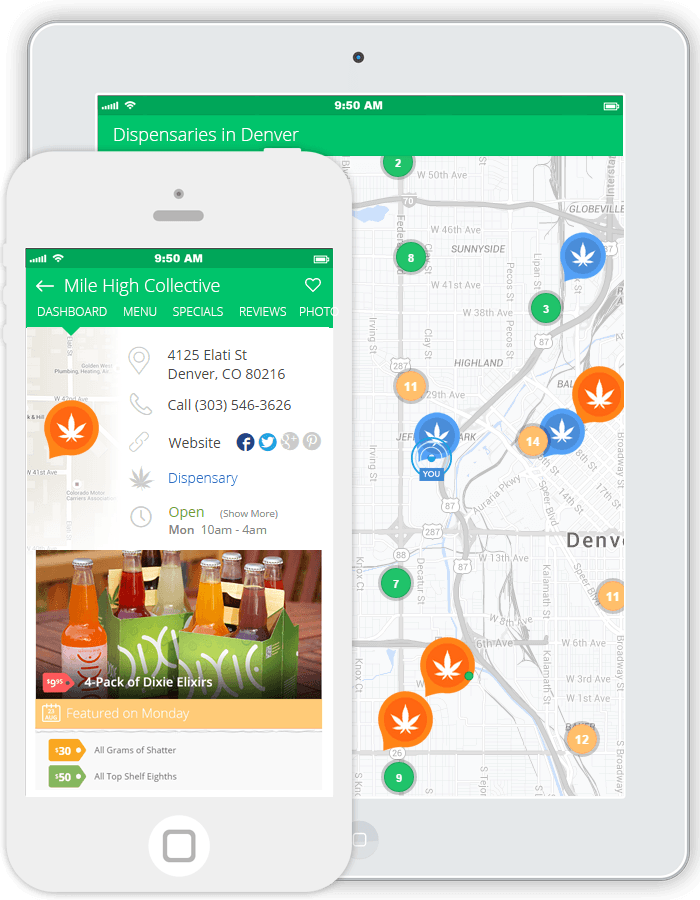 New to Where's Weed?
Where's Weed helps you search, discover and share marijuana businesses in your community. Whether you're looking for a recreational or medical marijuana dispensary, marijuana doctor or even a place to connect with local marijuana users, you've come to the right site!
Create an account
Discover local dispensaries, deliveries, doctors and more
Pre-order your purchases online
Search local specials and events
Review, favorite & share your favorite businesses
Dispensary Reviews
Appreciate the cart quality, keep it up

These guys are the best. Quality bud and quality people!. Constantly made sure I was satisfied. They are THE way to go!!!

Blue dream had pollinated seeds and was still very wet. Have usually had good interactions but this was a disappointing interaction.

Great fast and best customer service I definitely use this guys again

Great overall service!! Definitely buying from them again

Amazing deal this 4/20 on resin, 2G for 80. But in my bag I also received two free pre-rolls and a gram of bud. All of it was of great quality and the delivery was speedy.

real deal amazing bud, placing my order was very quick and easy, and the driver showed up right on time. can't ask for anything better, especially on a nice saturday. thanks for the service, see you guys again soon!

The basic facts? Top notch quality goods and delivery. I'm a regular every other week for the gummies. The quality control, the precision... honestly it's the best product on the market in my opinion. The dosage is very precise. If it's your first time, start with one and wait one hour. If you're experienced, then start with 3 and adjust accordingly. They'll even give you a discount for a honest review so they're genuinely nice. So try the gummies. You will not be sorry.

On time, friendly, professional, great tree. Highly recommend👌🏾

These reviews must be fake. These guys are AWFUL! First of all they charge $30 for delivery, which they never initially disclose. And then when you go to meet them, they lie about their ETA. I waited over 20 minutes, illegally parked on 14th St downtown! They never came! Do NOT use them!

Happy 4/20!!! The Flower is potent! I'm a daily smoker and the Jack Herer got me pretty juiced, highest I've been in a quite a while. Looking forward to diving into some Green Crack in a bit, if it smokes as good as it smells I'm in for a real treat. Oh and daily smoker does not equal expert lol, I'm just someone that enjoys getting high. Cheers

Good variety, nice product, and the very best part about them is the deals! I've dealt with many companies and Moonlight District IS a keeper...there are many that AREN'T!!! Hit em up!

Always super fast and courteous, plus their products are 🔥🔥🔥. Can't be beat!!!

It's always a welcoming and pleasant atmosphere. Their Budtenders are always knowledgeable and friendly. Prices are well marked, it's always clean and it's well lit.

Great location, friendly staff, great plants and superior gifts. Happy 4/20 to our friends, keep up the great work!

Happy to be the first to recognize this up and coming delivery service! Stellar experience all round, great buds, friendly staff, & speedy delivery. I have to say, I'm impressed! I've tried a lot of vendors and none of them carry themselves as professional as SkyHigh! I look forward to my next donation but until then... we stay fly, no lie, and you know this! BALLIN! hahaha

Great buisness, called and got a menu texted right to me i placed my order and within 5 minutes a driver texted to confirm address and was here in about 1 hr with good nugs for a good price. Also got some pretty good shatter. All around a good experience

You guys are always bringing fire just today was a bit off. I know 420 prolly has you a bit overwhelmed but ive been waiting for 2 hrs now guys. Lets get this figured out!

Great prices and excellent customer service!

you pay for what you get.

High quality for sure!! GG5 kicked my butt and the sour D Brought me back to life. Came to me and had a smooth first time. Thanks Guys! All buds had plenty of crystals and trichromes. Love it

Comes thru once again. As expected, as always. Easy experience, cool process. Great ppl. Looking forward to other donations

They were right on time, the driver was very cool, great prices. Definitely going back to them again. Thanks guys!