Discover trusted marijuana businesses in your community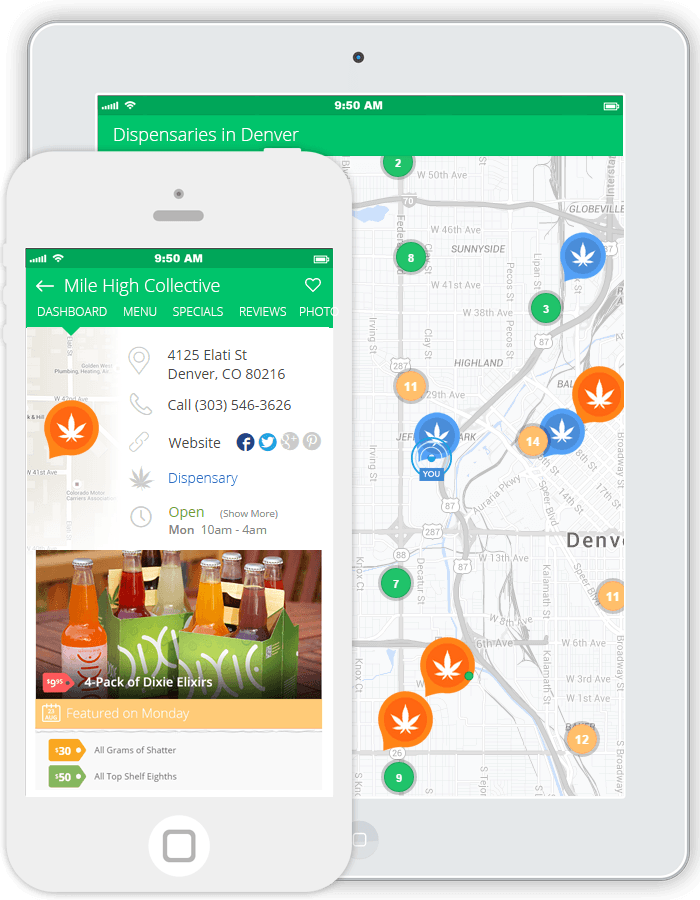 New to Where's Weed?
Where's Weed helps you search, discover and share marijuana businesses in your community. Whether you're looking for a recreational or medical marijuana dispensary, marijuana doctor or even a place to connect with local marijuana users, you've come to the right site!
Create an account
Discover local dispensaries, deliveries, doctors and more
Pre-order your purchases online
Search local specials and events
Review, favorite & share your favorite businesses
Dispensary Reviews
Among my top choices. Always stocked full of great products and quick service.

Very polite friendly and accommodating. 2 zip deal was amazing. Got two fat zips of gas. Will be returning!!

Amazingly magnificent! Absolutely beyond happy and satisfied with this service. Quick and super awesome polite driver. Indulged in the shatterday deal and couldn't be happier. Great product and low priced. I will be returning. Thank you guys for being amazing!

The best deal for cartridges in town! Extremely fast. I can't wait to try their flower.

Weed n Stuff 24/7 is very accommodating with fast, friendly service! Prices are great! You guys are my go to from now on!

They were great and fast. Doin it!👍

Just tried CB for the 1st time and it was a smart decision. The communication was excellent, the driver was great and the gifts were perfect.

Undeniably the best delivery service in town on all categories.

I placed an order and waited over 30 minutes for the order to be accepted and even texted them but didn't get a response. Looked forward to the order since I needed rolling papers and had great reviews

No surprises. Like clock work. Quality from flowers to drivers to logistics. Too convenient.

So, all around was a pretty good experience. Communication and customer service ABSOLUTELY ON POINT, but price to quality, wasn't exactly satisfied, wasn't exactly disappointed. Not the worst the place in my opinion, not the best. Appreciate it though guys.

It took over four hours to receive two cartridges and they forgot the gummies I ordered. Note there is a $20 delivery fee. I will not be ordering from them again.

Use them every week! Great product and super nice drivers

I'm a semi-medical user (I'm old and my body's beat to hell) and I much prefer to smoke a couple of bowls to ease my various aches and pains rather than eat two dozen Advils every day, so I need my weed to work. I liked the look of Fed Reserve's menu and the quality of their reviews here on WW and decided to try out the $250 Signature (top shelf) mix-and-match special. It's always a little weird working with a vendor you haven't used before, but these guys made it painless. I called them, told them I was coming in from Alexandria and was in a little bit of a time crunch, placed my order, and the driver was with me in thirty minutes. You can't get Chinese food delivered that fast, man. As for quality, I asked that they pick me two sativas and two indicas from their Signature line. I've had a single bowl of the Platinum OG and I'm completely pain free, gearing up to watch my 'Boys do what they do this afternoon, and wr

Phil is such a nice guy! Very professional and his stuff is great quality. I will definitely be buying from him again as well as recommending him to all my friends! 10/10!!!!

Disappointed they never contacted me and wanted my time. Good job

Thank you guys for coming through last night, all time favorites right here!

First time using CB today and definitely won't be the last! Definitely the best service I've used here in DC.

Great service, quality buds.

Awesome ordering experience and great drivers!

Cherrytreesdc is the place to order from in the DMV. Never been blessed so generously. Thnx guys!!!

Pick up swag of a champion when you need your remedy stat!