Discover trusted marijuana businesses in your community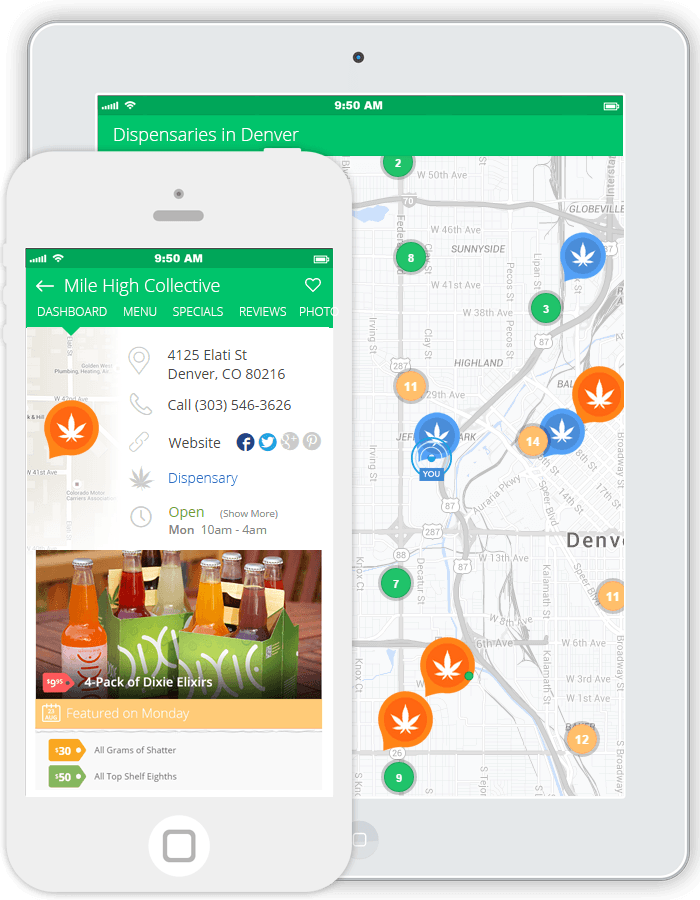 New to Where's Weed?
Where's Weed helps you search, discover and share marijuana businesses in your community. Whether you're looking for a recreational or medical marijuana dispensary, marijuana doctor or even a place to connect with local marijuana users, you've come to the right site!
Create an account
Discover local dispensaries, deliveries, doctors and more
Pre-order your purchases online
Search local specials and events
Review, favorite & share your favorite businesses
Dispensary Reviews
Great place, staff is friendly

Best quality flower I've received after trying out around a dozen dispensaries on this website. Bud was fresh and very high quality. Quick response and delivery.

Placed a recent order and Allie reached out to let me know that they were delayed/waiting on a driver. Even though the order was late, she gave me a free 1/8 and 3 prerolls to make up for the inconvenience. Cannabear by far has been the most consistent delivery service I've used.

This company is legit. They are always flexible, courteous, on-time, constant freebies. This is not the common delivery service. Definite step above on all fronts.

Amazing products always on time what esle do you need

Hit these guys up last minute and they replied quickly with answers to all of my questions. Their brass knuckles cartridges are legit and a great price unlike many of the knock offs out there. Super friendly service, solid quality medicine and I would definitely suggest trying their edibles & candy.

Great service, fast and responsive to questions.

I've ordered from here, as my previous favorite wasn't available, and I haven't looked back since. Fast communication, quality product, and great pricing. What's not to love? Herb is definitely seeing more of my business than others!!

Quick and easy to understand they have rewards cards I'm about to get a free prerolled I got a gram extra on my first order so far I am satisfied it's hard to find the kind bud I'm use to out here in Lompoc

I had to call them three times with questions for my first order, and each we spoke he was polite and accommodating. I got a great deal on Brass Knuckles cartridges and some really nice flower. Great prices, great service - thank you!

i'm celebrating my year or so anniversary of exchanging gifts with my friends at capital buds. i've been favorably impressed with the people and the thc. diverse inventory, and they appear to be improving each time we get together. couriers are top flight.

Awesome flower, price is comparable in the market, however there is no risk here of getting squeezed for 120 of some huff. It was 260 for the mix and match premium oz and I'd say definitely worth it to pay the extra $40 for insured great quality and flavors. And within the delivery window as well. Excellence guys

This people shorted me, and treated me like I was lying. So I wrote a review then they say contact them. I did and now there tell me because it's was so long a go they only can give me 20$ off my order. Why the f would I spend more money with you and u cant give me what you shorted me? They don't give free gifts with the bud not i70 compliant. For u boys we just getting started u will pay what you owe

Amazing quality slight mix up on pick up but well compensated and will be back for sure

Quick, communicative, great product.

Put my order in a day prior to requested delivery and the order was pending until a few hours before the delivery time (cancelled by business due to being outside delivery area (never had this issue)). I gave these guys a call just to see if there was an error on my end and was told that they cancelled the order bc I ordered outside a time they were open and they were not sure if i wanted my order still. No communication on their end prior to cancelling. Wasn't even trippin off that, I asked what I needed to do and they said just order again. Put my order in again just to have it cancelled again immediately. Not sure what's goin on with this group, never had a problem with order or delivery before.

Best price period. Best quality period. Don't be an idiot and try to haggle perfection!

First time trying these guys, you got a new customer for sure! Timely and friendly service. Delivery was here in less than 30mins and driver was awesome. Super Dank donation! Def using again!

I had a great experience dealing with the service. Driver was polite and responsive, the product was great. Will use again

Don't bother with any of those over priced, low quality pot dispensaries in this city. These guys have great prices and deals, and they even have van city rolls in stock sometimes. I order my green, and less than an hour later it's nice and snug in my stash. Lighting fast, excellent customer service... Stop reading this and buy their pot already!!

They did not order here 3 or 4 times...fake accounts...fake reviews...fake cancer causing products...

I've ordered from Edibles/Vape Carts about 3 or 4 times now. Always very happy with what I've gotten from them. They are quick to respond, easy to work with, and all-around seem like pretty cool folks. Drivers are prompt and professional. 100% my go-to around DC.

I did the buy 2 get one free vape cart deal. The carts are likely from Select Oil( which is an uber bomb brand). In a dispensary out west you can get them for lower, but nowhere I know in the east had them besides here (by surprise). They threw in a free pre roll too+mini jar.