Discover trusted marijuana businesses in your community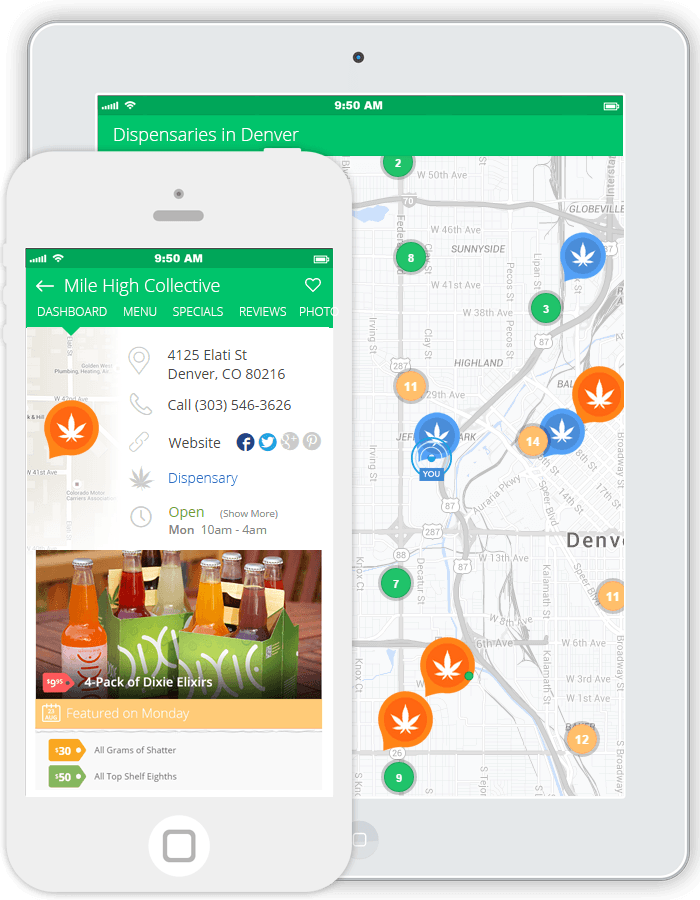 New to Where's Weed?
Where's Weed helps you search, discover and share marijuana businesses in your community. Whether you're looking for a recreational or medical marijuana dispensary, marijuana doctor or even a place to connect with local marijuana users, you've come to the right site!
Create an account
Discover local dispensaries, deliveries, doctors and more
Pre-order your purchases online
Search local specials and events
Review, favorite & share your favorite businesses
Dispensary Reviews
Never showed up, never responded.

Good greenz, fake ass carts all the way !! Big shocker there !! Don't but the carts they are knock offs

ordered with a friend, great selection and fast delivery!

top notch communication + service. excellent timing + deals -- thru snow and all. plus, added gifts. yall came thru forreal, much luv

If you're looking for quality bud with friendly and knowledgeable staff then look no further than Moonlight. They are quick to accept your order and get you your product in a jiffy! A+ love you ladies so much

These guys are awesome ! They came out in the snow and still got their delivery to me on time! Plus gave me a free gram of the gas. Deff would come again. I got a juul pod and I got some of the white fire and King Kong, just tried the white fire and it literally was amazing

Super helpful and the quality is allways outstanding! Super thoughtful with the gifts! Definitely give them a shot.

On Point. Little late on arrival but legit

This was probably the nicest experience I have ever had with a delivery - great quality product, knowledgeable, excellent communication, and super upbeat/genuinely outstanding customer service.

Love their weed and they always deliver on time

Great bud very dependable service

I have went to numerous dispensaries & I have a high tolerance I'm satisfied about quality & price.

I would like to start of by saying these guys are phenomal. I made a huge mistake by giving the wrong address which routing the driver off by 10 mins. Once i saw him, i immediately apologize for the inconvenience and he was so cool about it. Absolutely polite & respectful. And the best part was, the delivery was still fast & efficient. My girlfriend and I were shocked! As far as the quality, wow... I tried the Slimer OG & my girlfriend tried the Platinum Cake. Definitely recommend these strains. I haven't had real quality like this in awhile. Everything is normally decent or a little above decent but their product blew me away. So big thumbs up to you guys and you will definitely be hearing from me again... very soon! Thanks again fellas 🤙🏽

Good lookin out! We'll see u again .

I've never been more dissatisfied with a service of any kind in my life. I arranged pickup, called the driver beforehand and gave him relevant contact info, and still he never showed up. He never even picked up the phone (the only one listed), or responded to a text. Said he'd get me a great deal the next night, and I get the same routine. I sent six texts, 3 messages on this site, and called over 20 times, and I'm still waiting on a response. This is clearly not a professional business. Avoid at all costs.

LOVE everything about these guys. Quick, friendly, reliable. Would recommend to anyone! A++

Can't say enough good about buddah. Awesome drivers, . They always have great quality control I really appreciate that when it comes to my flowers. Hope they never change they seriously impress.

Dce always has makes any donation a quick and easy transaction. They're timely & their donations are worth every penny ! Keep up the great work

Good quality, and very helpful staff! Haven't gotten an order completely correct yet, but hopefully the 1/8th times the charm! For sure recommend checking them out!

Glad I found these guys. Tried the Slimer OG and the Wedding Cake. Quality is phenomenal u get what u pay for!! Thanks again. Will be back For sure

So far with talking to them my experience has been great.