Discover trusted marijuana businesses in your community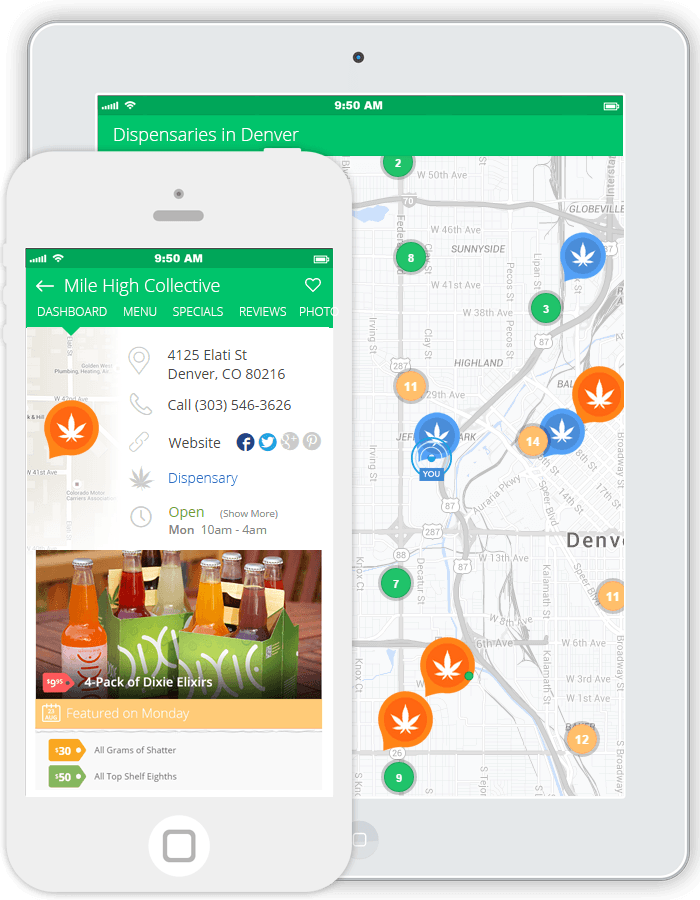 New to Where's Weed?
Where's Weed helps you search, discover and share marijuana businesses in your community. Whether you're looking for a recreational or medical marijuana dispensary, marijuana doctor or even a place to connect with local marijuana users, you've come to the right site!
Create an account
Discover local dispensaries, deliveries, doctors and more
Pre-order your purchases online
Search local specials and events
Review, favorite & share your favorite businesses
Dispensary Reviews
We go way back with Cherry Trees. Glad y'all back.

Radically Dank Buds. The new wave of delivery.

My favorite new delivery service.

The best brand, packaging and merchandise out of any company so far. Well done all around. 👌

Impeccable timing, service, and generosity. Loved the gifts. Will recommend to friends and call back for more.

BRUCE BANNER IS BACK FIREE

Great quality, fun gifts, and great service.

I like the budtenders very much--friendly, helpful and knowledgeable but your prices are not in line with people on Disability (SSDI), fixed monthly payments--too expensive which defeats the purpose of people on SSDI being able to get medical marijuana in Cottonwood, Arizona.

Responded quickly and were super nice, excellent quality for an excellent price

Responded quickly and were super nice, excellent quality for an excellent price

Ordered wirh these guys because their pictures actually looked real. And i tell you, THEY ARE. DOSIDOS was one of the most potent buds I've had in a while. The Lemon tree is just as i rememeber it from the first time i had it. Amazing flowers and great communication as i ordered for a drop off after work last night. Driver was there and as friendly as ever. Glad i ran into this company, will be in contact soon guys 💪💪💪

Fastest delivery I've gotten so far. They ran out of the products that I ordered but called almost immediately to offer a replacement. I'll use them again.

First time using a delivery service and ordered from Moonlight a couple weeks ago and they were great! Showed up when they said. Quality of the product was awesome. They even threw in some extras. Much Appreciated!

Was able to get a good variety of top notch stuff at a good price, if you want to try an 1/8 of many high quality buds this is the spot. dude is my man i accidently left my phone in the car he came back and delivered it, super chill. thanks again

Hugh quality product at a reasonable price... my go to spot for concentrates in DC

I was referred to CB by a family member when I moved to the area and found the service to be superb. CB has a great menu making it a true one stop shop. Recently, I had an issue with one of my products and they swapped it out with a replacement without any hassle. With the highest quality, finest selection, and great service... you can't find a better spot than CB.

A friend recommended Art Supply and I'm amazed at this service. I got the dragon special which was some serious fire. Haven't smoked the XJ yet but it looks great. I can see the trichomes through the bag. I also got the gingerbread cookies for my sister. THEY ARE STRONG. Very pleased and I can't wait to come back. Side note-The canned food drive is a brilliant idea! Kudos and see yall soon. Happy holidays.

I have ordered twice in the past few months, they have met me around my office, and have been nothing but professional. The owner has answered all my questions when I've asked, and has gone above and beyond to make it as easy as possible for me. Will keep using until they say no. -A

These guys rock! Big thanks to Herb and the team. Very happy with my gift. Highly recommend checking these guys out. It was fast .convenient..and the Bruce banner was super nice. The driver was profisionial.

Always have the best deals and fast service!

I had an incredible experience I was absolutely blown away by how fast and how sufficient everything went . Highly recommend it to everyone !!

LOve RS! Have ordered a few times from these guy nd this time was pleasantly surprised with a free tshirt with my 240$mix and match 1/4 oz, 3 pre rolls and an edible. Product has been super dank so far! would reccomend to anyone!