Discover trusted marijuana businesses in your community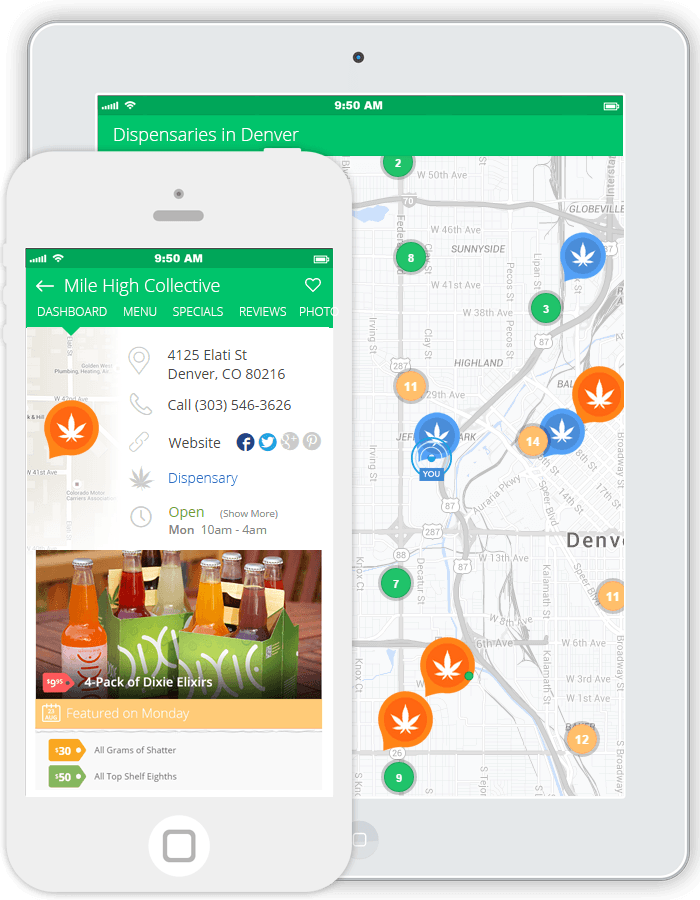 New to Where's Weed?
Where's Weed helps you search, discover and share marijuana businesses in your community. Whether you're looking for a recreational or medical marijuana dispensary, marijuana doctor or even a place to connect with local marijuana users, you've come to the right site!
Create an account
Discover local dispensaries, deliveries, doctors and more
Pre-order your purchases online
Search local specials and events
Review, favorite & share your favorite businesses
Dispensary Reviews
Ordered a half oz of Blue Dream for like $135 . Everything about it was amazing! Dense buds, sticky icky, smells wonderful. Delivery was super fast and everyone I was in contact with was very pleasant and helpful. The price is a bit high but makes sense because of the quality of buds. I would like to see some mix and match options in the future, so us stoners can get a little taste of everything. Thank you Budtenders of DC!

Ordered 3 quarters for $180 on a Saturday (Ghost Train Haze, Pineapple Express, and Sherbet). Great quality buds, no stems or seeds, small and dense, and decent amount of trichomes. I'd say high quality mids or low level top shelf (4.5/5). GTH was my favorite but they all smelled and tasted wonderful. On top of the 3 Q's, I got 500mg gummies, I ate 2 (100mg) and didn't feel too much, maybe I just needed more, idk. Delivery was super fast (<1hr on a Saturday) and price is great ($60/Q). However, I would have felt more comfortable if I was purchasing something as simple as a paper clip for the $250, to align with I-71. Still, I would definitely order again from StarbudsDC!

Absolute BEST service in town!

They have the best deals in town

Great customer service , flowers and prices.

After waiting three hours for another service I ended up canceling these guys were at my door in less than 45 minutes. Great service . Will be back !

Nice product with quality ingredients!!! Yippee to find gluten free edibles... things started a little rocky with delivery BUT they made up for it and I appreciate them making things right🤗

Great service and delivery instructions

The other guys: Show up with an unlabeled bag of popcorn nugs of only one strain I ordered and try to convince me that 'free delivery on oz' doesn't apply because they... delivered to me. Then it was because I picked 2 different strains... Seriously?? PUFF: Straight up with costs and stock availability, EXCELLENT product, great communication. The amnesia haze is bomb! A bit pricier but you definitely get what you pay for. I'll be back!

Great service, great meds. I definitely would cop from here.

Asked three times for an eta and wasn't give one just to be told three hours later the driver still couldn't be there in the 20 minutes before I had to leave . Don't order from here if you need anything quickly

Very cool peoples and great customer service! Product could be better but you can't expect much better for the price! Driver was very pleasant and easy going!

I placed an order and they asked for ID and I never heard from them again. Totally non responsive and lacks customer service skills. I will never place another order with them. Buyers beware!

Easily the best products for best prices. Always my first stop for medical grade carts.

just did the $175 deal for the 1/2 o and 2 carts gift its on point...make sure to leave a 5 star review

Placed an order around 8:30, got a call/txt around 11, saying they're 15min away...almost 1&1/2 hrs later still no show, got a txt saying they got robbed & cancelled my order, yet, the app said order completed...and now, no one is answering my calls.....#Disappointed☹

If you are sitting there debating, twiddling your thumbs, browsing each of these vendors, scared, hoping not to get caught up in some unsafe or fake bullshit. I feel you, I too was in your situation. But, I can say I feel comfortable enough that I could refer my lil sister. What throws you off is probably the name but it's perfect really, because they are "Watz Poppin" if you are not getting their carts you're tripping big balls.... When I say their carts I mean THEIRS like made by them theirs. It is professionally sealed and its presentation is A1 and to me it's better than any I have ever tried. Hand to the sky, I will never buy from anyone else in this area. Make your next move be your best move! Do it! Do It! Do it!

I love these guys! I have tried so many companies trying to find one that stayed consistent with quality product,good customer service and deals. This is the 1st company to do all those things. They even responded to my very after hour messages last night!Much appreciated guys🥰 My driver is awesome,quick responses and quick delivery,every time! I'm about to make the 2 hour drive again today,see ya guys!!

Got a bag of shwagg. Not even mid grade, full on shwagg. Texted about it. They thought it smoked good. No way.

My guy my guy my guy talking about strains back fire no it's torch omg

Best in the biz. Been using WW for over a year. DCPharm stands out in quality, pricing, and service.

I was very pleasantly surprised. I was weary when they said they did their own carts. Best carts in dc is no lie! The price cannot be beat. I don't usually leave reviews but I had to.

Didn't even have the decency to cancel the order when I attempted to verify hours in advance if the delivery was still good. I scheduled an order for the 24th of August(Sat) and even double checked the selected dates/times would be available. The next day the change the day status to 'closed' without any notification from them. Attempted calls and texts were ignored and the voicemail is full. Would 100% not recommend, huge lack of professionalism.

Excellent thank customer service and on time! Love these guess

All fake reviews below this is the same mids they sold in 2004 for 40$ a bag. Garbage all three strains I bought. Blue dream, grand daddy purple, and haze berry. This is nothing other than sensimellia and they tried to bust my head with a at 360 an 0. 30 mins late with the Ugliest buds I've seen in DC That's a 100 percent true review right here and if this was sack you sold me on the street.