Discover trusted marijuana businesses in your community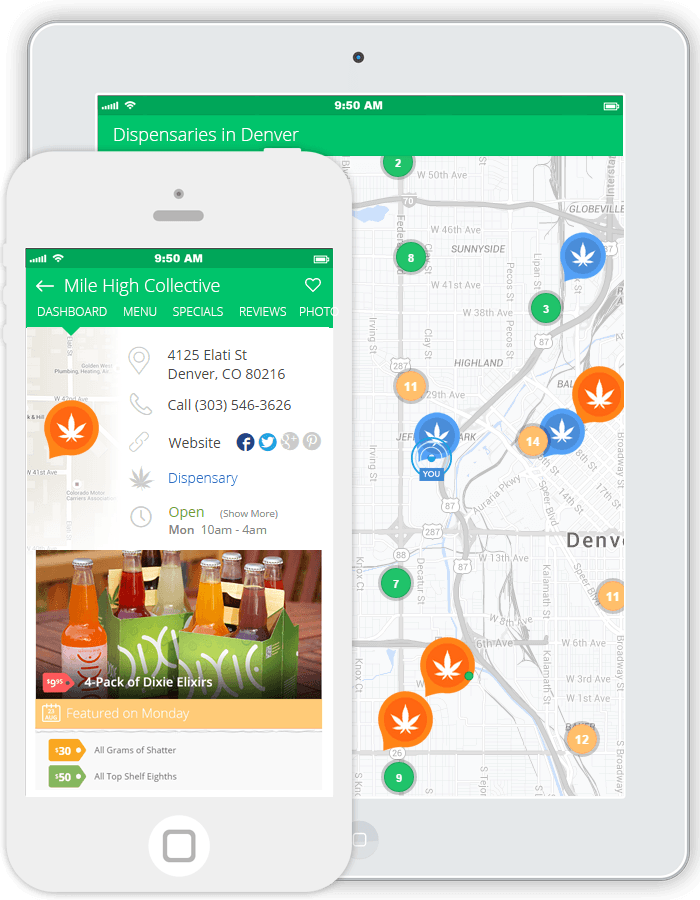 New to Where's Weed?
Where's Weed helps you search, discover and share marijuana businesses in your community. Whether you're looking for a recreational or medical marijuana dispensary, marijuana doctor or even a place to connect with local marijuana users, you've come to the right site!
Create an account
Discover local dispensaries, deliveries, doctors and more
Pre-order your purchases online
Search local specials and events
Review, favorite & share your favorite businesses
Dispensary Reviews
I was referred by a friend, and I reluctantly tried. My experience was great. Wonderful price, awesome quality. I will return regularly. Thank you!

First time a few weeks ago and it was by far the best experience. There's an attention to details and both the person I spoke with and the driver were very friendly. I also hit a free gift which is always nice.

Easy to work with and always has the best prices in DC, for really good product. 🔥🔥🔥

Great Medicine quality at an amazing price! Drivers are experienced and timely! Definitely buying again.

I'm very happy with my first experience with 420 roadside. Excellent communication, great prices. Will definitely use them again.

New system has " bugs" to work thru. Asked for Sativa...got Indica. Crazy busy and I made the mistake of getting my Rx and left. Can't do a thing Rx can't be exchanged

Straight Fire..... First time, no problems will def be back again

Good communication throughout the ordering and pick-up process. Accommodated the narrow window I had to meet the driver and the cartridges were an OUTSTANDING deal (best I've yet to see for top-brand cartridges).

Very responsive. I've used them multiple times, always good quality and professional. Drivers have been nice and not sketchy. Definitely would recommend.

Amazing first experience! Product was unbelievable and the driver was right on time even with horrible DC traffic! Can't wait to make my next order!

5 stars all around. Great price, product and communication. Fantastic!

Best of luck to the new driver sweet personable

Great fast service. Will definitely use again

Wow! Talk about a rapid response and great product! A lot of other vendors are slow to respond, late, and unfriendly. Not the case with these guys. I placed an order and heard back from them instantly and throughout the time leading up to my delivery. Definitely made me feel like my time and business was valued!

These guys are the best! Super responsive and friendly! Great product and solid customer service

Best experience I have had so far. Wouldn't go anywhere else. Accurate delivery time, solid price, and phenomenal product! Look no further!!

Worst ever they don't answer da phone nor communicate with u I been call n calling still no answer

Consistent quality meds. I've tried 8 different strains. All were grown, dried and cured properly 👌🏼 P.S Get your hands on sumuthat blue dream, or don't..... more for me ✌🏼

420 hooks it up every single time. Their service is exceptional, ensuring customer knowledge on the status of their orders. Last time I ordered from them, I got an extra cartridge, 3 extra joints, and some goodies as well.

Easy to talk to, amazing gifts top notch

Great friendly shop I really feel comfortable in. These guys get you good meds at a good price with a smile and that's all I can ask for when picking up my medication. Thanks for the help Bailey!

That was some ⛽️⛽️⛽️🔥🔥🔥 will be back very soon

I got my medical marijuana ID card here, and it was the quickest process I have ever had. After cannabis became legal in my state, I thought there's no requirement of medical ID, but I should get the ID. They charged only $79 for medical marijuana recommendations plus an ID card. I have been able to save much more on taxes. Moreover, it's wise to have an ID card if you travel regularly to other states.

What a great experience! She is, by far, the most polite and well-mannered person in DC. Delightful product and wonderful service. 10/10 would contact again!