Discover trusted marijuana businesses in your community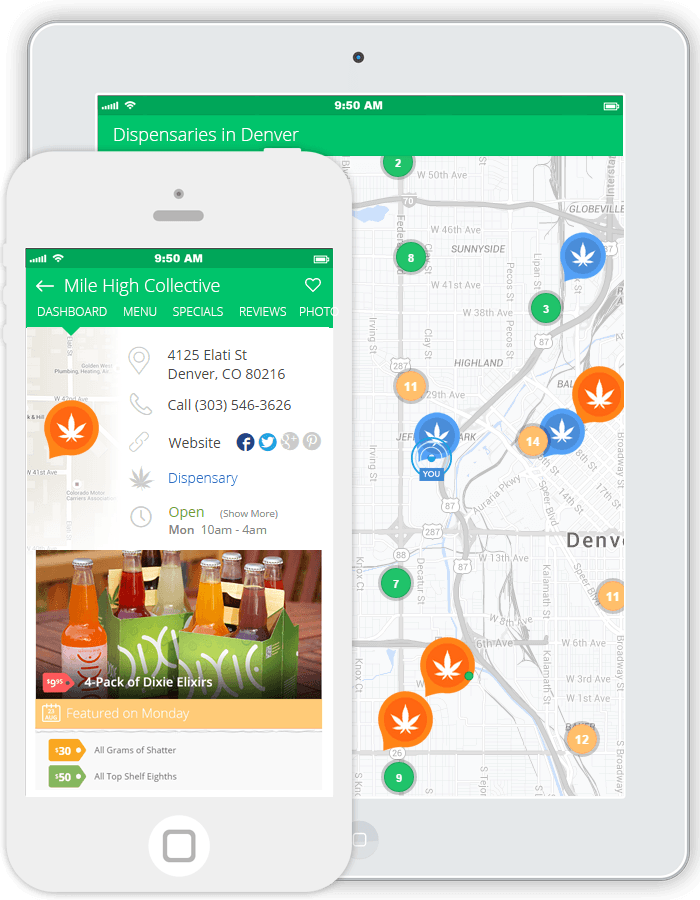 New to Where's Weed?
Where's Weed helps you search, discover and share marijuana businesses in your community. Whether you're looking for a recreational or medical marijuana dispensary, marijuana doctor or even a place to connect with local marijuana users, you've come to the right site!
Create an account
Discover local dispensaries, deliveries, doctors and more
Pre-order your purchases online
Search local specials and events
Review, favorite & share your favorite businesses
Dispensary Reviews
Best quality best dispensary hands down

Never have what they say they do. Quality is terrible

So I had and excellent experience with these guys they had all the info and the meds are A++++. I'll def be a returning customer and I'll also recommend them to all of my ppl . If ur looking for great service prices and Meds check these guys out they are def worth it . DonDon

Excellent service. Placed my order online and promptly got a text with ETA. Delivery arrived a few minutes early. Carts are nicely packaged with free gifts. Best delivery experience I've had in DC. A+++

Worst $h!t ever, I couldn't give away the Sherbet OG. They claim the driver may had switch. Poorest quality I've had from anyone else on the site. Th

Spilled product, unreliable delivery. Would do zero stars if possible.

These guys r a great company. They r super nice and understanding. The drivers r nice as hell. Im a for sure returning customer. Point blank some of the best service ive had in dc...

I thought something was wrong with me cause other places had weak crap. The person indent with took the time to explain everything. And true to his word I bug and I'm gone. Also important to me is they treat VETS like family.

My experience was great. I set up a specific time to meet up,unlike many other services and they were there within a few minutes. Prompt and courteous. I called and they answered right away. Picked up the white tahoe cookies and think it is great, sticky and skunky. R

that Afghan is something serious, very strong taste.. love the Cali carts to

Stellar Bud! With super fast delivery. These guys are a new found favorite

Fat Stash delivered my order in less than an hour today which is awesome for a Friday afternoon! Communication was fast, easy, and helpful. Driver was cool and informed about my order.

I know they're alot of delivery services in DC Sometimes it can be overwhelming in who to choose. I PROMISE you won't regret choosing Royal Highness. The quality of their products as well as their customer service really sets them apart from EVERYONE. This will be my go to place from now on. Thank you to everyone at Royal Highness for every experience being nothing short from the very best.

The citrus punch was amazing... best I've had in 3 months.. def coming back for that ..thanks guys

These guys are Amazing great communication an driver was very prompt. Called me ahead of time with my ETA, they even accepted a last minute change of location for delivery.

I bought berry white from pinnacle delivery. The bud is fresh and of high quality and kicks in smooth. Pinnacle delivery guys are super professional and helpful. They even went out of their way to deliver the bud to me. Full score for the service. Highly recommended.

Once again got another great order from this company. Nothing more to say. Best business in town. Keep up the great work.

I have used many services in DC. This company was the best with communication and providing an accurate delivery eta. Would recommend.

Ordered ima a rush and the driver was right in time the product was great quality and the driver was professional and friendly!! Highly recommended

Top notch product and fast delivery. Highly recommend.

I had a wonderful experience with Budtenders of DC. Fast delivery, reasonable prices and great quality. I will be using their delivery service again!

Have not even picked up my order yet and the customer service has been amazing. Kept me updated with what was out of stock, etc. Will come again just for the smooth experience.