Discover trusted marijuana businesses in your community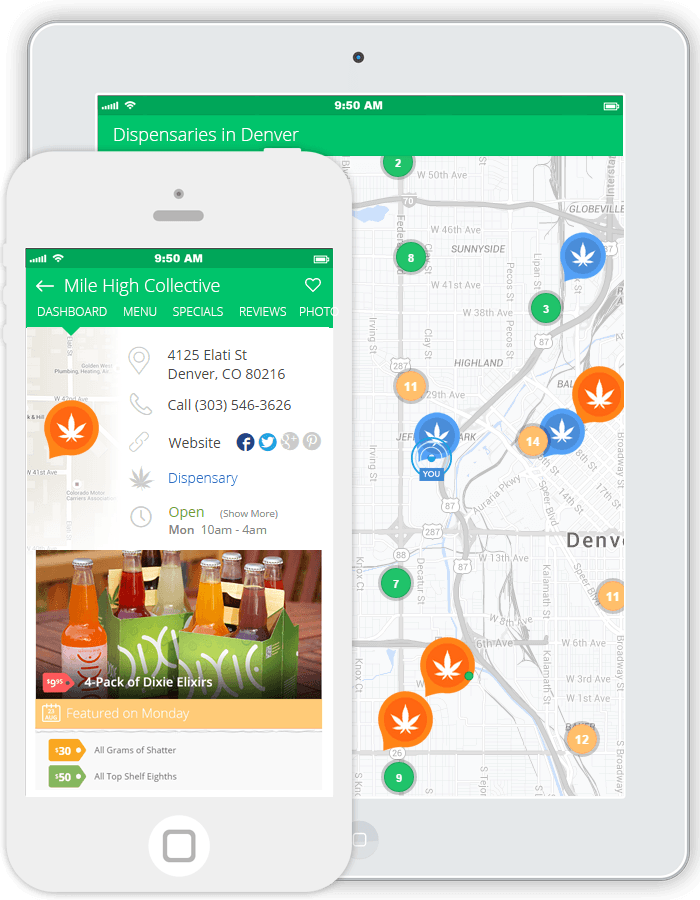 New to Where's Weed?
Where's Weed helps you search, discover and share marijuana businesses in your community. Whether you're looking for a recreational or medical marijuana dispensary, marijuana doctor or even a place to connect with local marijuana users, you've come to the right site!
Create an account
Discover local dispensaries, deliveries, doctors and more
Pre-order your purchases online
Search local specials and events
Review, favorite & share your favorite businesses
Dispensary Reviews
Great service. Haven't used these guys yet, but I'm looking forward to tomorrow. Been looking for something that's really good for my PTSD. Pretty sure these guys have what I've been looking for. Called and they answered fast and my man was happy to answer all my questions. Prices are great with a selection that was cherry...

Honestly, Best prices and deals , always quality and they have a bunch of options.

This strain gave me a really good buzz, helped me feel awake and happy.

Probably the worst weed I ever got. Looks like hay. Got the sour jack and it's brown and flat. Barely a nose and absolutely horrible. Also my friend went to get it and the delivery guy didn't give us all our items. He had the nerve to try and make us meet him siting no refunds. We simply wanted what we paid for. Got home and realized it was trash. Drove all the way from NYC and can get better weed on the block here. STAY AWAY FROM THEM. They must've paid people for the other reviews. Total garbage house

I'm rockn with CK..Tom is pretty cool. I just tried a nice strain,Cheesecake Og..pretty smooth. I'll recommend them for sure

Delivery could be a little faster, But all in all great product I'm a satisfied customer

I've ordered from Reefer Express a few times and it seems like a hit or a miss regarding quality. I ordered a zip of Girl Scout Cookies multiple times . The first was fire. The second one was good despite poor delivery service. The third ounce is a bunk sativa trying to be sold as Girl Scout Cookies. Hope they fix their consistency issues!

Excellent service...experienced, professional outstanding customer service! They deserve more than 5 STARS!!!

I'm very satisfied for my first time I will be back!

Very knowledgeable staff. They were communicative and friendly. Great shop!

I've been with Cloud9 for Over a year now and still going!! This is the BEST place for good as weed! All of my friends be calling me to call my plug for the best weed in DC! And I'll just call Cloud9

Not gonna lie, after reading through reviews for different dispensaries on this site it feels like you're taking a gamble whenever you try somewhere new. You have to worry about fake reviews and possibly bad product. I was looking to try a new spot out and after doing a lot of research I decided to try out Mari-Med. All that said, this is a REAL review and I am so pleased with my purchase so far. Believe the hype lol. Everything was a breeze from the time I placed my order to the communication with the driver. Delivery time wasn't bad and the bud is 🔥🔥🔥 I'll definitely be donating to Mari-med in the future!! You got yourself a repeat customer.

Great first experience! Will definitely be back.

Has been my go to for months - never disappointed from service to quality, top notch

It's pretty Awesome!!! I had a bad pain in my shoulder less then five minutes after trying train wreck pain is gone great strain highly recommended

A good high, a lot like a thirty years ago high. A very happy high. Not a harsh hit at all.

One of the best strains I've ever smoked in my life!

Thank you very much for being there when we need you the most

Use them last weekend, I am very pleased with service and product.