Discover trusted marijuana businesses in your community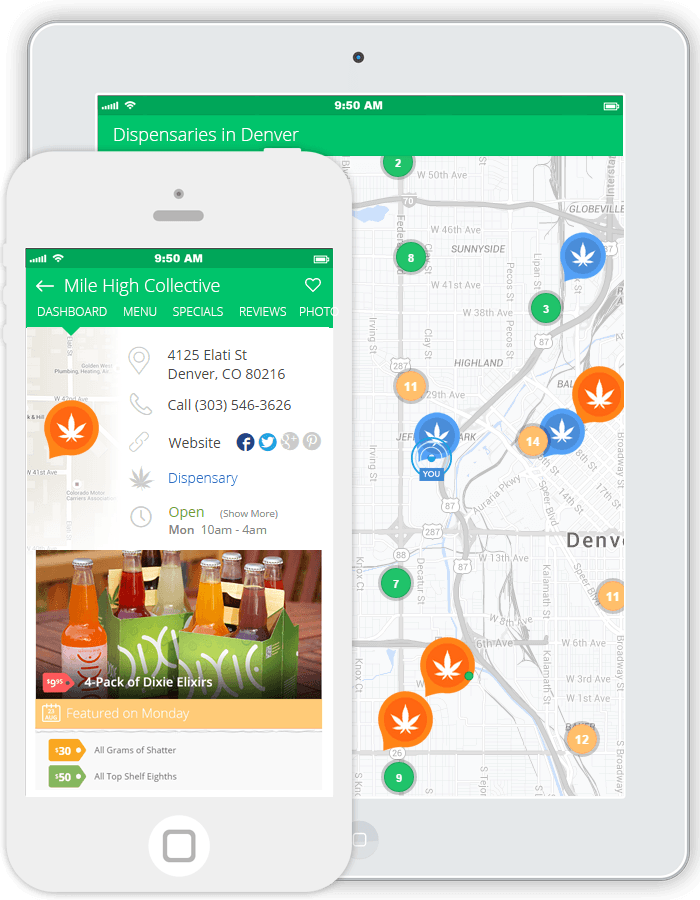 New to Where's Weed?
Where's Weed helps you search, discover and share marijuana businesses in your community. Whether you're looking for a recreational or medical marijuana dispensary, marijuana doctor or even a place to connect with local marijuana users, you've come to the right site!
Create an account
Discover local dispensaries, deliveries, doctors and more
Pre-order your purchases online
Search local specials and events
Review, favorite & share your favorite businesses
Dispensary Reviews
Easy and fast ordering process!! I love the stuff I got. Only minor thing was the extended wait. Otherwise will definitely order again next time I'm in town!

There are a lot of places to receive delivery in this town. No one is more prompt in responding, delivering, and answering your questions than these guys. They give the best service out of everyone either in this town from what I've experienced. I keep coming back and still continue to.

Always prompt and professional. Have never had a bad experience. The Ferrai carts are ridiculous! Would 10/10 recommend!

Great all the way around!

The gummies were awesome, really potent. The guys were communicative and helpful.

Ordered at 3-330. Call to confirm order and he says it'll be 40 mins. Call again and they forgot about my order and said they were sending someone out and confirmed the address. Still sitting here waiting on a response

Been going here for about 2 years now. They have great deals and selection.

Customer service was awful. I asked for ETA and he kept saying drive is en route. Repeatedly and passive aggressively. Moreover, I tried to ask what a convenient location was and the operator wouldn't respond and told me to give them an address when I was trying to be helpful. Combined with a lack of communication and slow response times, this place will not get any business from me anymore. I get that this is a weed delivery business but the operator shouldn't be so apparently high as to not give competent service. A

Very friendly and safe. Great deals. Always happy with the service

Very untimely deliveries. the driver said he was on his way and would arrive in 30mins, yet he didn't show up for 2 HOURS!!!!! I even paid an additional 20$ for the delivery. The deal promised a pre-roll, yet no pre-roll was delivered. Amazing flowers & quality yet **HORRIBLE SERVICE**! Sad because I was hoping I found a company that I could rely on consistently.

Open Early, 1 hr or less, fair price, EXCELLENT QUALITY! Cool drivers! Cartridges are the REAL DEAL!!

Great products and customer service above the rest!

This was a great day, I placed my order before I got out of work as I get in my car to wait for my order I get a call he's not far 😃 My order was on point great service and product. Can't wait till I run out😂

These folks are super polite, their texting communications were superb (again, very professional and polite). Very relaxing transaction. I would also say from personal experience they are very honest. This was my first time with them and I will go to them from now on. Thank you Bagged-Buds :)

Always a pleasant and smooth transaction. Bud quality is always as described, weight correct, and great prices. Suffice it to say I am a repeat customer!!!

Quality cartridges and quality service.

Fantastic place front to back. Friendly budtenders and a massive selection.

Don't go anywhere else! These guys are top notch with everything. Changed my delivery up an hour with no problems, driver contacted me 3 minutes out and was waiting for me when I got there! Strait dank too!

I've used at least half a dozen places on this app as well as other resources in DC. And these guys are by far the best I've come across. It's not even close. They come insanely fast, have the best bang for your buck and are stand up dudes. They are all I have been using for a while now and all I will be using going foreward.

Fast and prompt response. Great menu and prices are very competitive. They meet you anywhere in D.C. the quality is great.

I ordered from jet pack dc earlier this summer and have ben trying to find others to match the quality and service received through them. I am coming back after having tried many others and being disappointed. THANK YOU for giving such quality service and gifts.

they are one of my top 3 and i always recommend to my friends. Great quality for the prices .... not shake ot tumbled as some vendors do these days :( ... LOVE THE SERVICE GUYS LETS GET A LOYALTY PROGRAM?

These guys are amazing! Love their product.... Soooo Happy that I get to go back today....

Well taken care of every time. The one time there was an issue with product it was rectified without hesitation or doubt. Variety of products, quality, communication, and delivery efficiency, all TOP NOTCH. Highly recommended!