Discover trusted marijuana businesses in your community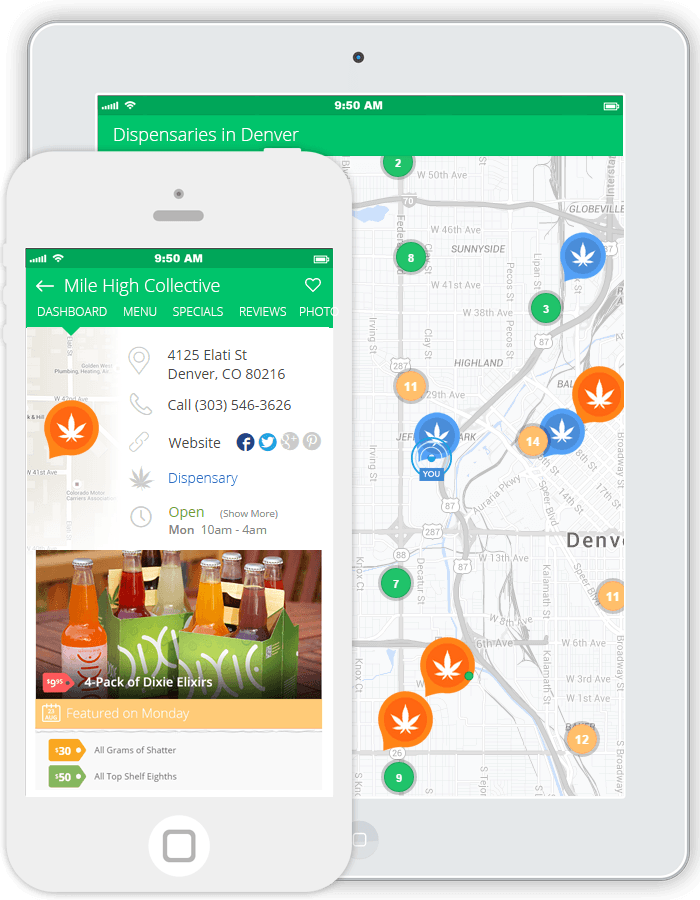 New to Where's Weed?
Where's Weed helps you search, discover and share marijuana businesses in your community. Whether you're looking for a recreational or medical marijuana dispensary, marijuana doctor or even a place to connect with local marijuana users, you've come to the right site!
Create an account
Discover local dispensaries, deliveries, doctors and more
Pre-order your purchases online
Search local specials and events
Review, favorite & share your favorite businesses
Dispensary Reviews
Great suggestions quality product good pricing very organized

Great prices, great quality meds and fast delivery. Customer service was a bonus, definitely will be back!

These guy have customer service down packed! Very informative, cant wait to get my order!

NEXT BEST THING TO DC DABBERS IN WASHINGTON!!

Excellent service every time I order from them! Great prices and quality concentrates and edibles! Love them and will be a continuous customer!

My Venom & Biscotti were super gassy, def my go to for now. Out of all the vendors i've used, they kept up with me and kept me in the loop every step. The bud is super fire & looks just like the pics.

Great service! My favorite one on where's weed. Great knowledge and recommendations on strains, the price is great and the bud is top notch. Fast response time and delivery, best experiences so far.

Repeat customer, always as advertised, good communication, great quality!

Driver communicated well and the product was spot on!

Another very fast and great deal!!

Awesome service, fast as fuck straight to my door, righteous product!!!!!! Magic Alien Cookies is definitely a legit strain to pick up 🤙🏻

Very courteous people, ordered their pre rolls of indica and it was really good! Great quality bud and good amount, recommend it to anyone!

These guys are slow and communicate really badly....that wouldnt be a problem if there wasnt a $20 delivery fee. They should lower the delivery fee, or maybe just communicate a little more properly. I was 2min from their location and they still did badly.

I've ordered from so many places around DC and DMV is by far the best - great quality for price, super speedy, awesome gifts. This is my new spot. Thanks again!

These guys are the KINGS of this biz. Best bud at the best price, friendlier than your regular stripper and generous wit the gifts. I'm not ordering from anyone else cuz they have it all anyway. Dont go anywhere but Exotic Blooms - you wont regret it

This place never disappoints. Only delivery service I have found that the pictures are accurate. You can expect to get what was in the picture every time. Hell Raiser OG and Scooby Snacks are much better than expected and I was actually a little let down by the Elmer's Glue. But either way they are always on point and the only service I use.

Waited 2.5 hours for delivery

I've tried multiple vendors & area 71 is the best in dc. The bud is amazing what u see in the picture is what u get & the always hook u up with lots of extra gifts.

Forgot to add this to my review

Lazy staff with no product knowledge. Over priced.

I order from King Kush all the time and they have left me consistently satisfied with their great customer service and med quality. I did run into some issues with ordering last week, but luckily, they still delivered. Slight miscommunication and misunderstanding, but they still came through regardless. Definitely would recommend!!

My driver had my order right on time, and I didn't even know there would be a pre-roll inside. It was awesome to see, also the price is great for quality bud. Customer service was awesome, very friendly people! Ordering again from these guys today!