Discover trusted marijuana businesses in your community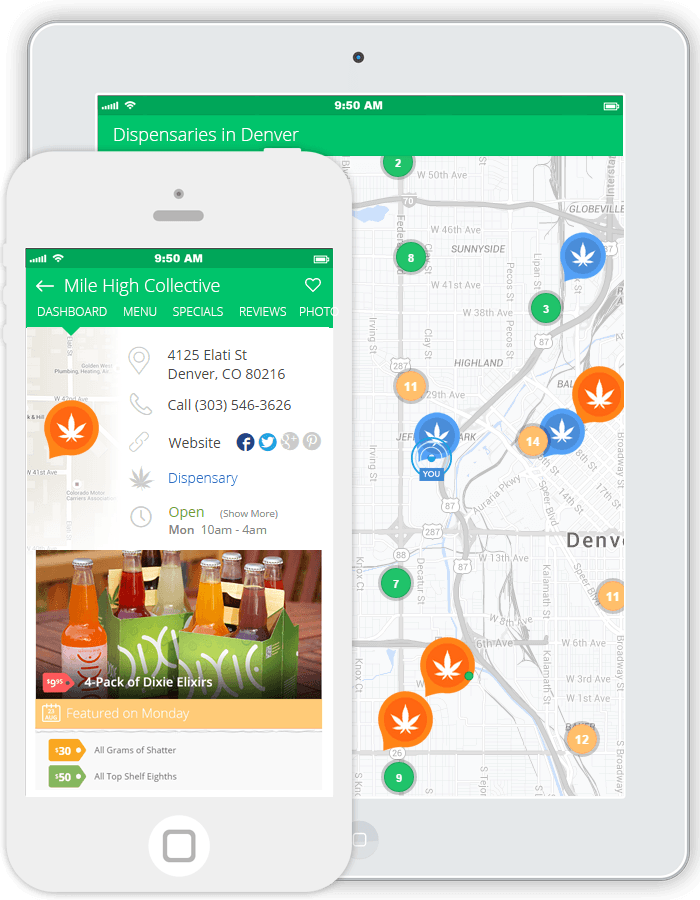 New to Where's Weed?
Where's Weed helps you search, discover and share marijuana businesses in your community. Whether you're looking for a recreational or medical marijuana dispensary, marijuana doctor or even a place to connect with local marijuana users, you've come to the right site!
Create an account
Discover local dispensaries, deliveries, doctors and more
Pre-order your purchases online
Search local specials and events
Review, favorite & share your favorite businesses
Dispensary Reviews
these people have NEVER gotten my order right and they are always late. extremely angry and not willing to waste my time with this dispensary anymore.

Not impressed with their service. Takes too long to respond and customer service needs to improve drastically. They were good when they started but their service has diminished drastically. Taking my business some place else.

Texted before opening and had an instant response. They're very quick and the quality is awesome. Excellent shatter

Prompt responses. Good quality. Quick delivery!

Always quality service and knowledgeable advice. I've never had a negative experience or felt disappointed with Bagged Buds. Always very personable and they make the whole experience easy and less stressful. Give'em a shot.

Disappointed. Shoulda went to my go to smh

These dudes are awesomesauce!! Super awesome communitcation! We added on to our order last minute and it wasn't a problem! I come from a little ways away and they were friendly and accommodating! Everything I got was fire🔥🔥

Don't leave reviews often, but I like to be honest and help people out, so...this place, driver was dope, fast, on time, asked for a call before they arrived which didn't happen but it don't matter, sh*t happens, the med quality is PHENOMENAL, looks absolutely amazing, smells pretty good. Pricing is really good, this is honestly my #1 go to from here on out. Really appreciate it yo 🙏🏼💯🔥

The flower was hands down incredible!!! great prices and on time. No complaints out of me. Definitely going to be a repetitive customer.

This review is long overdue.. I had an interesting experience with Capital Buds a month or so ago and only remembered to leave this review now because I'm planning on using their service for another order. In a nutshell, what happened was that unfortunately my order got mislabeled with someone else's and when I picked up the order I just glanced in the bag, everything looked ok, so I went on my way. Unfortunately I figured out that I had the wrong stuff when I opened the bag as I was getting closer to home. Now, I understand this was partially my mistake for not opening the bag to check it as I was taking delivery. Nevertheless, the person I was messaging about this issue was extremely polite, professional, and handled the whole thing with a lot of class. I told them it would be extremely inconvenient for me to come back for an exchange so he/she told me to keep the stuff I had and offered me a 50% discount on my next order. We're all human and mistakes happen, but when they do you

Very pleased with the green crack!, will be back soon.

Top Shelf Flower here. Placing another order tomorrow. Nice packaging too.

Been smoking 12+ years. Hands down the best bud I've ever smoked. Presentation was superb. Gained a customer for life here. Thank you!

First time using Jet pac but long time user and couldn't be happier...quality: A+; best in DC by FAR and i've tried several..price: reasonable; even more so with the specials...knowledge/customer service: GREAT; and yes they were late but this is the world we live in until we can walk in and buy it like alcohol or cigarettes so deal...staff was great...knew their product (because who knows what the hell the names mean) told them what i wanted as far as benefits and their recommendation was ON POINT....will definitely be returning.

best shatter in dc for sure. super clean, tasty and aromatic. although it would be dope to be able to mix and match within an 8th of shatter

I just want to start off by saying thanks to the guy Hernando, he really took to the time to understand what I was looking for. The buds were amazing and did exactly as promised. Plus to throw in free gifts and prerolls on top of their price is great!

Gift was good . My delivery driver was amazing 😉

Was very excited to suddenly see these guys around again, and today they were just as awesome as they'd been the last five or so times I've gone with them. Super easy to deal with, super nice, and excellent gifts - thanks fellas!

Med quality hit or miss. Those THC tabs don't always seem spot on...something that's 30THC should be loud...not faint smell in the bag. Price is good. Had gelato that was the shiznip. However 🍍 express wasn't that good quality wise. Their bad with time. I usually wait 20-1hr after the eta and I'm driving from bmore. They never give gifts and that sucks. Its a lot other shops to choose from that do similar stuff with better quality and better service.

So I've only been waiting all week to place my order....lol didn't care if I had to catch a spaceship to get to JetPack I was WAITING!!!! The best delivery and flowers in the city!!!!

Orange Cookies is the best I've ever had and you guys always have it. Bless.

First time with them and it was fantastic! Super fast confirmation and great deals. Will go to again for sure!

Ive been buyingbm bud for yrs but they are the best

EVERYTHING WAS GREAT DELIVERY GUY SO POLITE. WHAT I ASK FOR IS WHAT I GOT I WAS GREAT. WILL BE CALLING THEM FOR HERE ON. JUST NEVER GET MY FREE PRE-ROLL BUT ITS COOL.

The closest quality to the dispensaries I used to go before moving here. Not only do they have the most diverse range of products, but they are also the most consistent with the ordering and delivery process. This is what makes me keep coming back.