Discover trusted marijuana businesses in your community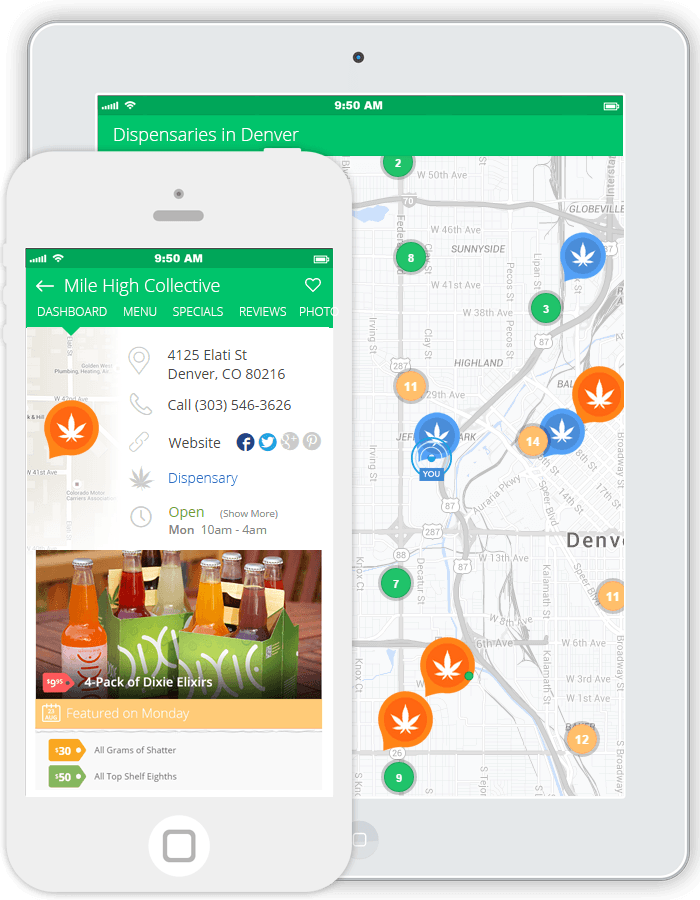 New to Where's Weed?
Where's Weed helps you search, discover and share marijuana businesses in your community. Whether you're looking for a recreational or medical marijuana dispensary, marijuana doctor or even a place to connect with local marijuana users, you've come to the right site!
Create an account
Discover local dispensaries, deliveries, doctors and more
Pre-order your purchases online
Search local specials and events
Review, favorite & share your favorite businesses
Dispensary Reviews
First timer that called this location for a pain problem. Delivery was awesome. Very professional.

Absolute strongest and healthiest clones I've sourced. Thank you.

Not a friendly fair place

I'm out of words tying to describe the strains i received from this company. It's just perfect!!!

I am very happy with the service I was provided with and I would truly recommend this company to anyone who is looking for a great service and products. Keep up the good work PAQ DC!!!

All i can say is i'm beyond satisfied.

Amazing ! Very knowledgeable staff, took me places I've never been. highly recommend verified.

this People thy have trash weed and thy sale it to the customers so please everybody do not buy weed from this web thy just hustle people it's bud weed even can't smoke it it's trash

Great quality flower, and they were on time. Very good customer service.

It's bud quilety don't Wesit your money with this people thy take the customers money pecafo guys

Amazing customer service, top quality product, delicious pie, and a friendly driver. I will absolutely be back!!!

this People thy have trash weed and thy sale it to the customers so please everybody do not buy weed from this web thy just hustle people it's bud weed even can't smoke it it's trash

Referred by "the gentleman toker" and BB does not disappoint! They filled my order quickly, and when something I ordered was out they made it a seamless switch. I had to reschedule delivery and they were so nice and accommodating. Thank you!

Omg, I will definitely be buying again. Speedy and efficient communication, super friendly people, very professional. The product is beautifully packaged and of high quality, plus the extra goodies were so thoughtful! I have a new favorite pair of socks now! Cannabear really knows how to wow and appreciate a customer. I <3 Cannabear!

Drove 40minutes just to be left hanging standing on a street in DC getting attacked by mosquitoes. (some delivery Huh?) Really thought this was going to be the one, but truly disappointed in customer service ...did I mention they hung up on me mid call??? I'm so pissed off that a person that doesn't write reviews is writing a review. Not to mention they close at 10pm but sent me a text cancelling saying they'd handle it tomorrow....nahhh I'm good!

Went to these guys and ended up being 5$ short and they still hooked it up with some of the best flower I've had in awhile! top notch service, quality and company!

Federal Reserve is hands down the best delivery service in DC. Their customer service is uncomparable. Some donators, such as Fire Hazard, have hung up the phone on me while placing an order. Donators such as Federal Reserve are here for the people - absolutely incredible cust service from a sweet lady on the phone. Delivery is quick - and they are honest on time! If they know they are taking too long - they apologize and notify you that your driver is coming. I have stuck with their concentrates, which are incredible. Will be trying their flower and other products soon, and plan to only return here! Highly recommend!

Reasonable price. Good timing. Friendly. Top shit. What can go wrong? Nothing. HIGHly recommended.

Fat stash exceeded my expectations. They were easy to communicate with, fast delivery time, and quality product. 10/10 would recommend.

these guys were awesome. they called me with an ETA. best experience so far since using this. I will always reach out to them first

Got ripped off. Buy your bud off the street is better than the bullsh*t they"re peddling. Screwed me on my time and my bud. Those other reviews are from the owner...beware.

These are the go to guys for concentrates in the city. Been dealing with Dabbers club for awhile and every time is just the same, great product, great prices, and friendly, punctual delivery drivers. A+ would recommend to anyone anytime.

10/10. i'm only hittin these guys up from now on! great and prompt communication, fast delivery, CRAZY gas! best in the biz

they accepted my order and lead me on then never showed up!!! I ordered at12:15 (lunchtime!!) so they were for sure open. I waited for 8 hours and NEVER GOT MY WEED. They never called me and i actually called them three times. super WHACK. I do not recommend these guys.