Discover trusted marijuana businesses in your community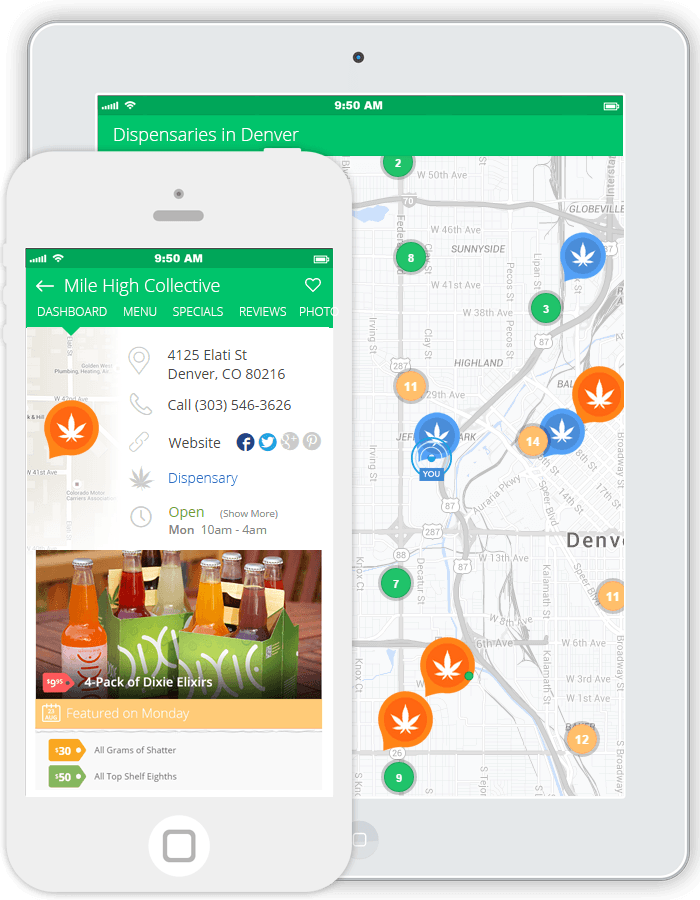 New to Where's Weed?
Where's Weed helps you search, discover and share marijuana businesses in your community. Whether you're looking for a recreational or medical marijuana dispensary, marijuana doctor or even a place to connect with local marijuana users, you've come to the right site!
Create an account
Discover local dispensaries, deliveries, doctors and more
Pre-order your purchases online
Search local specials and events
Review, favorite & share your favorite businesses
Dispensary Reviews
The process was super straightforward and the deals are great

First, their service is amazing. Drivers are prompt and easy to talk to and with. Associates are knowledgeable and everyone is super friendly. The first time I used them I caused a delay because I went to the wrong place and they were nothing but understanding and amazing. Their customer service is above and beyond anything I've ever experienced and I really appreciated that being a first time buyer. On to what I got: 2 x TKO chocolates (chocolate covered churro and cookies and cream) 7g of wax crumble on sale Ounce of Super Glue on sale 1/8 GSC (Girl Scout cookie) Gushers preroll Capitol confection sour gummy puzzle pieces I've tried everything by the super glue and the wax crumble and it is PHENOMENAL! The flower itself is super pretty, dank and tasty. Each strain has its own unique smell and flavor and texture and smoke. It's all smooth and delicious. Their edibles are my first ever experience with edibles and I was terrified. It was

My husband & I ordered from THC bank three times. First time was fast delivery, decent product. Second two times we had to wait over 30 mins for the driver. Medicine quality is not consistent. Each strain has gotten us high, but I've never found so much hair & bugs in my product before. And we didn't order the outdoor strains. I don't mind a few bugs in my herb or some random hairs, but I don't want to see it in every single piece I break apart. I also found Flex of gold and glitter looking material which of course worries me because I definitely don't want to smoke that stuff. So just be cautious when using this service. Your first experience may be great but don't count on it to be consistent and expect your herb to be a little dirty. Also have gotten quite a good amount of stems and seeds and some of the ER. For me though if I'm getting a really good that was what matters most, but after not being too happy with this quality here on multiple strains we decided to go elsewher

Enjoy dealing with these guys. Ordering is super easy and delivery goes smooth. 3rd time with these guys. Cant wait to get these brownies again.. Loved em last time

After almost a year of searching for the best vendor, I'm hopeful I found my forever home with King Cush. Ordered a couple of the champion strains using the $90 for a half deal & was worried I would get crap for that price, but I was pleasantly surprised! These are the best nuggs I've seen yet from DC. Fluffy, crystallized, & great highs. I'm really hoping KC is consistent with their quality bc I spend a good amount on medicine monthly and Im tired of vendor hopping. I will leave a review after I order next month to report back on the quality. The driver was 10 mins late due to road paving & let me know. No biggie, I've waited much longer with other vendors before & we all know shit happens.

Very quick and sufficient people that have great quality green! They are awesome! Thanks guys! See you again soon.

Great quality, great service, every time!

I have tried several delivery services and this one has been the best by far! Their deliveries are delivered timely and they are great about keeping you in the loop with your delivery! High quality bud as well!!

Awesome people,service,and product

Very pleasant experience. Very satisfied and will do again.

The employees are nice but the product is over priced mids at best. Doesn't seem like they have the west coast connections that some of the other vendors in DC do. Carts are most definitely fake. Unfortunate because they are nice and relatively quick. Be weary of most of the reviews here, it looks like they ran a promotion to run up 5 star reviews. Hopefully they can fix their issues

My first time visiting and I must say I had a great experience! Dispatcher was super friendly and the driver was actually on time👍🏻. I got the Kite carts and they are 🤯. I'll be back for sure.

Best quality around , better bud then cookies on 8 mile !

Yooooo these guys are the truth! Top notch service paired with top quality buds! You can't go wrong with Hyfe. This is my 5th visit and every time it was 🔥🔥🔥.

How ya got the best tree and prices?! Been tired of getting swindled by other services. My boy recommended me and I'm glad I gave you guys a try. Let me know how I can become a rewards member.

Great service and communication!

First time customer and if all the stuff I got is as good as the strain I just tried I'll be ordering again! My only complaint is that the driver didn't tell me he was on his way. He called me and was already at the location. When I told him I'd need about thirty minutes he asked me to let him know when I got there. I did so and expected to have to wait 30 minutes. Nope guy was literally there in a minute like he said he would be. Awesome experience!

Great service! Used x3 times at least and will keep coming back. Reminds me of a CA service. Pretty fast and reliable. Best customer service by far!!! (Can't credibly review knowledge so I'm leaving it blank)

Great selection of concentrates!! Love how professional and knowledgeable they are

Great Service, nice contact. Super easy going. Absolutely recommend them!

This has become my favorite delivery service by far. Professional, prompt and most important they communicate with you if they're running behind and actually read the notes you put in your orders. Nothing bad to say.

These guys rock. Great quality, great communication, and even threw in a few extra gifts with my order. Ordering again today!

Very happy with the quality of the bud. The cost is justified wholly by the awesome high. Thanks Palm Trees!

Had The Maqui The Other Day With Jefe And Berry To Fire If You Haven't Been Here Your Missing Out For Sure I'll Be There Today

Super responsive and quick delivery!