Discover trusted marijuana businesses in your community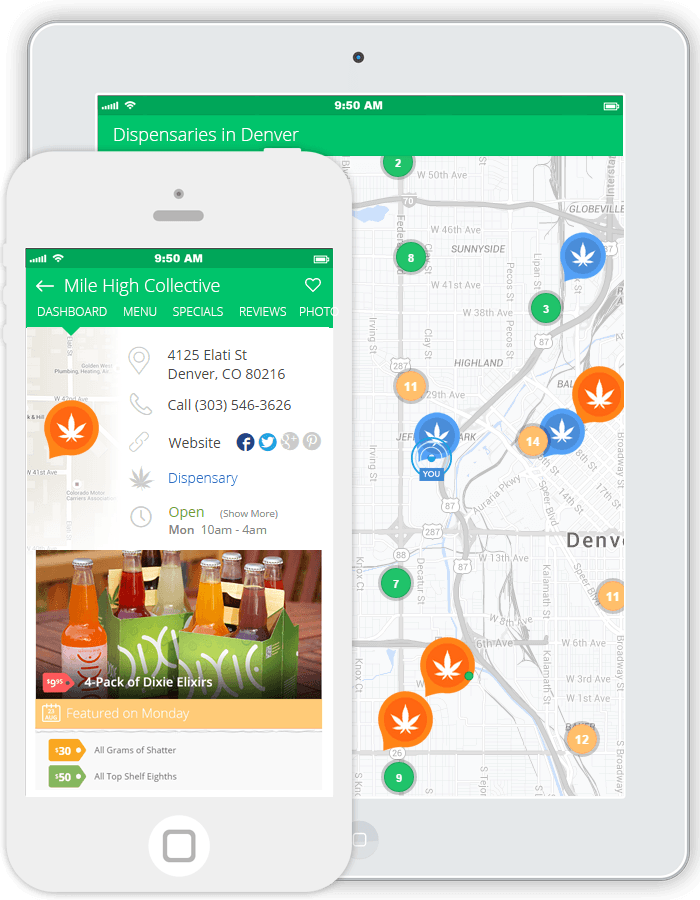 New to Where's Weed?
Where's Weed helps you search, discover and share marijuana businesses in your community. Whether you're looking for a recreational or medical marijuana dispensary, marijuana doctor or even a place to connect with local marijuana users, you've come to the right site!
Create an account
Discover local dispensaries, deliveries, doctors and more
Pre-order your purchases online
Search local specials and events
Review, favorite & share your favorite businesses
Dispensary Reviews
🤙🤙🤙🤙Great all the way around

These guys are great! Good quality for the price and communication is very clear!

Legendary experience with these folks! Loved the staff, response/delivery times, and they always have great products! Earned a custo for as long as i'm in DC!

Fantastic service and really nice people 👌

Absolutely legendary experience with this staff! Excellent communication, friendly drivers, and great product. I'll be rockin with y'all from now :)

They have the best quality and they deliver quickly. Very economical deals and very friendly customer service. If you're a district dabber, look no further.

Very Prompt. Great Communication. Best Prices & Product.

Superior product and excellent service. Solid and legit. They'll treat you right. I'll definitely be back.

Awesome customer service and communication!! Very responsive and on-time, and so far the best quality in DC I've had!! These guys will be my goto from now on!!

These guys were a big help when I reached out to them. Their deal was the best one out there.

These guys were a big help when I reached out to them. Their deal was the best one out there.

These guys were on point from their service to the quality of their flower. They threw in a prerolls since it was my first time.

Helpful, educated and friendly employees. Great selection of different products from flowers to edibles to oils and more.

Ordered the purple diesel yesterday 12/17/18. Literally broke down 1 bud and it was 10 seeds in it. Confomted Driver in regards to this after he left. I've been getting the run around ever since. I would suggest going somewhere else to get what you order and not the mid they'll throw in a bag an say it's xyz.

Awesome customer service. As a first time customer I was impressed on the quality of product and customer service. The shatter day promotion is what I ordered but when I received it, I had some extra gifts Which was such a nice surprise I appreciate the driver as well. He was nice and greeted me with a big smile Thank you, I will definitely be coming back

Best in the DMV. Mick jagger is a cannot miss deal, these dudes have pure fire

My favorite company on this app very understanding team. The driver went out of his way to take care of me !! Reliable

I wanted to add a photo of the real product I got from these guys as I am not exaggerating when I say it's some of the best Forbidden Fruit I have seen. These guys were professional, on time, and friendly. However, I did get home and weighed my gift as I moved it from their bag to a jar and it was a gram and a half short. I thought maybe my scale but a nickle weighed 5g's. Must have been a mistake because these guys are always on point. Check out this bud. link is safe and hosted just needed a place to host it: https://ibb.co/QjmBrXF

Criminals. They gave me half of what I ordered, claiming it was a typo.

I was in DC for business this past weekend and about a month ago contacted another dispensary about delivery to my hotel once I got in town. I had contacted them again two days before arriving into town and they had said don't worry, we got you. Well low and behold, I arrive at the hotel and to my surprise (not) they were not only a no show, but did not answer my phone calls. With only 24 hours in DC I contacted Capital Kush who had my order delivered within two hours. They had amazing prices, were very knowledgable about their products, and gave me a few freebies which really sealed the deal. Big up to Capital Kush and plz try the brass knuckle carts! You will not be disappointed!

I've donated to here a couple times and it's always great service never leave you waiting and always quality. 👌🏽 Definitely recommend to come here

These guys are great. Quality and courtesy at great prices are their trademarks. They're an easy recommendation and right at the top of the list. Can't day enough good things

Amazing all around timing perfect, product 👍🏼 Weight, 🤪🤪🤪 yeah

Thank you to Herb and the team.These buy are the best out there. Great bud and easy on the wallet. Thanks again guys!