Discover trusted marijuana businesses in your community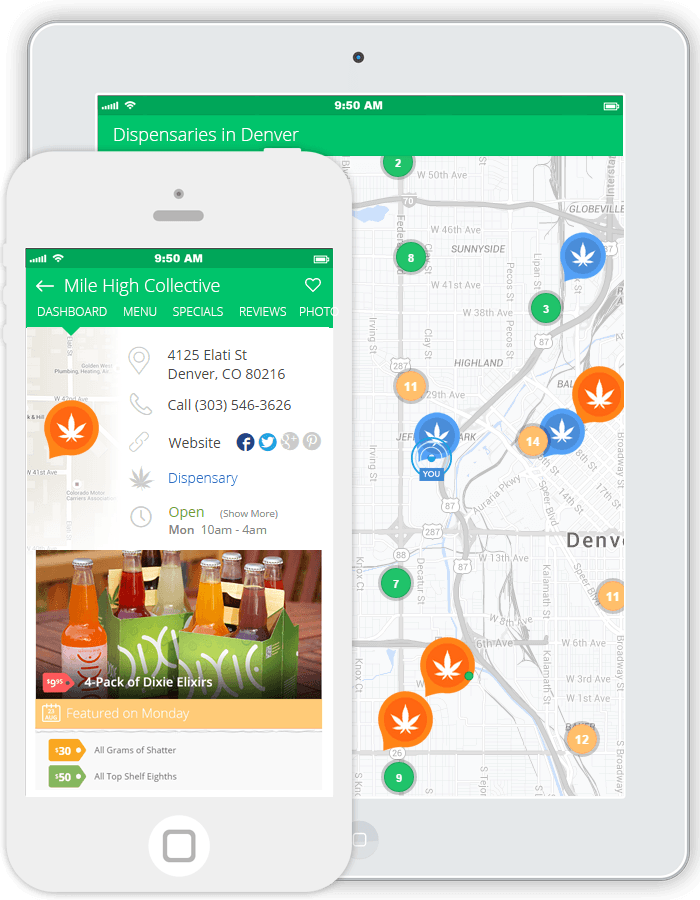 New to Where's Weed?
Where's Weed helps you search, discover and share marijuana businesses in your community. Whether you're looking for a recreational or medical marijuana dispensary, marijuana doctor or even a place to connect with local marijuana users, you've come to the right site!
Create an account
Discover local dispensaries, deliveries, doctors and more
Pre-order your purchases online
Search local specials and events
Review, favorite & share your favorite businesses
Dispensary Reviews
All bud tenders were really helpful! Gave great advise and helped me pick out great med mix. Will be going back on the regular!

First time ordering with them and they have the best customer service plus their flower selection is the best

The experience was NOT worth the donation. We ordered the current special: Paint it Black Deal in Diamond Deluxe. I was looking forward to a great experience only to end up extremely disappointed. The driver gave us a delivery window of 2 hours, which he did keep. I was pleased with the delivery service. However, the quality of the weed was not worth the donation. We donated 500 only too end up extremely disappointed. At first glance the weed looked and smelled amazing. After smoking the weed I realized the effects only lingered about 30 minutes. I had to consume more weed in order to maintain an average high. The weed was extremely dry even after inserting humidity packets. Overall, the experience was just "okay", but certainly NOT worth a 500 donation. I wish I would have stuck with my original vendor.

Capital Buds was my first experience off this site...since then I have tried about another dozen or so....No one remotely touches Capital Buds quality; its not even close. Y'all keep doing what you do. I'm going to stop looking elsewhere everyone else should too. Thank you guys for being f*cking awesome!

I will definitely be getting delivery through these guys again, i ordered 2 zips and the delivery was fast, not to mention their Granddaddy Purple was the best smoke I've ever enjoyed in my life. It tasted so good, and the high was just as outstanding. Thank you guys so much!!

Great drivers! Very friendly and quick. Great quality too

Always on point. 2nd time I had a small window of time. These guys deliver. If they say they will be there they are there. And Carts are untouchable. All I have gotten are thick oil and long lasting with tight highs. Keep up the good work my friends!

Horrible experience... I got the wrong medicine and it was very weak an ineffective. I was told I would be compensated the next day and it never happened. Stay away!

My experience was great. I intend to use them again soon

I did not want to put out a bad review but I have no choice. From the very beginning I kept 100% transparency with this company relaying the message that I am coming from very far and it being my first time if they could do a price exception. While I had requested two halves of Alaskan Ice and Durban Poison I only received Durban Poison and on top of that my oz donation was missing 5grams. I was told they would get me back on the next order but I cant even reach them. I was looking to get a half but they wont even respond to me. I really thought getting flower from DC would be a great experience and I was looking forward to building a positive relationship with these people but that didnt turn out to be the case. If this company decides to read this review and make ammends for their mistakes then great I will try them once more, however I definitely feel cheated as I've said before and would not recommend others to make a donation here because your words are simply played with a

Have had nothing but the best experiences with Bagged Buds. Recommend 100%. On time, on point every time!

Top quality delivery on time great product and service will definitely be my go to

Looks great can't wait to try

To clarify I called around a dozen places and this is the only one I actually accepted a gift from bc the rest want abnormally high donations.

I ordered from them last night for 12:00 Noon, today and they delivered to me this morning, 2 and a half hours early and the plant is great. This company is new but they are seasoned vets.

I'm still waiting for my order 24 hrs later. CannaBear called to say hey didn't have the items I ordered, but offered an alternative and a delivery time of 2:15 to 3:15pm. I haven't heard back from them since, even after I texted asking for an updated delivery time. With so many DC vendors that work and have great customer service, why choose CannaBear? I know I won't again.

I live in MD and have been using multiple delivery services to see which 1 would go beyond all the other with superior customer service. Federal Reserve is the 1. Communication and product have been the absolute best!!! And they will only get better

Been using Cannabear for over a year. Only one bad experience but think it was a bad night. Poor communication and no delivery which was highly unusual given previous experiences. Hope it was just a one time thing.

These guys ROCK! Awesome selection, Quality is Superb. Trust me, I am quite knowledgable! I was 3 minutes late and they were waiting for me. 2 minute transaction! Call them. NOW!

I would definitely use these guys again. I ordered on a Saturday night no long wait to get my items. I ordered the candies and they were great.

Awesome even when the weather was crappy like today still had great service.

Best service I've had since joining where's weed! These dude are "the guys"!!

Buddha is legit. Last time I got the White Rhino it is the real deal knockout relaxing super smooth taste vaped .

Fastest response and most accommodating out of all the vendors I've been through.

This storefront is gone! OUT OF BUSINESS. Bummer! I really liked Lisa and Marcos. They were so friendly. THIS STORE IS NO MORE!! ATM machine gone. Entire insides stripped down. Bummer. Have to look for next favorite local spot. Or use delivery.