Discover trusted marijuana businesses in your community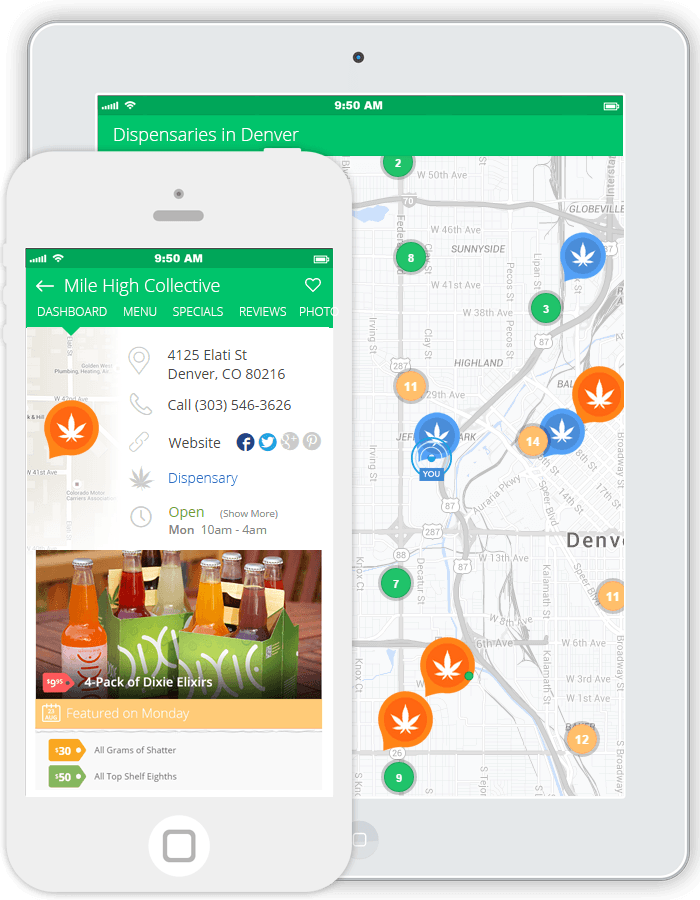 New to Where's Weed?
Where's Weed helps you search, discover and share marijuana businesses in your community. Whether you're looking for a recreational or medical marijuana dispensary, marijuana doctor or even a place to connect with local marijuana users, you've come to the right site!
Create an account
Discover local dispensaries, deliveries, doctors and more
Pre-order your purchases online
Search local specials and events
Review, favorite & share your favorite businesses
Dispensary Reviews
Always high quality and consistent.

These guys arent trust worthy they sold me and my friend bad weed and refused to exchange it or give a refund and he just got plain rude with me just for asking for so. Save yourself the headache and just go somewhere else. YOU WERE WARNED!

The driver was an hour late and the weed was trash and they wont make it right if you complain about the product. Better of going to a different shop like capital buds

If i could give 0 stars I would. Bud was the worst and I grabbed 3 strains that I'm now going to just have to cook with. No smell no taste( in less you like a really nasty grass taste) and over all I'm pissed off like no other. How can you possibly charge 80 an 8th for trash ass bud? And the Blue Dream is definitely not Blue Dream, it should smell so stank that it needs a glass jar. The shit they have doesn't even have a smell to it. Soooooo pissed

Simply the best experience I have had So far. There was not a very large inventory but what I got was the one for me. For me it narrows down to the best quality.

You guys are so awesome, best prices in DC!!

Not even mids... delivery was 1hr 25 late and product is straight garbage, even for the price. This is my medicine, that I rely on daily and It has if anything, exasperated my PTSD symptoms. Fuck fat stash. My first was my last.

Best delivery service in DC by far. Knowledgeable staff and quality products at great prices.

Really convenient for wake & bakers!

Great for Long island! Great strains!

Very good bud and good price, I'm definitely coming back. The driver was really nice, but they do need to update some pictures of their buds.

Waited two hours passed expected time. However JJ, have a heads up and did his best to communicate. I understand things happen, so I try to be patient. JJ communicated, as well as showed willingness to make up for the inconvenience. Ok ok, now to the most important right? The flower was high quality. Would def recommend. However be willing to be patient, I will personally say it is worth the wait! Pun intended

Constantly coming with the 🔥🔥🔥 Thanks guys for the great quality!!!

Very friendly people good prices and good stuff

Capitol kush is my go to for anything weed related. Prices are always affordable and I order very frequently. I can honestly say that I have only had mostly good experiences with them and the one or two times I didn't they made up for it later on. Great crew here 👍

This place is one of the worst dispensary on the reserve there staff can't get off there phones to answer a question and the last time I went in there I bought a ounce of there top shelf after I got home and smoked a joint I felt SCAMMED can't believe that is what pass as top shelf in there store and I went there cause last summer I was in there had a great experience the family there was great there bud was good I would not suggest anyone go to sweetgrass a good dispensary is forever greens great/medible great

Overall terrible experience. Took almost 3 hours for my purchase and they made me go 15 mins to some location because the location I originally used was to far, but wait, after all that, they forgot my preroll. The worst part is that there was barely any contact. They have good drivers who are nice but there service wasn't up to par.

I liked the customer service it's always A1

Best of the best and I'm a local speaking from experience who has tried many.

Super legit!! Best place to go!! Everything you need and want.

I love you guys fast delivery and the quality was perfect I will definitely be ordering from you guys in the future

worst company ever, had me waiting for over an hour after speaking to them and them telling me my delivery was in route only for them to keep pushing my time back several times after my arrival time . then they cancelled my order and gave the most unprofessional answer on why. 1st timer and they left a very bad impression . Anything said different said about my ordeal with them would be a lie.

Awesome people who are willing to go the extra mile to make their customer happy!