Discover trusted marijuana businesses in your community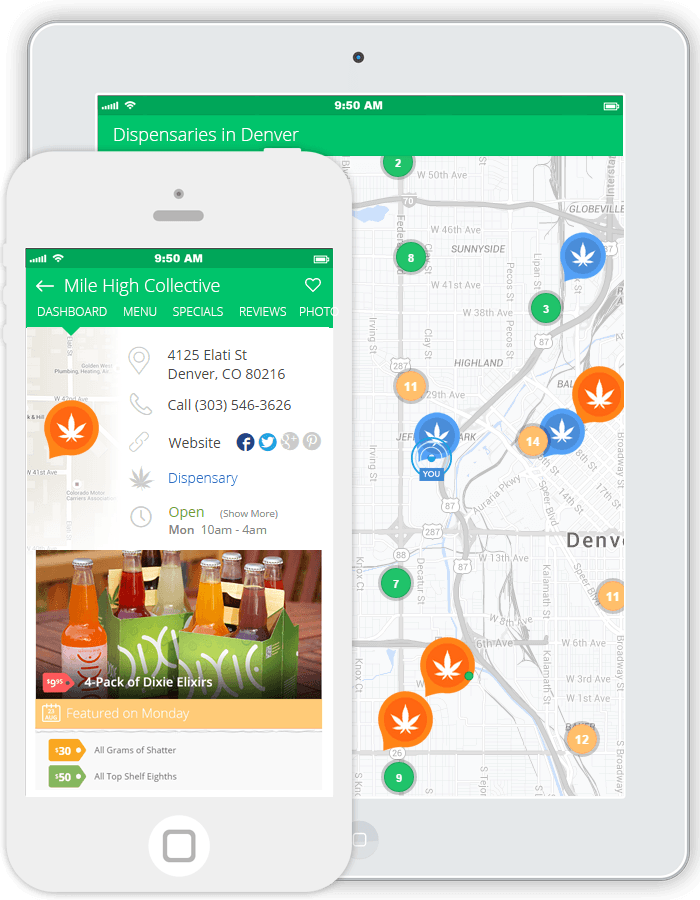 New to Where's Weed?
Where's Weed helps you search, discover and share marijuana businesses in your community. Whether you're looking for a recreational or medical marijuana dispensary, marijuana doctor or even a place to connect with local marijuana users, you've come to the right site!
Create an account
Discover local dispensaries, deliveries, doctors and more
Pre-order your purchases online
Search local specials and events
Review, favorite & share your favorite businesses
Dispensary Reviews
What a great experience! She is, by far, the most polite and well-mannered person in DC. Delightful product and wonderful service. 10/10 would contact again!

I usually buy when from a dispensary when I'm out in Colorado or Oregon so this was a little different experience for me. Overall, I am quite pleased and can't speak highly enough of these guys. Placed an order here at Where's Weed and got a call back in less than 5 minutes. We set up a meet and it couldn't have gone better. They were on time and extremely courteous and professional. I will definitely use them again when I'm in the DC area.

Great place not overwhelming you can view and read about the vast variety of items.

Fast friendly efficient staff. What's not to like 👍🏽

Holy shit they are fast. I placed my order and got a call about 2 minutes later that my driver was 10 minutes away. They don't play.

These guys are awsome best bud in dc hands down great drivers great service and great product

Str8 🔥and on time hands down I'm rockin wit the lounge.

This spot is worth the gift amount. The driver was on time and the flower was well manicured and flavorful.

Great customer service! Elevator DC is a breath of fresh air based on my experience with other companies. They have 5 star communication and speediness. The buds are top shelf, too!

Hands down to the best supplier in here, these guys are amazing and really generous from the the type to price and quality its all the best not to forget the delivery time always less than an hour i really appreciate thier work

Great service! They delivered in under and hour, immediate responses, nice folks, and great quality options on their menu.

One of the best online delivery services I ever used for ordering on line friendly customer service and speedy delivery .

The Buds were professional and courteous, patient with this first (but not my last) purchase. I had to change the delivery date and time more than once and they were extremely flexible. Excellent customer service and communication. Haven't driven the car yet, but will review the performance details soon. Thanks so much!

Even tho I didn't place an order today...RS still has time to answer right away and tend to all the questions I had...Rs is always my first choice. They have the best selection and deals. But there customer service is excellent. Please check these guys out

Soooo. I don't even know where to begin. This company does nothing but up their game each time with every delivery. I feel like a little boy waiting for Santa every time they're out for delivery. I've tried every strain that they have to offer. My main man just showed up today with some of that blue cheese. Two hits in, forgot I was even smoking. They done did it to me again. They go above and beyond. Best product and Company out there

My local and favorite dispensary. Really high quality meds and knowledgeable staff.

Excellent experience with Bagged Buds! Love their products and customer service is great every time! Very professional!

Very fast and efficient. Great free gifts on my first order!

If you're looking for quality bud with friendly and knowledgeable staff then look no further than Moonlight. They are quick to accept your order and get you your product! A+

Really fast, really convenient. Would be great if used Venmo but I understand.

Amazing delivery service and great product. Always on time. Always friendly, helpful, and flexible. I have nothing but positive things to say. I always recommend ya'll to everyone.

Strains that I had from these guys n that I continue to buy in receive different kinds train wreck, boss og, sour Desiel, gelato , Girl Scout cookies.. cool peoples I only had one dumb driver who had his girl n the car n actually made it look like a drug deal but sense then every driver been cool 🔥⛽️💨

Herb is the best place in town nice fresh buds great drivers and amazing product give them a try and you will see what I mean

Loved everything about the process getting some flower. Enjoyed the product but was a little disappointed to find a couple seeds. Have some buds that have used y'all before with great reviews so I guess mine was a rare mistake?

FYI, ANK is not a dispensary, they verify medical conditions worthy of the medical cannabis card, and provide them at a great price. Much better to go medical as the purchase prices and quantities are much better. Recreational cannabis is much more expensive.