Discover trusted marijuana businesses in your community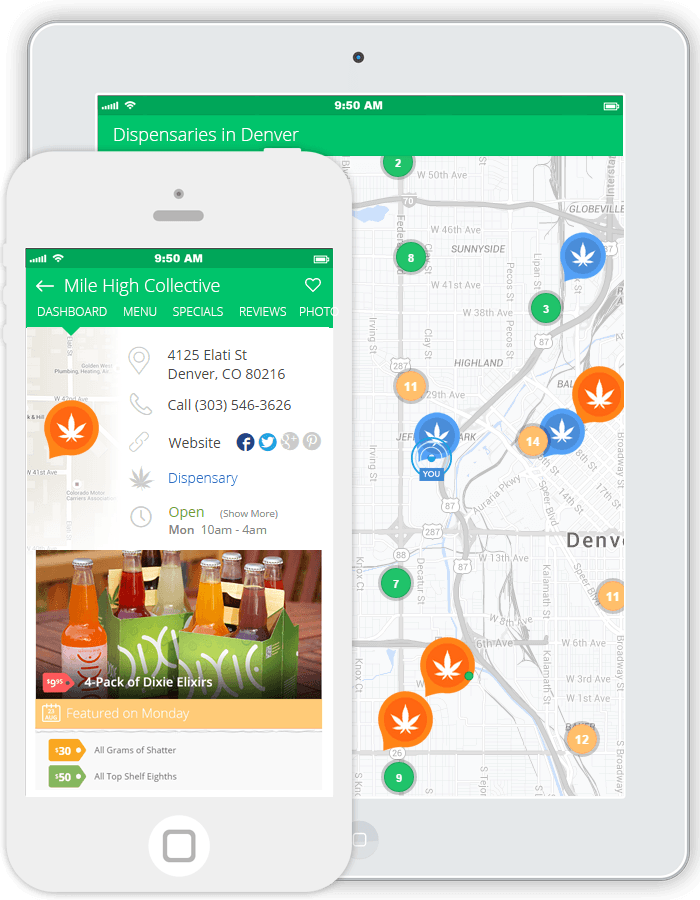 New to Where's Weed?
Where's Weed helps you search, discover and share marijuana businesses in your community. Whether you're looking for a recreational or medical marijuana dispensary, marijuana doctor or even a place to connect with local marijuana users, you've come to the right site!
Create an account
Discover local dispensaries, deliveries, doctors and more
Pre-order your purchases online
Search local specials and events
Review, favorite & share your favorite businesses
Dispensary Reviews
Herb is the best place in town nice fresh buds great drivers and amazing product give them a try and you will see what I mean

Loved everything about the process getting some flower. Enjoyed the product but was a little disappointed to find a couple seeds. Have some buds that have used y'all before with great reviews so I guess mine was a rare mistake?

FYI, ANK is not a dispensary, they verify medical conditions worthy of the medical cannabis card, and provide them at a great price. Much better to go medical as the purchase prices and quantities are much better. Recreational cannabis is much more expensive.

Best bud for best price I've ever seen. 5/5 would recommend

Very professional business. I messed up my order and they were very understanding and worked with me to fix the situation. Great driver

Usually pretty good bud but this time the purple dragon had HELLA seeds. The Gorilla Glue was still great tho. Would recommend

Great deals, great products, great variety, and great customer service. The driver was missing 6 items and drove back to get my missing items. Very understanding and would recommend!

Great quality, not bad price and amazing service! Driver was very nice, overall great experience will buy again!

These guys are great! Had a small misunderstanding and they got it fixed ASAP! Got the Green Crack, quality is great all the times I have ordered.Professional too!!

No donation is ever wasted at the Federal Reserve. Amazing variety, very fresh and manicured, with top notch service. It's always a pleasure.

By far the best marijuana I have ever been gifted! Very good customer service!

No complaints. I got sherbet shop was awesome to me. See you guys again

Order got messed up at first so we got off to a bumpy start but with a quick call things got on track real quick. I appreciate the bounce back and the great customer service! You just might be my new plug!

Been to these guys a few times, the flower is always on point and the packaging is a plus. Theyre my new go to for top shelf flower. good service and product.

The most professional and FASTEST dealers in Edmonton. Bottom line.

SCAM! Use Edmonton 420 Club dot com instead. Excellent prices, superior quality and delivery under an hour!

These guys are incredible. Always in stock and delivery under an HOUR!

Reliable folks. Buddha always has a good variety of quality stuff and the drivers always communicate. Enjoy doing business with them.

My experience with these guys was great! The flower was amazing and super potent, and the staff was very helpful and accomedating. They ended up forgetting a preroll, but they got back to me quickly and are throwing in 2 more on the next order. Definitely my new go to for top shelf bud.

OUTSTANDING. I WILL DEF BE RETURNING FOR MORE GOODIES. CHIP WAS EASY TO VIBE WITH AND IT DIDNT FEEL UNEASY. THANKS HERB FAMILY.

Big facts, STRAIGHT 🔥🔥🔥🔥🔥🔥🔥

Called an ordered clones. Was told to call back in 7 to ten days. Called after 6 days no answer. Left voicemail. Called multiple times.. cant even return a call.

The driver never came I waited over 6 hours and he still didn't show

The staff is very professional. This was my first time ordering from them and the flowers are amazing. The price is excellent and they are my new spot!!

I really, really wanted to like this place, but my recent experience with the 3 cart special was very disappointing, especially as I bought them for a vacation. Advertised as Brass Knuckle cartridges (i.e. top quality), but 2 out of the 3 cartridges I had literally just fell apart. The pieces of the tank fell completely apart and I lost all the oil. This happened about a third of the way in on the second cartridge and almost immediately with the third cartridge. I'm not sure if I just got defective ones, may have been a fluke. Didn't have a chance to correct it as I was out of town. Other than that, customer representative was nice and I really dig my T-Shirt and wear it often, lol.