Discover trusted marijuana businesses in your community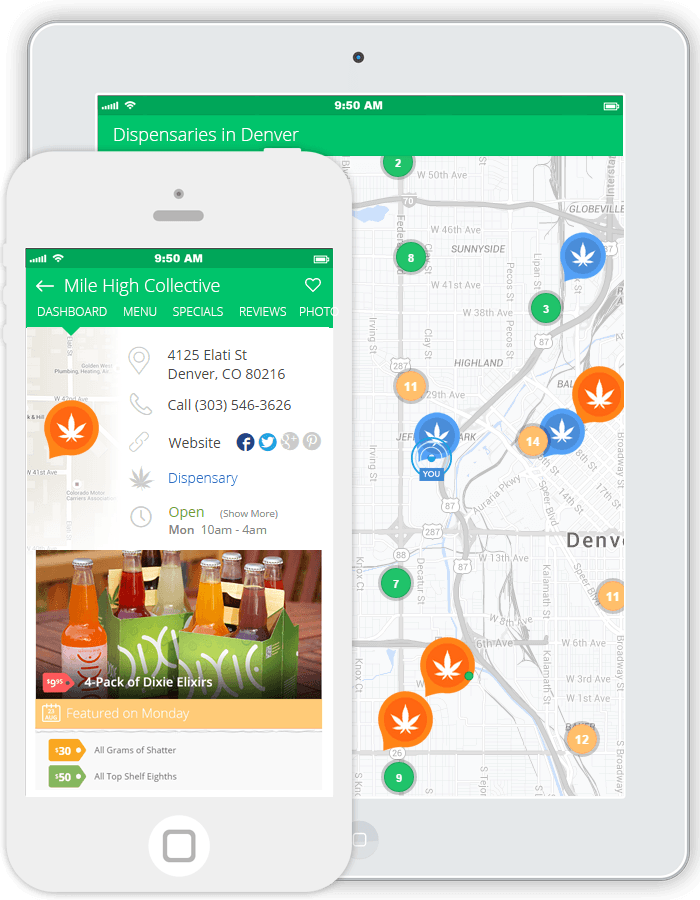 New to Where's Weed?
Where's Weed helps you search, discover and share marijuana businesses in your community. Whether you're looking for a recreational or medical marijuana dispensary, marijuana doctor or even a place to connect with local marijuana users, you've come to the right site!
Create an account
Discover local dispensaries, deliveries, doctors and more
Pre-order your purchases online
Search local specials and events
Review, favorite & share your favorite businesses
Dispensary Reviews
It was awesome Easy and fast

Awesome...Once again I have to leave a review! PreRoll is the best for the drive home

Always issue when order from them be careful

Thanks again Jetpack! Really appreciate you all coordinating w me as I drove up. The zkittles, orange haze and lemon tree are chronic!!

Great cartraige and $15 gram!

As always HLDC takes good care of me! The mystery pack is well worth it...I did the "Sheesh" pack and "Sheesh" is all I can say!! If you're looking for the best bang for you buck and a mixture , the mystery pack is the way to go. Thank you Herban Family for always being here for me and my wife!

I placed order and ETA was set for 45 minutes to an hour, got here in 20 minutes!! These guys are amazing!! Fresh buds and friendly driver. I HIGHly recommend herban legends!

Put in an order early in the afternoon while they were open. They said they were closed by the time we called (the delivery window), and it took 10 calls to even reach them, one point even turning off their phone. Wasted our afternoon and a trip into the city waiting on them. Do not use this service.

Tbh this was the fastest and best quality for that price.i refer him to everybody

BEWARE: Ok so the first time I ordered from these guys they asked me to leave a 5 star review before even getting any product and they would include a free preroll with my order... so obviously I did. I get my order from them and they forgot the preroll. I didn't think much of it, and just let them know and they said they'd fix it next time. I'm bringing this part up because I'd be wary of the amount of 5 star reviews they have on here. Next time I went to order from them it was at like 2:30 on a Thursday afternoon... not exactly prime time. It took them over 2 hours to get my order to me, this time it was missing an entire 1/8th. I call and they say that I can meet with another one of the drivers... but at a different location over 20 minutes drive away. So I get over there.... had to wait another 40 minutes! Even though I asked the dispatch how long it would be because I wanted to grab dinner... and he quoted me at 10-15 mins at most. "We won't let you down" was what he sai

Get service and product! Will order again!

This SFV OG is some pressure shout out to the fellas good quality and good taste and price where can u go wron.

Fast delivery & excellent product. Thanks for hooking me up guys.

Communication between the driver and I was great. Customer service was excellent. On time.

Repeat customer, love the shop. Friendly service and pretty good bud (quality seems to change, but never left me unhappy.) Thank you :)

Always a pleasure whenever I see you guys. Top notch gifts and service- thanks!

I really enjoyed my experience with Herbs. The gift I received was amazing as well!

Fair price for unquestionably top shelf concentrates, consistent and amazing. Every product I have enjoyed is at the connoisseur level . Polite and knowledgable deliveryman. Thanks again, will always recommend.

Great customer service and communication. They we're polite, fairly priced and promptly delivered. They even threw in a free pre-roll for my first order. Will be using them again!

Amazing quality and more importantly GREAT customer service!! Will definitely be my future go to and recommendation to anyone

I ordered an eighth and got 2.7. That's not an eighth. And on top of that it took 6hrs. Told me he got stuck in Red skin traffic. First and last time I order.

This guy supplies straight fire. Top Shelf items are always my preference. Knowledgeable and often suggests which strains you should try out.Text/call early though because his inventory can go quick on Fridays. Delivery can take a while at times especially if your out on the suburbs but it's definitely worth the wait.

This is a Top Quality service. AMAZING flower and Great customer service. It was a pleasure.