Discover trusted marijuana businesses in your community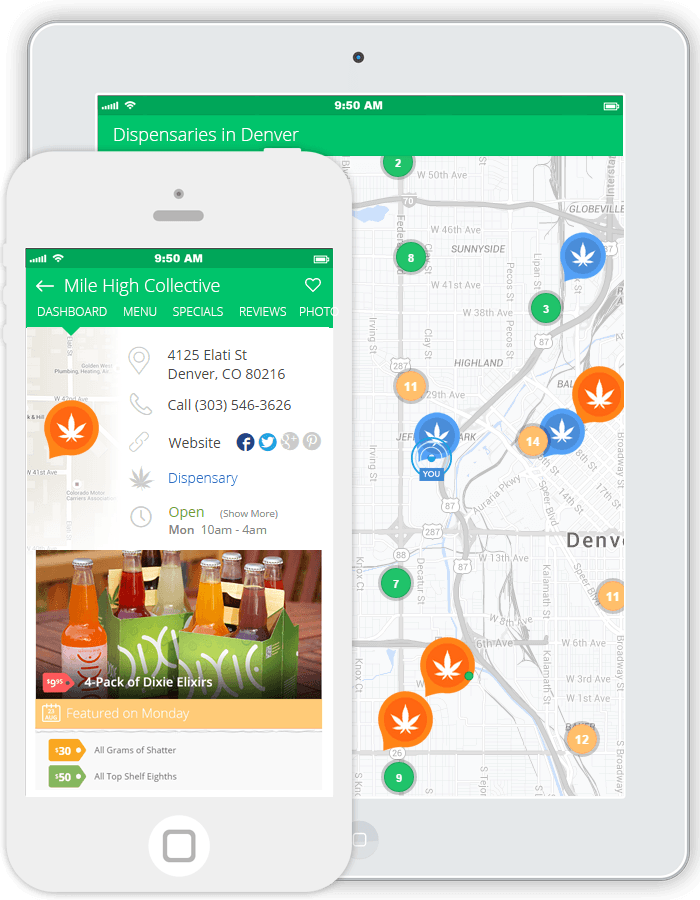 New to Where's Weed?
Where's Weed helps you search, discover and share marijuana businesses in your community. Whether you're looking for a recreational or medical marijuana dispensary, marijuana doctor or even a place to connect with local marijuana users, you've come to the right site!
Create an account
Discover local dispensaries, deliveries, doctors and more
Pre-order your purchases online
Search local specials and events
Review, favorite & share your favorite businesses
Dispensary Reviews
Can't say one bad thing about this company, I love the packaging as well very presentable nice smelling fresh bud plus the communication with the customer can't be beat I also love the fact they realize it's all about the customers and fulfilling their needs. Definitely competition for other companies with strains in the 180-200 oz range, oh and did I mention they beat me to the location as well by like 5 or 10 mins which is a rarity. As far as the quality of the royal oh it smells great smoke great isn't dry bud that just falls off the stem Fresh stuff honestly some really good bud but I've had a lil better quality in the price range but 1 it didn't come with the T's or the Fancy packaging or that level of customer service. Another solid company all the way around

The proof in the pudding... From customer service, to packaging and delivery... These guys take the cake

They work hard; give them a shot and you wont be disappointed!

Best gift presentation I have received yet! My pack came in a beautifully wrapped box. The Buds were fresh, shirt is sick, gifts were thoughtful and delivery only took 20 minutes! 👌💓

So the last couple trips to dc I've been getting cartridges. I have always gotten just local no name cartridges, but this time I decided to go with jetpac. now mind you I can hit a bowl once or a joint and be extremely medicated, but when I hit a cartridge once i'm blown away. so this time I wanted to get something top notch name brand so I decided to go with brass knuckles. I got the cartridge me my girlfriend and my mom and we all tried it and we were all EXTREMLY disappointed. I got jack herer and dos se dos I think its called they both have a very earthy dirt sour taste nothing like what you typical cartridge taste like. It taste nothing like a good sweet distillate. so now I am currently out 160 and trying to make stretch the little bit I have left in my old cartridge till next weekend. I was also offered nothing by jetpac when I informed them. It takes a lot for me to complain but if I hit something 5 and 6 times that's supposed to be 90 plus percent thc I should be baked, locall

Fat stash has been great in the past, but tonight I had delivery issues. I ordered around 8, did a check in at 9. The guy on the phone was cool and said it might be running a bit late, but it got to be around 11 and I hadn't heard anything. Checked in a couple more times and I couldn't get through to anyone. Wish there was a way I could contact the driver directly for an ETA after the main business line is closed to know if I should stay up or not.

1st time trying this,they made it super easy,great stuff.

Awesome people all around. Only had one hiccup. But they my go too company.I want a shirt from them. Very pleased to give them my business. Thanks oh and follow them on Instagram that post upcoming stuff. all around great team.

Extremely fast, easy to deal with. They got what's good for what ails ya

Everything about this service is a 10. She was on time and so polite. If your in the area dont hesitate to check her out.

First time using the service and everything about it was. Communication was great during the whole process. Fast delivery confirmation. And constant contact with the driver with an ETA. I will definitley be back.

My first ever experience with the DC "gift" market was weird compared to CA or CO, but quite good. Driver was precisely (to the minute!) on time, and called 5 minutes before to make sure everything was a go. Products were excellent.

we really liked going with this delivery service! our driver was on time, the product is good, i dont think we got a gift, just a green bag with the stuff in it, but we are from Colorado so the gift thing doesnt bother us haha! we will definately use these guys again

Dont fuck with them, they say one flavor nd bring you HUFF.

Unprofessional, they act like highschool dealers than a legit company. Don't waste your time they don't treat their customers with value, no respect for other people's time.

Love this store. Friendly helpful staff, great selection, good prices!!!!

They were amazing. Very helpful online and over the phone, speedy delivery, great quality supplies. I had a manufacturing error with one of my cartridges and they quickly replaced it for me. Absolutely would recommend

Great Business as usual. Speedy prompt drivers and excellent product .

First time ordering from bloomerz and most certainly not that last time at all ; these guys really went out of their way for me and i have no complaints. Driver was cool , and the woman on the phone was nice as well . Def will order from these guys again!

Amazing! I accidentally sent them the wrong address and after much confusion and very prompt customer service they got to me at the right cafe. Just got to try the free pre roll and quality is def there. The flower is packaged in airtight container and very professional. The weight is right as well at least in the couple of containers I checked. I look forward to doing business with you guys in the future! Btw your driver was great and very helpful!

Legit products. Excellent communication. Very flexible on where to meet. On time! Appears to be the best prices in DC!