Discover trusted marijuana businesses in your community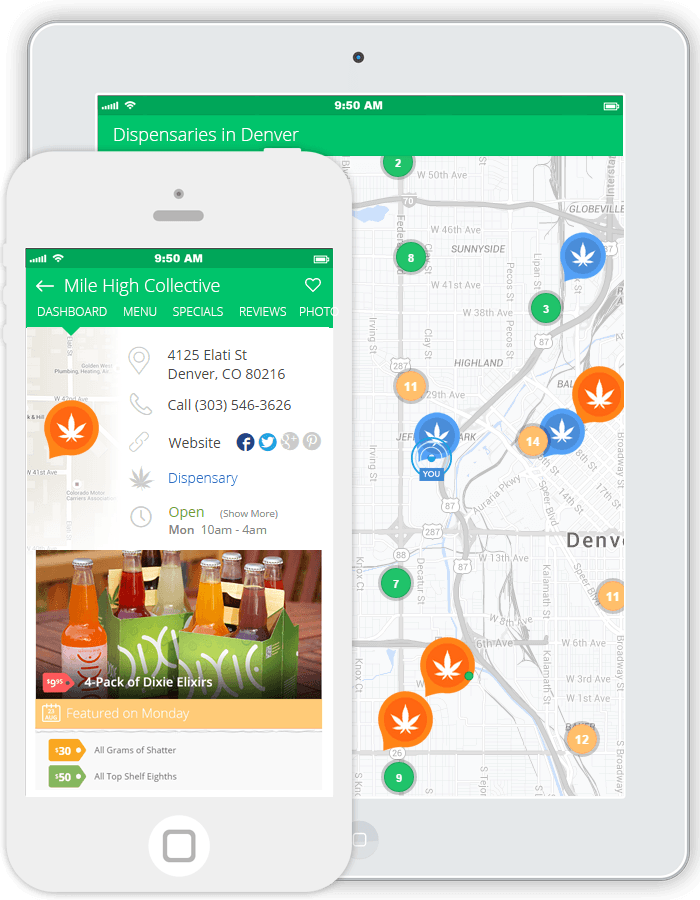 New to Where's Weed?
Where's Weed helps you search, discover and share marijuana businesses in your community. Whether you're looking for a recreational or medical marijuana dispensary, marijuana doctor or even a place to connect with local marijuana users, you've come to the right site!
Create an account
Discover local dispensaries, deliveries, doctors and more
Pre-order your purchases online
Search local specials and events
Review, favorite & share your favorite businesses
Dispensary Reviews
Love this place this is my go to i tried other places befor this one and they where trash and rude . I almost gave up until my friend recommended this spot to me and i fell in love every since very happy they never fail me now the only shitty part is the wait for delivery lol u but it's understanding bc there supper busy and it's worth the wait

To be forced to park across town and shuttle over when lines are non-existent and the parking lot is empty is outrageous. I'm an out-of-state medical patient with credentials. I understand you don't take my creds, but come on. A bit of compassion, please?

Always flawless ... can't complain

A+++++! We are ALWAYS satisfied with our order ! This is the only delivery service we use! Great buds and great times !!

SourD is a winner! Delivery was seamless and on-time! Maybe work on better packaging but the gifts within are L-O-U-D! Thanks!

Great communication. Gifts are LOUD. Showed up early and made sure I felt appreciated! Thanx for the battery...clutch!! I'll see you again soon! -Paul

Very good experience doing business with them. Recommend to anyone in the D.C. area.

Ordered from them three times and each time the service gets worse and worse. First time, the product included over 80 seeds (not terrible. more a pain to remove and it added dead weight to the product), second time I got a call at my delivery time to get an update that they were 15-20 minutes out, and this most recent (third) time I ordered for a delivery with 2.5 hours lead time and nearly 45 minutes after my delivery time...Nothing. No call, no update, no delivery. Very bad showing, and it seems they just continue to slip.

Twice in a row they haven't delivered within 4 hours of ordering & I tried calling/texting today to receive no response.

Pleasure to do business with. Everything is exactly as described. Will definitely do business with them again! Shout out to Rudy the driver too!

Been ordering pretty consistently for over a year and have only ever had amazing experiences. Highly recommend, very easy and seamless.

High quality products, fast delivery. A+++

Super impressed with flower quality strong suggest these guys. And best of all there not tryin to bust someone in the head with prices.

The LA confidential is legit! The gift was a little heavier then an o, so that was great. Dude was Quick to pick up the phone and was available for a delivery with in the hour, can't ask for better then that! Ill be back for sure

Awesome quick with the delivery and honestly try to help ya out will be coming back

best service around if you want quality items for awesome fucking prices

Tell me where yall located pussies so I can break yall jaws for ripping me off

Best experience I have had using this app so far.

Palm trees? More like RIP you off trees selling quarters as half and not even the same bud I ordered

I ordered last night at 7:40 pm and requested a 10pm delivery. It was accepted but around 10:30 I started calling to ask for an ETA and they never answered. Never heard back from them.

Called from another number and they blocked my phone number . . . Wont return my calls or messages. Like getting burned on the Black market

Absolutely exceed expectations in every aspect. Been donating for awhile, only place I'll go to. Fast, courteous, great quality and prices. Have NEVER had a single issue with Hyfe. Life long supporter

This is my fourth time buying from these guys but something was off this time they where all over the place i usually deal with older gentleman but these new guys ok first the driver was 35 mins late mind you i live in Virginia i drove to dc i set the meet point for 7 pm ahead and they where still late they had two different drivers contact me the one that arrive was acting paranoid had his window mid crack told me to see the flower i had to open it out of his car rude as shyt the special they offer says 160 oz it does not specify what strand i normally get the same strand every time i but this time he stated the special was only for indicas clearly says all ozs 160 definitely the worst experience dealing with these new guys y'all need to tighten up an do better as a business you dealing with customers not street clowns

Great guys, great product, fantastic service. I would 100% recommend them to anyway. I have tried many of the various vendors on the site and they provided the best experience I've had by far.

Terrific experience! Very Good, quality products, good selection, and value! Professional, and good peeps. Do it.