Discover trusted marijuana businesses in your community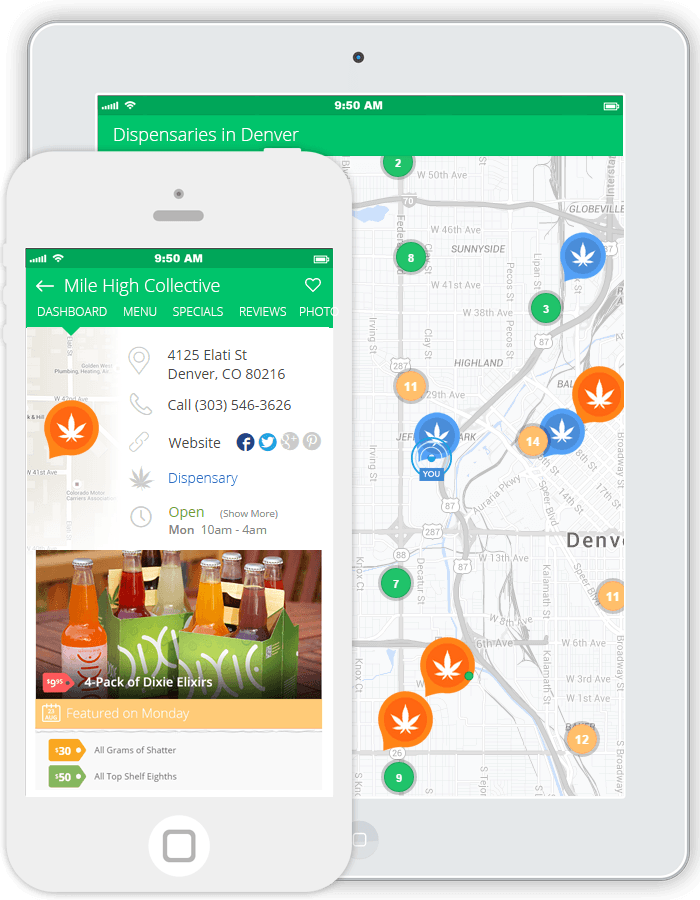 New to Where's Weed?
Where's Weed helps you search, discover and share marijuana businesses in your community. Whether you're looking for a recreational or medical marijuana dispensary, marijuana doctor or even a place to connect with local marijuana users, you've come to the right site!
Create an account
Discover local dispensaries, deliveries, doctors and more
Pre-order your purchases online
Search local specials and events
Review, favorite & share your favorite businesses
Dispensary Reviews
I could have left a 5-star review just on the service alone, but glad I waited to try the bud because it too was super on point. Communication was top-notch and this was probably the fastest I've ever gotten an order delivered. Definitely will order again. Thanks, y'all 🤗

ASSC met my every need with knowledge and a great product lineup. Will for sure use the services again

Sold me some regular and called it King Kush, this shyt is horrible I'm mad I paid $125 for this

I forgot to tip the driver and feel real bad about it! I'll make sure to tip extra next time, sorry

I ordered Gelato strain yesterday. I'm pretty sure, what I got is totally different. The free roll I got is cool but I wish I had received the premium as advertised.

If you really smoke weed often, this isn't the place for you. While the prices are good, the bud is most definitely not. It tastes bad, tons of seeds, and full of stems. Worth it to get higher quality elsewhere for a higher price unfortunately.

So I was wondering where I can get the best flower on my trip to dc this past weekend and V-Flowers definitely helped me out. Plus FREE DELIVERY! That's unheard of. Consistent and quick. I will definitely be back.

They are my go to. Not the best selection, but everything I've gotten has been good. The customer service is both friendly and user friendly. Free delivery and always throw in some nice perks for being a loyal customer. I'd say they focus more on quality and giving their customers an easy experience than having 30 strains available. I'll be going back to them

Ive used them twice now and really want to use them more, but probably wont. Their products are great. Really good flower, but ordering has been an issue twice now. Delivery isn't quick on pre-orders. Out of the 3 services I've used, they were the slowest. I tried to set up pick up times at 11 and had to wait 30-90 minutes past that. There is a 15 dollar delivery fee on everything so just add that into the price for everything and the deals aren't as great as you first think. The flower, however, is worth the price. They have a great selection and advertise a military discount, but there was always so much confusion, I just got what I got and moved on. Once again, love their products and selection. All the other things will probably keep me from going back to them unless they have a strain I really want or am in a pinch.

I referred my friends for a 2 ounce special and they were extremely satisfied, were provided prompt service, and pricing was great!

Yo these guys are awesome. Friendly, fast, great flower and just good vibes all around. HIGHLY HIGHLY recommend checking these guy out. You'll see for yourself 👌🏾

Angry Scout cookies was so a1, the nugs were beautiful and smoked so good. Picnic outside, this stuff was so perfect for the day. These dudes always come through! No need to go elsewhere for quality service.

fast and responsive with the best deals!

fast and responsive with the best deals!

first time with these dude and they were quick as fuck the ETA was 1 hour but were there 20 mins after i placed my order of gelato 1/2 o needless to say i will be back soon 😎

I love ghost train haze Choo chooo

Stay away!! Buyer beware, I waited for over 2.5 hrs and communication was pretty bad, initially said wait time was 1-1.5, ordered OG godfather and galactic jack. Og was light dep and galactic jack was some swag, paid a premium for both flavors. typical bait and switch vendor. Reached out for an exchange or refund to no avail. No reply so I was forced to write this review.

Typically keep my comments and opinion to myself but I had to let the rest of the community know. Quality sucks. Not a trustworthy operation. Flower is not good and probably unhealthy. Can't believe they have the audacity to operate on wheresweed.com. Unresponsive and bad meds. Also very reluctant to correct the issues after bringing to their attention my concerns. I medicate for health reasons and obviously they think it's a joke.

Just love these folks!!! Of all I have tried, this is truly the down home, with the best product. Tanks tons!!!

Worst experience I've had since being back on east coast. They know absolutely nothing about bud, and are deceptive. I've recently made a donation for a half oz of "grape god" and all I could think was god damn wtf is this shyt. I could have gotten more relaxed with a woodtip black & mild. Not only was the flower no what was described it had no smell or taste. There are a lot of shinny thin plastic floss like material in the flower. Looks a lot like the webbing from spider mites in a bad grow or plastic from sting when being bricked together yet another tell tell sign of "garbage". My advice is take your money else where and don't waste your time. The driver seemed very professional and customer service like but that means nothing when the product is "trash". I need the exchange ASAP or my money back.

Great product, timely delivery and great communication.

Great new company, from the flower to the driver and the guys on the phone.. I'm glad were starting to get Better companies or here with high grade flower that dont bust your pockets open

Oh my godness, the flower is crazyyyyy and price. they delivery was so quick, Thumbs up green house. Definitely ordering again!