Discover trusted marijuana businesses in your community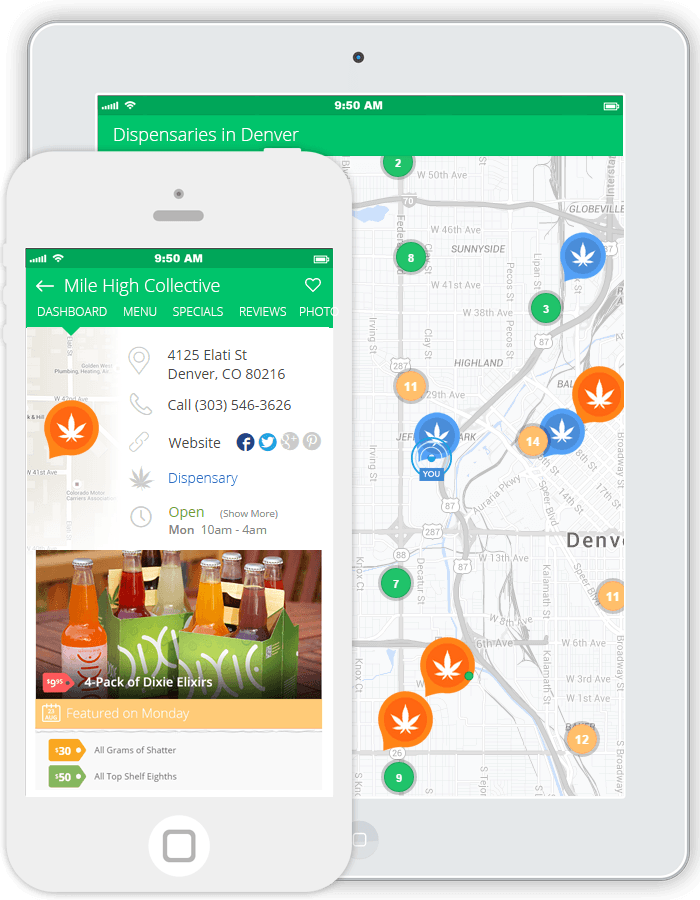 New to Where's Weed?
Where's Weed helps you search, discover and share marijuana businesses in your community. Whether you're looking for a recreational or medical marijuana dispensary, marijuana doctor or even a place to connect with local marijuana users, you've come to the right site!
Create an account
Discover local dispensaries, deliveries, doctors and more
Pre-order your purchases online
Search local specials and events
Review, favorite & share your favorite businesses
Dispensary Reviews
Incredibly awesome people.

Quick service and great quality! Will definitely be using again

Simply the best in the city. Not only is the product amazing and nicely priced, but the service is superb. The staff is super friendly and accomedating, they even worked with me when I couldn't make the full delivery fee. Probably the best delivery service I have bought from this far, keep up the great work.

Best service in DC! Very professional and understanding! Will be returning in the near future

Always great quality and service. Good choice for students who work hard but like to relax too 😁

i love this company and use them almost exclusively. the drivers are always SO nice (AND cute) and super flexible/reasonable. just nice good people. and the owner is a sweet baby angel. i love green sundayes ❤️

These guys rock !.. on time and good product!! 😁👍

service was great, very friendly. Killer nugs definitely would recommend.

Stellar service. Legitimately five stars all around.

Absolutely superb in every respect.

I really enjoy the selection, as well as their quick service. They were very understanding when I got caught up in traffic, and even waited a little bit for me to get there. Great job guys!

They have a $60 minimum, dont get your hopes up if you want a $20 cart, they only cater to rich people.

Response was quick, driver was super cool, prices are great, flower is fantastic. Nothing to complain about.

They deff have the best prices in the city. They are also super fast. Other places can be shady with misleading promotions and not showing up for hours and then make some excuse. I've left 1 other review on this site, that was for a promotion which I didn't even get, and I dont plan on leaving more cause these dudes are the best in the city. Best prices without a doubt. Seriously.

Most potent product and the most patient staff. Best service in DC by far.

Easy and fast ordering process!! I love the stuff I got. Only minor thing was the extended wait. Otherwise will definitely order again next time I'm in town!

Great all the way around!

The gummies were awesome, really potent. The guys were communicative and helpful.

Ordered at 3-330. Call to confirm order and he says it'll be 40 mins. Call again and they forgot about my order and said they were sending someone out and confirmed the address. Still sitting here waiting on a response

Customer service was awful. I asked for ETA and he kept saying drive is en route. Repeatedly and passive aggressively. Moreover, I tried to ask what a convenient location was and the operator wouldn't respond and told me to give them an address when I was trying to be helpful. Combined with a lack of communication and slow response times, this place will not get any business from me anymore. I get that this is a weed delivery business but the operator shouldn't be so apparently high as to not give competent service. A

Very friendly and safe. Great deals. Always happy with the service

Very untimely deliveries. the driver said he was on his way and would arrive in 30mins, yet he didn't show up for 2 HOURS!!!!! I even paid an additional 20$ for the delivery. The deal promised a pre-roll, yet no pre-roll was delivered. Amazing flowers & quality yet **HORRIBLE SERVICE**! Sad because I was hoping I found a company that I could rely on consistently.

Open Early, 1 hr or less, fair price, EXCELLENT QUALITY! Cool drivers! Cartridges are the REAL DEAL!!