Discover trusted marijuana businesses in your community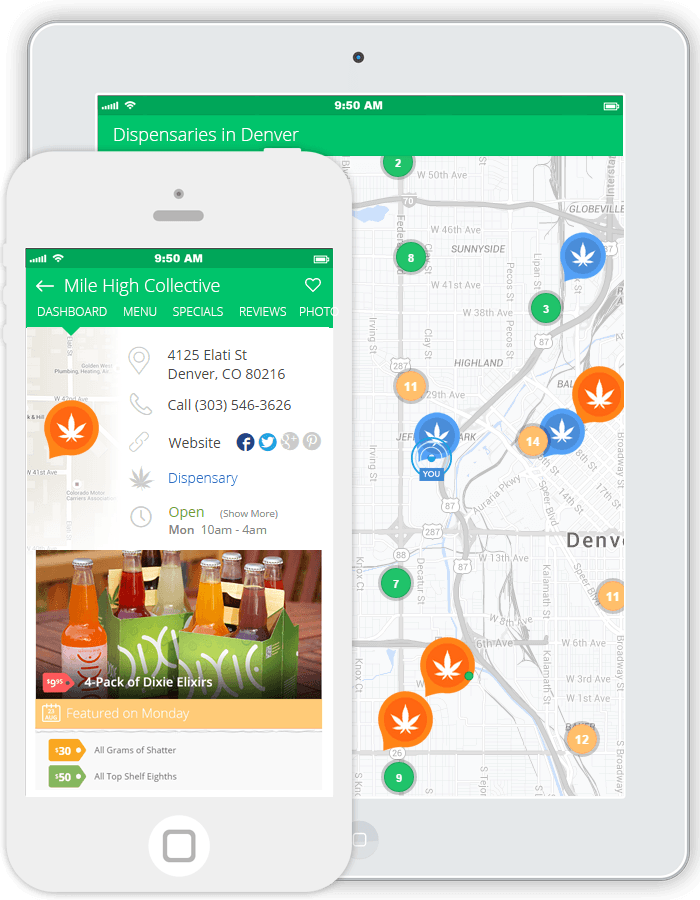 New to Where's Weed?
Where's Weed helps you search, discover and share marijuana businesses in your community. Whether you're looking for a recreational or medical marijuana dispensary, marijuana doctor or even a place to connect with local marijuana users, you've come to the right site!
Create an account
Discover local dispensaries, deliveries, doctors and more
Pre-order your purchases online
Search local specials and events
Review, favorite & share your favorite businesses
Dispensary Reviews
Speedy service answered all my questions an amazing quality

I ordered from here a few times and every time they come thru with straight fuego! And they're surprising fast compared to others I've tried in the past!!!!

Give these guys a shot. Really great buds, excellent customer service, and late night hours. Cheers man

Lls switch up? You sold huff my man plain nd simple. You didnt bring what was on the website fool, period. Ima write it here so mfs can see

This is an Excellent company with outstanding service. We love the packaging presentation.. the style is definitely something other companies should aspire to.

Jetpack offers top shelf quality on a consistent basis plus the staff is professional and respectful. I have been a regular for about 6 months at the time of me typing this review.

Everything right on point no complaints I'll be ordering again

No response for 24 hours - not reliable. Should have known better since the menu hasn't been updated in 22 days.

Great customer service, very happy.

Extremely delayed. May have been a fluke but they told me 1:00 and didn't show up until after 3.

Best delivery service. On time. Great communication. Friendly service. Great product. New favorite!

fast delivery nice quality. 5 stars. thanks guys

These folks rock! Excellent quality flowers, professional, polite, courteous seasoned pros at the helm, and at every step of the process. Communication is great, and speed can't be beat! These folks really are one of the absolute best!

First time ordering from them BUT the driver was on time and the moonrock is divine. I'll be back for sure.

Best all around service I have experienced. Great communication. And a super friendly meet up. I met the owner who has only recently started up. He was a super nice, easy going guy. Got a few carts. The do si do is tasty and grape ape has got me feeling super duper good. I wish you the best of luck bro! Will certainly be back!

Excellent customer service and fast delivery. High integrity no pun intended :)

Let me tell you about these guys; they're definitely conviene. They work with the client instead of making the client work with them. They have a variety of strains to choose from, and their deals are amazing for the quality of bud you're getting. The best part of it all is they'll give you a shirt. You will never go wrong with these guys because they offer deliveries and pick ups. Phenomenal customer service!!!

Excellent first experience with Kushy's. The gifts are high quality (thanks for the extra gummies!) These people seem down to earth and are professional. Will definitely be back, thanks again :)

Amazing price, they got in contact with me and worked on a delivery time with me. The carts are great and their price is awesome.

I usually don't leave reviews but if you guys aren't trying Nimbus you're missing out. Great strains and excellent service all the way around. Very cool people smooth process def my boys from here on! Good looking out Rich!

Great delivery service and great product. Always on time. Always friendly, helpful, and flexible. I have nothing but positive things to say. Highly recommend.

The driver was hilarious and very far from Anti-Social lol! 😝 The true OG was perfect for me👌

I ordered at 10am and received my gifts WITH a t-shirt at 1030! My mind was blown-- I barely had time to shower! This was the quickest facilitation of a wake n bake that I've ever experienced, thx ASSC!

Good prices and fast delivery. Didn't get the carts I asked for but they'll do. Try something new.