Discover trusted marijuana businesses in your community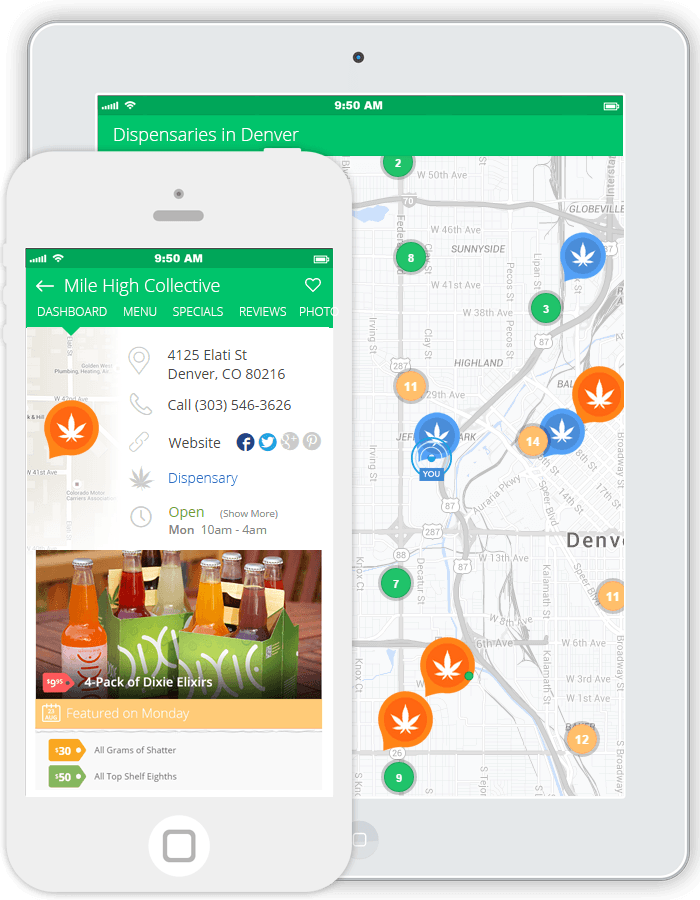 New to Where's Weed?
Where's Weed helps you search, discover and share marijuana businesses in your community. Whether you're looking for a recreational or medical marijuana dispensary, marijuana doctor or even a place to connect with local marijuana users, you've come to the right site!
Create an account
Discover local dispensaries, deliveries, doctors and more
Pre-order your purchases online
Search local specials and events
Review, favorite & share your favorite businesses
Dispensary Reviews
5th time ordering from Sugar High and still get treated like its my first time. The best customer service and professional drivers. The owner def knows how to bring back customers. Wish they had shatter tho

fucking awesome product like always but its the amazing customer service that brings me back.

just did my wake n bake and i think am over medicated. Am over here geeking :) That GSC is no joke. Thanks for the extra goodies

awesome vendor. very quick delivery. great product.

Anything you Can get off the menu is 🔥🔥 bud you can't go wrong With but I finally got those 500 mg chips with this deal they have and questions have been answered (gas). Wax/hash is like that, Capitol man

Don't waste your time on anyone else. Always on time and good quality!

Thanks to the previous review, it seems like these guys all of a sudden wised up and stopped with the fake reviews. No need for it either since they're bud isn't that bad

Misleading how they said they're too popular to take on new clients but then all the recent reviews have new folks proclaiming they just starting using hyfe and how excellent they are. Nobody is falling for it fellaS, no need for the ego. There's other vendors with honest practices(buds roses and exotic blooms)

Yeah shatter is not purged correctly and it's pushed with the trim. Terrible product!

Look how dark the shatters are! Especially the biscotti! It's blasted with trim !! Come on, you guys product should be sold in a ally. Don't sell that shit to customers! It's poison. CARTS REALLY SUCK! KEEP AWAY

Great customer service and very professional. Highly recommend and will do business with them again

I ordered from them three previous times, on the 4th I don't know what happened? Sadly I'll have to fine another place. WTF

Worst service on WW. Garbage products too. Won't return.

Cart was awful. Pen didn't work. Terrible service. Never again.

5 Stars I'm an out of towner so the delivery process was new to me. Sent EB a text and within an hour I had an extremely friendly driver deliver legit product, sealed and potent. You can tell they take pride in their service. They even threw in a free gift and a smell proof bag. I will definitely use them again

Delivery is slow ..as hell and I wouldn't recommend it to my worst enemy ...and don't forget that the weed is thrash 💯👎🏾

10/10 communication, extremely professional, great product and fast delivery

Great service I come here at least once a week the only dispensary I buy from

Just tried out Animal Cookies and I think I found my new favorite strain from HYPE. they have great prices and I never have an issue with them

Horrible quality, fake carts, edibles don't have any effect, slow delivery (6 hrs) and terrible bud! Never coming here again

love working with HYFE, always kind and their bud is always dank. the large selection always has me trying new strains and finding new favorites

Products were great and I will continue to order from Tre! Thank you so much.