Discover trusted marijuana businesses in your community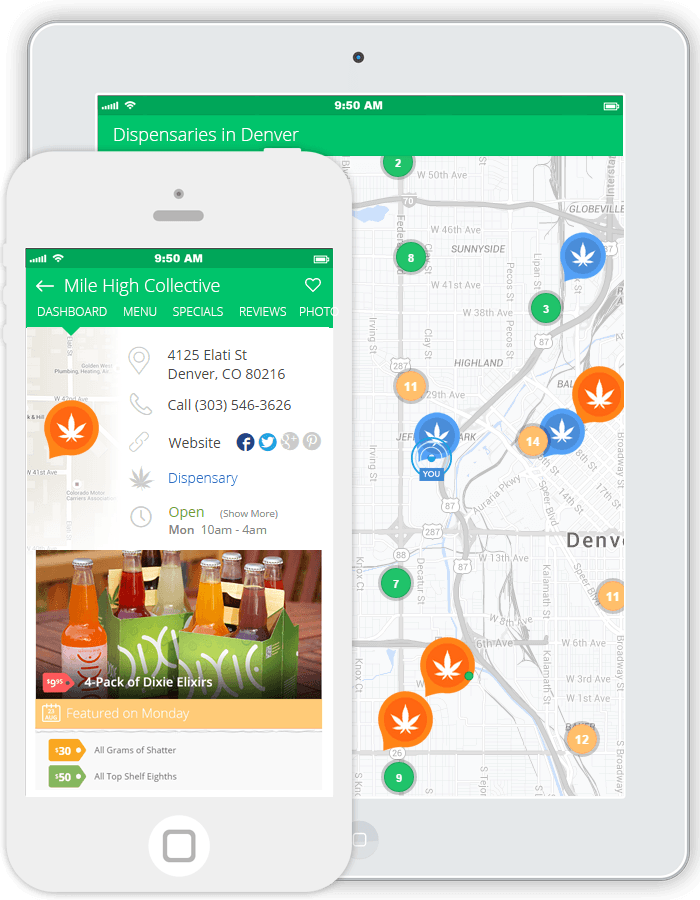 New to Where's Weed?
Where's Weed helps you search, discover and share marijuana businesses in your community. Whether you're looking for a recreational or medical marijuana dispensary, marijuana doctor or even a place to connect with local marijuana users, you've come to the right site!
Create an account
Discover local dispensaries, deliveries, doctors and more
Pre-order your purchases online
Search local specials and events
Review, favorite & share your favorite businesses
Dispensary Reviews
these guys are awesome! the green is beautiful and the service was great! i chilled with the driver and chatted for a little, we totally bonded and he was so nice! when picking where to order, go with these guys, the price is right and they always come within an hour after you order. thanks guys, keep up the good work!!

Products are good and the delivery was on time, will be back again!

These guys are legit. I ordered 2 carts from them that weren't working correctly...I contacted them and they replaced them immediately and even threw in a gift for the inconvenience. The quality of the carts was excellent. Service is impeccable. Drivers are very friendly and courteous. The business card is badass. Do yourself a favor and order!

Great location friendly and knowledgeable staff

I was worried about buying bud this cheap. I was surprised to get good quality stuff. The blue cookies is exactly as pictured. You guys have a new customer.

There 130oz deal is a steal. I wanted to try both strains. They allowed me to do half and half. I'm pleased with both strains. The driver was friendly and on time.

Omg!! Can't believe the quality of the blue cookies. Great deal!! I'll be back to try other strains

Mann.. the times are changing. This was the clutchest donational plug out here. Communication was A1. And that Alaskan Thunder is 🔥🔥 Next time I'm in town best believe they getting my business.

Ordered numerous times from buddhabuddy, best deals I see and service is always timely and organized. Only place I will order from in DC. Thanks guys keep it up !!!

Good experience overall. The guys answered any and every question I had. They said they would be by in two hours and sure enough they were.

Love this crew. Always high quality goods at a more than fair price. Speedy delivery and very responsive during the ordering process. DC's delivery 🐏 🌟🌟🌟🌟🌟🌟🌟🌟🌟🌟

Awesome service, quick,easy, high quality. Great experience and our go-to for sure.

So i have used these guys several times now an can say I am always happy with them. The product is consistently of good quality, the prices are reasonable, and the staff is knowledgeable. Yes sometimes you wait for delivery (and to be fair sometimes you don't) but until you can purchase it like alcohol or tobacco it is what it is.

Came through even though I was late and went to the wrong location. Great herb as well and dude was chill

They did it again.. The west coast and the strawberry banana was on POINT

So, i really don't like trying "new" start ups. I really like to find someone and stick with them. It just so happened my former favorite delivery company couldn't get to me and i flipped thru looking for what everyone had. I came across BudHub. I saw they had white widow and i really wanted to try it, so i took a chance. I'm a veteran smoker, i don't just give any weed props because of a name. But that was some of the best weed i have ever smoked in my 44 years. Price was very reasonable, service was great and friendly and most of all it was some dank ass weed. I would seriously recommends BudHub to everyone.

Great service and damn dudes, this sh*t is awesome. Just got home and opened it up and took a hit. I'm toast :~)

Easy, very professional package, potent top shelf flowers, and I guess if you're lucky you may get a little extra gift with your gift :).

A bit of miscommunication made for a bumpy experience initially but they made it right and were there quickly. I would definitely recommend them.

I've ordered the concentrates from them several times and the drivers are always friendly and the oil is great quality!

Roommate suggested these guys. I gave them bad info and they still came through. Picked up my calls and texts with no problem. wish i could tip more. Prob the best deals if you keep an eye

Rolling stoners always come through with exactly what you order and it always as described. Very easy to work with and they are on time most of the time. Would recommend.

i planned a day prior for my delivery to happen on a sunday even though they are closed. I need consistent edibles for medicating purposes and these are perfect. thanks again!