Discover trusted marijuana businesses in your community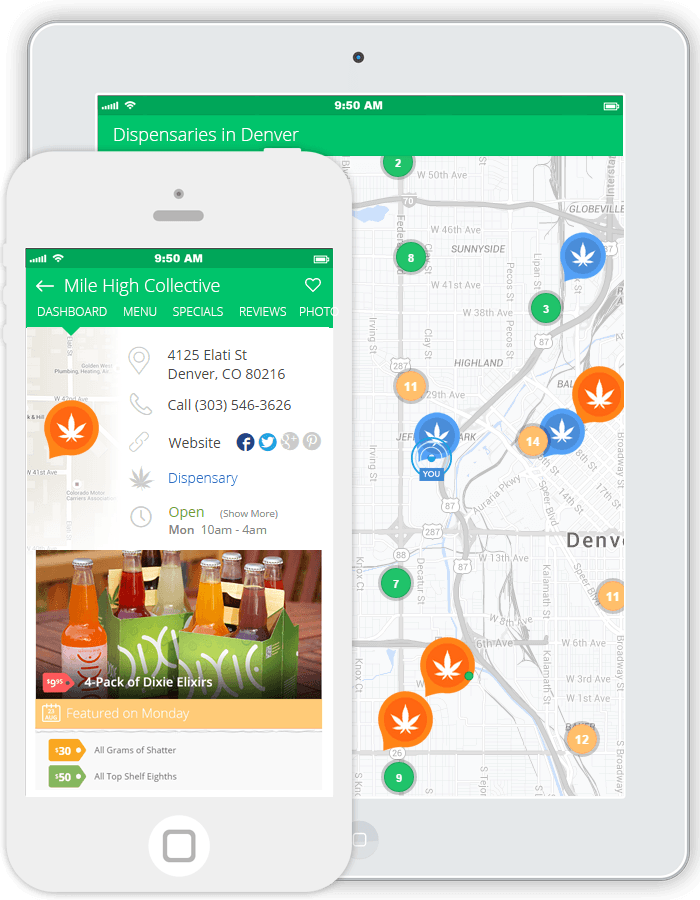 New to Where's Weed?
Where's Weed helps you search, discover and share marijuana businesses in your community. Whether you're looking for a recreational or medical marijuana dispensary, marijuana doctor or even a place to connect with local marijuana users, you've come to the right site!
Create an account
Discover local dispensaries, deliveries, doctors and more
Pre-order your purchases online
Search local specials and events
Review, favorite & share your favorite businesses
Dispensary Reviews
Quick responsive and good communication

Yuck Bought the 7 gram deal tastse like shit waste of money not even worth the breath

Trying you guys had to be one of my best decisions ever. They were quick with the answers to all of my questions, they were punctual, and the flower is amazingggg. I would recommend everyone give them a try!!!!! Thank you for the amazing service. I will DEFINITELY be back for more!!

Y'all came threw af all I gotta say, nothing better then a reliable plug fr

I'd grown frustrated with some of the other sub-par offerings in DC, with decent prices but wildly inconsistent quality. These guys are popular for a reason, medical upper-shelf quality meds at a very reasonable price. Everything I got from them was very good and well-trimmed. Strains are true designer grass.

What you get is not in the pics smh not cool at all. Got some beasters for the price of top shelf

Quick response n slow delivery, you are not ordering what you see in the Pic!...Some other shit arrives with the same name...Seeds in the Top Shelf! No Gucci. Oh yeah gifted a 50 cent lighter and a brown paper bag lol

Drivers an ass. Smoke with them 2 hours prior to verify my order. Said theyd meet me at a certain time. About 3 mins after I called to see where they were and what they were in. They said they waited and waited. Texted and called. My phone was dead. He said itll take about 5 mins or so to get back. But we were supposed to meet 3 mins ago, how are you over 5 mins away now? So he says I'll come back but you only have 2 mins and I'm leaving..... ok? Well been I've been here soo. What are you driving? And he told me he cant tell me that. Wtf?! How the hell am I supposed to know what car to come up to? I ordered from Gst downtown DC. I need to know what car in walking up to. Not delivering from here again.

Excellent. 5 stars all around.

Great flower, prompt service and respectful employee's. Highly recommend their services! ❤️🧡💛💚💙💜

Great place knowledgeable staff and friendly. We aren't very knowledgeable ourselves but we felt in good hands I'd highly recommend

Great flower, prompt service and respectful employee's. Highly recommend their services! ❤️🧡💛💚💙💜

My favorite cannabis service in DC ❤️ You guys rock!

This was my 5th time using KING CUSH. Why do I keep coming back??? Answer... SUPERIOR FLOWER AND UNBEATABLE PRICES!!!!!!!!!!!!! PUFF PUFF PASS!!!!!!!!!!!!!!!!!!!!

Excellent product, packaging and service. A+ would order again.

These guys are great!! This was my first experience with them and everything was so smooth and took a little less than an hour. They gave me a free pre-roll, a free lighter and a little bag of Halloween candy! The guy was very knowledgeable and polite. I would totally go back to them again. Good job!

Impressive!! Prompt, professional, and a potent gift. Arrived exactly when scheduled and received texts beforehand confirming appointment. All around great experience, will definitely call the Doc again!

Been going here on and off and will definitely be coming more frequently. Extremely patient driver and fast communication, along with resolving a misunderstanding in price. Definitely stepped up their quality with this birthday cake, forbidden and gelato. Straight deafening ⛽️⛽️⛽️ 11/10

placing another review because my constructive citicism was deleted. Beware. Quality is LOW. Prices are meh. Services is OK - i walked in and folks were half a sleep and as usual, tripped up every step of the 'process'. They give you little to no info on the product. Dont even show you what it looks like before you buy, they place it in black bags or cover it with a sticker for a reason. they want you to go home before you smell....nothing. it doesnt smell like normal weed.

Best delivery service out there, Clean concentrates and high quality flower. Don't waste your time going anywhere else.

My husband and I have used puff a few times now and have nothing but great experiences all around! Great products, great communication, great interactions! We've used a couple others but none compare! Puff is the way to go! Thanks for being so awesome and for spend9ng the love! ✌

Loved the weed! I got God and girl scout cookies. Smoked well with white ash and smooth taste. Also I got about a half gram extra when I weighed the weed I got. Great service thanks guys! 😊

I had a great first time experience with Full Spectrum. Very friendly and professional. Delivery within 1 hour. They even threw in a free, perfectly rolled J! I was ready to leave a 5 star review before they even arrived. The Cookies & Cream is a really nice strain with a bright uplifting buzz on the onset that becomes more relaxing as it sets in. You can tell that it was treated properly by the trim, smell, and the way it smokes. Just look at their high-res photos and you can see what you will be getting. 5 out of 5 on the flower and all around.

This is the 2nd time ordering from these guys. Each time I received a confirmation phone call within 5 mins. I come from out of town and they are really easy and friendly to work with. The last time I got caught in traffic and had great communication every step of the way, the delivery driver was very understanding. That experience alone is enough to work with these guys, but the quality is GREAT! You have definitely earned yourself a loyal customer!