Discover trusted marijuana businesses in your community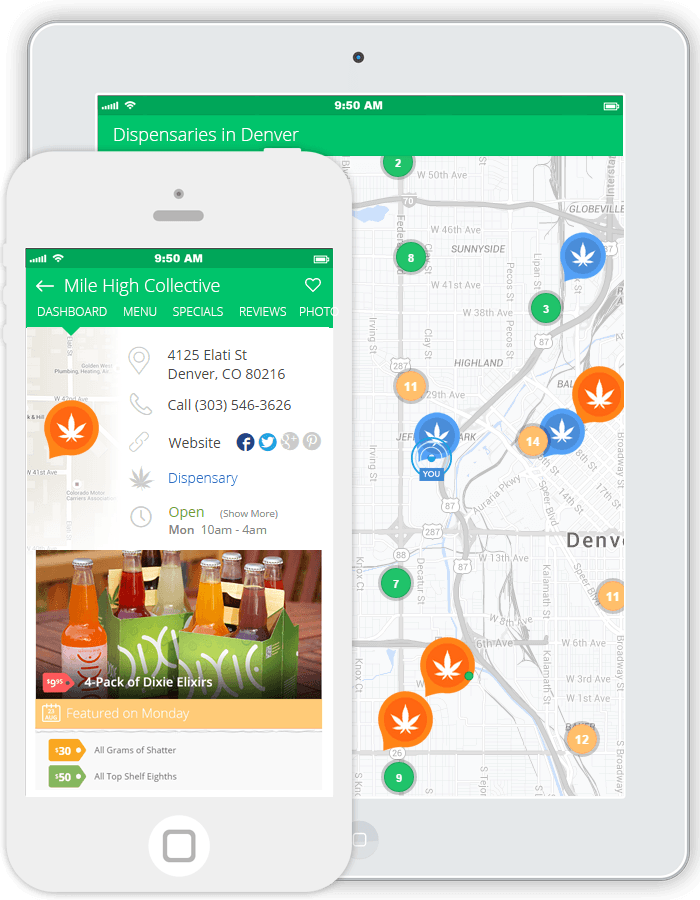 New to Where's Weed?
Where's Weed helps you search, discover and share marijuana businesses in your community. Whether you're looking for a recreational or medical marijuana dispensary, marijuana doctor or even a place to connect with local marijuana users, you've come to the right site!
Create an account
Discover local dispensaries, deliveries, doctors and more
Pre-order your purchases online
Search local specials and events
Review, favorite & share your favorite businesses
Dispensary Reviews
Guy knows hit s***, bomb ass cuts

Two words: BLUE NIGHTMARE!!. First time since Old school Sour Diesel has a strain have the best texture, smell, and SH!!!!!!T...what a FEELING!! Save me some folks...BE WARNED. DMV will get u right!! Thanks again folks...SUPPORT

If I wasn't on a very low income I would visit more often but their weed doesn't help my condition as well as other clubs

DO NOT TRUST THESE SCAMMERS. ORDERED THE $160 oz deal. TOOK 3 HOURS TO COME AFTER TELLING ME IT WOULD TAKE 30-45mins. WHEN THE GUY SHOWS UP HE HAS THE WRONG ORDER. DO NOT ORDER OR TRUST THESE PEOPLE!

MyGuy accepted my order, gave me a window of delivery, and (after attempts to get ahold of them) cancels my order 90 minutes AFTER THE WINDOW. Don't waste your time on these flakes.

This bud is straight HUFFF😡😡😡 um mad sitting hear smoking this BS

Quality place with a wide variety, knowledgable people. Definitely should be on your list of dispensaries to see.

Can't say enough about Buddha Buddy! Last time they took a late night order from me, accommodated when I changed locations, and even included a preroll as an extra gift. They were so helpful and responsive over text, and the driver was super nice. Not to mention the product is quality and consistent. Can't go wrong here!

Five stars, once again. Best flowers you'll find in DC. That 501 OG tastes so nice! Look the price isn't low but after about 5 or 6 purchases I've seen the most consistent quality flowers in the area. Worth the price for quality and consistency. Thanks Elevator.

I'm from Ohio. each time I go to stateline wellness i'm told different stories as to the amount of product (edibles) that I can buy.

Tried getting 7 grams of skittlez an 7 grams of wedding cake an 7 grams of plantuim cake an they never responded or placed my order

Fantastic service answered really quick ! Bud is pretty good if ur as skeptical as I am on weed the buds aren't like the pics in my opinion there still high grade not top shelf tho still great service!!

This place didn't respond at all the reviews left are inaccurate

The staff at 420 gets me right all the time. Customer service and deliveries deserve kudos

I place an order at 5:47 than received this text message:Unfortunately we don't accept new donors after 530. Instead of being professional about just canceling the order. I was made to feel as if placing the order was a dumb thing on my part. I will never give my money where it is not appreciated!

My go-to crew for months now. Consistently good stuff and,they are FAST. None of this waiting around for hours BS you get from others

First time customer. Great product selection, excited to sample.

One of the eighths I got was a few points off but no big deal. Bubba og kush isn't what I thought it would be. The white is very good and the high hits you hard like I mean very very hard. But I was supposed to get a free pre rolled with my deal and the drivers told us the lady on the phone we called didn't tell them. Probably going to try shopping around before using them again.

By far the best bud ive gotten off of this app. Ive used a few different vendors and these guys are the only ones that actually have whats pictured. I got the mimosa and la kush cake by jungle boys theyre both gas 🔥🔥 . The prices are whats expected for designer weed. They were very prompt, accomodating and my driver (whos name i dont remember beacuse im high af rn) was hella knowledgable. I give em a 10/10 and plan on being a repeat customer.

quick service and nice driver! pricy but well worth

Customer service is what really sets them apart. Product is way above average and when they were really late they gave me a free pen that can be used to dab concentrates directly and doubles as a battery for cartridges..... Very impressed. Don't bother looking anywhere else.

What an outstanding service. They offer a full return and exchange policy no questions asked... unheard of and I've tried a LOT of services out here. Dispatch communication is thorough and doesn't leave you guessing and waiting blindly. I'll be coming back many times over. 👍👍👍

I have tried many other places and either got inferior product or delivery took hours this place is on point good product with fast delivery

Thanks for showing me what Alien Og is supposed to be like! I tried Alien Og from different service and let me just say...... MBK & Co slaughters on sight! I'll be back soon.