Discover trusted marijuana businesses in your community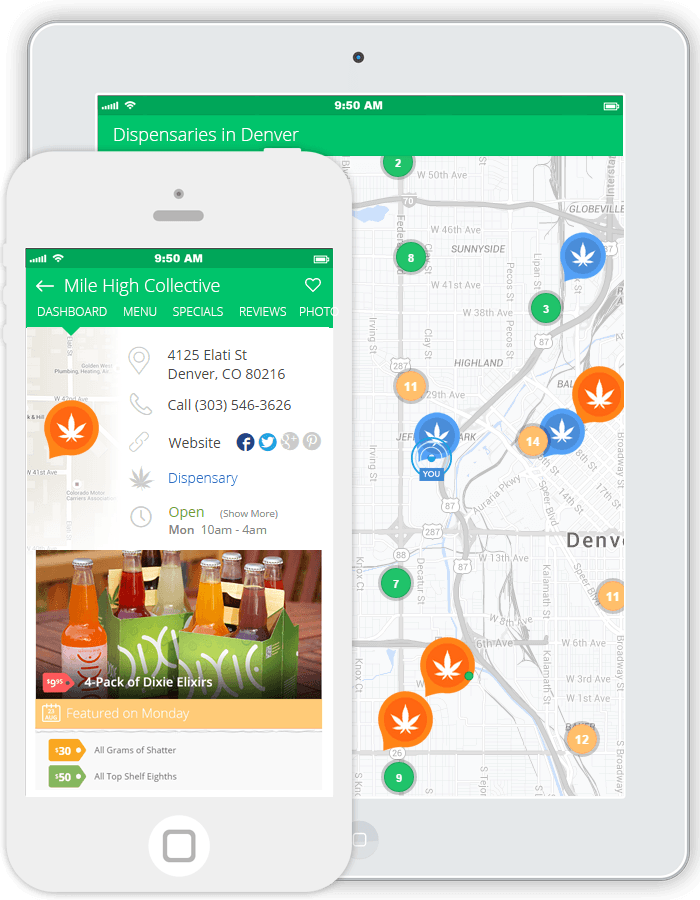 New to Where's Weed?
Where's Weed helps you search, discover and share marijuana businesses in your community. Whether you're looking for a recreational or medical marijuana dispensary, marijuana doctor or even a place to connect with local marijuana users, you've come to the right site!
Create an account
Discover local dispensaries, deliveries, doctors and more
Pre-order your purchases online
Search local specials and events
Review, favorite & share your favorite businesses
Dispensary Reviews
Five stars all around. Friendly people, good prices, quality product.

Horrible. They won't refund your credit card purchase, despite you not getting the product. That's illegal. Its unfortunate I have to call the cops and press charges. This is the problem with having "businesses" run by low life losers. Stay the fuck away from them.

Could get sone shatter choices . Waiting to try them for first try too

The platinum bubba , isn't platinum bubba 🤦🏽‍♂️ Not Happy

JUNK, TRASH, RIPOFF!! You've been warned don't waste your time or money on this crap! First driver arrives who can't read directions in the notes so he is not at meeting place instead down the block. Calls me with and attitude talking down to me because he's lost and can't read simple directions. Continues with his nasty mouth forgetting I am the client here not him. He's so angry that he's not listening to directions so I tell him go on I'm not dealing with his shit. Calls me back still with attitude finally finds location so I try him anyway. Get in car he hands me pure trash dirt flower. For real thought he was dealing with a newbie had to teach him he was dealing with an OG! Left car told him not interested in his gift he gets more infuriated talking shit out car window because I said no to his trash. I guess he thought I was obligated to donate to him. Player you tried the wrong one last night. Wish his ass would have gotten out of car like a man when threatening me driv

This is my third time ordering. Great bud, both animal cookies and wedding cake. Great prices, awesome driver and open to any questions you have!

Decided to get these new guys a try. Placed an order at 7PM. Instant replies, my order was expected to be delivered around 9PM. Cool right? Well it is now 12AM. Even after reassuring me multiple times my order was on the docket, the driver literally forgot to deliver my order. How the hell does a vendor with only 3 reviews forget they have an order? Don't waste time with these noobs. Hopefully everyone can forget they exist.

These guys are very professional, flexabke and very friendly to first time buy. I was going to miss my meet up and they were clear flexable and met with me at a later time at a more convenient location. All around great experience

I have ordered from alot of dispensaries so I rolled the dice & try this dispensary I purchase ghost rider & blue muffin I was very disappointed it looked like grass I wasn't even high smh save your money.

Top Strains I've found so far with a good price. Have been searching for 2 months something to compare to a previous provider

The BESSSST!!! I was in a punch with time, they saved me and made sure I was SUPER happy and I will always use this company! Trustworthy, legitimate products! Thank you SKY 😎😎

Their cheap stuff is ok but call and ask for better quality even if it costs more. Their customer service , communication and timing is great.

The BEST IN THE DMV!! ALWAYAzzzzzfast and always exactly on point. The best and no one else can beat their quality quality and professionalism!! Thank you. Wvc!!

THE BEST COMPANY IN THE DMV!!! Honest FAST and overboard I have been to over 15 companies in d.c. and this IS THE BOMB AUTHENTIC and top notch quality. Love and very above far above the rest! No one else for me!!

Hands down the best place to go anywhere! 10/10 and they drink the only water you should be drinking lol

Actually I enjoyed the staffs knowledge of the strains, the prices are the best in the Thompson Okanogan valley B.C. The owner is a awesome guy makes your experience quit amazing. Very friendly and always has the best quality strains I've tried.

Had a SNAFU with delivery and these guys made it happen! We offered to change locations but they came through anyway. So appreciated!

Best Gas Out Here. Its A Go Too

Got sold some straight bush. No smell or taste and no medicinal value Smh. First service to do me like that.

Waited for over 2hr... didn't get to get any still

I bought the reserve, exotic, and some of the $160. First, the $160 is low end regs and should be avoided at all cost, for 160. I couldn't give this stuff away. It's that bad. I can't even smoke it. Bad taste and no high. The reserve and the extotic, is not too bad... once you take the extra 5 grams of leaves off. Covered in leaves as if it was never trimmed. Can get way better smoke and service form other places. Very bad communications, and took about 3 hours to get it. Would never use this place again. Sorry, just think you can get way better product and service, at a better price.

Another home run ! These guys are great. Im super impressed again with the strain. most important is they haven't jacked their prices like the rest. You guys keep it real 100% , Thx !!

Best Out Here In Dc Doing It

very reliable and very professional! FIRE BUDS ALWAYS!!!!