Discover trusted marijuana businesses in your community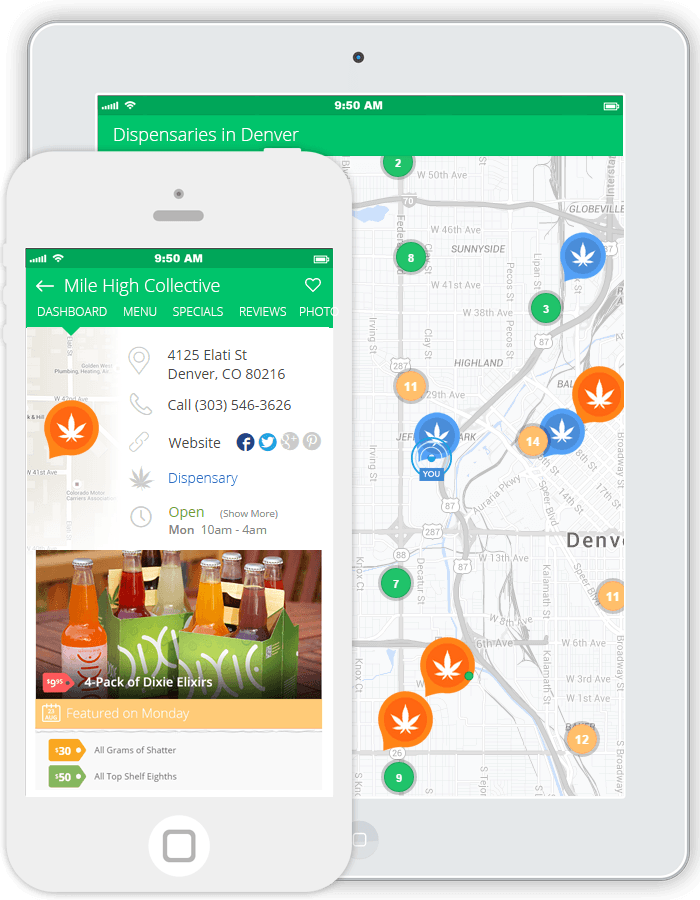 New to Where's Weed?
Where's Weed helps you search, discover and share marijuana businesses in your community. Whether you're looking for a recreational or medical marijuana dispensary, marijuana doctor or even a place to connect with local marijuana users, you've come to the right site!
Create an account
Discover local dispensaries, deliveries, doctors and more
Pre-order your purchases online
Search local specials and events
Review, favorite & share your favorite businesses
Dispensary Reviews
Placed an order with them 2 weeks ago....waited three hours and still no herb. Needless to say I am done is an understatement. They did offer to give me my order for free. But damn it you can't put a price on D.C.'s traffic. Then to make matters worse they marked my order as "delivered" in the system. Uh to who? Never again. Well at least we tried. Back to my regulars....CannaBear, Capital Bud, Bloomerz....to name a few....straight shooters they are.

Ok, so I need to make a huge amendment to my previous review. (As seen in my previous review) I was disappointed with my previous experience a few weeks ago, however I must say that I am absolutely blown away by my second time ordering from here. Scrolling past my usual sites I saw a great deal on their page and thought I'd give it another chance. I'm SO happy I made that decision, they gave me premium product (absolutely love mars OG and theirs is magnificent) at a great deal, gave me a free mini-bowl, a very entertaining/artistically creative picture, AND a grinder (I actually had just lost mine this past weekend and this was so clutch). I will gladly be using this service many more times in the future and I highly recommend to anyone trying to decide over the other major options.

First time trying them out and you know what, they were the first ones to show up! On time, fantastic communication, product is ligit and reasonable prices. I will definitely be back! Keep up the great work!

This was my very first company and there is a reason I have kept coming back. Great product, reasonable prices and a fantastic team. These folks are on time, communicate frequently and give you gifts too on a regular! Way to go CannaBear!

Third order. Wedding cake nugs didn't look fancy,but did the job exactly as described. Seamless order and delivery with only a slight delay in initial connection. I like their stuff and the guys are very easy to work with so will order again. The only improvement they should make is include bigger nugs in half zip selections. Too many small nugs and no cola's make KingR a dull boy.

I am a loyal fan now. These guys are always on time and give you updates consistently. A+ team all the way around.

In from out of town and completely new to the DC weed vibe. I had no knowledge of which service to pick or how it worked and was admittedly nervous as this was a first for me. Randomly picked HTDC and gave them a call - they walked me through the order and worked with me on my delivery time and pickup. Everything arrived just as ordered - couldn't have asked for a better experience. Thanks to HTDC for making it enjoyable. And thanks to the driver for being friendly and efficient!

Solid Service and Fast Delivery

Very positive experience. On time delivery and high quality concentrates!

Love this place! The budtenders are knowledgable and helpful!

I love Kushy Cafe... #1 plus they give you a dope gift... I recommend u rock with Kushy Cafe

Never heard back from them. The phone number listed doesn't work.

This is a great company. They are very friendly and willing to help. They also have speedy delivery, and keep in contact. And of course the important question is...how's the product quality?...It's all fire. Keep up the great work guys.

Great wax for a great price! Free delivery too... what else could you ask for?

i've used cap for about a year now and have found their service to be excellent. they appear to be a well operated business. their inventory is extensive and of very high quality. i always look forward to exchanging gifts with my friends at capital buds and am never disappointed.

They didn't give me what I ordered. After trying several times to reach them for correction I felt this was my only recourse. If you claim to be the dopest service at least be accurate.

Have had a great experience so far. Products and driver were top notch.

These people were professional and quick. Literally ordered breakfast then ordered from here. By the time I just started eating it these people were hear an ready. Even gave me an amazing present on top of the gift 10/10 no bs

Have to agree with the last post. They are truly hit or miss. While the prices are solid, I wish they could provide pictures of their product so that we can see what we will be buying beforehand. Was disappointed in my last order for sure. just simply not what you expect flower to look like, plain and simple. And I've purchased from this place at least 5 times over the past 12 months.

Never in my life will I attempt to use them again. Dont waste your time they will waste yours!! Theyll message you an hour later after you place an order at 8:10 (8:30 cutoff for orders) saying closed, and not even offer something for being so terrible.

Came through in the clutch, when all the other spots had closed. Def keep them saved!!

Great service, responded quickly And quality products... always use these guys!

Super Fast Delivery! & hella good smoke! Thanks guys!