Discover trusted marijuana businesses in your community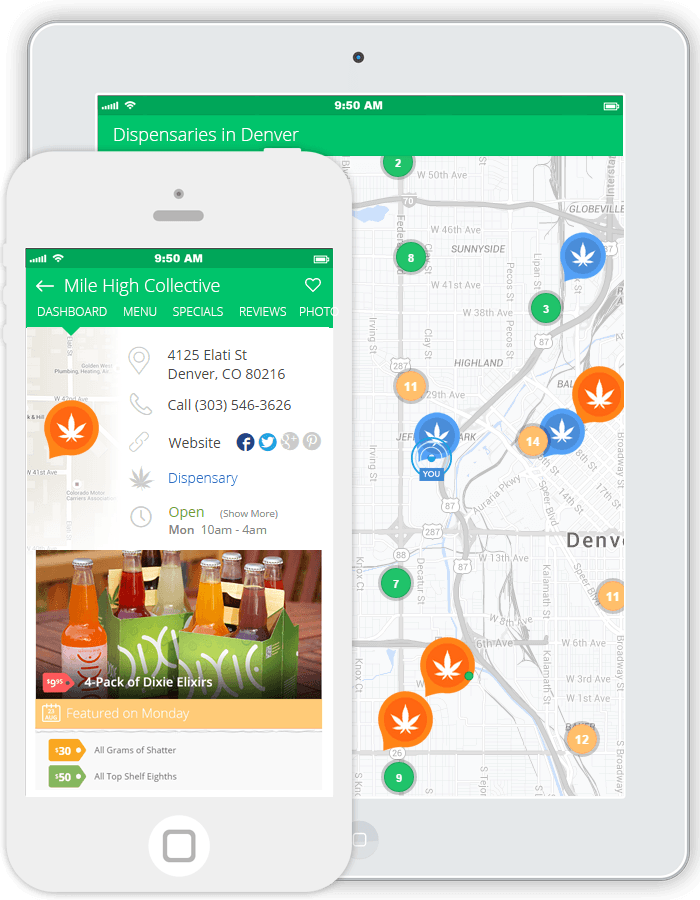 New to Where's Weed?
Where's Weed helps you search, discover and share marijuana businesses in your community. Whether you're looking for a recreational or medical marijuana dispensary, marijuana doctor or even a place to connect with local marijuana users, you've come to the right site!
Create an account
Discover local dispensaries, deliveries, doctors and more
Pre-order your purchases online
Search local specials and events
Review, favorite & share your favorite businesses
Dispensary Reviews
RH is simply the best delivery service in DC, period. Couriers are always friendly and very quick to arrive. There are some services who i will not name that overcharge you for mediocre, old bud. RH's quality on the other hand is consistently top notch and fresh. Thank you as always

The weed is great and the staff has been so friendly to me. My granddaughters brought me here

The team at Pressure is legit! Easy to communicate with, product is top notch and in a yuge market they still set fair price and run specials and interact with there community! Keep it rolling! See you every other Friday lol.

First let me say IM GLAD I FOUND YALL AGAIN!!! I love yall prices and product... Always a vreat product and always something extra with you guys... Thank you!!!!! I appreciate yall for coming to my delivery spot.. I recommend you guys to any and everyone!!!

A+++++++ Communication and meds are outstanding! And I got a heck of a deal!! Definitely a new go to!

Second time using jet pack and they were on Point again. These guys are the best service in DC. Good product excellent customer service all the way around

My delivery driver was very professional compassionate and speedy. Great service. I highly recommended.

I had a terrible experience with these people I got 7 g of oil to grams came in a jar 5 g came in envelope packages The oil leaked out of the parchment paper all over the envelopes they refuse to replace them and they are refusing to give me my money back terrible place if I was you I would not deal with them

All these good reviews they must have never had tried GOOD WEED I came all the way up town for mids man I thought I was getting gas but shid no wonder yall dont touch southeast awesome shirt tho it's my lazy shirt now

The driver was insanely understanding after a misunderstanding and the price can't be beat.

They always try their best to make me happy when I order. Small convenience resulted in free pre-roll the first time I ordered. High grade weed and edibles. Every time I'm in DC, I choose them. You don't have to choose delivery either, they have always given me a location to meet them at (my choice for meet instead of delivery) and it goes perfect every time.

It was really great ordering from here. I got a really great deal and they went above and beyond to accomadate me as a first time buyer who didn't want to leave the house in the rain to go get cash. One of if not the best to order from hands down.

They're no longer at this location.

Awesome guys; Bloomerz really come through with great product and great customer service.

My experience would be good if I knew how to get a hold of these people

I've been trying different businesses for the past 6 weeks. The first three weeks I stuck with one because they were delivering some a1 piff. The next two were highly disappointing. JETPACDC is my most recent discovery and they have some dank bud. It's been a while since I came across weed this good. They threw in a pre roll and I haven't had a high like that in a long time. Quality of the bud is top notch. Also good communication and the driver even gave me a ride to my metro stop. Cool peeps, keep it up y'all got another regular customer

Very pleased as a first time customer I'll be back!

Fast, high quality meds, great customer service. They've been consistent and reliable for a while and the menu switches up regularly so there's always something new to try. I'll be back again and again.

Great Product with Fast Devilery. Even got a free preroll. Will definitely reach back out to these guys!

I contacted ASSC and got a quick response with a pick up address and everything was super smooth. As for the buds A quality definetly will come back again!

This was the 3rd dispensary I've tried and it was by far the best. $10 delivery isn't ideal but the flower is good quality for the price in relation to all these other dispensaries. Communication was great and delivery time was okay. I was fortunate to try the brownie edible and was pleasantly surprised. I usually have awful experiences with edibles. I will say though that if your tolerance is high, the $15 is steep. You'll need to take at least 2 edibles at a time. If you smoke casually here and there, the edible is perfect for you! In conclusion, extremely impressed by the professionalism and quality of these guys! Definitely will return!

I had to put the cherry og out in my car 😂😂😂 was piffin' my the entire house. Straight gas....

Delivery was on time. The stuff was on point. I think it was worth it.