Discover trusted marijuana businesses in your community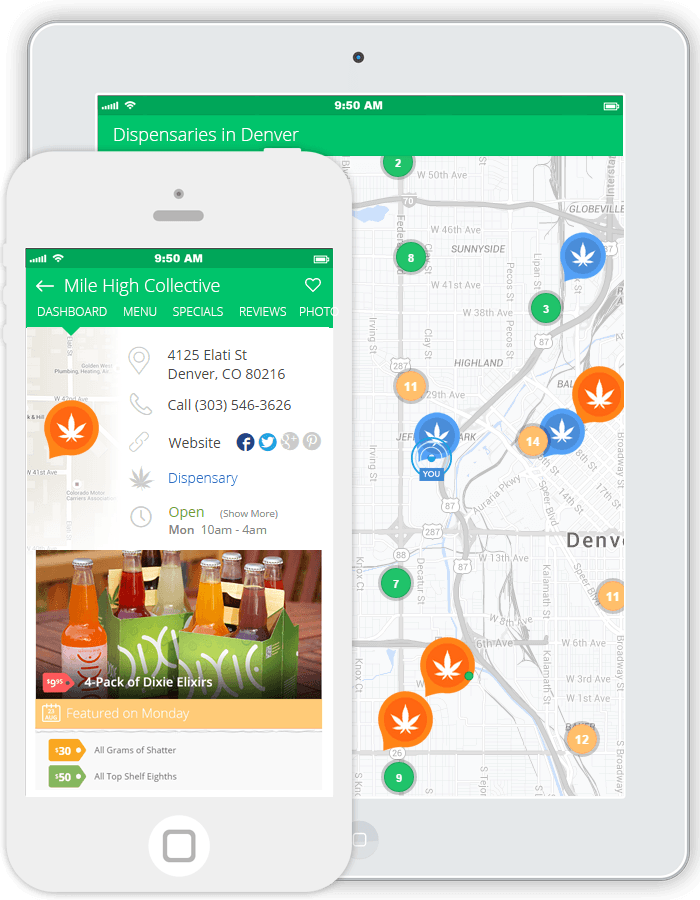 New to Where's Weed?
Where's Weed helps you search, discover and share marijuana businesses in your community. Whether you're looking for a recreational or medical marijuana dispensary, marijuana doctor or even a place to connect with local marijuana users, you've come to the right site!
Create an account
Discover local dispensaries, deliveries, doctors and more
Pre-order your purchases online
Search local specials and events
Review, favorite & share your favorite businesses
Dispensary Reviews
Always had great product but the last time the carts and edibles were both "weak" in comparison with past orders.

I normally have a good experience with herb but this time i got the gg4 and it's not good at all.

I ordered with a friend of mine and now that I know u have a page u will have ALL of my business from now on. Every bag was 🔥🔥🔥🔥 please keep it up to are the last hope for good quality meds in DC

I'VE been a loyal fan, happy customer since they opened years ago. they are the ONLY dispen. where you can actually select your individual buds...THATS A BIG DEAL TO ME AND A WHOLE BUNCH A' OTHER PEEPS I KNOW!!! HANDS DOWN PHX'S BEST. I've been a pot smoker every day for the last 49 years & I know what i'm talkin about. And Natures Meds is #1. George P.

I waited for 3 hours for my delivery and as soon as I break into the "grape god" it was full of seeds and the quality is not nearly worth the cost, I had pretty high hopes based on most of the reviews.

First experience with theese guys was great. I was a little sketchy because i live in a state where recreational use is illegal, and im just use to things being that way... From office to driver to quality i was totally satisfied. The office made things easy and eased my nerves about the situation. The Driver was a cool dude, and right on time. Last the quality was good for the money. I grabbed the Donkey butter n Blue dream both do the job and are tasty getting there. Thank you guys, and def have a new friend in me....

After having time to try all the flower gifts from my last donation, I am very impressed with how good all the bud is. Best value and quality combo in dc. I wish you guys would offer wax or shatter though.

They fucking suck, and they don't keep it real. Bad business with people whose trying to give good business. Stood me up on a long trip to see them. Lack of communication and retribution on their part. 🤨

Great Prices, Fast delivery and Good Quality. Jet Fuel OG was fantastic. Thank you!

Service was impeccable. I was looking for some candy land OG and they were the only one to carry it in the area. Quality was great! Thank you for your service.

Shout out RUDY. For the past yr. Herban has been my 1st choice. Quality always on point, best prices, fastest service and by far the best drivers. Ive never been ghosted or waited long periods. Many times the drivers have gone the extra step for me. Like Rudy did today. Much appreciated. Respect.

Ordered from here for the first time today, and it was fantastic. Order was accepted and processed immediately, driver called with an estimated time and got to the meeting place super fast, beating his own estimate (I've sadly gotten used to the opposite from other companies). I am thoroughly impressed with the service and quality of the product, not gonna waste time elsewhere, you have absolutely earned my business from here on out.

Starbuds is a new town fav with the flav! Hot dealz for next to nil. Delivery driver had me check the package which was a first, super service.

Area71 always comes through with the best quality flowers and edibles (haven't tried oil yet but will be soon!). They were closed on a sat when they were usually open so I called and they calmy explained it was due to a lack of drivers for that shift. They were still able to meet regardless and even hooked it up with some awesome extras!! If your on the fence and about giving them a try, don't be they're top of the list when it comes to vendors in DC! Thanks Area 71!

These guys came through in the clutch when another vendor dropped the ball. Thank you for the quality and timeliness! everything was on time and quality was as promised. Will be back again!

experience was great. I will be ordering again very soon! Top quality✊🏾

Very polite and respectful staff but they messed up my order. The entire experience took upwards up 4 hours. Very expensive compared to other places on the site.

I really enjoyed my experience when I visited The Green Room. I will be back really soon. Well worth the trip.

Finally got a hold of them after days of trying to get a response. Yall don't want my money or what? After reading the good reviews I decided to try them out and I was disappointed. Mario carts seemed fake. Guy on the phone told me driver would be out in an hour but I waited 3 hours for my product. Unprofessional and would not try again.

Awesome legit genuine Stiiizy products that I specifically need! Best deals and prices in DC!

Great price, I had an issue with a cartridge though. One cartridge came with no covers for the tip or the end and looked like someone had taken a couple rips off of it. Would be willing to send pictures for the business for proof.

I wish i can have seen the product because it's something i can get on the block! STRAIGHT REGULARLY!! No smell and i got three different flavors and they all looked the same like foreal. I got half of the flavor for a homie and i feel bad.... Yo he's like sometimes you win sometimes you loose..... We took al L on this one in his NY voice lol

I never received a response from the guys after my pre-order. So I called them and figured it out after an hour or so. Then the guy never showed up, so I left after another 3 minutes. I get a call from the driver 10 minutes on my way home, so I turn around and meet him. That's all fine, part of the game I suppose, but then when I looked at what he gave me, I was blown. I was expecting B+/A quality, but it was C/C+ quality. The trim job was poor, the cure job was poor, there were multiple strains in the same bag, it had seeds, etc. It felt like some high quality mids that I would have been very happy to get back in high school, or if it were half the donation than I would have been happy as well. But it wasn't. :(

Had ordered for the first time with these folks a few weeks ago. Super primo flower. The people who I interacted with were wonderful and made my experience overall too notch. I'll be getting my next pick up soon and looking forward to trying new strains. 👍👍👍💙

Amazing budder for a great price! 2nd time ordering! So far 5 stars all the way!