Discover trusted marijuana businesses in your community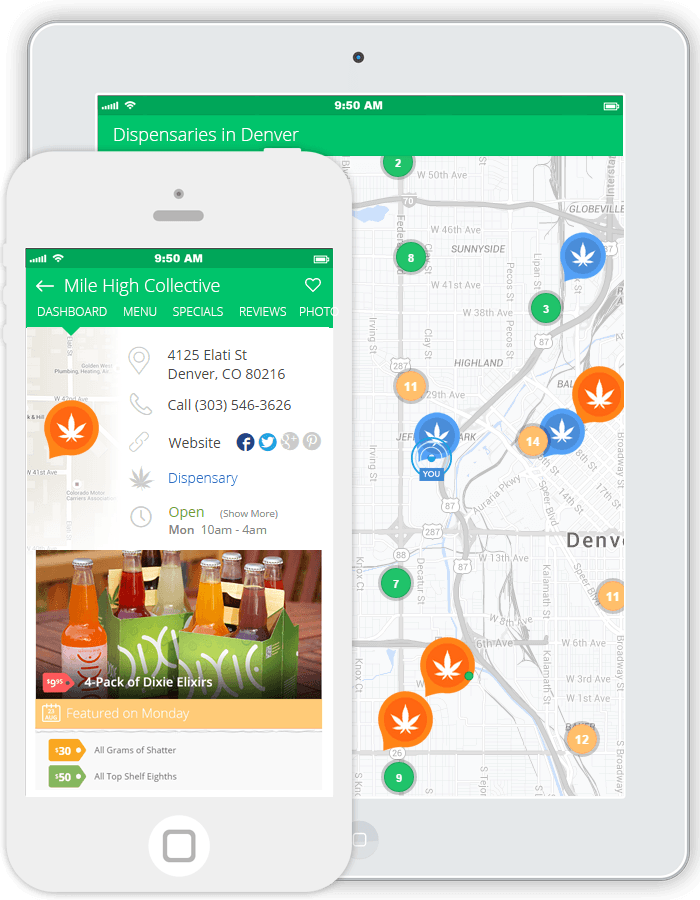 New to Where's Weed?
Where's Weed helps you search, discover and share marijuana businesses in your community. Whether you're looking for a recreational or medical marijuana dispensary, marijuana doctor or even a place to connect with local marijuana users, you've come to the right site!
Create an account
Discover local dispensaries, deliveries, doctors and more
Pre-order your purchases online
Search local specials and events
Review, favorite & share your favorite businesses
Dispensary Reviews
no respect for the clients need to understand the patient

Delivery driver "B" was right on time and cool as hell! All products are 🔥🔥 especially the prerolls. God's Gift is amazinggggg🙌🏼🙌🏼

Huge disappointment!! Did the $1200.00 donation daily special, supposed to get $1560.00 worth. Prices were marked up on receipt from prices listed on menu. The 1st cart I opened was leaking, charged a $20 delivery fee with a $1200.00 donation! Comparing prices to other dispensaries on the same items I received were a lot higher here than the competition too! This large donation was no deal, it states you get double your money's worth, not even close!! The best thing about this, the delivery driver was awesome!

Soon as I mentioned they got fake cookies bag with fake holographics; they delete the review. Smh hyfe>>>

Don't believe these reviews I did an got burnt he sold me brown trees that was designer priced he said real godfather og but it was your step dads mid out the back yard grown

It's a shame because their product is actually good. You're looking at long delivery time that keeps extending, constant changes to price, changes to their "happy hour", and promises given and taken back. All of this is just poor customer service.

Overall the best delivery service ever!. Very knowledgable of the area and answers any questions that may apply. Always on time . Also knows that there customers are priority. I would highly recommend to any one in the area and new comers as well.

I have no complaints! They are timely delivers and quality products.... A++ service

Very quick and responsive! Great prices and super easy process. I am quite pleased and will be ordering again!

These guys are the best! Responsive, usually pretty efficient and a great bang for your buck when it comes to quality! King Kush is my go to!

Complete frauds. Told order would be delivered in an hour to hour and a half. 5 hours later, no reply to my messages or calls. Wasted my time and couldn't even get high. These jokers should not be in operation.

Just got shorted 8.5 grams on a half of Super Cheese. Called the main number and driver. I understand the driver not being able to help but no one is answering the phone nor my texts. I've been ordering from Herb for a yr now several times a week and have NEVER had this problem. Sitting here fuming now waiting for someone to call me back. I literally just got robbed smh

I've bought from these guys a few times now and each time I am impressed with their speed of not only the deliveries themselves, but the how quickly they reply to questions through their number. Best deals and best quality bud in DC

Second time ordering from them, selection is still awesome and so much to choose from good quality products.

He service was great from the dispenser to the driver great communication and promptness

Great guys prompt and on time Great customer service did things they ain't have to do but did it because they strive to make good business Will definitely order again I got the wedding crashes and gg4

Purple punch flower was a bit dry but other than that; no issues ! This company is the bomb. Gas max and palm trees are my other go tos

I'm so happy to have found this company! Communication was great, donating was easy, and the gifts were high-quality

Thanks for the hookup yesterday. You guys rock ! just ordered again.

Great Quality when a friend let me try some he got from them and now I am coming to make my first purchase.

honestly one of the best experiences i had. the store was very informative in terms of letting me know that stock run out and was very accommodating. The driver was also great at communicating and made the whole experience great. 100% will go to this place again

Great Customer service, quick response.

smooth and easy and right on time.

have been with Capitol Kush for months now and they have always come through. They are patient with the requests and quick with their responses. The drivers are always either on/before the time committed and constantly stay in touch all along the way, with exact ETA once they are en route. The packaging was premium and air tight with printed tags Coming to the flowers, I have never had issues with the weight and overall bud quality. No stems or seeds. From my experience, as a seasoned user, their Cherry Sherbet was a hit and miss. Sherblato, delivers its promise as a perfect mellow strain working miracles with loss of appetite. Their Platinum Cookies wasn't as potent as I expected them to be but it isn't substandard at the same time. They do have good deals and as a return customer, I suggest its worth to trust them to come through!

I came calling to Triple High as my to go spot was closed for Thanksgiving. They came through with instant replies and they sure take good care of you with the queries and are happy to suggest. I tried their Snoop's Dream and I thoroughly enjoyed it. It has become my go-to day strain and has lingering effects over time, perfect to slow the pace. The flower's weight was accurate and it did have stems but no seeds. The texture of the bud itself is a bit airy and sticky, but the flower had all indications of good fresh cuts. The delivery was on time and as guaranteed and they even sent me a free gift! Thanks for that! The overall experience is amazing and hope they surprise me on my next order with a hard hitting strain. To the rest, trust these guys with your needs, they won't disappoint.