Discover trusted marijuana businesses in your community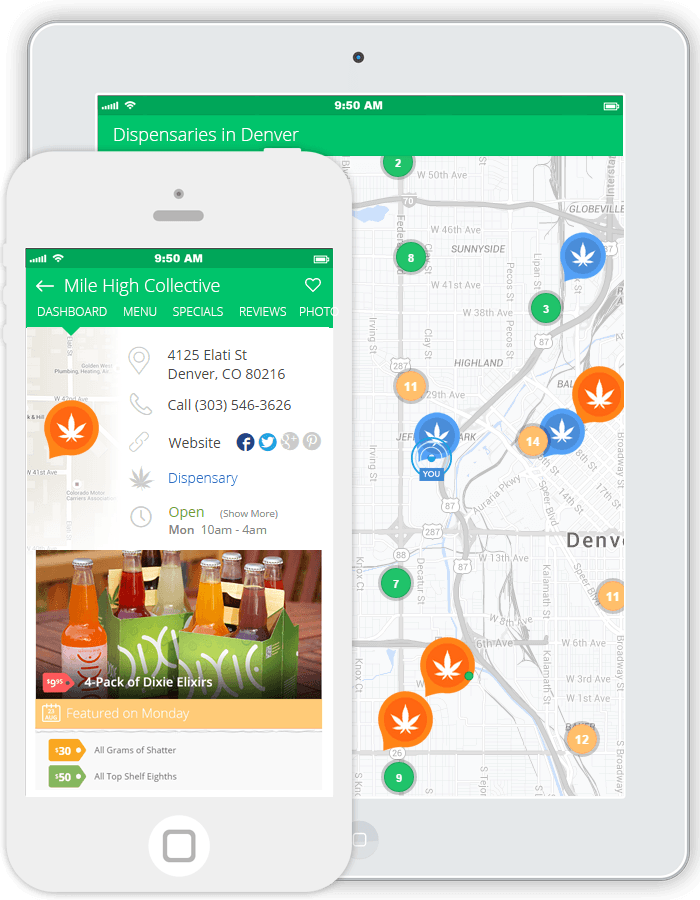 New to Where's Weed?
Where's Weed helps you search, discover and share marijuana businesses in your community. Whether you're looking for a recreational or medical marijuana dispensary, marijuana doctor or even a place to connect with local marijuana users, you've come to the right site!
Create an account
Discover local dispensaries, deliveries, doctors and more
Pre-order your purchases online
Search local specials and events
Review, favorite & share your favorite businesses
Dispensary Reviews
Worst bud I have ever got on this site. Shit was trash. No smell, no high, looks good but smokes horrible.same thing with the pre-roll. Even after adding roaches shit was horrible. They used to be on point idk if they not fucken with me or what but that shot was trash!

Worst bud I have ever got on this site. Shit was trash. No smell, no high, looks good but smokes horrible.same thing with the pre-roll. Even after adding roaches shit was horrible. They used to be on point idk if they not fucken with me or what but that shot was trash!

Fantastic service, drivers and products! This is the best experience yet with a smooth delivery!! I'm hooked on these guys!

I ordered from this place for the first time today. The driver was close to 2 hours late. I was told I would get "free gifts", but was given things I wouldn't use. I even waited in the cold for 10 minutes when the driver assured me they were going to be outside in 5 minutes. Overall, im disappointed in the services that were provided from this company today.

Definitely the best place in town, without a doubt. Impressive professional service, and the donation for the Dragon was nothing short of a wonderful experience. Keep it up!

Best product I've tried since joining in 2016. The buds are really aromatic and they're DENSE!!! so good. Definitely coming back next time I'm in town. 10/10. Driver was timely and checked in which was really nice. Also accommodated the time, even though there was a slight miscommunication. EVerything was great about this experience.

More people really need to support

There's a reason these guys have a 79% rating instead of something higher. Make sure that yall weigh your goods, especially if you're getting big amounts of tree. They f*ckd my order up, gave a bs excuse as to why (they shorted me), and then NEVER followed through on making it right- they ghosted me when i was trying to pick up rest of my goods. Honestly, I think they thought I was just a dumb girl who don't know shit about trees and tried to one up me by shorting my order. Wish I could share the screen shot of my conversation so y'all can see the craziness. Overall, just be careful with these guys. Horrible follow through. There are other companies to invest your money in especially if you plan to spend big. These guys aren't worth it IMO.

The product is very good, drivers are friendly, but management is crap, with no flexibility, no negotiation, and don't seem to care about losing customers, based on other reviews I have read. Look for better

Five Stars all around , even threw in some gummies! Quick delivery service under 45 mins from call to delivery!!! I will be definitely recommending them to my folks

Call to let headquarters know that I've been told to f*** off was told to f*** off again do not buy from here

They were super helpful getting my order in. Fantastic service!

These folks were great! The ordering process was very easy, the dispatcher was patient and understanding of Tim constraints in my schedule, & the driver was professional and polite. I thoroughly enjoyed all my goodies as well. I would highly recommend them and will be returning myself!

Pretty good bud pretty good prices. Had some complaints until the Pineapple Express calmed me down, delicious. Thanks for looking out. Happy smoking

Among my top choices. Always stocked full of great products and quick service.

Very polite friendly and accommodating. 2 zip deal was amazing. Got two fat zips of gas. Will be returning!!

Amazingly magnificent! Absolutely beyond happy and satisfied with this service. Quick and super awesome polite driver. Indulged in the shatterday deal and couldn't be happier. Great product and low priced. I will be returning. Thank you guys for being amazing!

The best deal for cartridges in town! Extremely fast. I can't wait to try their flower.

Weed n Stuff 24/7 is very accommodating with fast, friendly service! Prices are great! You guys are my go to from now on!

They were great and fast. Doin it!👍

Just tried CB for the 1st time and it was a smart decision. The communication was excellent, the driver was great and the gifts were perfect.

Undeniably the best delivery service in town on all categories.

I placed an order and waited over 30 minutes for the order to be accepted and even texted them but didn't get a response. Looked forward to the order since I needed rolling papers and had great reviews

No surprises. Like clock work. Quality from flowers to drivers to logistics. Too convenient.

So, all around was a pretty good experience. Communication and customer service ABSOLUTELY ON POINT, but price to quality, wasn't exactly satisfied, wasn't exactly disappointed. Not the worst the place in my opinion, not the best. Appreciate it though guys.