Discover trusted marijuana businesses in your community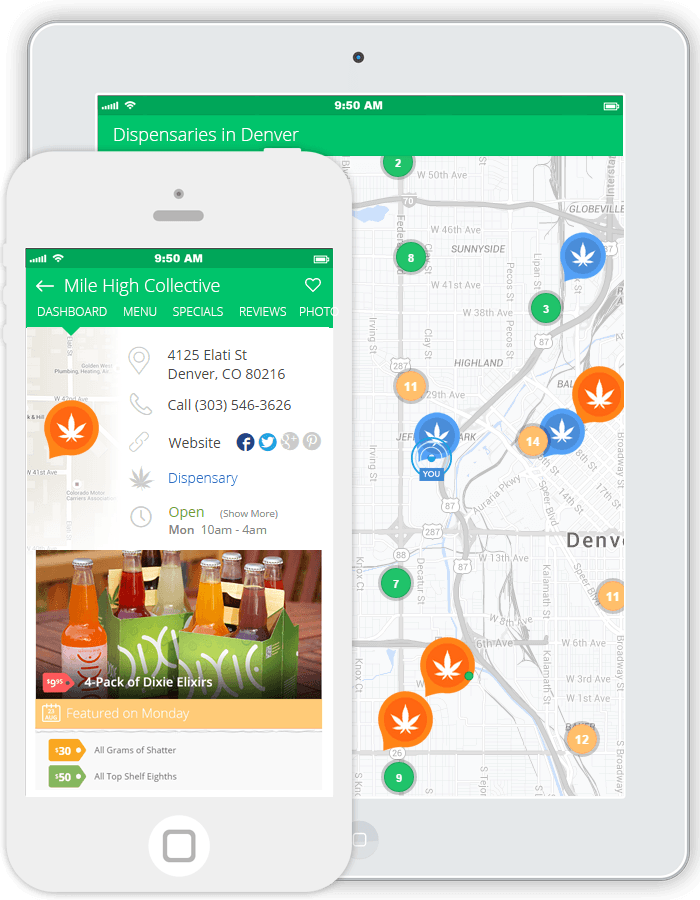 New to Where's Weed?
Where's Weed helps you search, discover and share marijuana businesses in your community. Whether you're looking for a recreational or medical marijuana dispensary, marijuana doctor or even a place to connect with local marijuana users, you've come to the right site!
Create an account
Discover local dispensaries, deliveries, doctors and more
Pre-order your purchases online
Search local specials and events
Review, favorite & share your favorite businesses
Dispensary Reviews
Awesome Bud and the service was Exceptional. Driver was Polite and Fast.

this is a California type delivery vendor that strives for excellent customer service! great bud, great delivery windows. even for a last minute customer like me on a Sunday evening.

Happy with delivery speed and product!

Another great one. I' m starting to think this is the place for me. The last time I needed anything was 2 weeks ago from this guy. Great stuff. Today's experience was the same. Prices are out of this world. They will go out of their way to get anything to you as close to the time you ask as they can.

Always have had a great experience. Great prices and definitely would recommend

Great service. Always donate at least 300 never get a gift pre roll notta just being a customer who donates Frequently think u would get taken card of

Great communication, fast service, and most of all great quality. Definitely be back to see them

This guys are awesome. The best I have seen in DC. Great first customer experience. +extras

3rd times charm the brownies were so good the wedding cake was really exclusive and the pineapple kush was excellent you guys never let me down

Great communication and super fast delivery!

Lemonhead cookies are delicious and strong!

Have used them multiple times and have never been disappointed. Great speed and high quality bud. In Top 3 on this site that I've used.

Man I LOVE Moonrocks. Made our show last night a blast. Primed up before taking the stage and after. Thanks guys. See ya soon.

Picked up from Pinnacle yesterday and I was really impressed. They were really nice and easy to communicate with and the product was very high quality. 10/10 would recommend the service.

Easy location friendly knowledgeable budtenders had a good selection of just about everything it's the best vibe I've found in a store .

Highly recommend great selection.

Having tried these guys a bunch i can say they are good at what they do,buds and have both been on point everytime

Quick and great communication!! 10/10 vape carts.

First time customer but will definitely be a returning customer. The whole process was fast and easy and everyone I communicated with was polite and friendly. And there was an extra present included which is always a nice surprise. Plus their deals are hard to beat for the quality you get.

Very good quality and easy to work with.

Best deal in the dmv great quality

The best. I've tried several other vendors on the website and The Garden beats them all. Customer service, products, quality, prices, all stellar. The cartridges and flower were awesome. Can't wait to try their wax and see what cool new products they get in. I have found my new go-to place. No more searching and trying out other places anymore. Highly recommended!!!

Must say I have a great appreciation Tegridy QUALITY QUALITY QUALITY NEED I SAY MORE

unreal.great guys very professional.