Discover trusted marijuana businesses in your community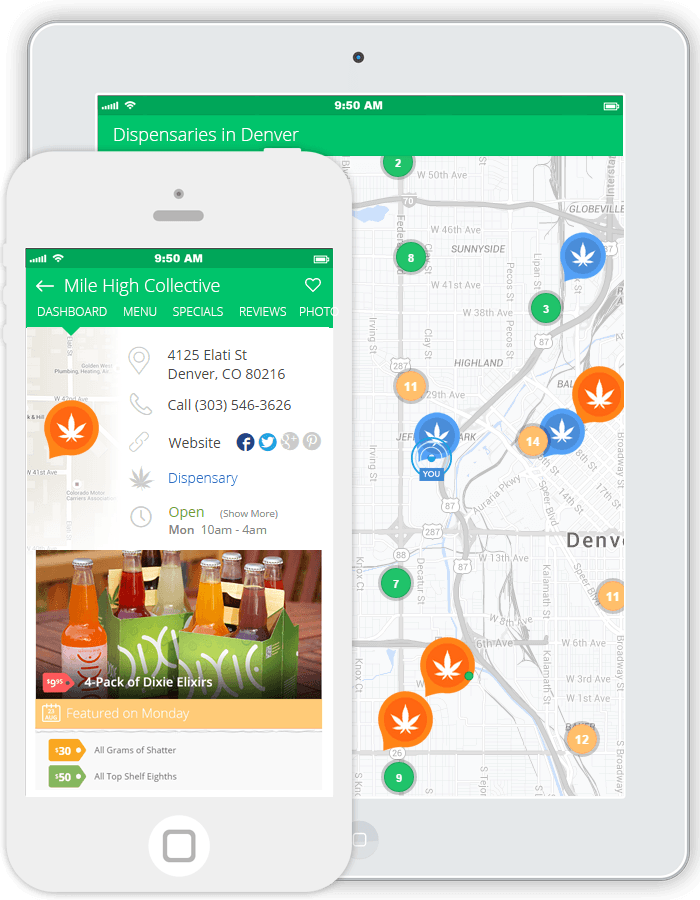 New to Where's Weed?
Where's Weed helps you search, discover and share marijuana businesses in your community. Whether you're looking for a recreational or medical marijuana dispensary, marijuana doctor or even a place to connect with local marijuana users, you've come to the right site!
Create an account
Discover local dispensaries, deliveries, doctors and more
Pre-order your purchases online
Search local specials and events
Review, favorite & share your favorite businesses
Dispensary Reviews
Great product and driver was helpful in making sure I received the offered deal. Thanks WVC!!

The quality and service at Terrp Nerds is spectacular. Cody is a top notch individual who delivers buds on time with a great attitude. The buds are delicious and natural, and there's a wide variety of other medicinal cannabis products that have changed my parents' lives for the best, especially when it comes to the salves he is able to find.

This is the only place I deal with. Always quality, matched with great deals

Great customer service, high quality products, timely delivery and knowledgeable staff. Best service in DC

Great service, good quality and timely service. Worth the wait and every penny.

Some of the best tree I've picked up for an amazing price. These guys saved the day for me. Theyre on their A game open early in the morning making it so much more convenient for me to pick up.

Top quality gifts and service. They've been my go-to for a minute now, finally decided to stop by and leave a review! Highly recommend the concentrates. Thank you guys!

Always pwrfect session lol

I ordered something they were very rude and took several hours.

The product is always high quality and deliveries are seamless. Prices are great. However, every time I have ordered, only around 50% of what is ultimately delivered matches my original order. Sometimes it's just strain or brand changes, but sometimes it's entirely different products. Everything I've gotten has been great, it just hasn't always been what I ordered.

Very satisfied. Bobbles was real cool and even brought a treat with my order overall good experience for a great price

Good service, good product. Recommended

MyGuy is top notch. The pre-rolls were absolute fire and the delivery was quick. Highly recommended.

Responsive, timely and easy to arrange. Quality flowers. Informative and friendly dispatcher. On my go-to list for sure!

The budtenders are Great! The menu is Always on point. The hours are convenient. I recommend to da Real. Being a Faithful "Flower child" I believe you nay sayers have mixed up AAB with dat other store. Dis is Ma!!

Ignore anyone who calls someone 100 times when theyre obviously busy. This guy is the best in the city.

Again The People's Choice came thru, King Louis XIII was fantastic! Great delivery timing have and would recommend to everyone

Always fair on donations great quality flower and top notch carts and speedy delivery. Great company

This is a great service and they are extremely fast!!

Awesome job as always. The drivers are Descreet, and friendly. Anytime I have questions or need suggestions on a new strain the customer service staff always gives good recommendations. Thanks again for good products and stellar customer service.

Pro's!!! Knowledgeable, friendly, and super chill. What else do you need? Awesome deals at great prices!! Check. Stop reading this review, hit these guys up!

Super fast, excellent quality, and great prices. These guys are in my top choices from now on!

Green Sunday's definitely outshine it's competition wonderful product and I will definitely be a repeat customer

They came a week late, shorted me 1 of 3 items that I ordered, then wouldn't answer calls or call me back. Don't waste your time or money

Quickly turned to my go-to dispensary whenever I'm in the city. Delivery service is awesome, prices can't be beat, and the flowers are all official.