Discover trusted marijuana businesses in your community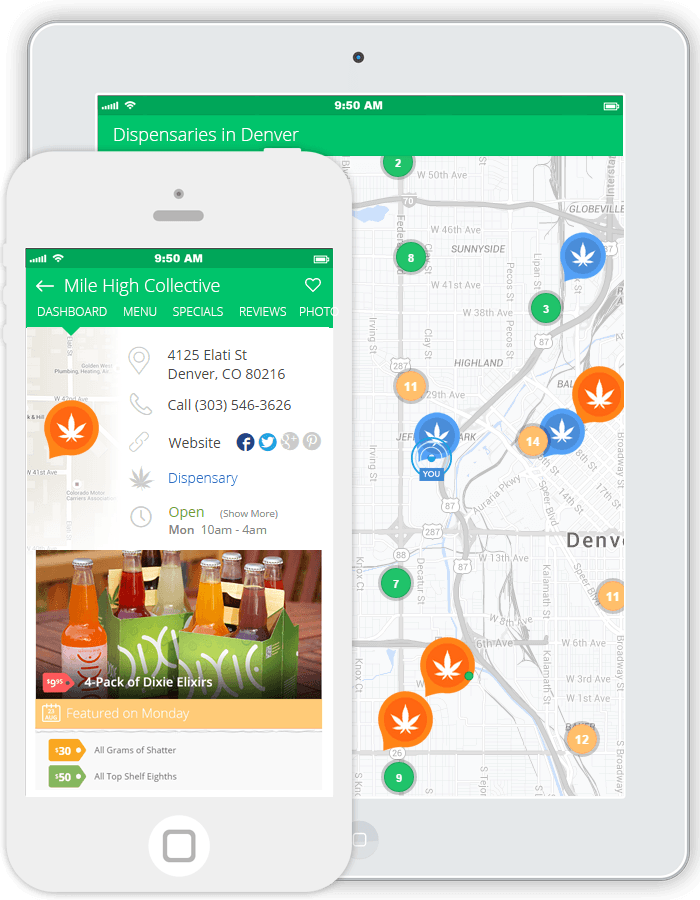 New to Where's Weed?
Where's Weed helps you search, discover and share marijuana businesses in your community. Whether you're looking for a recreational or medical marijuana dispensary, marijuana doctor or even a place to connect with local marijuana users, you've come to the right site!
Create an account
Discover local dispensaries, deliveries, doctors and more
Pre-order your purchases online
Search local specials and events
Review, favorite & share your favorite businesses
Dispensary Reviews
Terrible place, doesn't even have the items on menu, lied about brands, the driver who brought the items was rude and didn't let me open the back before she drove off. They had me waiting on the side of the road for hours

Offered an exchange for the trash bud I got, when I ask I get told the driver is making rounds & will contact me. 6 hours later still no word & they won't reply. SAVE YOURSELF & ORDER SOMEWHERE ELSE.

My new go to for sure. I don't see myself ordering from anyone else. Quality carts, quality flower and timely AF!!! Had a noon delivery they were there by 1210.

Driver was very prompt and the communication was great. Very straightforward. Would do business with them again.

Hands down the BEST!! My folks to go to always.

Came through in the clutch today and brought would be exactly what I needed big ups

The best is easy to say Federal reserve that's exactly how you say it

💯 smooth experience great service great product an time was right on time even delivery no hassle got gorilla glue plus plus pre- rolls

They will usually fake on orders. I had several deliveries that never showed up. Rude and unreliable.

Very good. 100% legit good product.

These guys are legit. High quality and always stick to delivery times. The best.

Great communication, great delivery time but most important great bud. Will always be going back.

(REAL) Cali flavors in DC!! Quality and Quantity!! Returning customer for sure!!

Horrible service had me wait for 30min then come close To drop off they canceled please don't waste your time there is much better services on here and they do good business.

These guys are pushing dirt bud on people and pretending it's good quality. Tried messaging the business and got ignored. Got 3 zips and only one was even tolerable. Dont get from these guys if you know anything about quality flower. 👎👎👎👎 ZERO STARS!!! DO NOT USE THIS VENDOR!!!!

Customer service hands down best In the business. Top flight flower🍺

Wasnt sure what to expect as these guys are new. Took a leap of faith and got 2 half ozs of their buds. The buds themselves are fantastic for the price. driver reached my building within hour and a half of ordering which was also nice. Wish there were more of a selection.

Fast and easy to work with

The delivery service was pretty fast and well packaged. The bud quality was sub standard quality but I guess you get what you pay for.

The bud Wasnt up to par I called back and complained they told me come back Switch it out and gave me beautiful nugs these guys are honest and that matter most

The Botanist medical dispensary is one of my favorites in Baltimore. It can get fairly busy at times, but that's probably just because it's such an enjoyable experience. The staff are all so helpful, welcoming, and friendly. And the space inside is incredibly beautiful. Their deli-style service is perfect for getting just the flower you like, and if you don't know what you're looking for, they will walk you through all the different strain options to help you decide.

This medical dispensary is by far the best in Buffalo. The space is absolutely beautiful, so I love coming in just to spend some time looking around, but the staff are also so very helpful and knowledgable. They take their time talking me through all of my options, answering any questions, and helping create my very own care regimen based on my condition, needs, and concerns. I would highly recommend this cannabis dispensary to anyone.

The Botanist medical dispensary in Middletown, NY is absolutely beautiful and the entire staff are super welcoming, friendly, kind, helpful, and knowledgable. I love coming here!

I love coming to The Botanist medical cannabis dispensary in Farmingdale on Long Island! Everyone that works there is so incredibly nice and helpful. They take their time walking me through all of my treatment options, answering any questions I have, and the location is so pretty I almost wish I could stay for longer!