Discover trusted marijuana businesses in your community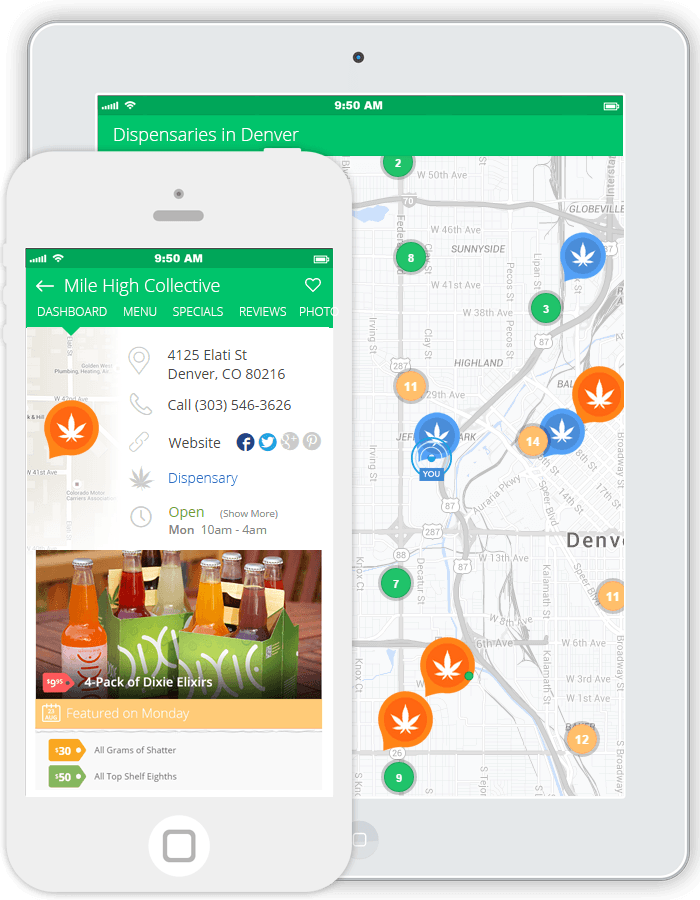 New to Where's Weed?
Where's Weed helps you search, discover and share marijuana businesses in your community. Whether you're looking for a recreational or medical marijuana dispensary, marijuana doctor or even a place to connect with local marijuana users, you've come to the right site!
Create an account
Discover local dispensaries, deliveries, doctors and more
Pre-order your purchases online
Search local specials and events
Review, favorite & share your favorite businesses
Dispensary Reviews
This guy supplies straight fire. Top Shelf items are always my preference. Knowledgeable and often suggests which strains you should try out.Text/call early though because his inventory can go quick on Fridays. Delivery can take a while at times especially if your out on the suburbs but it's definitely worth the wait.

This is a Top Quality service. AMAZING flower and Great customer service. It was a pleasure.

I have tried probably 20 other services since I've lived in DC and ASSC is definitely my favorite. I love their shirts and the staff is really friendly and easy to work with. The product is amazing quality and their mix n match half deal is one of the best deals I've ever come across. Will continue to order from here =]

Product is always high quality. I like to use this delivery service to pick up a treat during dinner out, I just order it to the restaurant.

Good business. Great Quality.

Phenomenal experience from top to bottom. Accommodated my pesky request as a first time customer which was much appreciated. Superlative customer service, flawless quality, and cordial, communicative delivery driver. Everything considered, a fantastic purchasing experience. Highly recommend and will definitely be back.

Ordering was very easy and fast. The driver showed up mins late and was so apologetic. This was mins late on the early side of the ETA as well. Great service! Will ded order from these guys again.

I placed my order yesterday excited they still had the special going on. As soon as I see my order was denied I get a call to verify my age with i.d. I ask him about my order being denied and he said it was good that the system was acting up. I get a confirmation and an ETA of 12:15pm-1:15pm. At 1:20 ( 1.05 - .05. PAST eta ) I text the number asking if everything was ok. No responce. At 1:30 ( 1.15 - .15 PAST eta ) I call. He says they received a lot of orders and were backed up. He would call hIs driver and call me back. At 1:45 ( 1.30 - .30 min PAST eta) "I" call back, We have the same conversation. He doesnt remember talking to me and saying he would call me back obviously. He said he would have his driver call me. At 2:00 (1.45 - .45 PAST eta ) the diver calls and says he is 5 min away. I get my order at 2:10 ( 1.55 - .55 PAST eta) Oh and not to mention at 2:20 i get a call saying this was my driver and he was 5 min away. This was a customer service fail. I had to

they do not accept cash, meaning you have to give them your credit card info (on a link they send you)... their stuff looks good though

Great service, amazing strains, awesome deals!!!

Mane this the best weed delivery service, they're always communicative, and very nice staff, delivery guy is always cool and trustworthy, Pack always on point too, the wait is a little long sometimes but it's always worth it.

Placed an order with them 2 weeks ago....waited three hours and still no herb. Needless to say I am done is an understatement. They did offer to give me my order for free. But damn it you can't put a price on D.C.'s traffic. Then to make matters worse they marked my order as "delivered" in the system. Uh to who? Never again. Well at least we tried. Back to my regulars....CannaBear, Capital Bud, Bloomerz....to name a few....straight shooters they are.

Ok, so I need to make a huge amendment to my previous review. (As seen in my previous review) I was disappointed with my previous experience a few weeks ago, however I must say that I am absolutely blown away by my second time ordering from here. Scrolling past my usual sites I saw a great deal on their page and thought I'd give it another chance. I'm SO happy I made that decision, they gave me premium product (absolutely love mars OG and theirs is magnificent) at a great deal, gave me a free mini-bowl, a very entertaining/artistically creative picture, AND a grinder (I actually had just lost mine this past weekend and this was so clutch). I will gladly be using this service many more times in the future and I highly recommend to anyone trying to decide over the other major options.

First time trying them out and you know what, they were the first ones to show up! On time, fantastic communication, product is ligit and reasonable prices. I will definitely be back! Keep up the great work!

This was my very first company and there is a reason I have kept coming back. Great product, reasonable prices and a fantastic team. These folks are on time, communicate frequently and give you gifts too on a regular! Way to go CannaBear!

Third order. Wedding cake nugs didn't look fancy,but did the job exactly as described. Seamless order and delivery with only a slight delay in initial connection. I like their stuff and the guys are very easy to work with so will order again. The only improvement they should make is include bigger nugs in half zip selections. Too many small nugs and no cola's make KingR a dull boy.

I am a loyal fan now. These guys are always on time and give you updates consistently. A+ team all the way around.

In from out of town and completely new to the DC weed vibe. I had no knowledge of which service to pick or how it worked and was admittedly nervous as this was a first for me. Randomly picked HTDC and gave them a call - they walked me through the order and worked with me on my delivery time and pickup. Everything arrived just as ordered - couldn't have asked for a better experience. Thanks to HTDC for making it enjoyable. And thanks to the driver for being friendly and efficient!

Solid Service and Fast Delivery

Very positive experience. On time delivery and high quality concentrates!

Love this place! The budtenders are knowledgable and helpful!

I love Kushy Cafe... #1 plus they give you a dope gift... I recommend u rock with Kushy Cafe

Never heard back from them. The phone number listed doesn't work.

This is a great company. They are very friendly and willing to help. They also have speedy delivery, and keep in contact. And of course the important question is...how's the product quality?...It's all fire. Keep up the great work guys.