Discover trusted marijuana businesses in your community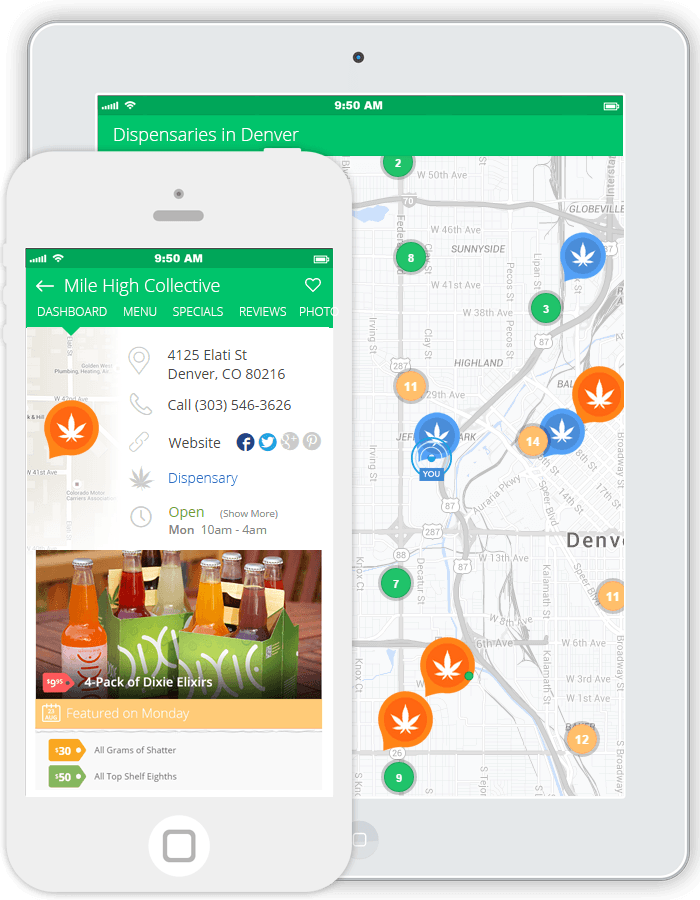 New to Where's Weed?
Where's Weed helps you search, discover and share marijuana businesses in your community. Whether you're looking for a recreational or medical marijuana dispensary, marijuana doctor or even a place to connect with local marijuana users, you've come to the right site!
Create an account
Discover local dispensaries, deliveries, doctors and more
Pre-order your purchases online
Search local specials and events
Review, favorite & share your favorite businesses
Dispensary Reviews
One of the best delivery services of cannabis I have ever used in Toronto and I also used them when I use to live in Alberta, Thanks cannabisfastexpress keep up the good business.

I would like to say that the service of this delivery service is outstanding and I will be a life long customer now for sure . thank you guys.

Ah man..Snoops Dream was amazing. I was rollin down the street smokn indo 😁😁. Def recommend these guys 💪🏾

On some Fire flowers shit 🔥🔥🔥

From the dispatch to the delivery drivers, from flowers to carts and edibles, by far the best service I've ever gotten in the DMV area. Can't wait to try the top shelf wedding cake I just got. Looks and smells like it's straight from the farm. Y'all got a regular you can count on that.

Great buds for a great deal. Looks too good to be true yet again it's very actually true. satisfied customer. Will definitely reorder again.

Great experience, Love the crew

Very prompt and professional

Great place best in the city

Been using delivery services down here in the district for about three years now. I've had good experiences and I've had bad experiences. And let me tell you. This company got to me so fast with the delivery I wasn't even able to count my money, I turned around and they were already here. The flower is top-notch quality, some of the finest that I've seen in a very long time. One head and it'll have you walking to church to confess all your sins. Proceed with caution, this is top-notch flower and A plus service

UFO carts really hit good and you can even smell the delicious terpenes when you open up the box. 😋

Loving you guys variety. Only place with tincture, and cannabutter. Finally can bake my edibles myself

Great top shelf. The more you shop here,the more free goodies you get. 😍

If delivery time is important and you don't have time to wait go somewhere else. I preordered the day before, even called to confirm pick up time and location. Checked app morning of my preorder delivery and the order was changed to completed order. I called and they said the order would be sent immediately out. Originally when called was told my order would be out with first driver at 09:30am for a delivery time scheduled for 10:45am. Ended up having to change locations to get closer to driver. Didn't receive order till closer to 12:30. Driver notified me he was still making deliveries from orders placed the night before... so... if time is important look elsewhere. The med quality was good. Ordered Blue Cheese which was awesome all around. Gg4 was ok but popcorn nugs in entire oz. Chem Dog smokes well but again mostly popcorn nugs and A Lot of seeds. Overall ok experience, but there are so many companies looking for your business that I would try others first

I grabbed some Laughing Buddha, it's great! Driver took long to make the delivery though & didn't communicate until 5 min before

This is way better than sliced bread. Everything went really smoothly and the shatter I got is mind blowing!! I will definitely keep buying from them!!!!!

The Grass Is Good The Wait Was Just A little long I'll just order earlier next time

Ice Cream Flavor Is Very Good And Worth the Wait

Very friendly Lady on the phone, and speedy delivery , will review the flower but everything looks good so far!

I decided to try DCFinest out and ordered 1/2oz GG5 and 1/2oz Mango Kush. communication from dispatch was alright but i heard nothing from the driver until an hour after the order was placed and he said I should meet with him somewhere closer to speed things up. I drove 15 minutes and was at the location at the specific time we agreed on. The driver made me wait another 20 minutes until he showed up. After all this, i was still charged the $20 delivery fee even though it was more of a pick-up. The weed is straight mids but the price reflects that. Smoked 3 joints and barely felt anything. Goes for both MK and GG5.

gave this service a chance , didn't disappoint. Grabbed some edibles and the Durban Poison was a great deal

Was skeptical at first with the deals but ended up getting a few carts and the Durban poison it was great deal. Thanks again will be back!

always a flawless experience. friendly drivers. great prices. quality product.

Sucks. Had me waiting at location for inordinate period of time, weak flower, poor customer service. And offered me a preroll for next purchase... Uh never get me twice!!