Discover trusted marijuana businesses in your community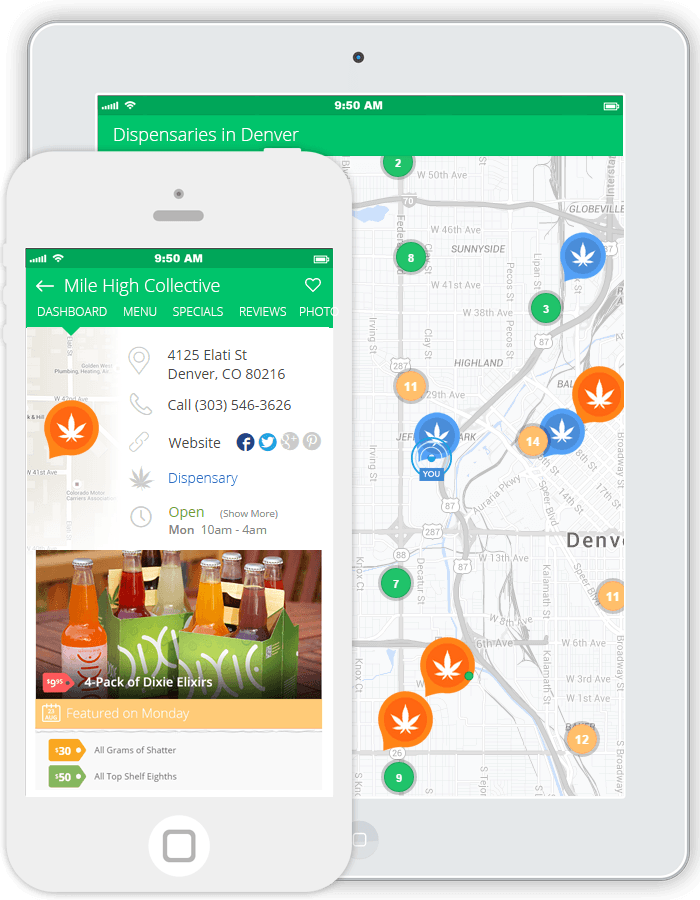 New to Where's Weed?
Where's Weed helps you search, discover and share marijuana businesses in your community. Whether you're looking for a recreational or medical marijuana dispensary, marijuana doctor or even a place to connect with local marijuana users, you've come to the right site!
Create an account
Discover local dispensaries, deliveries, doctors and more
Pre-order your purchases online
Search local specials and events
Review, favorite & share your favorite businesses
Dispensary Reviews
Great quality! All GAS every time I pick up and driver is the man

I liked all of my cartridges everything was on point I'm hooked on cereal milk

Excellent response time. Fast delivery. Friendly staff Love d variety of flavors and many consumption options. Sure to recommend

Best Doctors ,very informative ,took time to explain how and why medical marijuana can help deal with chronic pain and other conditions.. Being older I had a lot of misconceptions on the topic. This has been an amazing experience.. I'm not as dependent on pain meds that just kept me knocked out. Now I'm able to maintain my pain and address it immediately, instead of waiting until the meds to go into effect. Medical marijuana has been life game changer.

Only shop we've been in that lets you photograph their grow operation. Top shelf, 33% THC! I didn't get any this trip, but we will be back! Amicable staff, big selection.

The real deal here!!! Been to nearly every spot in DC but sugarhigh takes the crown 👑for me. Just got some candyland last week from one of the tops on the list and it was good but these beautiful candyland budz put them to shame for 70 less an oz! Money well spent. Thanks Guys!

Love love love this place. This is my go to place for sure. The price is really what draws me and the quality is what keeps me coming back. This past pickup I was shorted on my two half oz bags. Little disappointed because the gorilla glue was so good I wish I had the full half oz. But the drivers are accommodating and great to deal with. I hope this last order was just a fluke and would still definitely recommend using HLDC!

I have received several satisfying deliveries from High End. The drivers are fast and friendly, the strains are truly high end, and when I'm on a budget, they have the best shake in town!

Awfull waste of time, dont even bother put an addres, they'll make u walk, to wherever they want, and if u don't get there quickly they'll call u to insult and cancel it, after waiting for 3 hours. Besides the report said my order was delivered, when they never showed up. If I could give them zero stars I would

Best delivery service in DC hands down. I will never order from anyone else again. Great selection, fair prices, and quality produce.

Great product, great service. Super convenient. Excellent staff.

Very convenient, very helpful, very fast. Thanks!

Great deals, try them ouy. First experience was great. Arrived just after the time window but came thru brilliantly. Had a leaky gift, no ones fault, called them up and they replaced it in like 3 minutes! Will be my go to people. Much love

they took very long for the order, drive called and confirmed one time, I called the driver after 20 minutes passed time, and he was still no where near a d could not give me a time, so i wasted close to an hour waiting and got no bud

The prices are good and the bud looks very nice, but I placed an order and they didn't show up ever. I placed it for ASAP and I didn't get any information after 2 hours. I waited at the location I ordered it for and called them a bunch but they never answered. I don't know what happened, but they really let me down

I loved them Blueberry Kookies

The ounce I got was 25.5 grams of mostly stems and leafs. The other half of my order was wrong. When I called they were rude and hung up on me refusing to stand by there product or service. Prerolls looks like it has tobacco in it. Don't waste your money.

I would not recommend this place to anyone never showed up with my order and when I try to call I didn't get any answer save your money and time and never go to this place

hyfe,is my go to guys for top quality herb at the best prices around,believe me i have tried the others and i always come home to hyfe....shocking right,they deliver what they promise,when they promise,no drama.Times have changed,aint democracy great.check out the deal of the day you will not find sweeter bud at a better price. thanks ,a loyal hyfe fan...james

Great prices best quality. My go-to in DC

I Would Suggest Everyone Not To even Waste your time with this company ... they will waste your time and be proud of it ! They can keep deleting my reviews but I wouldn't waste money on this HUFF ZONE of a company ., they weed not even good n may have even had mold in it

Quality service and good strains

Ordered bubble gum kush and white widow and got dirt. The smell is non-existent. The color is not even close. SEEDS!!!! oh no I see why it was 80 for a half.

These guys always bring the fire! love what they are doing. Keep up the good work!