Discover trusted marijuana businesses in your community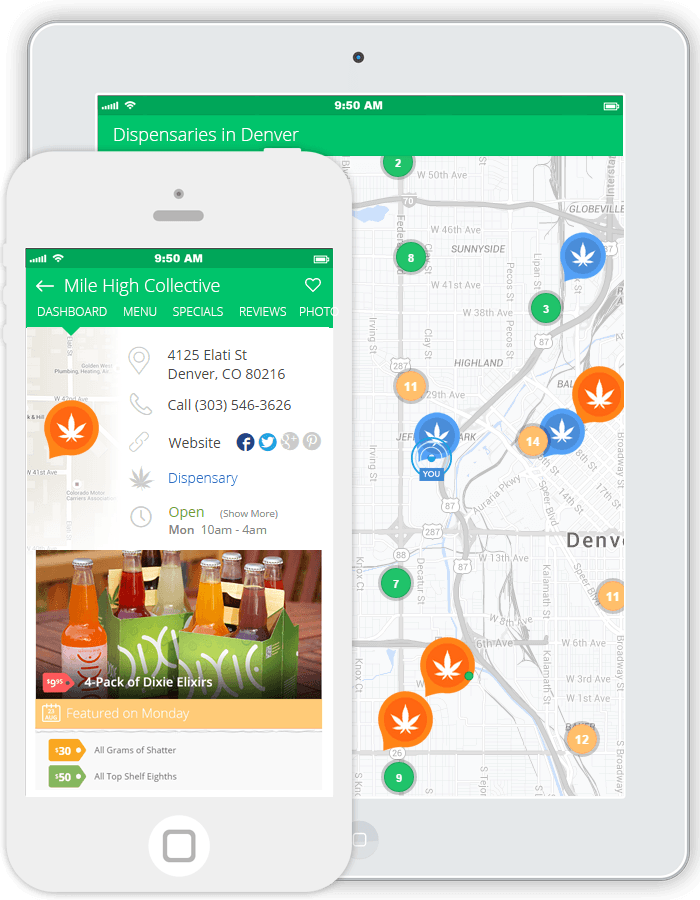 New to Where's Weed?
Where's Weed helps you search, discover and share marijuana businesses in your community. Whether you're looking for a recreational or medical marijuana dispensary, marijuana doctor or even a place to connect with local marijuana users, you've come to the right site!
Create an account
Discover local dispensaries, deliveries, doctors and more
Pre-order your purchases online
Search local specials and events
Review, favorite & share your favorite businesses
Dispensary Reviews
I placed my order before 9am... I know their were orders in front of mines but it shouldn't take 3 hours! In the end didn't receive anything but an apology and deals on my next order.... DIDNT EVEN GET THE FIRST ORDER BRUH!

Excellent flowers... extremely pleased... got what I paid for.... Reviews concerning wait times seem to be accurate... but will be coming back reguardless... like I said awesome flowers.

Don't want bud from anywhere else

Second time ordering from these guys, I really appreciate their kindness in packaging my order different ways. They threw in a preroll and the delivery guy came through 15 mins earlier, great company and wholesome amazing nugs of Chocolate Diesel and Candy Jack.

These guys are my go-to. They have literally NEVER BEEN LATE. It's amazing!!! I'd also recommend their house cartridges- they are delicious.

Bud is always good and they have some of the best prices

A very good selection of buds, a huge variety compared to to other dispenseries.

First time using a delivery service and Cannabear was very polite and friendly about the process. Told me exactly what to do and where to be. Driver met me inside of the time window that was promised and the product was fire. Will be using you again in the future. Thanks!

Perfect delivery, great flowers, great price. This is the BEST of DC!

I agree with everyone else's review about this company switching up and replacing orders with something else or even being shorted some grams. I had the same exact experience with this company when they first opened up, and since then I determined that these are their business practices. Even though he will proclaim honesty all day. There's a saying that when someone shows you who they are the first time, believe it. Choose wisely and be careful.

All headache bud. Remember quality over quantity. Lower prices equals higher headaches. No smell, horrible taste and awful head banging headaches. It should be a crime to sell poison like this. Choose wisely.

All headache bud. Remember quality over quantity, low prices means high headaches. Choose wisely.

Got the gas White Tahoe & 2 cereal bars. Edibles alone got me and my girl dumb smacked. High Maintenance serving 🔥 as high as my standards 🙌🏼

MBK & Co is one of the most proper delivery services I have worked with. When I had an issue with my cartridge they offered to replace it. When they were a little late to an appointment they slipped a free 1/8 into my bag without telling me. Always accommodating, always great on communication and very knowledgeable about their products. Everytime I order with them I know what I'm getting and how it will affect me.

I've been to multiple companies in the dc area and bagged buds definitely has the best quality and most knowledgeable staff with outstanding customer service can't wait to do business with them again

Fast delivery. Quality product. Excellent customer service.

The delivery guy was cool. He was running a bit behind, but he definitely made up for by adding another gram. I got the Orange Crush and GSC cart...both were FIRE! I will be back

Delets reviews that are bad. Don't go here.

Im skeptical about anyone who gets consistently good reviews but these guys were honestly awesome. Really professional, great product, felt safe

Like everybody else has noted. These guys will replace whatever you purchased with anything else, without telling you. My "30g" ounce was broken up into 4 different sized bags, and didnt add up to 30g. Quality of said random strain that they give you in place of what you ordered isnt even good.

I always see the delivery speed a major inconsistency in a lot of the DC shops. All I ask is that the shop to keep me up to date if there are delays. I also prefer delays to be uncommon. Federal Reserve is among the top of the hill when it comes delivery service. I am also extremely pleased with the extensive menu with excellent prices. Every aspect of the service and communication was top notch. This was my 1st time using this shop and I will be back for more. Keep up the good work.

Top Shelf service! Pinnacle was the ONLY delivery service to call me directly (instead of cancelling my order) to let me know they didn't deliver to MD. But they were willing to meet me within the D.C. city limits, at a spot of my choosing. Thank you guys. Customer for LIFE

Love love love Capital Buds. I have been using CB exclusively for just over a year now. They have never let me down. I strongly recommend CB.

Consistently potent flowers. Third time ordering this week.

Always top notch flower and customer service! We've tried other places and always come back to Herbal! Don't waste your time with other places that don't know how to do business! Love you guys!