Discover trusted marijuana businesses in your community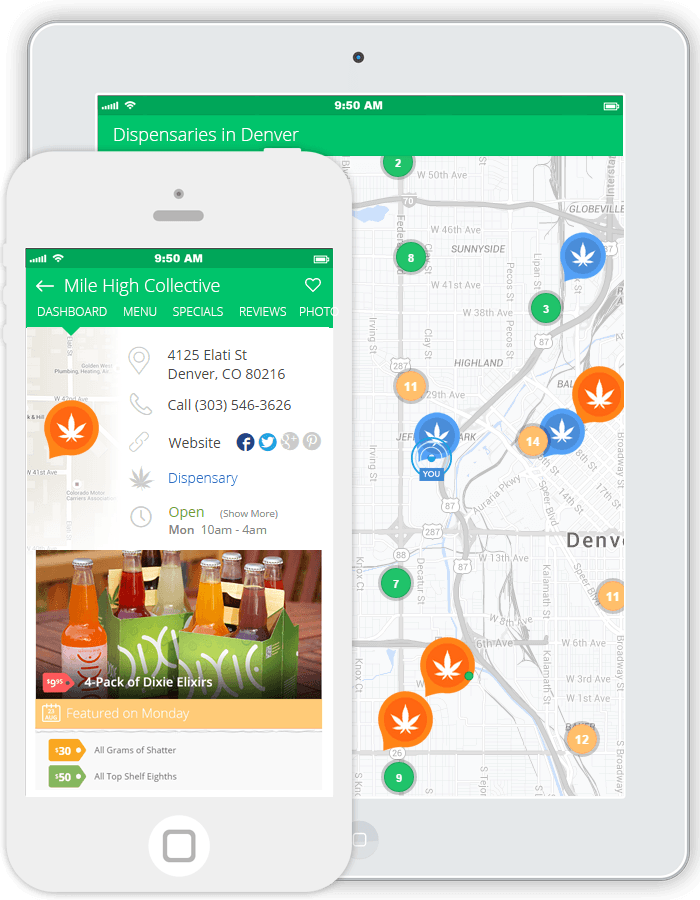 New to Where's Weed?
Where's Weed helps you search, discover and share marijuana businesses in your community. Whether you're looking for a recreational or medical marijuana dispensary, marijuana doctor or even a place to connect with local marijuana users, you've come to the right site!
Create an account
Discover local dispensaries, deliveries, doctors and more
Pre-order your purchases online
Search local specials and events
Review, favorite & share your favorite businesses
Dispensary Reviews
Stellar buds with very prompt and friendly service. These guys are my absolute favorite! Highly recommend ZIP

Beyond satisfied with my purchase as a first-time customer great service will be returning again help me relax to where I needed to be

I am coming back here for a second time and man am I amazed by their pricing and quality of flower. I like everything they've got to offer and I am looking forward to making future donations here if they continue to have such amazing bud for such amazing prices. Thank you so much!

Gave them another try and the process was quick and efficient. I am very happy with my gift!

Picked up some purple banana and mendos breath and the quality is great bud is covered in tricombs with hue's of purp in it absolutely gorgeous, will definitely be keeping an eye on them the quality is compairable to Royal Highness Bud's in my opinion

Stop lying with your fake reviews. Carts are garbage and have pesticides. Who knows what they put in the gummies.

All fake reviews. Ask for lab tests before you buy (hint: it's false advertising, there are no lab tests). Fake homemade products with homemade printed labels.

I never knew calling 4 times for a place that has "24 hour" delivery could turn into 100!!! Don't deal with this loser. There's much better deals and services out there!

Straight to the point I Will definitely say without a doubt they have quality bud that's covered in tricombs the driver was friendly can't complain

Amazing customer service and speedy delivery which says a lot. I am disappointed about the quantity/quality this time around tho. Sour diesel is very dry and what was supposed to be four 1/4 ounces (1 ounce total) was looking short. I ordered before and had no issues so am hoping it's a one time thing.

Customer service was great. Product was very good. Prices are ridiculously good.

Amazing service, great quality product, and reasonable prices.

BEWARE!!! What horrible follow-up service. Doesn't even apologize for for not answering the phone!!! How is that good for business??

It's been a while since I went to my folks over here, ... WTF was I thinking. Smh. Strength, in very pull. That's PRESSURE. Free gift is on point and harder than hard. Hit'em up for your next, and out of towners...your first. Thanks peeps

Amazing service! Very prompt and clear communication. Love them!!

Friendly service, great quality, low prices, fast delivery and they even brought me a cute little candle with my order. I will use this service again!

Love using this service but the prices keep going higher. Not the high I like either

Great quality products Will be back for more! A+++++

Great quality product! The Ganja Gummies helped with my chronic pain. I'm so glad I found these guys!

Top notch product and outstanding customer service. This is my only go to place.

Driver arrived early, top shelf bag was overweight, quality is top tier... I'm currently fried trying to think up more things to say... you simply won't find this kind of quality to price ratio anywhere. If you're on the fence you should hurry up before me and the rest who have made the plunge buy up everything.

My go to for delivery service, quick, painless and always on time!

Absolutely horrible. They wasted my time, I'm here to not let them waste yours. Nobody answers when you call about your order and nobody ever calls you back. They accept the order, then never fulfill it. Go elsewhere, you can do better!!!