Discover trusted marijuana businesses in your community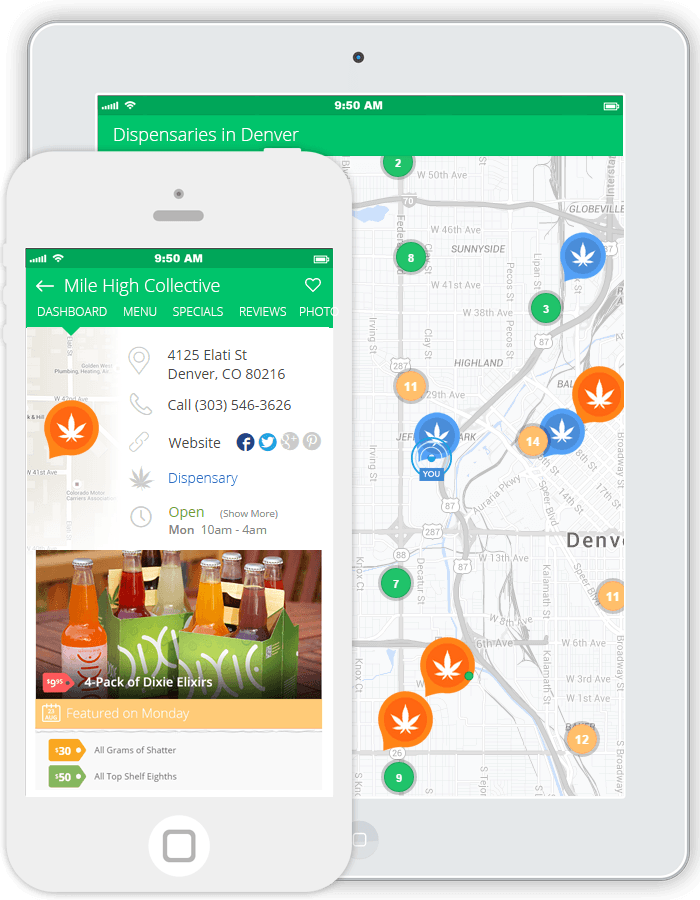 New to Where's Weed?
Where's Weed helps you search, discover and share marijuana businesses in your community. Whether you're looking for a recreational or medical marijuana dispensary, marijuana doctor or even a place to connect with local marijuana users, you've come to the right site!
Create an account
Discover local dispensaries, deliveries, doctors and more
Pre-order your purchases online
Search local specials and events
Review, favorite & share your favorite businesses
Dispensary Reviews
you guys are great__ even in old days you get what you pay for- never had a bad experience, and all ways happy with what I paid for!!people are GREAT!! product GREAT -been going here since they opened

First time trying this service and they did not disappoint! I usually stick to the same service but saw a deal with Euphoric so thought I'd give it a try. Customer service is amazing! Excellent recommendations and the bud is 🔥 🔥 🔥!!!!! You can't go wrong with these guys! Fast and courteous delivery as well!!

Sam was dope for giving me a curtesy call to update me on my order and give me options. Great customer service!

If u wanna be ripped off this 8s company for you. They dont stand behind product. Rude customer service. Says top shelf by Zente but u get mostly stems and smalls. Quality is not something they know and it shows with the growers and clowns working for them. Fuck zente farms dont waste your cash.

Awesome I love the flower and the concentrates thanks for the free gummies!! Made the ride home nice! See ya next week!

Nice deals and options🤟🏽🤟🏽

Delivery was on time, I was able to get in contact with Sam the representative and it was smooth sailing after that. Great service

These dudes are the real deal, look no further. If you are new into the DC scene and your looking for some top notch weed this is the place to go. They have excellent customer service, they are very dope people. I would recommend exotic blooms to anybody, I've been coming to them for over a year and I was once the person reading comments to make sure the company was good. Please trust me and go for it 🙏🏼

Good quality weed. Thank you DCxpress and big thanks to Gabi the driver for being on point

fast service, good quality.

O NOT BUY!!! The cookies carts are all 1g but are counterfeit and fake. The company (cookies) does not sell more than .5g per cart. All boxes are opened and refilled with a fake. I previously left a good review but did not know they were lying. https://www.cookiescarts.org/ How to tell if I bought a fake/real Cookies carts? First its all on the packaging if you look closely to our packaging of our carts they are all high Flyers and are only 500mg/ half gram carts. WE don't produce 1000mg/1g vapes, so if you happen to be presented with a full gram vape as an official cookies cartridge. You can visit Big Chief Carts for more Amazing cannabis Products

My first experience today was unprofessional, I wanted my 99 1/2 oz and I texted back to correct my mistake from saying Sw to Se. The driver called and i conformed the correct address and I was rushed to my dropoff spot becuse the driver put the wrong address then told me its gonna be 11min. He arrive and calls me and he sees me and stop in traffic ...middle of street and want me to come to him and i told him to pull over to get out the way of traffic and he just left with my product. Called the umber provided and explained and they wanted me to travel to them ....naw i was at meeet up and your ONLY driver bailed! Might order in future but this situation messed up my exprience.

Very polite customer service and prompt delivery! Would definitely recommend!

You guys are awesome!!! Great products. Will definitely continue doing business with you.

Great weed, great service.

Veteran friendly, first time frequenting dc and I found my forever spot. Customer service and meds top notch.

Always on time! Consistent and quality customer service! Product always hits! Haven't gone anywhere else since finding Reefer!

I really enjoy this place. They always have what I need for a great price and it's also a great quality

Love this place, their on time, great prices, and always in stock

The only place I'll order from. Hands down the fastest delivery, most consistently great product, and amazing customer service. I love that I can pick up or have it delivered. 10/10 Every time.

The customer service is top notched, they respectful and truly appreciate their customers. Also everything has been official!! Highly recommended

Fantastic service. Quality product. Timely delivery. Great communication. 11/10

OMG! The Sour OG.... Is some mf FIYA! No Cap! I'm normally a indica gal but I like to try indica dominant hybrids from time to time. This strain definitely feels like a indica flower all the way! I was relaxed for hours, definitely wasn't expecting it! The driver that came was cool asf and gave me some knowledge about his favorites... overall I give DC Nugtenders and 10 out of 5 stars for great customer service, bomb flower, and being ever so detailed about what they create! I definitely will be returning! Much ❤

My girlfriend currently cannot smoke cannabis but can consume it. I've narrowed my search and found "CannaBeast's" deals for edibles. They have great deals. The sales rep was very knowledgeable and friendly. Their drivers were also very courteous and prompt. The entire buying experience was very pleasant and smooth. My girlfriend said their products are amazing, and from me looking at her, their edibles are very potent and great. I'll be ordering from them again!