Discover trusted marijuana businesses in your community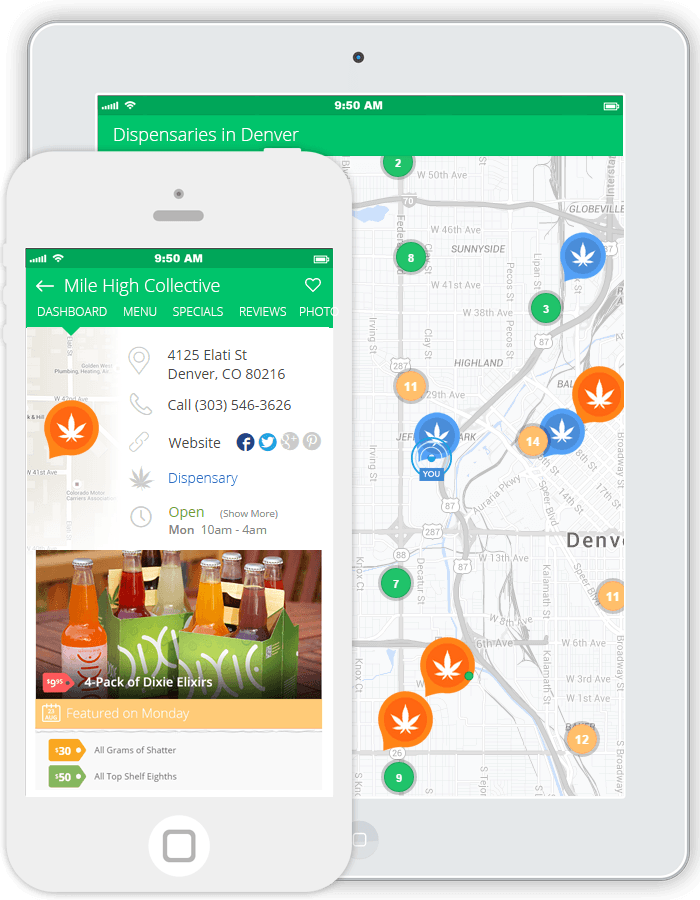 New to Where's Weed?
Where's Weed helps you search, discover and share marijuana businesses in your community. Whether you're looking for a recreational or medical marijuana dispensary, marijuana doctor or even a place to connect with local marijuana users, you've come to the right site!
Create an account
Discover local dispensaries, deliveries, doctors and more
Pre-order your purchases online
Search local specials and events
Review, favorite & share your favorite businesses
Dispensary Reviews
Not only does the owner answer ALL of my millions of questions, they're so patient with me and they inform me with the knowledge that they have. Their quality of the flower I got was amazing! Amazing deals and prices! Also can't beat the minimum price of $50 to order. The shatter and cake batter that I got is A+ medicine. Great quality, great customer service, great service, and most importantly good honest and trustworthy people! Very reliable and very understanding as they work with their patients and are very helpful as I feel they go the extra mile which is an amazing thing! Thank y'all and I can't wait to grow a good relationship with y'all.

SOLD ME SUM KIND BUD AS GELATO DONT SHOP WITH THEM!!!

Amazing customer service and GREAT deals!

I'm real happy with the OG headband. Wearing now. Driver's backseat is some sort of bermuda triangle for phones tho lol.

I love these guys and they are trans friendly ❤️

Clean, informative and comfortable shopping experience

Great communication and deals! A must check out place.

Hands down the best service. I've been elsewhere and I'll keep coming back to HYFE! Quality products and friendly, prompt service.

Very fast. They were than when I was! Top rate quality, fair prices. I would recommend them.

They were awesome the girl went out of her way to come to me and the blueberry muffins were incredible!

It was great!! ATF is awesome!!

UNRELIABLE. Order was confirmed THREE times by text and phone call. End up waiting over four hours with no call and no show. Ordered because I love the bud quality. Can't trust their delivery service anymore.

Slow af. It's been three hours and still no text from the driver with an ETA. Have called at least 4 times with no resolve. Halp, I just want the Mary Jane

Very fast delivery but the quality was honestly some of the worst. Yeah it did the job but very harsh smoke. Also found several seeds.

These guys are the best service in DC hands down. Fire bud and fire daily deals! Definitely will order again soon

Ordered from these guys several times already and will probably order from them again. They've got the quickest service I've experienced so far.

Just donated, and the driver was very friendly, A1 service over all. The quality of the product is absolutely incredible. Well labeled, and very well packaged. I will definitely be using this service everytime I come back to D.C. to visit. Wonderful experience.

Good weed but pretty unreliable service. If you're in a rush or need a guaranteed delivery, then go elsewhere. If you have the time, then the stuff they've got here is top notch, but good luck.

Disappointed that the website was not more clear or transparent about delivery ranges. Upon check-out, you're told that the delivery minimum is $100, but depending on your location, you might be informed (via text message, only after you've placed your order) that the delivery minimum is $150 plus $10 delivery fee. Also, though they advertise 7-day a week delivery, Sunday deliveries are only fulfilled if you placed your order the Saturday evening before. Again, I would advise to be more transparent about that in the future to mitigate disappointment of potential customers.

Consistent quality and great deals. This is the kind of hookup you hope for. I'm just glad I found em.

I've tried so many different services in DC and these guys are by far the best. Most places are extremely overpriced or sell fake carts. I was tired of going to events to only find they were selling exotics and dank vapes. Or places that actually have good carts are selling them for like $65+ for one. Watz Poppin has amazing customer service, super speedy pickups, and amazing prices. All their products are top quality. I honestly don't waste my time with anyone else in DC anymore.

Exceptional products, service, and price. Totally would recommend them to anyone interested.

Fast service, unfortunately the product was seedy , no fragrance, no taste , no buzz!