Discover trusted marijuana businesses in your community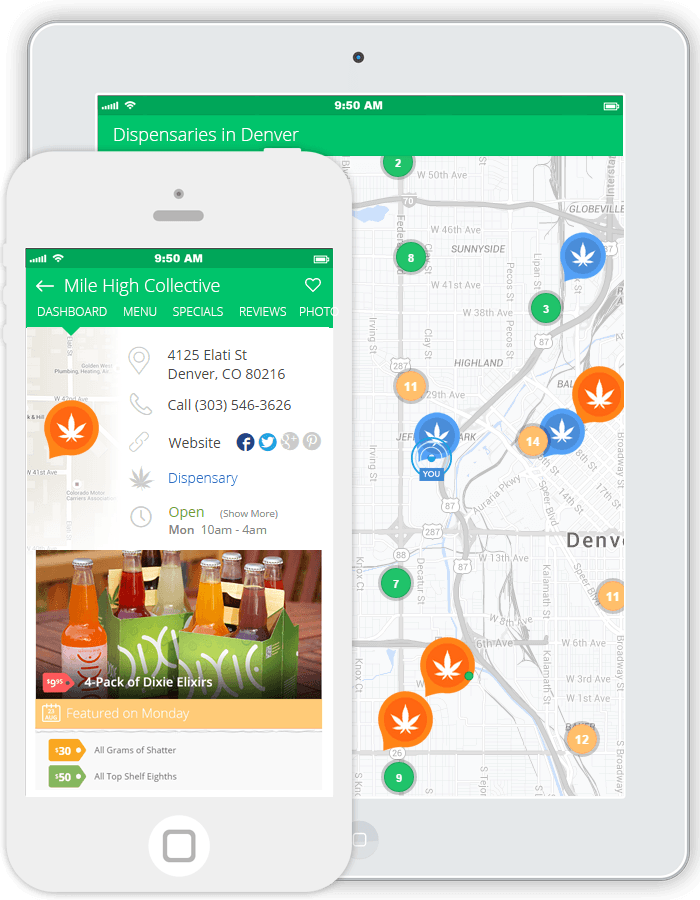 New to Where's Weed?
Where's Weed helps you search, discover and share marijuana businesses in your community. Whether you're looking for a recreational or medical marijuana dispensary, marijuana doctor or even a place to connect with local marijuana users, you've come to the right site!
Create an account
Discover local dispensaries, deliveries, doctors and more
Pre-order your purchases online
Search local specials and events
Review, favorite & share your favorite businesses
Dispensary Reviews
I was beyond excited for the whole experience. Bing bam boom it was so kool. My house is a little bit of a journey of you drive. He was determined and now I can start thinking about what I want to eat!!!!! Whoop

Great prices and product.

Pretty bad experience, wasn't expecting this at all. Got a half o with the free preroll. Delivery from the time I placed the order took about 2 to 2.5 hours on top of me having to drive about 20 minutes to a different location. Upon inspecting the package, no preroll. Bud is really good, however. I was told these guys are good, but they didn't seem interested in fixing the situation.

Great communication, fast service, excellent quality, made first-time experience very stress-free and easy

Getting shit together. Great service!

Ordered an eighth of the recreational Jack Herrer....it reminded me of high school beasters at best and was short half a gram. The oil cart is good though. They are nice people and on time but disappointed in flower quality especially after the review. Also didn't have $10 for change..:come on it's a cash business :/

Their ratings apparently good cuz they remove the bad ones and post good ones 😂😂 fake af

Excellent service and very responsive. This was my first experience using them and was thoroughly impressed. Driver was on time, no issues with donation, and received exactly what I ordered. Good job!

Great so i have had terrible service around 12am on oct 16. Left a bad comment and now they're trynna bribe me on taking my comment down to keep up ratings. I got proof. Smh DO NOT RECOMMEND!!! They will give you stems and popcorn nugs! This is ridiculous especially since i paid an excessive amount of money for this bs.

I ordered two separate strains and when the driver got here he only had one. So he just threw in a bag. No label. Nothing. It definitely wasn't what I ordered then the dude is an hour and forty minutes LATE. Don't use these guys. I can see a few minutes but they long? Never again! As I'm waiting I'm reading all their shitty reviews. 🤦🏾‍♂️

Love ordering with these Guy cool people

Cannabear is absolutely my favorite place in DC. Bud is amazing, edibles are amazing, delivery is fast, and everyone is so professional. The goodies are so sweet too! I love you all and will def keep coming back!

I asked for full sized nugs, asked for no shake or popcorn nugs but instead of a simple request they could not supply. The driver was a complete asshole, not answering questions or just being ignorant within the business but he was on time with the delivery.only reason why i dealt with y'all because y'all open 24hours. I never written a review so thank you for the bad service. I'm not coming back wasting my pack money on y'all 😂

Super quick delivery, a bag of candy for Halloween, and really nice folks. 10/10

Everyone at puff was great. The people were super friendly, they delivered super quickly, and the products were high quality. Overall a convenient and pleasant experience. Will definitely order again.

Good Menu but shitty service

I never leave reviews for this kinda stuff because I never get consistently good service...but man I gotta say these guys are the bomb. They have absolute gas, awesome customer interaction, accurate with their delivery times and the driver keeps in contact. Overall these guys are the best around without a doubt

Super easy pickup, really friendly customer service, gifts, and even candy and water for our commute home. 😊 Thanks so much for a relaxed and comfortable experience.

First time with these guys and they respond quick and handle there Buisness and don't play no bullshit. I'll be back for sure. 👍🏻

The best in DC, great communication and amazing products.

the best in dc, there is really no comparison. Great communication and product.

The people at puff were great. They were able to deliver super quickly and were so friendly. Everything was great quality and the whole experience was pleasant and extremely convenient. Definitely ordering again!

Well first off the day did start out rocky... put I for some runtz for an early first thing drop. Got word before meet that order had to be changed didnt have the runtz part of my order. Being I had just drove in 6 hrs and really excited about getting runtz again yea def say bummed out. Did have the cherry sherbet part so I just in cherry what I was gonna get in runtz and then gg4 as my smaller go between. So after getting sorted out still ya kinda bummed about no runtz...... UNTIL MY DELIVERY GOT THERE. 1 the cherry sherbert is amazeballs. 2 threw in a couple free gifts being dank wood and infused preroll with a nice discount. Yea I've been smiling the whole trip home. Amazed at the quality amazed at the apology amazed for the free gifts and discount. Yes things happen but they went above what they needed to. One happy customer. Even have a free 8th for my next order. Capital kush all the way.

Once again coming thru with the goods. Got some confidential cheese and sour diesel wax. Just impressive quality for the price. Even minus the low price still go to for concentrates. Ohhh the runtz carts are awesome... but that pineapple punch that's something special.... love wvc.

Just got Blue Dream and the nugs are absolutely awesome. These guys are the best !!!!!!