Discover trusted marijuana businesses in your community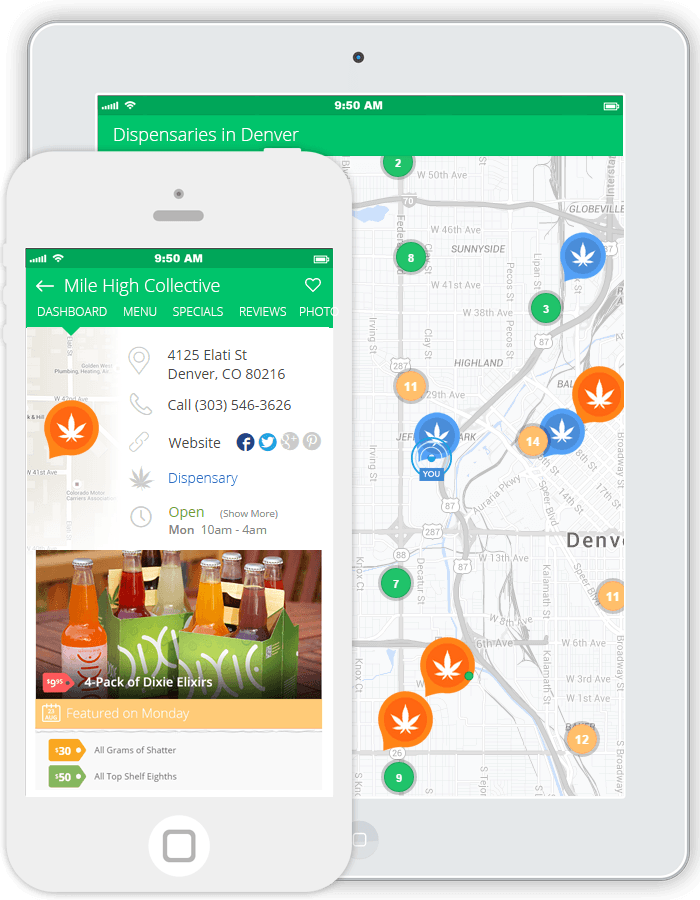 New to Where's Weed?
Where's Weed helps you search, discover and share marijuana businesses in your community. Whether you're looking for a recreational or medical marijuana dispensary, marijuana doctor or even a place to connect with local marijuana users, you've come to the right site!
Create an account
Discover local dispensaries, deliveries, doctors and more
Pre-order your purchases online
Search local specials and events
Review, favorite & share your favorite businesses
Dispensary Reviews
Top quality bud for great prices and I am a searcher of great bud and they have it. The black is 🔥🔥🔥🔥🔥🔥. They customer service is great they waited outside for me until my meeting ended with no complaints...I will def be shopping again

Pressure DC is great. Tried them for the first time yesterday and my experience was great. There was a bit of delay in delivery but they took care of me for the inconvenience. I cannot stress how great that is. Other services will not be so responsive to if things dont go according to plan. They get defensive, or outright ignore you. Pressure was communicative, transparent and very customer service oriented. And the Bud was amazing. Thanks guys. Will be back

I got heavy hitter carts a few weeks back from these guys and they were awful. Oil was dark, couldn't get a good hit. Not saying this is their fault entirely but if they were truly Heavy Hitters, they'd actually hit heavy.

I don't have a single negative thing to say. The carts are amazing, driver was prompt, and the customer service was excellent. Only guys I use. Thanks!

horrible customer service. won't reply back to you until late in day. drivers can be late, but if the customer is then they will not wait. even for 5 minutes. don't buy from here

This guys have just made me a lifetime customer.the quality,service,punctuality,and knowledge of products is undeniably the best and keep you informed the whole time.true professionals and treat the customer first class.thanks again capital kish

great products, great prices, great staff...they followed up with me after my first purchase to make sure i was satisfied...definitely going back here!!!

Best prices on the app! Killer bud, very fresh and sticky. Definitely a repeat customer here!

the best freebies ever..its like surprise gifts for your birthday...disappointment is not in their vocabulary...closed on Monday and Tuesday...then i patiently wait for Wednesday...believe it...loyalty loyalty loyalty!!!!

Excellent smoke good customer service

Just got my delivery. The product is a bit stemmy but still very happy.

The atmosphere is super chill, they have good music playing. The best of all is the weed is actually of quality!

I've picked up from about 5 companies on here and this is the best quality I've found in DC hands down. I've smoked in most legal states and this is on par with what I've seen there. After this experience, I don't think I'm going to waste my time trying anywhere else.

Amazing experience. Quick response. Fantastic meds. Can't say enough good about these guys. Hats off to wdc!

Our first time was also a delight delivery was fast all phone conversations and texts were polite no complaints!! Everything was as pictured ...amazed👍

St. Pat's a great day to make another donation. They helped make my trip to WP at MGM yesterday another awesome experience! They've come through for me a couple of times. They are truly professional and have become the 1st place I visit when using the app. They've become my favorite go to guy's in the district recently. Just like Mike, the Space Jam is great!

Good quality bud, awesome staff.

Reasonable donations, awesome gift menu, great communication, rapid response time with excellent flowers means Fat Stash is new favorite! SLH smells like walking down the produce aisle at your local grocery store

couldn't be better- speedy, great product/ price/ service- these guys know how to deliver, 100% the real deal

Oliver was awesome, provided a tranquil non rush environment. Very knowledgeable and friendly unlike most shops where the girls are rude and ruse you in and out. I took advantage of the FTP deal and got 14 grams of some private reserve for $90!

Very shady business practices and games. I ordered Blue OG and instead, they slipped me Blue Dream. When I informed them of the " mistake ", they told me they were sold out of Blue OG and that someone else made the mistake. Then he told me that the bags were mislabeled, and that they don't sell Blue Dream anymore. But they are advertising both strains for sale. Very dishonest and shady business practices. There are other companies that are straightforward with their customers, since you are spending your money. They wouldn't like it if someone slipped them some counterfeit money or shorted them a couple of dollars.

Top quality in all areas.

Always high quality. Product, customer service and overall experience. Top notch

These guys are great. A bit of a mix-up with my order, quick call, quick resolution, very easy to work with. Second time I've ordered from them. Again great product, price and service. Now a go-to for me.

My new preferred provider! Have ordered from Elevator 3-4 times before and service, communication, quality and efficiency were already there, but the last service was above and beyond. My man gets a flat tire, Ubers his way to complete delivery, refuses tip, and throws in a nice doobie! Everyone should do business like this. Great menu and fair donation$. And the packaging is cool too!