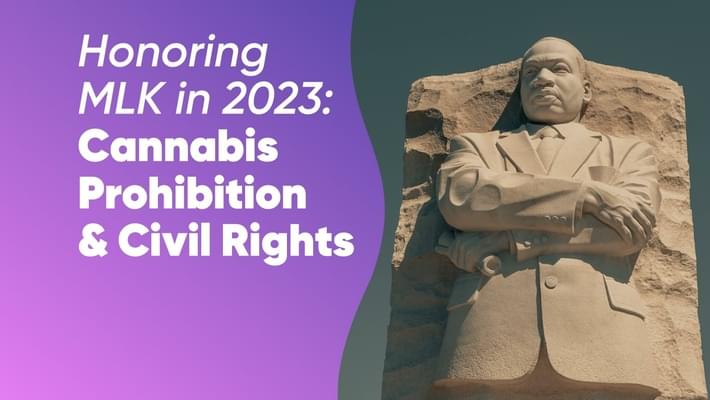 Honoring MLK in 2023: Cannabis Prohibition & Civil Rights
Martin Luther King Jr.'s legacy continues nearly 50 years after his tragic death, inspiring change, imbuing a new age of civil rights movements with a hallowed foundation, and reminding us how far we've come and how far we've yet to go. Dr. King lived, fought, and died for what he believed in and became the unmistakable face of the civil rights movement. You learned about him in school, have driven down streets bare his name, and watched movies depicting his life and nonviolent revolution against racism in America. What you might not know, however, is that his teachings have informed an entire generation of cannabis activism and that there are unmistakable parallels between legalization efforts and his civil rights advocacy. In honor of Dr. King, let's take a moment to reflect on his accomplishments during the American Civil Rights movement of the 1950s and 60s and shine a light on his contributions to end cannabis prohibition.
Who Was Dr. Martin Luther King Jr.?
Martin Luther King Jr., referred to frequently as MLK, was born in Atlanta, Georgia, on January 15, 1929. His given name was "Michael," which he later changed to Martin. King would grow up to follow academic pursuits, receiving a B.A. from Morehouse College in 1948, a B.D. from Crozer Theological Seminary in 1951, and a Ph.D. from Boston University that he would officially earn in 1955. During his time in Boston, King met Coretta Scott and married her in 1953. Together, the couple had four children, Yolanda (1955), Martin III (1957), Dexter (1961), and Bernice (1963). In 1954, the Kings moved to Montgomery, Alabama, where MLK was called to preach at the Dexter Avenue Baptist Church. Around this time, King became a prominent leader of faith and civil rights.
MLK and the Civil Rights Movement
Not long after he moved to Montgomery, Alabama, Rosa Parks refused to give up her seat on a Montgomery bus. King and other black leaders in the community quickly gathered and successfully staged a year-long boycott of the bus system. He was imprisoned for leading the boycott, which placed him on the national stage as a primary civil rights figure.
King then founded the Southern Christian Leadership Conference (SCLC) with other black church leaders throughout the south to stage nonviolent protests against Jim Crow laws. His demonstrations led to pivotal moments in American civil rights with the passage of 1964's Civil Rights Act and 1965's Voting Rights Act. He led unprecedented marches (like the ones in Selma and Washington, D.C.), gave historic speeches (like "I Have a Dream"), and was harassed, assaulted, and imprisoned many times for his activism.
King was assassinated on April 4, 1968, in Memphis, Tennessee. His life was tragically cut short, but his teachings, philosophies, beliefs, and momentum as a civil rights leader continued.
MLK and Cannabis Activism
King undeniably helped shape the course of American history and the current state of civil rights (though we still have a long way to go). One of the many things King's legacy has affected is cannabis legalization. While King is not known to have ever spoken publicly about cannabis, and he died two years before President Nixon made it a federally illegal substance through the Controlled Substance Act of 1970, his civil rights activism has had a significant role to play in more recent cannabis advocacy and political outcomes.
Cannabis has had a long and unfortunate history in the United States, starting in the 1930s with state-sponsored propaganda to skew opinions toward cannabis and have the public associate its use with immigrants and marginalized groups. It is commonly known as marijuana today, thanks to these early racist efforts to force its association with Mexicans and Hispanic immigrants. The notion of "reefer madness" was quickly tied to African Americans in the 1940s and 50s, and the complete racializing of stigmas was completed in the 1970s under Nixon.
Since it was made federally illegal, marijuana arrests have disproportionally skewed toward marginalized groups, especially black men. Mass incarceration began in the 1980s, and the number of incarcerated people in America grew to almost 2 million by the end of the 1990s, with a large majority being for drug possession. While the 90s saw increased public awareness about unfair, racially driven incarceration numbers, marijuana possession arrest rates among black people are still 3.6 times higher than white people.
However, systemic racism is being addressed in a way it never has before. Racism within policing and the laws of this nation are being scrutinized. Equity programs to address decades of harm caused by the War on Drugs are being utilized by more states to make amends retroactively. These conversations began in the 1950s and 60s with Dr.King's activism. Without him and other civil rights leaders, none of what is happening today would be possible. While indirect, Dr. King's stance toward equality in America and how he went about change has had a resounding effect on cannabis in America and how it is now regulated and policed.