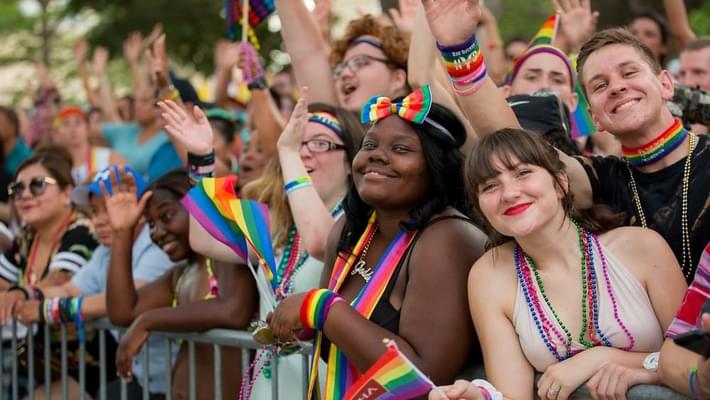 Pride & Cannabis: A History of the LGBTQ+ Community & the Marijuana Industry
June is one of our favorite months of the year with summer ushering in endless sunny days and happiness. One of our favorite parts of June is the huge celebration of Pride Month that takes place all over the world. Although most Pride celebrations have been canceled due to COVID-19, you'll still find us celebrating in any way that we can. While many companies put up a rainbow flag and call it a day, we thought we'd take a chance to really dig into the history behind Pride Month. While doing so, we found some fascinating connections between the LGBTQ community and the cannabis legalization movement. In this article, we'll explore all the ways we're connected, introduce you to some important figures in the legalization of marijuana, and celebrate LGBTQ owned cannabis brands.
History of Pride Month
Let's take a trip back in time to the 1960s in New York City. With police legally arresting transgender people on the streets, entrapping customers at queer bars and shutting down businesses that catered to the LGBTQ community, it was a bleak time to say the least. With tensions rising and rebellion in the air, the once-hidden community had no choice but to rise up in the summer of 1969.

It started on a late night at the Stonewall Inn, a popular queer bar in New York City. As a police raid began, patrons quickly banded together to fight against the injustice happening before their eyes. Eventually, police were forced to lock themselves in the bar and the riot outside grew. As the night ended, the protests would continue for the following 6 days. This sparked a defining moment in the gay rights movement, and would eventually lead to the first Pride parade in New York a year later. As celebrations spread throughout the month of June all over the world, Pride Month was created.
History of Pride & Marijuana

One of the figureheads at the forefront of marijuana legalization was Dennis Peron, an openly gay man who played a pivotal role in both movements. As a Vietnam War veteran, Peron came back to the US with two pounds of marijuana and began selling in San Francisco. Although he had many brush-ups with the police, Peron kept going. His activism soon became focused on his fellow queer community when the AIDs crisis struck America in the 90s. Dennis realized how beneficial marijuana could be in relieving treatment symptoms of the terrible disease so many of his friends were dying from. Peron would eventually co-write both Proposition P and Proposition 215, which legalized medical marijuana for the first time in California.

Another pivotal figure connecting the legalization movement and the LGBTQ community is Brownie Mary. Born Mary Jane Rathbun in Chicago in the 1920s, Mary eventually made her way to San Francisco in the midst of the AIDs epidemic. She soon became friends with Dennis Peron and found a unique way to get involved - selling affordable pot brownies to patients in the HIV/AIDs hospital wards. After several cannabis-related arrests and hours of community service with an AIDs organization, Brownie Mary decided to devote her life to helping patients by baking and selling her edibles. She also helped Peron open the Cannabis Buyers Club, which would set the stage for Propositions P and 215 and medical marijuana legalization.
Marijuana & Pride Today
Just as the LGBTQ community and the cannabis legalization movement were connected in the past, the two still have a lot in common today. Did you know that over 30% of LGBTQ+ adults reported using marijuanain 2015 vs. just 12% of heterosexual adults? With mental health issues such as PTSD and depression more prevalent, marijuana has been a helpful form of medication for the LGBTQ community.

Some major cannabis brands have taken note of the oppression and issues the LGBTQ society faces and have taken a stand. In 2019, PAX Labs donated a whopping $50,000 to the GLBT Historical Society. This money will contribute to the building of the first LGBTQ+ history museum in the United States and will feature Dennis Peron. Rythm vape pens also created a rainbow pen in support of the GLBT Historical Society last year. We also love FRUIT SLAB's Pride flavor which celebrates the queer community year-round and is a collaboration with famous cannabis drag queen, Laganja Estranja.
LGBT-Owned Cannabis Brands to Support

One of our favorite ways to help the queer community is by shopping from LGBTQ-owned cannabis businesses. We love Pride Wellness, an LA-based brand featuring marijuana products focused on treating anxiety, depression, and other issues the LGBTQ community faces. Another favorite is The People's Dispensaries, a West Coast chain run by women with a desire to help the queer community in cannabis. These women have created a safe space for all to buy cannabis and feel comfortable. We're also big fans of Sonder, a queer-owned cannabis company with sun-grown plants in the heart of Mendocino. Supporting queer cannabis companies like these helps to pave the way for more to grow and builds equality in the ever-evolving industry.
Do you have any favorite Pride and cannabis products? Do you know of any other awesome LGBTQ+ owned brands? Let us know in the comments below!