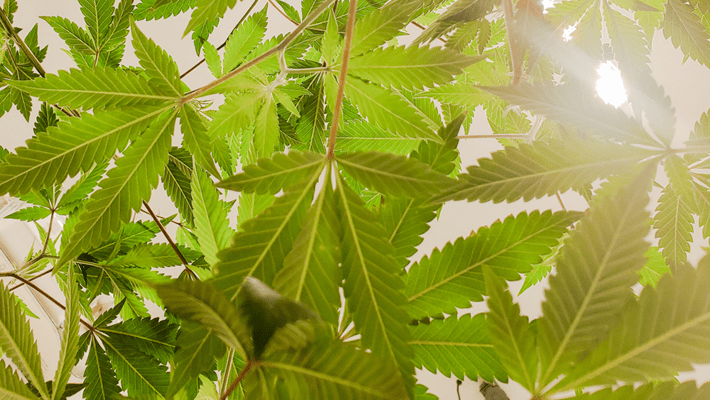 Can CBD Help With Weight Loss?
The rapid rise of CBD from an unknown abbreviation to a wellness wonder product has taken place seemingly overnight. What used to exist only in oil or pill form in small oddly labeled bottles is now available in anything from infused drinks to facial scrubs. CBD (or Cannabidiol) is now a mainstream product that is craved by millions for its therapeutic properties and a unique ability to ease the symptoms of a vast number of ailments and maladies.
What Does CBD Do?

CBD is the second most active cannabinoid in cannabis after tetrahydrocannabinol (THC). Unlike THC, CBD does not create any psychoactive reaction when ingested. For this reason, its use was legalized at the federal level when the 2018 Farm Bill was approved by Congress. The bill allows for the production and use of hemp with THC content below 0.3% and there are now thousands of CBD products derived from legal hemp on the market that have little to no THC.
Most people who enjoy the benefits of CBD suffer from relatively common afflictions like chronic pain, anxiety, depression, arthritis, acne and insomnia. Studies indicate that CBD interacts with the Endocannabinoid System (ECS) that regulates functions like sleep, pain, appetite and the immune system. The ECS includes neurotransmitters that bind to cannabinoid receptors in the nervous system and CBD impacts the receptors to disrupt the activity that causes the symptoms experienced by the patient. What does CBD feel like? That differs between individuals, but in general, it is the sense of enhanced well-being and the all-encompassing healing sentiment of CBD that has contributed to its rise into a national phenomenon.
How to Use CBD Oil for Weight Loss

The options in the world of CBD oils are almost endless, but it is important to know a few things when seeking the best CBD oil for weight loss. As with any product, check to make sure it is safe before using. The best CBD oils will have information (usually on the company's website) regarding up-to-date test results that show every compound that is in the oil. Steer clear of anything with unknown additives or elements. The testing should be performed by a third-party laboratory that is an ISO 17025 accredited lab. Labs with this accreditation have been vetted for their operational competence.
Extensive research on CBD remains limited, but there are a few CBD weight loss studies that indicate the potential for appetite restriction. The most promising was published in 2016 and examined how CBD affects cells that store fat in humans. CBD appeared to help some fat cells burn more energy and store less fat. Martin Lee of the California nonprofit Project CBD claims that his group's analysis shows that CBD counteracts the appetite enhancement that often comes with THC intake. Various studies on rats and mice have indicated that when CBD interacts with CB2 receptors in the body, appetite is suppressed.
MCT and CBD
One type of oil that can be found in some CBD oils and might assist with weight loss is medium-chain triglyceride (MCT) oil. MCT oil increases the release of the hormones peptide YY and leptin that prompt a feeling of fullness in the body. It may also help increase the growth of "good" bacteria in the gut which can help with weight loss. MCT oil has also been shown to increase the calories and fat that overweight men burn and has a role in decreasing cholesterol.
It is important to note that just like the way in which CBD has improved the lives of those suffering from other ailments, there is no concrete scientific proof that CBD on its own will make you lose weight; there are myriad other factors that may or may not contribute to weight loss thanks to CBD. The evidence is, however, anecdotally positive.
CBD Products That May Help with Weight Loss

Made from carefully selected American-grown hemp. Broad Spectrum CBD Oil Tincture.
Broad-Spectrum CBD with Organic MCT Oil. Vegan and Non-GMO. Available in Mint, Orange Cream and Cherry.
Full-Spectrum, Organic Hemp CBD Oil and USDA Organic, Non-GMO MCT Coconut Oil. Organic, Pesticide-Free, Non-GMO and Vegan. Made with hemp grown in the Northeastern United States.
Refined Broad-Spectrum Oil from Oregon-grown Hemp. Contains MCT Oil, Natural Flavor and Terpenes. Available in Mint, Citrus, Natural, Strawberry and Cookies & Cream flavors.
Contains MCT Oil, Naturally Occurring Cannabinoids and Soft Gel Casing (Gelatin, Glycerin, Purified Water). Full Spectrum may contain up to 0.3% THC. Convenient soft gel consumption.
Remember that a regular exercise routine is a significant part of losing weight. Please also note that prior to trying CBD products for weight loss you should consult your doctor to ensure that this method is right for you.
Do you use CBD to lose weight? Have you had success? Take a second to share your story in the comments section below!