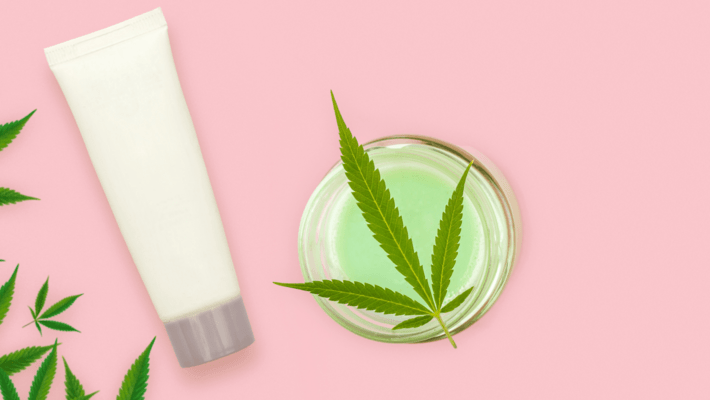 Cannabis Topicals: Best Uses, Benefits & If You Should Try
Medical cannabis products have come a long way in the past two decades or so. Long gone are the days when your only option at the dispensary was to pick up some dried cannabis flower to smoke. These days, cannabis is legal in some form in states across the U.S. more than it's not. That's why today you can get a massive variety of products like edibles, tinctures, capsules, concentrates, and perhaps the most convenient and simple option of them all, cannabis topical creams.
While it might sound too good to be true for many who are unfamiliar with the medical cannabis industry, cannabis topicals can provide targeted, simple-to-dose relief from what ails you. Whether it's aching and sore muscles after a hard workout, dulling the pain via spot relief from chronic conditions, or even just to reduce anxiety and stress, using cannabis topically has been a lifesaver for many.
With that in mind, however, many still might have questions about topical cannabis. For example, how exactly do cannabis topicals work? What's the science behind them and why are they so effective? What is the difference between CBD topicals and THC topicals?
This article is going to break down how and why topical marijuana is so effective, how to use it to its fullest potential, and which products on the market today are worth spending your hard-earned money on in the first place. Let's get right into it, shall we?
How and Why Cannabis Topicals Work
At the end of the day, topical cannabis products work the same way as any other form of cannabis. It gets into your bloodstream, interacts with your endocannabinoid system, and binds to receptors throughout your body to ease pain and discomfort quickly and easily. The key difference is that instead of those cannabinoids absorbing through your body via the lungs for smoking or vaping or through the lining of the stomach like with edibles, topical cannabinoids absorb through the surface of the skin it's applied on.
One of the key advantages of topical cannabis is targeted relief. If your knee or shoulder is sore, then you can apply the topical to each and experience relief. If you were ingesting cannabis via smoking, vaping, edibles, or a capsule, it's more of a full-body approach to treating the pain.
Another key advantage of cannabis topicals is that typically you'll get all of the pain-numbing effects without any of the high often associated with other THC-rich cannabis products. There are a few key reasons for that.
Firstly, the THC in cannabis topicals primarily binds with the CB1 receptors in the muscle, skin, and nerve tissues of the body parts they're applied to. That means you'll get all of the pain and inflammation reduction without the high. That's great news for those looking for relief without wanting to be couch-locked and in search of munchies.
There are also topical CDB options, which tend to work slower and be a little bit less effective than THC-rich products but offer a more widely legal alternative than THC-rich products to consumers.
Topical Cannabis Products You Should Try
Now that you understand how and why topical cannabis products can help you, we here are Where's Weed want to provide you with a handy list of some of our favorite options on the market today.

When it comes to cannabis topicals, Dr.Solomon's has a little bit some something for everyone. Not only do they offer powerful THC-rich creams in 200mg doses, but they also offer a 1:1 THC to CBD ratio cream that absorbs deep into layers of the skin and provides lasting relief from aches, pains, and soreness.
Available at a dispensary near you in states like Nevada, Florida, Pennsylvania, Ohio, and Illinois, Dr. Solomon's transdermal creams are some of the finest topical cannabis products on the market today.

This Denver, Colorado-based medical cannabis company makes some of the best topical cannabis products on the market today. While the brand offers a bunch of different products on their website, we want to highlight their unique topical patches.
Available in different options like THC indica and sativa, 1:1 CBD and THC, or even just CBD, CBN, or THCa patches, these products are easy to use and apply without the mess often associated with topical cannabis creams or oils.
If you're looking for a simple or effective way to dose your topical cannabis without the mess, these patches are a great option.

One of the most well-regarded and best-selling medical cannabis brands on the market is Papa and Barkley. They offer 1:1 topical cannabis cream products, 1:3, 3:1, and CBD only doses. Simply put, they have a little bit of something for everyone.
The one product we want to highlight here, however, is their relief body oil. Infused with full-spectrum cannabis sativa hemp oil, this product shows exactly how powerful and effective CBD can be in easing aches, pains, and anxiety.
When it comes to topical cannabis oil uses, this product is clearly one of the best.

For the last entry on our list, we want to highlight a CBD-only product that's powerful enough to effectively treat any aches and pains you'll come across. The best part is that since CBD is legal throughout the U.S., you'll be able to buy this product and get it no matter where you live. After all, not everyone can risk having some THC pop up on a work-mandated drug test, right?
This topical CBD stick with 500 mg of CBD and filled with products to nourish cracked and dry skin, and revitalizes muscles and joints. This organic CBD salve is a great THC-free way to get the most out of your topical cannabis products.
Have you used cannabis topicals before? Share with us your favorite brands and products in the comments below!