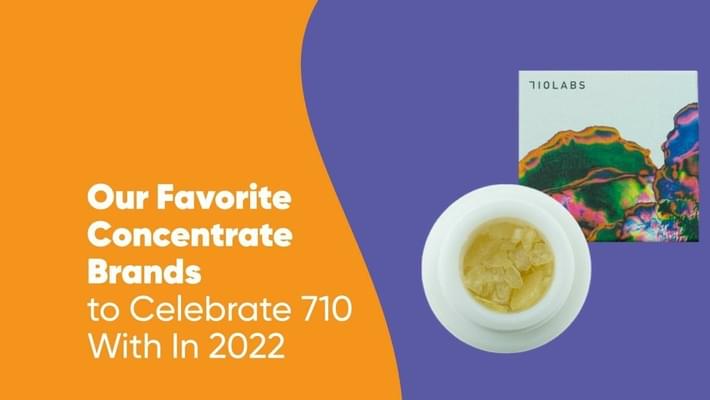 Our Favorite Concentrate Brands to Celebrate 710 With In 2022
You've most likely heard of 420, but have you heard of 710? If you haven't heard of it yet, you soon will. 710 is picking up a lot of steam in the cannabis community and is on a trajectory to be just as big of a cannabis holiday as 420. In preparation for the quickly approaching 710, we're here to give you a rundown on the best brands to elevate your celebration. Let's first take a quick look at what 710 is, why you should celebrate it, and then go over some of the best brands for enjoying the second-biggest cannabis holiday of the year!
What Is 710?
710 occurs every year, go figure, on July 10th. One of the reasons it isn't as well known as 420 is because it's much newer - it was first celebrated in 2011. And unlike 420, which is a celebration of all cannabis, 710 is a day to specifically celebrate and use cannabis oils. That's why it's called 710 - if you turn 710 upside down, it looks like it spells out OIL. Over the years, this means 710 has become a holiday primarily dedicated to one type of cannabis consumption above all others: dabs.
Unlike 420, the origins of 710 aren't entirely known. Some sources, like this interview with Leaf Online, claim that the rapper TaskRok of Highly Educated started 710 with some friends when they wanted a different day to celebrate weed other than 420. However, this is unverified, and TaskRok has said that he doesn't want to take credit - that it's now a celebration for the whole community to enjoy. What we do know, however, is that it's enjoyable to celebrate, and there are a lot of unique brands to help you do so! From dabs to tinctures, a large variety of fantastic cannabis oil products from some of the best concentrate brands will elevate your 710 experience.
The Best Concentrate Brands for Celebrating 710

With dispensaries in California, Colorado, New Mexico, Oklahoma, Ohio, and Washington (and coming soon to Florida!), 710 Labs is a prolific source of high-end cannabis. While they offer flower, pre-rolls, and vapes, we're interested in their oil. They have solventless and solvent-based hashes and rosins that provide some of the best dabs you can find. These award-winning artists are dedicated to making the best small-batch product on a large scale. They stand out for many reasons, but the biggest is likely the line of exotic strains they gather from some of the world's best breeders.

Built on the belief that solventless hash is a source of healing, creativity, wellbeing, and interconnectedness, Lazercat is a single-source, in-house team of artists working out of Colorado. This award-winning brand is known for its premium concentrates, which include their crystal water hash, live rosin, rosin badder, and rosin lava, all of which are produced from slightly different, solventless methods. They even have solventless rosin cartridges for those wanting to vape high-end hash.

This is easily one of the best concentrate brands Colorado has to offer. Founded in 2020 by two Cuban-American brothers, this family-owned business makes some of the best cold-cured rosin pearls on the market. They source incredibly high-quality flower from various cultivators across the state and only produce solventless extracts. Their mission is to keep it real and maintain small-batch focus and quality to keep being some of the best in Colorado. They've recently partnered with Dialed In Gummies (which you'll also see on our list!) to increase distribution while maintaining quality.

Based out of - you guessed it - Oakland, California, this high-end cannabis producer is available throughout the state but started with humble origins and the belief that the Oakland community should also have access to high-end hash. Their success comes from using small-batch, local cannabis and has resulted in award-winning hash, including their famous Cookie Crumble wax. Their Cookie Crumble is perfect for dabbing, but they also offer other concentrates like badders, sugars, diamonds, live resins, and live resin cartridges for people who want the convenience of a vaporizer.

Based out of Colorado, Dialed In Gummies offers some of the highest-quality gummies in North America. They partner with over 70 local companies and cultivators (including Soiku Bano as listed above) to create a variety of gummies, including liquid gummies and live rosin gummies (which come in both medical and recreational batches). They're located in over 360 dispensaries throughout 74 Colorado cities, and their mission is to create the best extracts on the market and keep the local cannabis scene alive with collaborations.

One of the best concentrate brands California has to offer, Stiizy is a producer of high-end hash and owns over a dozen premium dispensaries under the same name. Few cannabis brands can provide both the dispensary and the product, but Stiizy does it beautifully. They also have their own line of vapes and live resin pods, but if you're on the hunt for live rosin badder, jam, or diamonds for dabbing on 710, you don't need to look any further. They aim to improve California communities and produce the highest quality cannabis available. A great company with great weed.

This California cannabis company's mission is simple but uncommon: find cleaner ways to use cannabis. They pride themselves on creating the first distilled cannabis product and have since worked to expand their products to include a variety of flavors and consumption methods. They now have cartridges and vapes, syringes, pre-rolls, CBD oils, and what we're most interested in for 710: honey buckets. This highly-refined, award-winning concentrate comes in 17 different flavors and is one of the best ways to celebrate cannabis oils.

Jungle Boys has four retail stores across the United States - three in California (Los Angeles, Santa Ana, and La Mesa) and one in Ocala, Florida. You can also find their products in dispensaries throughout California, all of which we highly recommend. They offer high-end full melt (water hash), live resin, flower, pre-rolls, and gummies. If you want to try some incredible hash but also participate in a massive cannabis community and game-changing brand, make sure to give Jungle Boys a try.
Do you celebrate 710? Let us know your favorite 710 oil brands and products for celebrating this cannabis holiday! Comment below.