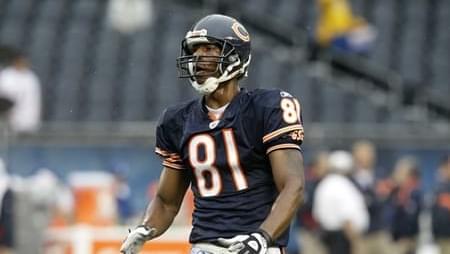 Chicago Bears Football Player Arrested on Drug Charges
Chicago Bears football player, Sam Hurd, was arrested late Wednesday night on suspicion of trying to negoicate the sale of large amounts of cocaine and marijuana on a weekly basis. This investigation began in Texas where $88,000 in cash was found in one of Hurd's vehicles.
CHICAGO — Bears wide reciever Sam Hurd was in federal custody Thursday after
authorities accused him of trying to set up a drug distribution network in the Chicago area and arrested him after he allegedly agreed to buy a kilogram of cocaine from an undercover agent.

According to the federal complaint, Hurd was arrested Wednesday night after meeting with the agent at a Chicago restaurant. The complaint contends Hurd told the agent that he was interested in buying five to 10 kilograms of cocaine and 1,000 pounds of marijuana per week to distribute.

Hurd told the agent "his co-conspirator is in charge of doing the majority of the deals" while he focused on "higher-end deals," the complaint said. He allegedly said he could pay for the kilogram of cocaine after "he gets out of practice," then walked out of the restaurant with the package and was arrested.

The complaint alleges that Hurd also told the agent that he and a co-conspirator already distribute about four kilos of cocaine a week in the Chicago area, but his supplier couldn't keep up with his demands.

He was scheduled to make his initial court appearance later Thursday. It wasn't immediately known whether he had an attorney and his agent, Ian Greengross, did not immediately return a message.

The Bears said the team is aware of Hurd's arrest and is gathering details about what happened. "We are disappointed whenever these circumstances arise. We will deal with them appropriately once we have all the information," the team said in a statement.

Hurd, a 26-year-old native of San Antonio who played college ball at Northern Illinois, played for five seasons with the Dallas Cowboys and is now in his first season with the Bears. He has contributed mostly on special teams, playing in 77 games overall with six starts and two career touchdowns. He has played in 12 games this year, catching eight passes for 109 yards.

The complaint says an informant tipped off authorities in Texas in July, leading to an investigation in which an unidentified acquaintance of Hurd's "negotiated" for approximately five kilograms of cocaine on the player's behalf.

The Bears agreed to a three-year deal with Hurd that was announced on July 29 — the day after federal authorities say he had agreed to a "consensual interview" with Homeland Security investigators over $88,000 in cash that had been seized in a car he owned in the Dallas area.