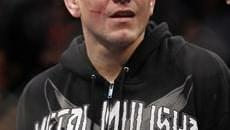 MMA Fighter Nick Diaz Tested Positive for Marijuana
MMA welterweight Nick Diaz has tested positive for marijuana, yet again. This after he tested posted back in 2007 after a fight. Diaz, who lost in Las Vegas last weekend will not be able to get a rematch for thi latest fight anytime soon. It has not yet been determined what punishment will be handed down from the UFC.
Even if welterweight Nick Diaz wanted another shot at the man who beat him in the
Ultimate Fighting Championship last weekend, another marijuana-related incident means he won't get it.
Tests conducted for last Saturday's UFC 143 show in Las Vegas showed the presence of marijuana metabolites in Diaz's system, the Nevada Athletic Commission said Thursday. It's the second time for Diaz, who tested positive for the drug following a 2007 bout in Las Vegas.
A specific penalty for Diaz won't be decided until a hearing that probably will take place in April, said Keith Kizer, executive director of the Nevada commission.
Diaz lost a unanimous decision to Carlos Condit in last weekend's main event. UFC hoped to put together an immediate rematch for the close fight, especially after Condit agreed to a sequel.
But Diaz's manager and lead trainer, Cesar Gracie, earlier this week dismissed the notion while hinting at his fighter's inability to compete any time soon. "Condit has accepted the rematch because he knows there's not going to be a rematch, bottom line," Gracie told USA TODAY on Wednesday.
UFC 143: Condit comes full circle
GREG JACKSON: 'Sometimes you get a technical masterpiece'
Currently the No. 2 welterweight in the USA TODAY/SB Nation consensus rankings, the enormously talented Diaz has seen his career interrupted multiple times by drug tests.
Nevada suspended him for six months following the February 2007 showdown with Takanori Gomi, who tapped out to a rare gogoplata submission. The official result of the fight was changed to a no-contest.
The California State Athletic Commission in August 2009 refused to license Diaz for a Strikeforce title fight after he did not appear for a drug test ordered on short notice. Diaz's camp thought it had a handshake deal with California regulators that precluded random testing, Gracie said at the time. Diaz normally needs 10 days to flush his system of marijuana to ensure that he passes drug tests, Gracie said.
Diaz has been a headache in other ways for his promoters. His history includes a few brawls after fights, a pair of skipped press events, frequent tardiness on conference calls and a several missed flights. Yet Diaz wouldn't be a problem if he would simply "play the game" by observing commonly accepted rules of behavior, said Dana White, president of UFC and Strikeforce parent Zuffa.
In a brief statement Thursday, White described himself as "beyond disappointed" by the positive test result, but left sanctions up to the Nevada commission.
For beating Diaz, Condit became UFC's interim welterweight titleholder while 170-pound champion Georges St. Pierre recovers from a knee injury. St. Pierre doesn't expect to return until October or November, so UFC hoped to set up another bout for Condit rather than keep him waiting for several months.
A rematch with Diaz could have been a lucrative event for the promotion, especially given the controversial decision last Saturday. While UFC President Dana White and other observers scored the bout for Condit, several MMA pros disagreed, including UFC fighters Dan Henderson, Josh Neer and Joe Lauzon, as well as former UFC champion Pat Miletich. UFC broadcaster Joe Rogan also viewed Diaz as the winner after watching the fight again.
But this week's incident likely means another suspension for Diaz. While that ruins UFC's hopes for another Condit-Diaz fight, it might have little effect on the near-term plans of Diaz.
Immediately after the scores were revealed in favor of Condit at UFC 143, Diaz expressed disgust at the judges' decision and announced his intention to retire from the sport. Although Gracie believes Diaz will return to fighting eventually, the fighter might need a temporary break from competition, the trainer said.
Diaz has been a vocal advocate of marijuana use for years.
"I think smoking pot is good for mixed martial artists," Diaz told Sherdog.com in September 2007. "I'm going to tell all you fighters out there something right now, from my experience: If you have friends that you get high with, get them to train with you."