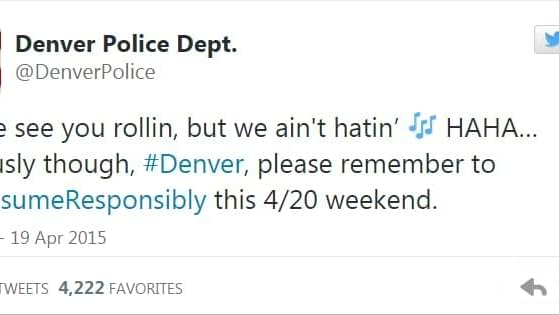 Denver Police Tweet Supportive Marijuana Message For 4/20 Rally
Denver, Colorado hosted a 420 marijuana festevial this weekend in celebration of what's come to be "Weed Day" (April 20th). Roughly 125,000 people atteneded the weekend event, and though state law does not allow public smoking, law enforcement only issued 160 citations and the rest were friendly reminders to consume responsibly. This just goes to show that as long as the police are there to protect citizens rather than enforce a war on drugs, that hell will not break loose, people will not die, and overall everyone will have a great time in a safe environment.
Although private recreational marijuana use has been legalized in the state, public consumption of the drug is still illegal. However, it does still occur, especially at large events. Denver police generally make enforcement of that law on 4/20 a low priority and target only the most egregious offenders.