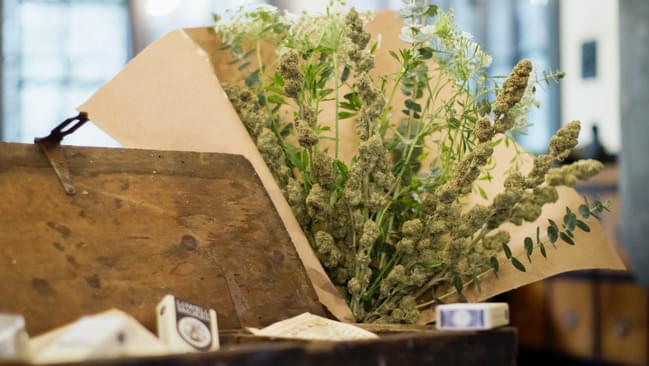 Send your sweetheart a marijuana bouquet this Valentine's Day
Valentine's Day is only 2 short weeks away and the clock is ticking to order your sweetheart a bouquet of their favorite flower, marijuana. No, not just any bag of pretty green buds, but an actual bouquet of ready-to-smoke cannabis on a full stem, elegantly arranged alongside wildflowers, eucalyptus, and other greens for a beautiful and fragrant surprise. This unique arrangement of flowers can be found at Lowell Farms in Los Angeles, where they use organic fertilizer, no synthetic pesticides, all natural materials, and they even pay their farmers a livable wage. The cannabis bouquet runs $400 for 1 full ounce of the strain Purple Princess, but if you're looking to spend a little less, Lowell Farms will also have more traditional gifts for your occasion.
Forget lingerie, candy and boring flowers; this Valentine's Day, give a gift that truly keeps on giving. Lowell Farms is offering a $400 bouquet of cannabis stems, available for delivery anywhere in Los Angeles on February 14 (and by anywhere, we mean to any patients with a verified doctor recommendation).