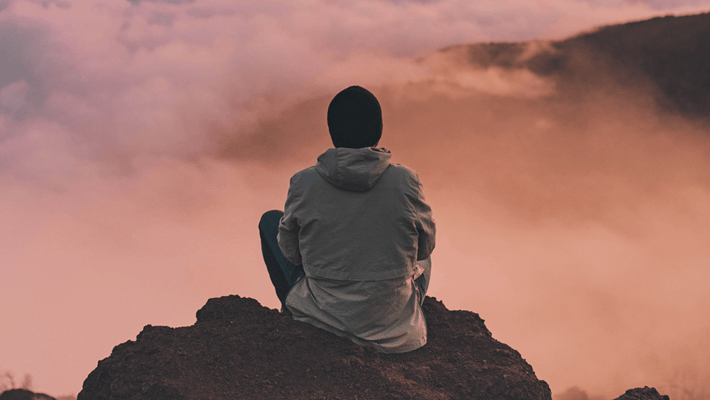 Marijuana & Meditation: A Beginner's Guide to Cannabis Meditation
Undoubtedly, right now is a stressful time in America. With the pandemic, 2020 Election and social justice issues taking over news cycles, it's incredibly normal to feel anxious about the future. When these feelings begin to overwhelm you, what should you do? Well, one of our favorite solutions is to take some time to roll a joint and meditate with weed.
Cannabis and Meditation: A History

For thousands of years, numerous different cultures have practiced mindfulness and meditation as a way to connect with themselves and the present. Normally, our minds race with several different thoughts, but when you learn to meditate, you learn mindfulness and to focus only on what you choose.
According to Mayo Clinic, if you are feeling stressed and anxious, regular meditation has several reported emotional benefits including:
New skills and perspectives for stress and stressful situations
Increasing self-awareness, imagination, creativity, patience and tolerance anxiety
Focusing on the present
Reducing negative emotions
Relief from well as physical symptoms of illnesses, such as:
Asthma
Cancer
Chronic pain
Depression
Heart disease
High blood pressure
Irritable bowel syndrome
Sleep problems
Tension headaches
Combining marijuana and meditation also dates back thousands of years with roots in Himalayan Buddhist cultures. Since then, other parts of the world have also come to believe that the combination of cannabis and meditation brings the user to a state of "profound stillness." Admittedly, you're probably wondering how you arrive at that state?
How to meditate with weed?

When it comes to cannabis meditation, the rules don't differ too much from regular meditation. Just merely smoke your desired marijuana strain a few minutes before your typical meditation session and wait for the effects to set in. Pack a bowl, maybe roll a joint? Consume marijuana in whatever way your heart desires.
First, find a relaxing place to take a seat and begin your meditation session.
Next, set a time limit. Start with a smaller period of time (i.e- 5 minutes per day), and work your way up to something larger.
While sitting in a stable, comfortable position close your eyes and begin to solely focus on your breathing. Inhale for a few seconds, exhale for a few seconds.
If your mind begins to wander back to your problems, do not worry. Simply return to focusing on your breathing. Be kind to yourself, as it takes some practice to be able to keep your mind off of other things for long periods of time.
Finally, when you're ready to finish, slowly open your eyes. Take notice of the environment around you, how your body feels, thoughts and emotions now surrounding you.
That's it... really!
How to Deepen Your Meditative State
So how do you feel the profound stillness? By just focusing on your breathing, you are able to diminish negative thoughts and other unhealthy patterns of thinking. Cannabis and meditation work together in unison to create the perfect calming effect to deepen your meditative state.
The endocannabinoid system serves as the bridge between your body and your mind since our brain contains cannabinoid receptors in areas related to thought, behavior and mood. When the cannabinoids in cannabis attach to the cannabinoid receptors in the brain, they can bring along weed's typical euphoric and relaxing effects on the body and mind.
Unfortunately, some people may feel an increase in anxiety after consuming different cannabis strains with different cannabinoid ratios. Therefore, it is important to find the correct strain for your own particular meditative journey.
Best Marijuana Strains for Meditation

You might be wondering, what are the best marijuana strains for meditation and achieving mindfulness? Of course, that depends on the type of meditation work that you want to do.
One way to understand your expected smoking experience is by looking at the different terpenes in each strain. Terpenes are the various aromatic oils and color varieties found in cannabis strains. Similar to other strong-smelling plants, the development of terpenes came from the evolutionary purposes of attracting pollinators or deterring predators.
The effects of terpenes can vary anywhere from calming to energizing. While there are 100s of different types of terpenes, here are some best types to look for cannabis meditation:
Myrcene is a blue terpene known for its calming effects and found in strains like Granddaddy Purp, OG Kush and Cherry Pie.
Limonene is a yellowish terpene best known for stress and anxiety relief and present in White Fire OG, Do-Si-Dos and Wedding Cake.
Linalool is a purple-colored, floral terpene best known for its calming and mood enhancing effects and strains like Do-Si-Dos or Kosher Kush.
Pineine is the most common terpene in the natural world, useful for pain, inflammation and anxiety. This is a green terpene and found in Snoop's Dream and Critical Mass.
Using CBD oil for Meditation

Cannabinol, or CBD, is one of the natural ingredients in marijuana products that reduces pain without giving users the mind-altering feeling of being high, making it legal in all 50 states. Therefore, those who feel an increase in anxiety after smoking marijuana should probably look for strains with a higher CBD and lower THC percentages in order to minimize those feelings.
Using CBD oil for meditation has several different benefits, including pain relief, reducing depression and anxiety, and other medical-related issues like Cancer, neurological disorders or even acne.
For years, both marijuana and meditation have been fan-favorites to reduce anxiety, depression and other physical symptoms of stress. With so much happening in the world right now, it's easy to let stress overwhelm us about what will happen next. Combining cannabis and meditation will allow you to feel the stillness that the ancient cultures spoke of for mental and physical wellbeing.
Do you like to meditate with marijuana or CBD? Let us know your favorite tips in the comments below!