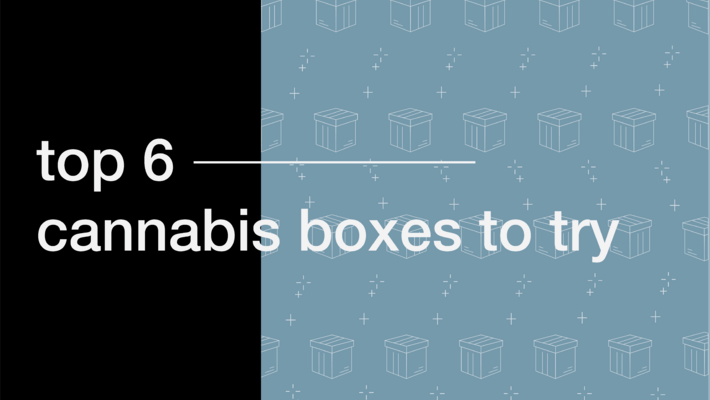 Top 6 Cannabis Subscription Boxes to Try
It's hard to watch TV or scroll through Instagram these days without an ad for a new subscription box popping up. Just off the top of our heads we can think of boxes for soap and shower products, cheese, meal prep, men's and women's health care, chocolate, and wine, even going as far as sending live plants to you via mail. These boxes are packed with surprise goodies and delivered straight to your door for a monthly fee. While many people are still currently staying home due to COVID-19, it's no wonder that these subscription services have gained massive popularity for their convenience and practicality. In fact, the subscription box market grew 890 percent from April 2014 to 2018 and is continuing to expand. In the age of Amazon next-day deliveries, food delivery services like Uber Eats and Grubhub, and more people than ever looking for convenience as part of their customer service experiences, this massive growth should come as a shock to nobody.
After all, what's better than receiving a box filled to the brim with surprise goodies every month? You guessed it - getting a weed-themed subscription box. You may be wondering, can you even mail weed? Unfortunately, since marijuana remains illegal at the federal level, no actual cannabis flower and cannabis products with THC levels above .3 percent can be shipped across state lines.
Instead of letting this deter them from joining in on the monthly delivery mania, however, marijuana businesses sought out other ways to elevate a weed connoisseur's smoking experience while simultaneously abiding by the law. A typical 420 box may contain blazing accessories like lighters, grinders, rolling papers, and even glass pieces. Some even include CBD products that fall below the .3 percent THC limit. With so many different cannabis subscription boxes on the market to pick from, it might be somewhat overwhelming trying to choose. Have no fear, we here at Where Weed are here to help you decide on the best stoner subscription box for you, which ones give you the most bang for your buck, which ones stand out from the ever-growing crowd collecting in the legal cannabis space.
So with that in mind, here are a few of the best weed box subscriptions you'll find anywhere on the internet!

Best Weed Subscription Boxes of 2020
Have you ever tried any of these cannabis boxes before? Which one was your favorite and why? Tell us more in the comments below!