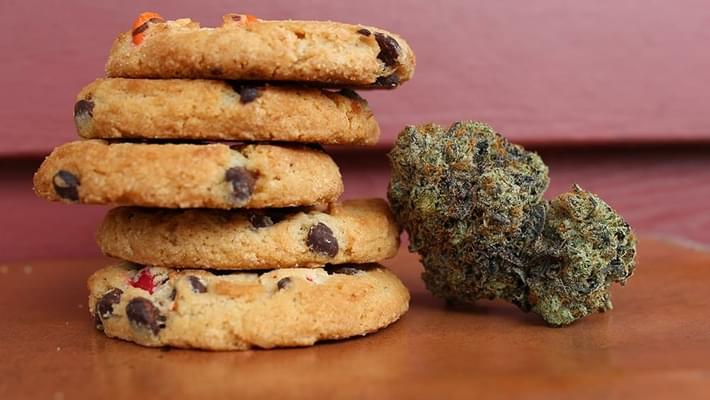 Top Vegan Cannabis Edibles Across the Country
For most people, the mention of cannabis edibles immediately conjures images of magic brownies and heavy-handed chocolate chip cookies. These days, though, THC-packed edibles have gotten a lot more creative than these classic confections. As adult-use and medical legalization spread to new states every year, licensed edible producers have expanded past classic sugar and fat-focused baked goods. From infused salad dressings and cold brew coffee to dinner parties featuring CBD and THC-laced food, the new era of marijuana edibles is filled with endless options and opportunities.
When it comes to sweet treats with a cannabis kick in 2020, perfectly dosed desserts can now get you stoned without adding a sugar high or consuming animal byproducts. That's right, whether it's pastries, gummies, or chocolate bars, there are a variety of vegan weed edibles available at dispensaries across the country. Now, you may be asking "Is weed vegan?" and the answer is a resounding "Yes!" But all edibles are not made equally, and some cannabis-infused goodies are packed with non-vegan ingredients like milk and eggs.
Just like the progress in the cannabis edibles industry, Americans across the country are routinely rejecting diets heavy in meat and dairy in favor of plant-based vegan lifestyles. In just five years, US interest in veganism has more than doubled. To match that popularity, companies big and small are ditching the dairy, eggs and honey to cater to health-focused vegans. For cannabis companies, that means producing vegan pot cookies and other vegan marijuana edibles. But how do you know if your favorite THC munchies are cruelty-free? We've got you covered. These are our 10 favorite vegan edibles from legal weed states across the nation.

If you're looking for a vegetarian gummy that is fully vegan, packed with flavor, high in THC, and available in multiple states, Wana is the brand for you. Focusing on sweet gummies, Wana offers a variety of vegan treats in THC-dominant, CBD-dominant, and ratioed options in nearly a dozen different flavors like yuzu and blood orange, as well as classics like raspberry, mango, and watermelon. And no matter what part of the country you're in, Wana's products are probably close by. Instead of just one or two states, Wana's vegan gummies are currently available in both recreational and medical dispensaries in Arizona, California, Colorado, Illinois, Michigan, Ohio, Oklahoma and Oregon.

Sometimes, you want a vegan edibles recipe that comes without eating sweets. That's where Kiva Confections' Petra Mints come in. Low-dose Petra Mints are perfect after your morning coffee, in-between meals, or on your way to post-work happy hour. In addition to being fully vegan, Petra Mints are made using the all-natural plant-based sweetener xylitol. You can find Petra Mints in flavors like Moroccan Mint, Citrus, Saigon Cinnamon, Pineapple, and Tart Cherry. Kiva Confections is a longtime mainstay in California's legal cannabis industry, but the brand can now also be found in Arizona, Nevada, Illinois and Michigan.

If decadent baked vegan baked goods are your edible of choice, look no further than Utopia Cannabis. Based in California, Utopia produces a full line of top-shelf flower, concentrates, and of course, edibles. And instead of chocolate chip or oatmeal cookies, Utopia specializes in THC-infused french macaroons that are vegan, gluten-free and non-GMO.

Korova is a California and Arizona-based cannabis company known for its extremely potent edibles - we're talking 1,000mg of THC in one package - but the brand has also dipped its toes into vegan sweets. Currently, Korova's most popular vegan offering is a pack of mini vegan oatmeal cookies boasting 10mg of THC per piece.

Highly Edibles are 100% vegan gummy edibles sold by the Colorado brand CannaPunch. In addition to fruit punch, CannaPunch produces a variety of infused edible products, including THC Stroop Waffles and cannabis-heavy coconut oil ready for cooking at home. If you're looking for a ready-to-eat vegan treat, though, Highly Edibles gummies offer a sublime high with 100mg, 250mg, and CBD/THC ratio candies that are flavored with all-natural fruit juice. In addition to their home state of Colorado, Highly Edibles are now available in Nevada as well.

If you're a fan of the early morning wake and bake, Somatik's cannabis-infused cold brew coffee is the perfect product for you. A great vegan addition to your oat or soy milk, Somatik cold brew is available throughout California in 10mg THC and 5mg THC/5 mg CBD varieties, giving every level of cannabis user a quick and easy way to add a new jolt to your morning cup of joe.

Verdelux is a Washington-based cannabis candy company with a focus on high-end vegan cannabis edibles like chocolates and jelly gummies. For a full-strength THC experience, try a 10mg Lumen hard candy, or for a 1:1 ratio of THC and CBD grab a Bon Bomb Orange Chocolate Bar or a Lush Ginger Geach Gummy. No matter which Verdelux edible you go for, your high will always be vegan and voracious.

Yet another West Coast mainstay, Lunchbox Alchemy's infused edibles can be found in both California and Oregon. For an all-vegan experience with a little tart, reach for the brand's 5mg Tangos sour gummies. Each puckering piece is made with plant-based ingredients and come in unique flavors like Key Lime and Blood Orange.

Incredibles has been a big player in Colorado's cannabis industry since shortly after legalization kicked off, but it took until 2019 for the brand to release a vegan option. Now, as Incredibles expands out of the Centennial State into Florida, Illinois, Massachusetts, Nevada, Oregon, and Puerto Rico, the company is offering customers a vegan fruit tart option that is already raking in rave reviews in Colorado.

Tired of waiting up to an hour for your favorite edible to kick in? Kanha's Vegan Nano Gummies have you covered. Packed with 10mg of THC in each candy, Kanha's nanomolecular technology allows THC to enter your system almost as fast as smoking or vaping. You can find Kanha's fast-acting vegan treats in orange and lemon flavors at your favorite California dispensary.

Of course, we couldn't complete this list without adding our favorite CBD-only edibles. These strawberry CBD gummies from CBD Infusionz contain 600 mg of CBD, 1500 mg of Elderberry Syrup, 1500 mg of Vitamin C, 150 mg of Vitamin E and 15 mg of Vitamin B6, all working in harmony to boost your immune system while still providing those your favorite CBD benefits.
Did we miss your favorite vegan edible? Let us know in the comments below!