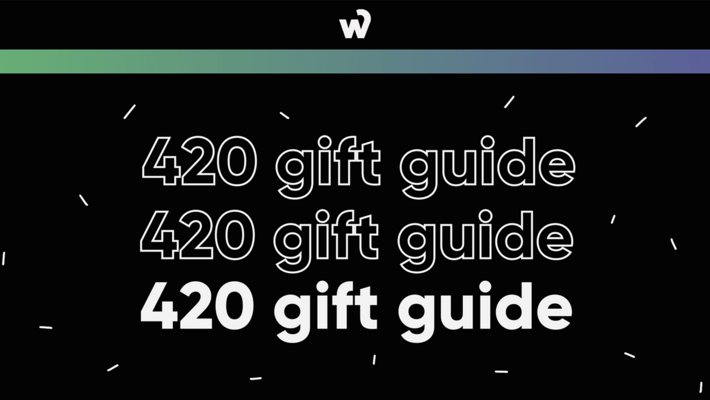 420 Gift Guide: The Best 4/20 Gifts for Any Stoner
420 is one of our favorite holidays of the year. At its best, it's a celebration of marijuana and cannabis culture that we get to enjoy with friends and family. There is so much to celebrate these days surrounding cannabis, including the ongoing legalization, new social equity programs and awareness bringing diversity to the industry and better marijuana becoming available on the legal market every day. With so much to celebrate, 420 presents an excellent opportunity to gift some special cannabis joy. Here's a list of our top 7 cannabis gifts to give (and receive!) for 420 and some brief history behind the holiday, including the 420 meaning and where it all began.
A Brief History of 420
Many people celebrate this special holiday every year enthusiastically, but what does 420 mean? Where did 420 come from? Well, the answer is a lot simpler than you may think. The origin of 420 is set in the early 1970s in San Rafael, California. Five athletes who attended San Rafael High School in 1971 got wind of a rumor that a small cannabis crop was hidden in a nearby forest. Every day at 4:20 PM, after their respective sports practices, this group of teens (known as the "Waldos") would meet to search the Point Reyes Forest for the elusive stash. While the Waldos never did find the crop, their use of 4:20 as a code for getting high has had a much larger impact than they could have ever known. The group of teens happened to have several ties to the Grateful Dead, who picked up on the group's 4:20 term. Eventually, this led to the diaspora of the phrase across the world making 420 now synonymous with marijuana. Since the phrase first blew up, festivals, concerts, public gathers and tons of independent celebrations have helped cement 4/20 as the ultimate cannabis holiday we know today.
The Best 420 Gifts of 2021
420 means something different to everyone! So there is no one right way to celebrate or one "right' gift. The seven gifts we chose range from water pipes for getting high to CBD gummies to chill out. Let's take a look at each of these 420 gifts.

Price: $299.99
This revolutionary piece of kitchen technology is the perfect gift for anyone who enjoys cooking with cannabis. The LEVO II is an herbal infuser that, yes, works with marijuana. Whether you want to create cannabis-infused dressings, cannabutter or even topical creams and candles, the LEVO II is a restaurant-level infuser capable of easily making it happen. Want to change the way you cook? Consider investing in the LEVO II if you want a happy 420!

Price: $26.99
CBD has been reported to have a lot of medicinal benefits, from reducing stress and anxiety to helping ease symptoms of epilepsy and minimizing chronic pain. If you or someone you know uses CBD on the regular then no gift is better than the convenience offered from this CBD tincture. It's full-spectrum, so you're not missing out on any of the essential aspects of the original hemp plant and it's conveniently sized for portability and easy use. With the CBD Infusionz Full Spectrum Tinctures, your daily CBD intake becomes immediately simpler - a great gift for anyone on 420 not celebrating the psychoactive aspects of cannabis.

Price: $54.99
These CBD edibles are the perfect solution to a long day. Take these CBD-infused CBN fruit snacks right before bed and you should find yourself asleep in no time. Like the Full Spectrum Tinctures, these gummies provide an easy way to benefit from the medicinal properties of both CBD and CBN and are also delicious! This bedtime snack is vegan and comes with mixed flavors like Watermelon, Strawberry and Lemon. Regardless of whether you smoke weed, these gummies are worth trying out. There's no better time to give it a go than 420!

Price:$47.99
The Terpy J's Hemp Flower Kit is essentially a smoker's starter kit, ideal for anyone looking to join the cannabis community without getting high. This kit comes with an eight of an ounce of Terpy J's house hemp strain, a grinder, a glass pipe for smoking, a glass jar to keep your bud fresh and a lighter to start your smoke session. If you're looking to give the gift of cannabis to someone this 420, you should give this gift some real consideration.

Price: $69.00
420 may not be the most discreet holiday, but it's always nice to have somewhere to put your stash so that it's hidden away and doesn't make everything smell like weed. This smell-proof case is a portable solution for safe and discreet storage. The removable dividers inside provide up to 12 individual cubbies within the case so that everything, from your bud to your grinder and pipe, has a secure place to stay when not in use. This case is also waterproof and comes in three different sizes.

Price: $18.00
Stashlogix also has a game-changing home storage device called a Digital SmartJar. This jar's lid keeps your bud fresh and your home from not smelling like weed, but it also doubles as a digital humidity and temperature gauge. Depending on how much bud you have, you'll want to check out the small or large size. Additionally, you'll get a Boveda Pack to keep your jars humidity at that perfect 58-62% humidity level. If you want a new way to store your weed, consider this great little gift for this year's 420.

Price: $70.00
Sometimes the best gift is something you can wear, and who wouldn't want to celebrate 420 in style? Letter Shoppe has one of the best stoner hoodies on the market. It's comfortable, custom-designed, features the iconic front pouch and hood and sends a very 420-friendly message: "Pass Points Not Judgement." Spread the love of cannabis and share a little peace with this super-comfortable hoodie.
Where's Weed is hosting our biggest giveaway yet and you won't want to miss it! We're giving away over $1,000 worth of products from our friends at LEVO, Stashlogix, CBD Infusionz, Terpy J's and Letter Shoppe to celebrate our favorite stoner holiday. The best part is, all prizes can legally be shipped to all 50 states! Click here to find out more and enter to win!
Know any 420 gifts you think should be on our list? Let us know what your favorite cannabis products are and where we can find them, below. And, of course, happy 420!