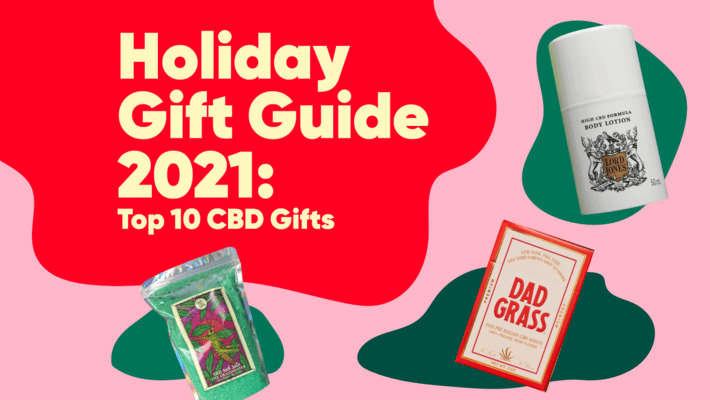 Holiday Gift Guide 2021: Top 10 CBD Gifts
With the holiday season approaching and the supply chain remaining a huge hurdle, everyone is on the hunt for a gift for that special someone this holiday season. With cannabis being as mainstream as it's ever been before and more people than ever using cannabis in some way, shape, or form, it only makes sense to give the gift of green this holiday season!
With that in mind, however, not everywhere in the country has access to legal cannabis quite yet. That's where CBD comes in! Cannabidiol (CBD) is one of the two most prominent chemical compounds found in cannabis, along with THC. CBD does not have the same psychoactive effects and will not get you high, but still has enough cannabinoid power to alleviate depression, anxiety, insomnia, chronic pain, inflammation, and even seizures. Because it's fully legal thanks to the passage of the 2018 Farm Bill, hemp-derived CBD products are legal everywhere in the U.S. That means no matter what ails them or where they live, you can send them a product packed with CBD to help take the edge off. As a result, CBD has become one of the hottest alternative medicines on the market and has been infused with most everything.
That's why we here at Where's Weed have assembled a one-stop guide of some of the best CBD products available on the market today for all of the loved ones in your life. Here are our top picks for this year:
Top 10 CBD Gifts for 2021

Price: $45
This soothing, all-natural CBD salve delivers a high dose of CBD directly onto the skin of the body part that most needs it. Designed to absorb into the skin quickly thanks to ingredients like shea butter, arnica oil, eucalyptus oil, and vitamin e, this salve stick is perfect for providing immediate relief exactly where and when it's needed most. The convenient and simple-to-use application makes this Mendi product about as simple and easy to use as putting on deodorant, making treating your various aches and pains with topical CBD as easy as it gets.

Price: $79.99
People who own dogs know how deep that bond is between pet and person. People will do anything and everything to make sure their furry friends are healthy and living their best lives. Just like people, however, as our pets age, we need to put more thought and care into taking care of them in different ways. For larger and medium-size dog breeds, that means prioritizing joint health and stress relief. That's where this hemp oil-derived CBD comes in! Each bottle contains about 300 mg of top-quality, full-spectrum CBD and essential omega-3 fatty acids, both of which give your pup a sense of calmness, relief from joint discomfort, and better overall wellbeing. With no real side effects, giving the dog owner in your life a gift like this is never a bad idea this holiday season!

Price: $105
This next entry on our list is the gift for someone who's been curious about CBD for a long time but has never quite taken the leap to officially try it. With this curated gift box from premium CBD brand Lord Jones, they can get a taste (literally) of the finer side of the CBD industry.
Each start kit comes with a box of nine Lord Jones Old Fashion Hemp-Derived Gumdrops, each packing 20 mg of CBD, a bottle of their High CBD Formula Body Lotion, available in three different fragrance options, and a 30 ml bottle of their broad-spectrum CBD tincture in either peppermint or lemon flavors.
Each of the products in the starter gift box is lab-tested for purity and consistency in dosing and is never formulated with ingredients like formaldehyde, parabens, phthalates, sulfates, or synthetic dyes.
This started box is a perfect gift for the person who has been wanting to try CBD but has never quite taken the leap themselves. This gift is a great way to get them started.

Price: $9
Perhaps the simplest and most discrete CBD product on our list this year, this lip balm is for the CBD lover who's looking to take better care of their lips. This skin-calming product is packed with phytonutrient-rich CBD along with the skin-conditioning power of coconut oil and castor seed oil to soothe and soften lips on contact.
Each tube contains about 20mg of CBD overall, every ingredient is 95 percent naturally derived, and every single one is free of GMOs, parabens, phthalates, formaldehyde, and artificial colorings.
This entry on our list is for the person who wants to use CBD to get more luscious, soft, and less chapped lips this winter!

Price: $66
The cannabis industry has changed a lot since our parents were kids. Back then, the weed they got was from some sketchy dude with long hair and a couple of plants grown under heat lamps in his spare bedroom. Today, our generation heads to the dispensary to buy some of the best grown, curated, and cannabinoid-rich cannabis products to ever exist. So it's only natural that our parents might need a little CBD and CBG-fueled buffer before being re-introduced to the really hard stuff. That's where Dad and Mom Grass come in.
These pre-rolled .7 g joints are packed with organic hemp-derived CBD for calming, soothing, and stress-relieving effects and are a great re-introduction to the legal cannabis industry for the Boomer generation.

Price: $65
This gift pack is perfect for CBD beginners! This bundle contains three top-notch CBD-infused incense scents and flavors to either burn in your living spaces like essential oils or smoke like regular old CBD flower. This gift package even comes with a combination incense burner and cannabis pipe for easy and convenient use.
This gift package is perfect for the earthy incense lover who's looking to take the leap into trying some CBD.

Price: $45
Baths aren't just for babies anymore. As older generations climb back into the tub thanks to the rise of bath bombs, newer and improved skincare trends, and bath salts that nourish your skin and have calming, soothing effects on your mind. So why not throw some top-quality CBD into the mix?
These handcrafted bath salts come from Colorado, one of the world's most developed and mature legal cannabis markets, and contain a perfect blend of Epsom salts, pure CBD, and other gorgeous fragrances. Each bag contains seven 100 mg servings of CBD and is perfect for unwinding after a long, hard day. Even better, this brand donates a portion of its profits every year to the Last Prisoner Project.

Price: $32
Getting high-quality sleep has never been more important than it is in today's day and age. That's where this next product comes in handy. This CBD-infused honey mixes perfectly into your favorite tea, hot water, or warm beverage of choice, melts away, and puts people to sleep thanks to a mix of CBD and CBN with a splash of melatonin.
Each jar contains 24 servings of CBD and CBN-infused honey, is high in antioxidants, and has powerful anti-inflammatory properties along with its sleep-inducing effects.

Price: $34

No matter where you live, daily sunscreen is important to keep your skin healthy and protected from the sun. This CBD-infused sunscreen contains 14 mg of CBD per teaspoon, comes in tropical coconut and banana scents, and is full of quality ingredients like zinc, avocado oil, green tea, and aloe vera to nourish and protect the skin.
Adding CBD into the mix for UVA/UVB ray protection while you're out on a hike in the summer, at the beach, or just going for a quick run is never a bad idea!

Price: $54
For the final entry on our list, let's highlight a CBD and CBN-infused gummy that's perfect for getting restful and restorative sleep this holiday season. Crafted from Oregon-grown CBD, hemp-derived Colorado-grown CBN oils, and available in flavors like watermelon, strawberry, and lemon, these gummies contain 5 mg of CBN and 15 mg of CBD per gummy.
Perfect for getting some sleep after a long, hard day at work, these top-notch gummies are a great gift this holiday season!
Are you planning on grabbing one of these holiday gifts for one of your friends or family member? Let us know in the comments below!