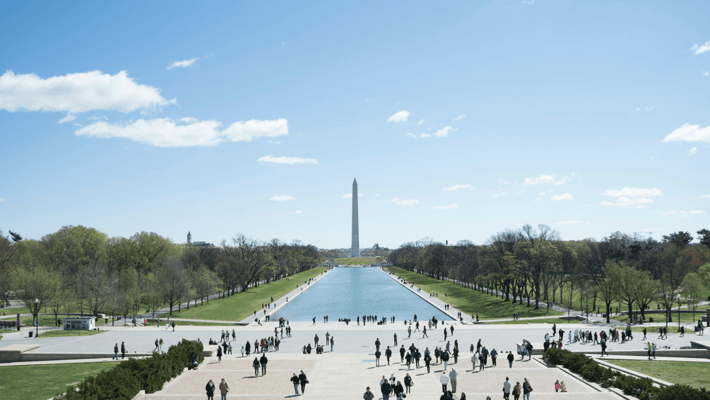 Top 7 Parks in Washington DC to Go to Stoned
Not only is Washington D.C. full of historic landmarks, national monuments, plenty of gorgeous outdoor parks, and some of the best restaurants in the country: it's one of the many parts of the U.S. that have legalized recreational cannabis use. So next time you're visiting Washington D.C., it only makes sense to combine a few of those things after a top-notch smoke session, right?
If you're wondering when will recreational dispensaries open in D.C., about D.C. marijuana laws, or how to find weed in D.C., we've got you covered! Want to have a great time in nature found near our nation's capital? Instead of searching the internet for "parks near me" or for a "playground near me," use this article as your guide to which parks are best to enjoy after some quality cannabis.

Here's a breakdown of some of the best parks in D.C. to enjoy stoned!

If you're going to visit a park in D.C., why not go to one with the namesake of the man who made sure that protected wildlife spaces here in the U.S., former President Theodore Roosevelt. An avid outdoorsman and perhaps the most well-known conservationist ever, it's only natural for a park in D.C. to bear his name.
The island wilderness preserve sitting in the Potomac features an assortment of wonderful hiking trails, a 17-foot bronze statue of the former president, and an assortment of some of his best quotes scattered throughout the park.
If you're looking for a tranquil, lush and green escape from the hustle and bustle of the nation's capital and some of its most frequently visited monuments and sites, you can't go wrong with Roosevelt Park after getting high in D.C.

Legal cannabis in D.C. isn't the only plant you should enjoy if you're spending any time in the nation's capital. If you're into flowers, plants and wildlife without wanting to end up deep in the woods at the same time, the National Arboretum is the place to be.
If you're visiting D.C. in spring, for example, you'll be able to take in the ultra-popular Azalea Collection while it's in bloom. If you're into Eastern cultures, then you'll be able to see The National Bonsai & Penjing Museum, a collection that features trees that are hundreds of years old! And once you're done with the flowers and other plants, you can set aside some time to see the National Capitol Columns, a set of 22 Corinthian-style columns that were originally part of the U.S. capitol building arranged in a way that recalls an ancient temple in ancient Greece. This is one of the go-to spots for nature lovers visiting Washington D.C.!

If you're a fan of art in an outdoor setting, as any quality cannabis lover is, then Meridian Park is the place to be. This 12-acre urban park established all the way back in 1912 is home to a gorgeous tiered fountain, a statue of Joan of Arc, Dante, and a memorial for President Buchanon.
If you're looking for relaxed, holistic vibes and free on a Sunday during the summer, you could stop by for the drum circle that's been meeting every week for the past 50 years. I don't know about you guys, but a drum circle sounds like a fantastic idea after a trip to one of the many top-notch dispensaries in D.C.

If you're looking for a wonderful piece of nature right in the heart of the National Mall while visiting Washington D.C., then the United States Botanical Garden is a great option after a smoke session.
Known as the "living museum of plants," it's free of charge and open to the public nearly every single day, so it's always a great option for visitors. In our opinion, there are few things better than a gorgeous space full of flora and fauna after smoking some flora of your own from one of the recreational dispensaries in D.C.

If you're looking for a gorgeous park near the water, then The Yards is a great option. This park is based around a lovely boardwalk along the Anacostia River, and visitors can check out the wonderful dancing fountains, festivals and special events year-round. This park even has "outdoor rooms" where park visitors can relax and enjoy a few hits from a disposable cannabis vape or two.
Just make sure you check out the Washington D.C. cannabis laws before doing anything too crazy in public, but a few hits from a vape or eating a homemade edible in a gorgeous outdoor setting is never a bad idea.

If you're looking for another waterfront option to enjoy during warm weather visits, then the Georgetown Waterfront Park is a great option to consider after a trip to the dispensary.
The park offers some of the best views the nation's capital has to offer with gorgeous views of the Potomac, lots of space to wander, picnic, ride bikes or just to find a cozy spot to enjoy some cannabis in D.C.

Last but not least, let's talk about somewhere that's, without question, one of the best parks in D.C.: Rock Creek Park. This massive 1700-acre park established back in 1890 has everything someone visiting Washington D.C. could ever need.
Tons of serene, wooded trails perfect for disconnecting from the busy, jam-packed tourist locations throughout the nation's capital? Plus, attractions like the planetarium and nature center, horseback riding, golf, exotic animals at the National Zoo and even a show at the Carter Barron Amphitheater are all found here!
Did we miss D.C. park that you think deserves to be on this list? Let us know what your favorites are in the comments below!