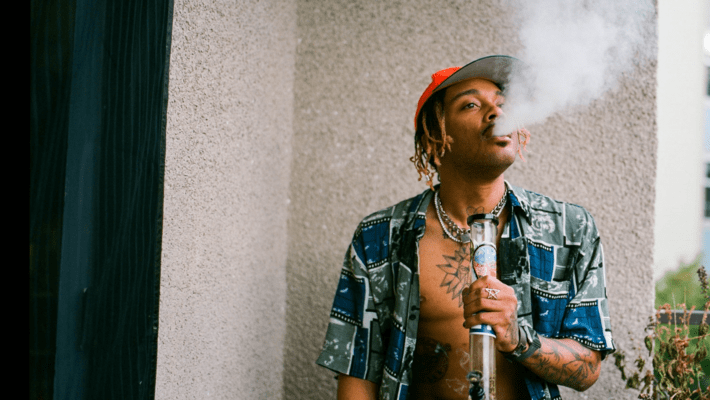 The Best Bongs to Buy in 2022
Forget dogs; a bong is really man's best friend. Even though we all love the bowl and joint for their simplicity, the bong is the perfect way to get as high as a kite without putting a lot of strain on your lungs. However, there is no shortage of cool bongs to be found, from your local head shop to Etsy personal manufacturers creating bongs online. Whether you want to get a present for your best stoner friends over Christmas, or you want to roll in 2022 with a set of the best water pipes for your cannabis hobby, here are some of the best bongs for sale on the market.
Bong A, Bong B
A generation or two ago, there was only the single bong, with a single water source, with a single pipe that a single person could use. Come the modern era, and the best bongs 2021 has to offer come in a wide variety of shapes, sizes, designs, and formats.
A cylinder bong is the "old faithful," a simple pipe made of glass or silicon, usually with a single entry and existing point. However, cylinder bongs can be easily augmented into double or triple features, with less cost than other designs.
A percolator bong features an extra filter within the pipe, meaning that it creates more bubbles and cleans out more particulate matter. It gives you a cleaner, easier toke, but will have a higher price tag and may be harder to find.
A beaker bong resembles something a mad scientist would smoke out of: a wider base than a cylinder water bong can hold more H2O and allow more cooling. However, with more area comes a higher price tag, as more glass is needed for the exchange.
Finally, an ice bong has notches within its neck to catch ice cubes. The cannabis community is divided on ice bongs (like so many other technologies and techniques) - some love it for the cool intake, while others feel like it makes them cough more.
You have several more options to choose from when buying one of the best bongs. A significant choice is the material itself. A glass bong is cheap and light but not very durable. A silicone bong is more expensive and heavier but can be thrown on the ground without harming it and can be washed in the dishwasher without ever taking a beating.

$335
With three clamps - in the rasta colors of red, yellow, and green - the Triple Stack allows customization options that reinforce how Prism is one of the best bong brands. Multiple filtrations mean that the hits are clean, while the different clamps make it easy to break down and clean or replace parts.

$600
Without a doubt, the most aesthetically pleasing gravity bong on the market, the Studenglass hookah, looks more like a magic wand than it does a set of pipes. Rotating 360 degrees, the gravity hookah uses kinetic motion and water displacement to draw smoke from flowers or oil into your system. Borosilicate makes it nearly unbreakable, while aircraft-grade aluminum makes it light.

$700
Long known as one of the very best bong brands, the Volcano is an innovation that every stoner should try at least once in their lives. Capable of creating lots of hot air quickly, the Volcano hybrid model contains a tube or a balloon for quick inhalation. Featuring an Android app for easy use, heating takes as little as one to two minutes to get up to maximum temperature.

$160
The Elevate Jane Mimi is small but punches well above its weight class at just over one pound. A quick look reveals its simplicity and aesthetics: clean, clear glass without bells and whistles. Two separate percolators mean that airflow is more efficient, and at just 12 inches in height, she's easy to pick up and put away wherever is needed.

$150
Designed by pot guru Micah Evans, the Grav Orbis Lume is art as much as it's a bong. Furthermore, at just 6.5 inches in height, it's almost pocket-sized, capable of going with you from point A to point B without ever being in the way. With a showerhead downstem filter, it leaves an unmistakable, light taste in your mouth.

$130
The Joy bong from My Bud Vase does resemble a vase, and if you'd like to keep flower (besides pot) in it, you're more than able to. Joy is a three-piece set featuring a beautiful design and a matching stash dish. It's by far the classiest way to indulge in cannabis and the best way to hide it in plain sight if you don't want your mom to know about your habit.

$145
At first glance, you might think that the Eclipse Recycler is a spare part used to fix a starship in a science fiction movie. Take a closer look at the intricate glasswork and see the details are even more impressive. With three-hole diffy shoots connecting to the chamber, this bong does recycle air through different sections, making it a next-gen smoking experience.

$165
Sometimes the classics don't need to be improved. The Tree Perc Beaker Bong is a simple cylinder bong with one chamber and one pipe. At 14.5 inches in height and 5 inches at its base, however, it will get you as high as you want. Eight arms in the percolator and three slits per arm mean its filtration power is second to none.
Do you have a favorite brand or style of bongs? What has been your favorite bong you've ever used? Let us know in the comments below!