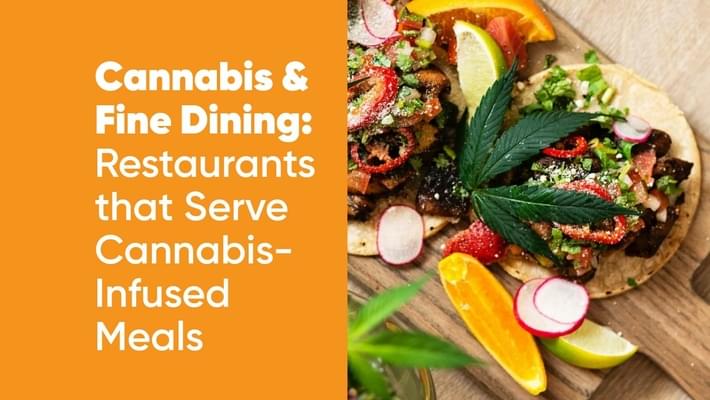 Cannabis & Fine Dining: Restaurants that Serve Cannabis-Infused Meals
The munchies are a common cannabis stereotype: getting high then craving food. But what if you're looking to make delicious food part of how you consume cannabis? Better yet, what if you want to experience high-quality food prepared for you that also gets you high? Do cannabis restaurants exist? The answer is: yes. Depending on where you live, fine dining THC-infused restaurants may be available closer than you think. Let's take a look at the legality of cannabis restaurants and some of the top options in the United States.
The History of Cannabis Restaurants and Cannabis Chefs
It can be argued that "cannabis cuisine" has existed since the first edible was created. Now, edibles can be found in 18 different states for recreational use and a total of roughly 36 states for medical use. An elevated, restaurant-quality experience is a much newer phenomenon, though, and has yet to fully take off. However, everything points to cannabis eventually being adopted in large by the restaurant industry - it just makes sense.
There are currently only a few states where you can find cannabis restaurants. Even in these states, the production, service, and consumption of cannabis-infused meals must be private events, and the spaces are classified as "cannabis lounges" legally. The first cannabis restaurant to open in the United States was Lowell Cafe in West Hollywood, where fine cuisine is served alongside a range of paired, smokable cannabis products. So, while not a cannabis-infused meal, it was the first space to allow the marriage of cannabis and cuisine consumption.
Other options have since popped up, including Cheba Bakery, which services cannabis-infused baked goods, and places like the Cannabis Super Club, where cannabis-infused food is served to "members." THC and CBD-infused drinks and food can be found in California, Colorado, Nevada, and Oregon. Most of these places, to bypass regulations, operate as private clubs and cannabis lounges and require guests to become members so they can partake in their cannabis goodness. For now, the whole affair is still somewhat under the radar but technically legal. We're hoping that in the next few years, we'll see the restaurants listed below take us into a new era of legal cannabis dining.
The Top Cannabis Restaurants & Caterers in the Country
This high-end culinary experience combines cannabis with fine dining right in the comfort of your own home. They will do private tastings, parties (especially bachelor/bachelorette), and corporate events. They operate in four areas: Colorado, Las Vegas, Los Angeles, and the Bay Area. The more people in your event, the less you pay per person, with prices ranging from $120 to $250 for each guest., with the experiences offering exquisite 3-course meals that are paired with local cannabis products.
Dope Dining is a top weed restaurant Las Vegas has to offer. This fine-dining experience caters to fans of infused and non-infused meals with a joint on the side. Sold as a packaged "Dope Dining Experience," each season has a new menu that you purchase ahead of time for $150 per person. The 2022 Spring dinner options include a Surf N Turf, Vegetarian, and Vegan option (all available as infused or non-infused). The experience also includes a CannaLean cocktail, access to the Huni-bar, live performances, access to their venue's games, a "goodie bag" with gifts to enhance your dining experience, and dinner from the renowned Chef Ray Samlow.
This unique experience, located in Aspen, Colorado, is a private chef and catering service, bringing the experience of restaurants that cook with weed Colorado style right to your home. They have a full-time operation as a high-end catering service and just so happened to launch a cannabis pairing option. The meals are meant for parties anywhere from 5 to 100+, and the cost ranges from $250 to $400 per person. The experience provides an elegant 7-10 course meal cooked in your house/establishment and a wine and cannabis pairing for each course.
Like Aspen Chef, but with more emphasis on cannabis, Herbal Chef is a Los food platform offering private dinners directly to your home, corporate catering, and even meal prep. The business and the food are the brainchildren of internationally renowned chef Chris Sayegh. All of their food comes with the option of being herb-free or infused with THC or CBD. Their menus and prices vary, but the average experience will run anywhere from $200 to $500 per person.
Located in West Hollywood, California, the Original Cannabis Cafe is an eclectic space serving incredible food courtesy of La Brea Kitchen. One of the top cannabis restaurants in California, it has a full menu (including a unique brunch menu and specialty drink menu with cannabis-infused options), with meals running anywhere from $15 to $30. An additional charge will infuse your meal with local cannabis from RA Flower Brands. Unfortunately, the Original Cannabis Cafe is still closed due to the pandemic, but they are working on getting things operational soon.
This revolutionary culinary group was founded by Chef Chris Yang, a scientist turned chef. He and his experienced team of innovative chefs work to perfect the science of high-quality cannabis-infused meals. Their spaces, located in Denver, Los Angeles, and Las Vegas, not only work with food but also brings art and music to the table. They also do private events and will come to your space to prep and serve (you just have to register ahead of time). Chef Yang also usually hosts parties on the last Saturday of every month in the Arts District of LA. This event has five to six courses and costs around $100.
Located in Los Angeles, California, Cheba Bakery is one of the nation's leading medical edible restaurant collectives. The founder graduated from Le Cordon Blue and has redefined what edibles can be. They're only open from 10AM to 10PM Wednesday through Saturday, and supplies are limited, so make sure to get there early to ensure you can try exactly what you want! Their products are fairly inexpensive considering the quality, and they have a massive menu that includes infused cupcakes, brownies, and event cakes.
This company has a massive cult following, and people travel from all over the country to experience their food. All of their dishes are paired with local cannabis strains, and infused meal options are also available for an additional high. The Cannabis Supper Club is a unique idea, to say the least. They partner with chefs from around the country to put together events that people can purchase tickets for. Tickets range in price but are usually a few hundred dollars, and the event's exact location is sent to all registered attendees 48 hours ahead of time. It's a hefty price, but the experience is always different, exclusive, and unforgettable.
Do you have a favorite cannabis restaurant? Is it on our list? Let us know what your favorite THC-infused meal is, where you get it, and why it's so good. Comment below!