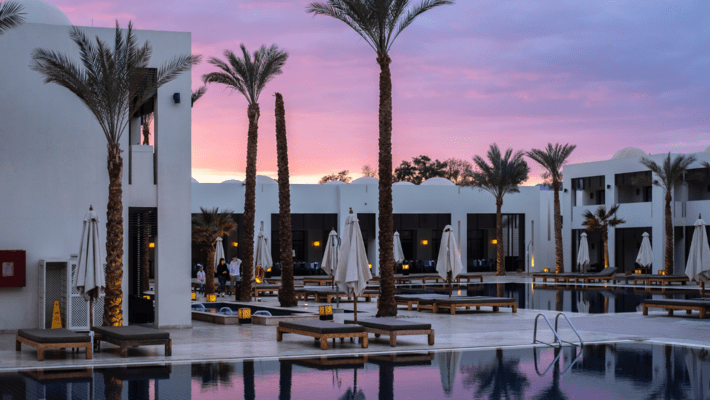 Top 7 Cannabis-Friendly Hotels to Visit on a Weed Vacation
As more and more states and nations around the world loosen their laws surrounding cannabis, we've seen the budding cannabis tourism industry explode into a juggernaut. In fact, one recent study confirmed that about 29 percent of all active leisure travelers, about 18 percent of which are Americans, are very interested in cannabis-specific activities while vacationing.
Despite the interest and legality of cannabis tourism in many places, there are still some major challenges associated with it. For example, since cannabis is still technically federally illegal, air travel with cannabis on commercial airlines is impossible both nationally and overseas. That means you'll likely need to leave your stash at home before you head out on your next weed vacation or risk going to federal prison.
Instead, you'll likely have to land wherever you're going, then stock up on cannabis products for the time you'll be there. To enjoy that cannabis fully, however, you'll need some cannabis-friendly hotels to stay in where you can enjoy your products to the fullest.
This list will serve as your comprehensive guide to some of the best 420 friendly hotels available in some of the cannabis hotspots all over the U.S. that will make for the best weed vacations available.
1. Clarendon Hotel

Possibly the newest entry on our list, the Clarendon Hotel and Spa in downtown Phoenix, Arizona opened up earlier this year as "Arizona's first cannabis-friendly hotels."
The facility features cannabis sleeping rooms on the West side of the property that allows guests to take edibles, smoke cannabis flower, and vape freely in designated areas. Each of those rooms is equipped with a powerful "scrubber" device that cleans the air and keeps things fresh and clean between guests. The hotel itself even offers a car service so that guests can safely get back and forth from the dispensary to restock on their weed vacation.
While the Clarendon Hotel might very well be the first 420 friendly hotel of its kind in the Grand Canyon State, we very much doubt it will be the last. With cannabis fully recreationally legal in the state, the budding cannabis industry is primed to take off as well.
To book rooms at the Clarendon, call the hotel at 602-252-7363 or visit the Bud and Breakfast website for more information.
2. The Curtis Denver

Located directly in the heart of downtown Denver, Colorado, this next entry on the list is an excellent option for anyone visiting the Centennial State for an exciting weed vacation. While this isn't one of the hotels that allow smoking in rooms, it's got a lot more going for it.
This hotel is a fantastic option for guests who want to be close to Denver's massive bounty of downtown dispensaries, making it incredibly easy to stock up on anything the recreational market in Colorado has to offer. As one of the most well-developed and mature cannabis markets in the world, smokers vacationing can get basically anything they could even dream of.
To book a room at the Curtis Denver or to get more information about the facility and what they have to offer guests, click here.
3. Canna Cape Cod DC

If you're looking to visit the nation's capital, Washington D.C., as part of an all-inclusive cannabis-fueled vacation, this next 420 friendly home is a great choice of where to stay. This eclectic three-story Cape Cod Home is nestled in the heart of the city, nearby to all of of the best coffee shops, museums, shopping and more D.C. has to offer.
Starting at just $300 per night for two people, you wouldn't even need to leave the house! Featuring infused meals, an extremely generous flower variety, open bar, and 24 hour snack bar makes this the stoner getaway youve been searching for. Of course, this is a great option for those looking to stay in the nation's capital.
For more information on how to book some nights, visit the Bud and Breakfast website.
4. The Winston House

If you're on the lookout for cannabis-friendly hotels in the Emerald City, The Winston House is a fantastic option for anyone who loves cannabis and travel. This cozy bed and breakfast joint is located in the heart of downtown Seattle, highly rated by past guests, and provides a touch of earthiness to any cannabis vacationer's weed vacation stay.
This 420 friendly hotel doesn't allow for smoking indoors, but that shouldn't be a huge problem for most. For $100 per night, that's a steal for pretty much anybody. This 420 friendly Airbnb is a great option for someone looking to take their weed vacation up a notch.
For more information on The Winston House, prices, availability, and how to book a stay, visit their website.
5. 420 Friendly Tiny House

This next entry on the list is a great option for anyone on a weed vacation in Portland, Oregon. This 420 friendly Airbnb mini home is perfect for 2 guests, features a fully-functional kitchen with a whimsical vintage stove and reclaimed touches, a spacious bathroom with a tub/shower combo and subway tile, a seating area that includes room for a sofa and small dining table. Spend restful nights in a Queen Sealy bed in the loft is reachable via custom-crafted ladder.
The best part is that this weed vacation spot is that it's available to stay in for only about $78 per night. Considering the price, what you'll get from the stay included in that price, and its prime location in one of the cannabis hotspots of the world, it's clearly one of the best options if you're looking for cannabis-friendly hotels.
For more information about the place, how to book, and more details pricing, click here.
6. Sage Hen Cottage

When you think of places to stay in San Francisco, you likely aren't imagining a cozy one-room cottage with vaulted ceilings, all the amenities you could ever need, and enough room for up to six people located on a 1 1/2 acre park, right? Well, that's what this next entry on the list offers in a 420 friendly package.
Easily one of the most scenic and unique cannabis-friendly hotels on this list, the Sage Hen cottage offers cannabis tourists a homey, unique, and interesting space to enjoy some prime California cannabis products in.
If you or your group are looking to get out of the hustle and bustle of the urban environment while still enjoying their weed vacation, then this place is likely right for you.
For more information on prices, booking, and availability, click here.
7. Jupiter Hotel

The Jupiter is a boutique hotel centrally located in southeast Portland that offers a unique haven for sleeping, eating, drinking, meeting, partying, or just watching the world go by. This pet-friendly hotel partnered with a nearby dispensary, Oregrown, to bring cannabis-friendly hotel experiences to Oregon to cover all of your cannabis needs.
This $50 add-on package, dubbed "Everything but the Weed," features an in-store use discount voucher, Oregrown stash jar, a Jupiter logo engraved PAX, Oregrown rolling papers and so much more! Keep in mind, smoking is not allowed on the Jupiter Hotel property or in public in Oregon, based on local laws.
Since this is a boutique hotel, room rates do tend to get a bit pricier but the experience is definitely worth it! For more information on prices, booking and availability, visit the Jupiter hotel website for more information.
What's your favorite 420-friendly stay? Share yours in the comments below!