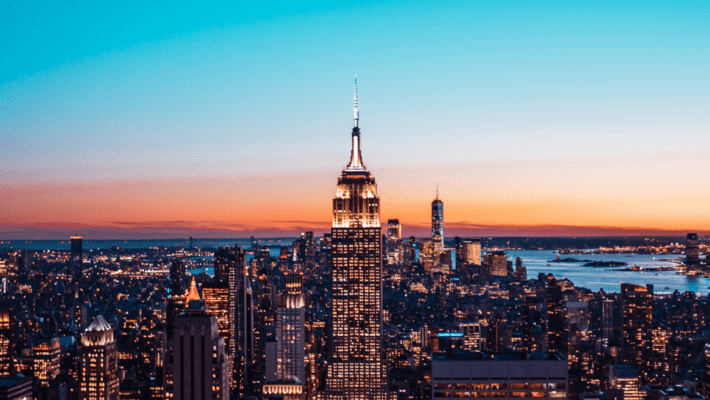 Top 5 Things to Do in NYC When High
Few cities offer tourists more things to do than New York City. With the Big Apple legalizing cannabis, all the great things you could do sober can now be done while high as a kite. Here is the overview of NYC weed laws and some of the most fun you can have in New York.
New York's Reefer History

As the largest and perhaps most important city in the nation, New York has a long history with cannabis. The first reference to NYC weed dates back over a century, to the 1914 restriction on buying pot without a prescription; a historical analysis of New York City newspapers found that they only mentioned cannabis four times in the next decade. Even so, the city outlawed the drug in 1927. Like so many other instances of cannabis prohibition, however, bud spread regardless of the law. In 1951, the city had an estimated 40,000 pounds of reefer growing throughout gardens, terraces, and balconies; city authorities launched raids to bring down pot farms, including plants that grew as tall as a Christmas tree.
New York City was one of the first places in the country to decriminalize cannabis, permitting ownership of 25 grams of cannabis in 1977. While arrests fell soon after, they rose again in the 1990s with a tough-on-crime approach. In 2014, Mayor Bill de Blasio ordered the city police to stop arresting people for cannabis possession, the same year that the state governor signed a bill legalizing medicinal marijuana. The question to answer is, is weed legal in New York? However, it would have to wait until 2021, when the state assembly passed the legislation. Can you smoke weed in NYC? As of April 9, 2021, the answer is yes. But where should you go?
Top Things To Do In NYC High
The American Museum of Natural History
Imagine toking a fat doobie and seeing the planet's largest living animal, a blue whale, hanging overhead. New York City's American Museum of Natural History features a full whale skeleton suspended over visitors, demonstrating the majesty of the natural world. The American Museum is also one of the world's very best repositories of fossils, featuring all manner of skeletons dug up throughout the United States. With exhibitions ranging from astronomy to geology, there's something here for all forms of nerds and something for every stoner to gawk at. Located at 200 Central Park West, the entrance fee is $23. Check out the nearby RISE NYC weed dispensary to get good bud beforehand.
Broadway

While you probably won't be able to get tickets to see Hamilton - don't feel bad, it's booked up for the next 70 years - Broadway features many more shows and performances than the major musicals. There's indie theatre alongside the mainstream, as well as interactive drama where audience members participate. What you watch may depend on what you smoke. Tickets can range in cost from free to several hundred dollars. MedMen lets you indulge in good reefer and good snacks after the show.
Yankee Stadium
No sports team on planet Earth is more popular than the New York Yankees, and whether you love them or hate them, a trip to their home field is an experience like few others. Not only do you get to experience all the raw emotion of New York sports fans in the flesh, but you get to hurl your best insults at some of the highest-paid athletes in the league. Yankee Stadium isn't just a place to catch a game, it's a shrine to the history of the game: everything from Babe Ruth's jersey to Joe DiMaggio's hit-streak ball can be found on display. Check out Sunnyside Medical Cannabis in Brooklyn - if you have a medical card - in case you need some therapeutics for an intense game with the Bronx bombers.
Central Park Zoo

If you ever got incredibly high and saw the movie Madagascar, now's your chance to get incredibly high and see the real-life zoo - penguins included. This zoo isn't just one of the oldest and largest in the country, and it's one of the most prestigious, featuring panda bears, snow leopards, and all manner of exotic creatures not found in regional zoos. Furthermore, at just 6.5 acres in size, it's great for the stoner who doesn't feel like walking several miles once they've got a good buzz going.
The United Nations
Could you smoke enough weed to give a speech to the globe's leaders and usher in world peace? Probably, and just because you aren't allowed to doesn't mean it's a bad idea. The U.N. is one of the world's greatest organizations, dedicated to peace and prosperity, and getting blazed and checking out all the 193 nations that make up its membership is a great way to learn about other places and peoples. The tour sheds light on the major issues that world leaders try to hash out, with or without the help of hash.
What are your favorite things to do in the Big Apple? What experiences are completely different when high? Let us know in the comments below!