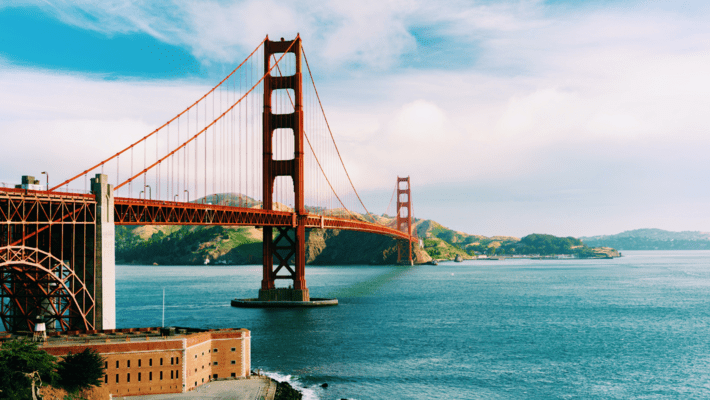 Top Seven Things To Do in the Bay Area While High
When it comes to cannabis culture, it's pretty much impossible to argue that the West Coast isn't the best coast. While the East Coast is doing a valiant job of catching up, they still have a whole lot of work to do to compete with legal cannabis juggernauts like Oregon, Washington, and, of course, California. In just those three states alone, 7.3 billion worth of legal cannabis was sold in 2020 alone. California itself makes up an astounding $4.4 billion of that. Simply put, the Golden State is by far the biggest and most well-developed legal cannabis market in the world.
To further break down that point, Southern California is perhaps the mecca of cannabis culture in the U.S. One of the largest population centers in No-Cal, the Bay Area is one of the fastest-growing and heavily visited tourist spots in all of the United States. The Bay Area is known for quite a few things. Thanks to Silicon Valley, the tech culture is thriving in the Bay Area, adding to the much-discussed Bay Area traffic. San Francisco is home to one of the most exciting pro basketball teams in the league, very high on the list of fun things to do in the Bay Area. Maybe you're into just seeing the sights, wandering around the well-known neighborhoods in the hills, and enjoying the California sun on your face. There's a massive array of things to do in San Francisco.
So with all of that in mind, we here at Where's Weed wanted to throw together a list of fun, engaging, and stoner-friendly things to do in the Bay Area on your next trip out West. So without further ado, let's get right into it!
1. Spend Some Time in Haight-Ashbury

If you're a stoner looking to spend time among like-minded blazers in a trendy yet-historic neighborhood in the heart of San Francisco, you can't go wrong with spending some time in Haight-Ashbury.
Famous for its prominent role in the 1960s counterculture movement on the West Coast, this hippie paradise is dotted with cannabis-centric dispensaries, merch and paraphernalia stores, and landmarks relevant to the growth and early days of cannabis culture here in the U.S. Famous names like Janis Joplin and The Grateful Dead spent some of their formative years in the famous neighborhood. Today the whole neighborhood is filled with gorgeous artist expressions like murals, paintings, and art installations. Overall, it's a trendy and unique place to spend your time.
2. Catch Some Rays in Hippie Hill

When in Rome, do as the Romans do. That's the famous saying, right? So the same concept applies to the state of California. If you're going to spend some time in No-Cal, then going to a gorgeous park full of fun, sun, and cool people should be high on your list of things to do in the Bay Area this weekend.
Hippie Hill is a wonderful park that's become a hub of pro-cannabis activity since California legalized cannabis all the way back in 2016. Since then, the park has hosted multiple 420 festivals, is always packed full of cannabis enthusiasts enjoying themselves in the No-Cal sun and is full of delicious food trucks to get a bite to eat when the munchies hit. We highly recommend Munchie Land, a shop that sells an assortment of churros, hot dogs, and other tasty treats when those cravings hit!
3. Visit a Lovely Cannabis Cafe
Whether you're in the mood for a drink, some good times with friends, and some fat bong rips in an interesting social setting, we highly recommend a quick visit to a cannabis cafe like Moe Green's. Yes, stoner friends, this place is just as cool as it sounds.
This place combines all the best aspects of a cafe, bar, and vape shop all in one convenient and customer-friendly package. The store shelves are lined with colorful and flavorful cannabis strains, there's a happy hour for all those 9-5 workday warriors out there, and helpful and friendly workers staff the store itself. If you're on vacation and have the time to sit around and enjoy some music and cannabis all day, this is the spot to do it in a social setting.
Open from 10 a.m. to 9:30 p.m. Monday through Friday. This cannabis-friendly lounge is a great place to kick back in a wonderful, cannabis-friendly environment where you can grab a drink and smoke with some buddies.
4. Pay a Visit to the Bay Area Discovery Museum

Located at the foot of the Golden State Bridge, this family-friendly destination is great for people with families and stoners alike! Spanning across 7.5 acres of National Park land in Sausalito, this place is full of family-friendly and exciting exhibits like the Gumnut Grove treehouse and the "How Things Work" exhibit for those who are deeply curious. Kid-specific attractions like the Try It Studio, BADM Beach, and the Tot Spot, to name a few.
This is a great spot to keep your kids entertained and engaged while you and your partner pop a low-THC edible and relax a bit. There are fewer family-friendly places in the Bay Area that allow kids to stay engaged and entertained while Mommy and Daddy ride the lightning on a nearby bench.
5. Take a Stroll Through Dolores Park

This conveniently located park is the perfect option for getting up, staying active, and taking a stroll after visiting one of the many top-notch smoking lounges in downtown San Francisco. And there are few better places to do so in the Bay Area than Dolores Park.
Located in the heart of the Mission District and just a short walk from the Castro, this park is a stoner paradise that's held firm as a hangout spot for cannabis lovers for decades now. It's a friendly and social place that offers many places to grab snacks for when the munchies hit.
6. Kill the Munchies with Off the Grid
Few things hit the spot more than delicious, tasty foods when dealing with the munchies. We've all been there, suffering from a stomach tying itself in knots for snacks that we simply don't have. Off the Grid, however, has the solution for that.
The organization puts together collections of food trucks in places all over the Bay Area, offering pop-up food, craft cocktails, beer, and free entertainment for anyone who stumbles across them. If you're lucky enough to be visiting the Bay Area during one of these events, we highly recommend going and checking them out after getting blazed. Just make sure you go with an empty stomach and a hearty appetite!
7. Pay a Visit to Fruitvale

If you're looking for a colorful neighborhood full of life, delicious food, and Hispanic culture, then Fruitvale is a must-see on your next trip to the Bay Area. A trip to the main strip of Fruitvale will show you tons of colorful, vibrant buildings inspired by Hispanic culture. You can tour the Peralta Hacienda, go mural hunting in Rue de Merde, or look at exhibits at the Institute of Mosaic Art. Along with all the wonderful things to do, there are plenty of taco trucks and restaurants serving tasty tacos and other Spanish-inspired dishes to fill your stomach.
Simply put, Fruitvale is a beautiful love letter to the Hispanic culture that helped build the Bay Area into what it is today!