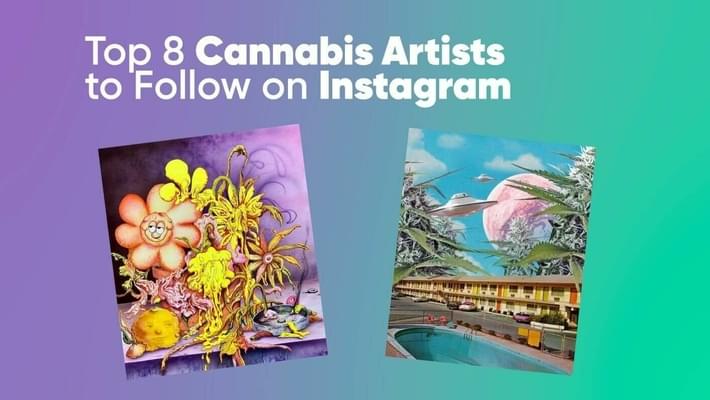 Cannabis Artists to Follow on Instagram
Art and cannabis have always been inextricably linked. Cannabis use lights up the creative spark for many -- not only to create art but to consume it. Colors are more vibrant, textures are more varied, and sounds are more layered under the influence of marijuana.
The term "cannabis art" is extensive and includes any medium that uses our favorite plant as its muse. Many people are creatively inspired to honor cannabis, from photography to ceramics and everything in between. While most cannabis arts used to be limited to dorm room posters, the cannabis art world has completely exploded in the modern era.
Instagram has become a modern hub for the cannabis community to find some incredible art from just a tap away. On Instagram, graphic art, pottery, videography, and other visual mediums easily connect with their cannabis-loving community. Below, we've rounded up six of our favorite cannabis artists to add to your feed.

BambashkART is a Europe-based artist that lives by the slogan "Giving new life to vintage art." Their work features vintage muses like pin-up girls and classic landscapes with marijuana nugs, leaves, joints, and bongs. They also deal in trippy details like space, aliens, and UFOs. This juxtaposition is both ironic and aesthetically beautiful. BambashkART is a print artist who creates both frameable prints and stickers. You can also purchase their designs digitally. You can find BambbashkART's prints, stickers, and more on their Etsy site.
Cosmic Ceramics is a pottery artist based in Fort Lauderdale, Florida. Their Instagram bio states, "support your favorite pot dealer," cheekily referring to their cannabis leaf-adorned mugs, plates, ashtrays, and other wheel-thrown functional ceramics. Their signature look is raw terracotta peeking beneath a rich, dripping glaze, as well as stamped pot leaves, smiley faces, and mini mushrooms. Cosmic Ceramics makes handmade pottery from terracotta clay with dripping, multi-dimensional, colorful glazes. The terracotta portion is unglazed, providing a textural dichotomy between the finishes. You can buy Cosmic Ceramics wares on their Etsy storefront here.
Asia Taber is a visual artist and photographer based in Los Angeles, California. She creates elaborate scenes with everyday items bursting full of cannabis - from a cornucopia to a cake stand. Her company is called "High Pilot," named after her discovery that she has a better ability to navigate (or "pilot") her emotions while high and being inspired to create art celebrating this. Asia Taber sells cannabis photography prints and merchandise like sweatshirts and hats featuring her art. You can buy Asia's photography on High Pilot's website here.

Sunflower Form is a Brooklyn, NY-based visual artist focusing on traditionally psychedelic motifs, including peace signs, mushrooms, flowers, and yin-yang signs. Their art has most notably been featured on concert posters for musician King Gizzard and the Lizard Wizard. They also own the Talking Terps brand, selling merchandise and accessories featuring their prints. Their works of art are drawn with ink on illustration boards and digital drawings. They also print these on merchandise and accessories. You can buy Sunflower Form's wide variety of psychedelic pieces at Talking Terps.
JustinsImage creates art in the style of cannabis packaging rife with anthropomorphized food, neon colors, and punny titles. These images fall into the classic stoner aesthetic. They also have over twelve years of experience in branding and design. JustinsImage creates digital prints to purchase via direct message to @JustinsImage2 on Instagram.
Munisa Ceramica is a handmade ceramicist. She is a Mexican American currently based in Los Angeles, CA. Her work draws heavily from the influence of her heritage, with tropical fruits, flowers, and botanicals being the main focus of her art. Munisa creates functional ceramics like pipes, bongs, ashtrays, one-hitters, and more related to the cannabis world. Her realistic fruit pipes seem almost too beautiful to smoke, but everything is 100% safe for consumption. She is a massive fan of bright colors; every piece pops with intricate carving and glazes details. You can buy Munisa Ceramica goods on their website here.

Keti, the artist behind @ImmigrantStoner, is a photographer, art director, and creative consultant. Originally from Georgia, they currently reside in Seattle, WA. They photograph models enjoying the plant in various beautiful situations, from a natural cove to the backyard porch. They also photograph the plant throughout its growth process. Keti is a photographer and sells their prints both digitally and physically. You can buy Keti's prints on their website here.
Do you have a favorite cannabis artist on Instagram? Let us know in the comments below!