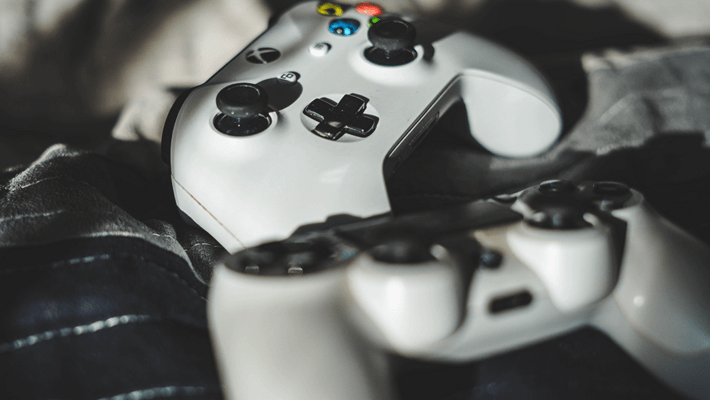 The Best Video Games to Play While High in 2021
It's almost been an entire year and we're still living in a world where social distancing and self-isolation are normal. Fortunately, plenty of companies released video games to help us escape and enjoy new experiences from the comfort of our couch. These video games are also some of the best games to play when high, so we've created a list of the best new video games to play high in 2021. Enjoy!
Top Video Games to Play High in 2021
Fall Guys: Ultimate Knockout (Platformer Battle Royal)

Best Cannabis Pairing: Puff on a vape pen with a Sativa strain (i.e. Sour Diesel) to stay alert and obstacle course your way to number one!
During a time when battle royal games like Fortnite and Apex Legends continue to set trends and break records, Fall Guys: Ultimate Knockout came along as a refreshing new take on a gun-heavy genre. Released in August 2020 to rave reviews, Fall Guys is a rancorously good time that pits 60 players against each other through a series of randomized obstacle courses. With each passing round, more and more players plummet to defeat until only one is left standing. It's colorful, quirky and deceivingly competitive - it is definitely one of the best games to play when high.
Available on: PC, PlayStation 4, Nintendo Switch, XBOX

Best Cannabis Pairing: Hit the bong with a hybrid strain (i.e. Lemonhead) as you revisit your childhood and skate through these iconic maps.
Tony Hawk's Pro Skater (1999) and Tony Hawk's Pro Skater 2 (2000) were the first projects to truly bring skateboarding to the video game scene. 20 years later and Activision's complete remake of these two titles (packed into a single game!) sends us all right back to the turn of the century. Skate as one of over a dozen iconic skateboard pros or create your character, beat ridiculous challenges, pull off physics-defying stunts and build your maps that you'll inevitably spend hours crafting and even more time skating through. A remake of perhaps one of the best video games of all time, this game is all about getting in the zone and staying there.
Available on: PC, Xbox One, PlayStation 4

Best Cannabis Pairing: Roll a joint with an indica-leaning hybrid like Royal Gorilla to help you sink into this colorful, imaginative world.
Ori and the Will of the Wisps is the highly-anticipated sequel to one of the best video games of 2015, Ori and the Blind Forest, and it doesn't disappoint. Play as Ori, a small spirit guardian separated from his friend in a terrible accident, and play through colorful, exotic forest levels to save the day and bring peace to the land. This game is about heart, minimalist storytelling and classic platform gameplay that sucks us into Ori's vibrant and dangerous world. Playing high elevates the experience and brings the world to new heights of color and scope.
Available on: PC, Xbox Series X & S, Xbox One, Nintendo Switch
Overcooked 2 (Cooperative Cooking Simulation Game)

Best Cannabis Pairing: Sip on a THC-seltzer (i.e. Lagunitas Hi-Fi Hops) to keep the perfect light buzz while cooking up some high-paced kitchen antics.
If you're looking for a challenging multiplayer experience and have friends that you're comfortable yelling at in frustration, look no further. Overcooked 2 puts up to four players to work as chefs responsible for preparing meals in intricate, puzzle-like kitchens. Racing against the clock to prepare the right sequence of orders gets trickier and more rewarding as the levels advance. A slight buzz can help boost your creativity to beat these insane levels, but too much might very well make this game impossible to complete.
Available on: PC, Xbox One, PlayStation 4, Nintendo Switch
Stardew Valley (Chill Simulation Role-Playing Game)

Best Cannabis Pairing: Make a batch of brownies using a low-THC strain (i.e. Harlequin) to relax into this perfectly charming, farm-centric world.
Stardew Valley has been around for several years, but it still manages to feel fresh and new because of its niche indie gameplay and unrivaled simplicity. You begin the story as a worn-out city kid who inherits his grandfather's rundown farm next to a peaceful little city. It is your job to play out the seasons and bring the farm back to life by dungeon crawling, trading, fishing, socializing and farming. Stardew Valley is a welcome escape from everyday life into a small peaceful world and is easily one of the best games ever when you have something to help you relax into a state of complete zen.
Available on: PC, Xbox One, PlayStation 4, Nintendo Switch, iOS, Android
Among Us (Murder Mystery Game)

Best Cannabis Pairing: Stay hyper-aware by packing a bowl with a high-Sativa strain (i.e. Durban Poison) to make sure your murderous friends don't catch you off guard.
When COVID-19 hit and people began to entertain parties virtually, Among Us turned into an overnight phenomenon. In this murder mystery party game, you and up to 9 other people play as crew members working to get a damaged spaceship into orbit. The catch: one or two crew members are traitors tasked with killing everyone before the ship repairs are completed. It turns out that running around a ship in the dark trying to turn on switches and complete minigames while dodging the murderer (or being the murderer) is a hilariously good time, especially if you've got a small high going.
Available on: PC, Xbox One, Switch, iOS, Android
With so many new video game releases (and updates) over the last year, did we miss your favorite? Which video games do you think should be on our list of best games to play when high? Let us know in the comments!