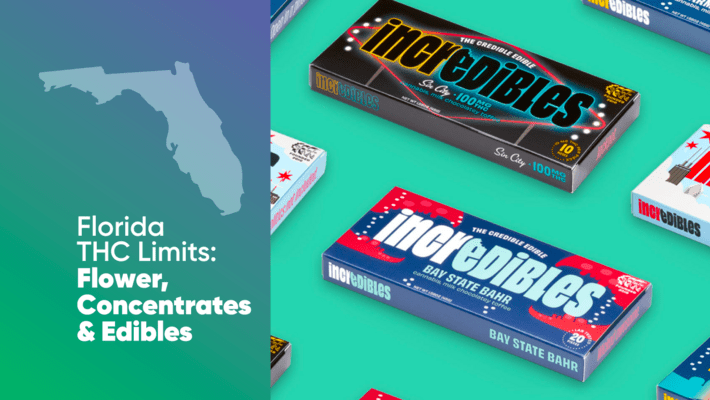 Florida THC Limits: Flower, Concentrates & Edibles
Cannabis is not yet federally legal, which means that there are no unified regulations for states to follow. Because of this, states that have legalized cannabis in certain capacities follow their own regulations and rules that differ from other states. If you live in or are planning to visit a state and consume cannabis, we highly recommend getting to know that state's laws surrounding age, availability, and possession limits. On that note, let's take a look at Florida's most important rules and regulations surrounding cannabis.
Cannabis in Florida
First, the big question: is cannabis legal in Florida? Yes and no. Florida legalized medical marijuana in 2016 when they passed Amendment Two. Unfortunately, however, recreational cannabis has still not been legalized. Because of this, only Florida citizens who have successfully applied for and received their medical cannabis card can purchase weed. So, while this means we'll only be discussing medical cannabis in this article, change may soon be on the horizon for Florida legalization.
The most significant attempt to pass legalized recreational weed is being pushed by the state's largest medical cannabis company, Trulieve. The company just filed an initiative to place legalization on the November 2024 ballot. While the state's Supreme Court has rejected all previous attempts, the $5 million backing this attempt is much more likely to earn the 900,000 signatures needed to pass the initiative through to the election. If passed, the 2024 ballot proposal would allow individuals 21 years or older to purchase and possess up to one ounce of cannabis, of which five grams could be concentrate. To stay in the loop on Florida legalization updates, check out our Where's Weed Blog!
Florida Weed Laws
As we mentioned above, only medical cannabis is legal in Florida. To purchase medical cannabis, you must have a medical marijuana card and be part of the state's medical program. To get a medical marijuana card, you must be 18 years or older and have at least one of the below qualifying conditions per Amendment 2.
Acquired Immune Deficiency Syndrome (AIDS)
Amyotrophic Lateral Sclerosis
Cancer
Crohn's Disease
Chronic Nonmalignant Pain
Epilepsy
Glaucoma
Human Immunodeficiency Virus (HIV)
Multiple Sclerosis
Parkinson's Disease
Post-Traumatic Stress Disorder (PTSD)
Terminal Illnesses
Additional "debilitating" and "chronic" conditions often considered for acceptance into the state's medical program also include:
Anxiety
Autoimmune Conditions
Chronic Pain
Depression
Eating Disorders/Poor Appetite
Fatigue
Gastrointestinal Conditions
Immunodeficiency Conditions
Irritability
Mood Swings
Muscle Spasms & Stiffness
Nausea
Neurological & Neurodegenerative Conditions
Psychological Conditions
Sleeping Conditions/Issues
Terminal Conditions
As with most states, there are cases where an individual does not strictly have one of the above conditions and is still allowed a medical marijuana card. Whether you definitively have one of the listed qualifying conditions or think you might be a viable candidate, we highly recommend talking to a medical professional or looking for a service like Leafwell if you are an Florida resident interested in medical marijuana.
It's also important to note that while an individual must be at least 18 years old to apply on their own accord as an adult, minors with qualifying conditions can gain access to the medical marijuana program as well. They must have the approval, registration, and medical supervision of a custodial parent and legal guardian (18 years or older). A legal guardian or custodial parent can also purchase and transport the under-age patients' medical cannabis.
Other Important Florida Cannabis Laws
There are also a handful of other laws that Florida does share with other states. These are foundational, common-sense laws for the protection of everyone.
It is illegal to smoke or consume cannabis in public.
The possession or use of cannabis on any federal land is illegal (i.e., national parks, beaches, and forests).
Underage possession is illegal.
Driving under the influence of cannabis is illegal (and, like alcohol, is strictly enforced).
Cannabis cannot be transported across state lines.
Florida Weed Limit Laws
Now for the Florida-specific laws dealing with purchasing and possession limits. To reiterate, because there is no recreational marijuana, any possession without a medical marijuana card is illegal. If you are caught possessing 20 grams or less without a medical cannabis card, you may receive a misdemeanor, up to one year in prison, and a $1,000 fine. If you're caught with more than 20 grams (after 25 pounds, the sentence becomes much more severe) without a medical cannabis card, you could face felony charges with up to 5 years in prison and a $5,000 fine.
For those who have a Florida medical marijuana card, the purchase limits were recently changed in August 2022. The new regulations state that up to 2.5 ounces of smokeable flower can be purchased over a 35-day period, and 24,500mg of concentrated THC can be purchased over a 70-day period. The daily purchase limits are as follows:
60 mg of edibles
350 mg of vape products
200 mg of capsules and tinctures
190 mg of sublingual and suppositories
150 mg of topicals
Additional laws that you should know include delivery and home cultivation. If you are a registered medical marijuana patient in Florida, you can get your weed delivered to you. Unfortunately, registered medical cannabis patients cannot grow their own weed; however, there have been recent initiatives to change this. While none have made it to the ballot, there is increasing support for the movement.