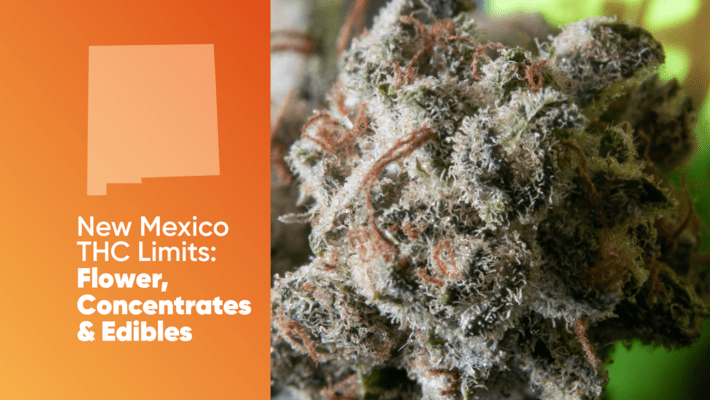 THC Limits in New Mexico: Flower, Concentrates & Edibles
Every state has unique consumption, potency, and purchasing laws and regulations - this is especially true because of the current illegal status of cannabis on the federal level. So long as cannabis is outlawed federally, individual states that have legalized cannabis (either medicinally and/or recreationally) will not have the direction for adherence to a cohesive set of regulations. Because of this, it's important to have a solid understanding of the cannabis laws for any state you live in or plan on visiting. Let's take a quick look at the major New Mexico marijuana laws.
Cannabis in New Mexico
First, we must address the question, "is weed legal in New Mexico?" The answer is a resounding yes. New Mexico legalized medical marijuana in 2007 and became one of the most recent states to legalize recreational marijuana with the Cannabis Regulation Act in June 2021. The first New Mexico recreational dispensary opened its doors in April 2022.
Medical and Recreational New Mexico Weed Laws
As mentioned above, medical and recreational cannabis is legal in New Mexico. However, the laws surrounding each type of cannabis purchase and consumption vary. The most impactful difference is qualification requirements. Recreational and medical marijuana each have different age requirements, which we will discuss below. To qualify for purchasing recreational marijuana, an individual needs to meet the age requirement of 21 years or older and have a valid form of identification (i.e., state driver's license or passport). Medical marijuana, however, has a much more stringent qualification process.
To purchase and use medical marijuana, an individual must have state-issued identification, have guardian permission or meet age requirements, and have one of the following medical conditions:
Alzheimer's Disease
Amyotrophic Lateral Sclerosis (ALS)
Autism Spectrum Disorder
Cancer
Crohn's Disease
Damaged Spinal Cord Nervous Tissue
Epilepsy/Seizure Disorder
Friedrich's Ataxia
Glaucoma
Hepatitis C
HIV/AIDS
Hospice Care
Huntington's Disease
Inclusion Body Myositis
Inflammatory Autoimmune-mediated Arthritis
Intractable Nausea/Vomiting
Lewy Body Disease
Multiple Sclerosis
Obstructive Sleep Apnea
Opioid Use Disorder
Painful Peripheral Neuropathy
Parkinson's Disease
Post-Traumatic Stress Disorder (PTSD)
Severe Anorexia/Cachexia
Severe Chronic Pain
Spasmodic Torticollis (Cervical Dystonia)
Spinal Muscular Atrophy
Ulcerative Colitis
Like most states, medical marijuana cards may be provided to patients who do not fall into one of the conditions listed above.
Age and Law

Even though there is no federal regulation, one thing that is standard across all states is that you must be 21 years or older to purchase, possess, or consume recreational marijuana. This holds in New Mexico. Most states also agree on the minimum age for medical cannabis users as 18 years or older, and New Mexico also falls in line here. Exceptions are made for certain medical conditions. In these instances, minors require the approval, registration, and medical supervision of a caregiver or custodial parent and legal guardian. Additionally, primary caregivers of medical cannabis patients must be at least 18 years or older to purchase and transport cannabis to the medical marijuana patient they are responsible for.
On top of age laws, there are a few other cannabis laws that New Mexico implements that you're likely to find in other states:
Smoking or consuming cannabis in public in any capacity is illegal
Underage possession is illegal, as is giving/selling cannabis to a minor
Driving under the influence of cannabis is illegal
Cannabis (with a THC percentage of more than 0.3%) cannot be transported across state lines, even to states that have also legalized cannabis
Possessing or using cannabis in national parks and forests is illegal
New Mexico Cannabis Purchase Limits
If you're looking to purchase cannabis as a recreational user in New Mexico, you should note that the current New Mexico weed limit for flower is 2 ounces per purchase. The per purchase limit for concentrate is 16 grams, and the limit for edibles is 800mg. However, there is a loophole in New Mexico pot laws, wherein there is no limit on how many purchases you can make in a single day, week, or month. However, New Mexico medical pot laws dictate a limit of 15 ounces of cannabis every 90 days for patients with medical marijuana cards. For both medical and recreational cannabis, there is currently no New Mexico THC limit except for in edibles, which is 10mg per serving, like in many other states. Additionally, adults and medical patients are allowed to cultivate up to six mature and six immature cannabis plants in their homes.
As an adult user, if you are found possessing more than the 2 ounces legally allowed, you may be charged with a misdemeanor, up to 1 year in jail, and a $1,000 fine. If you are found possessing more than 8 ounces of cannabis, you could be charged with a felony, up to a year and a half in prison, and up to $5,000 in fines. Cannabis is still legal, but there may be consequences for breaking the purchasing and possession limits, so make sure to keep these in mind!
Do you live in New Mexico? Let us know how the laws affect you as a cannabis consumer and what you wish would change. Comment below!