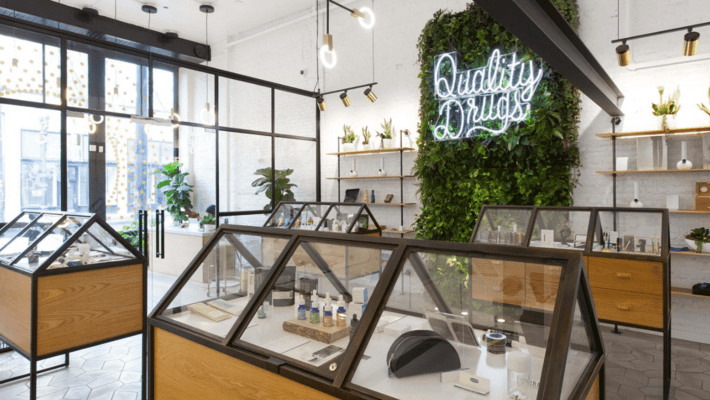 Guide to Buying Legal Weed: What Does a Dispensary Look Like?
While a dispensary might as well be a second home for the legal cannabis industry aficionados out there, those who are new to buying legal weed might have a lot of questions. After all, the experience of heading to a licensed, state-run legal dispensary is far different from buying dime bags from that sketchy dealer that you'd been forced to deal with before. Thankfully, we here at Where's Weed want to provide a go-to guide of what to expect when dealing with a legal, licensed dispensary in one handy place.
This article is going to answer a few key questions that first-timers or inexperienced legal cannabis buyers might have when it comes to dispensaries. What is a dispensary? What does a dispensary look like? What will you need before entering one and what should you be looking out for inside? Which weed dispensaries have are best designed? Basically, we want to take all of the mystery out of going to a dispensary for the first time! So let's get right into it!
What to Know Before Ever Stepping Foot in a Marijuana Dispensary
If you're looking to head over to your local dispensary, you'll need to know a few things before ever setting foot in it. Thankfully, we here at Where's Weed have your back when it comes to all things legal cannabis-related.
Here are some key points you'll need to know about dispensaries before your first visit:
You'll Need an ID
Just like you would need a proper state-issued form of identification to buy something like cigarettes or alcohol, the same goes for legal cannabis. If you live in a state that has legalized recreational cannabis and you're over that particular state's minimum purchasing age, you should be able to present your driver's license at the door to get in. An ID is absolutely necessary, even if you are well over the legal age.
If you're in a medical-only state, however, you'll need a specifically designated medical cannabis card to be allowed in. Some states offer medical cannabis reciprocity, while others do not. Make sure that if you're looking to purchase from a medical cannabis dispensary, you have a medical cannabis card with you. If you're looking to get a medical cannabis card, check out Leafwell to set up a telehealth appointment today.
Most Dispensaries Are Cash-Only Businesses

Due to the outdated and racist Nixon-era War on Drugs policies, cannabis is still considered a schedule 1 substance, putting it in the same category as drugs like heroin, LSD, peyote, and ecstasy. While other nations like Canada, Uruguay, South Africa have all legalized cannabis with little to no societal harm. As a result, the U.S. is still taking a state-level patchwork approach to cannabis legalization. Due to that federal status, legal cannabis dispensaries are limited in the banking institutions that they have access to. That means that despite cannabis businesses being legally licensed and allowed, the vast majority need to operate as cash-only businesses due to the lack of banking infrastructure that can work with them.
Thankfully, most dispensaries have ATMs on-site for customers who might not have known about the cash-only status. But if you're looking to avoid the ATM fees and save yourself a little time before getting your products, then make sure you come prepared with more than just a credit card.
Dispensaries Are Discrete
While this might come as a surprise to many legal cannabis novices, modern-day dispensaries are designed to blend into their surroundings, not stand out, and be discrete. Dispensary design standards for the modern age call for sleek, earthy wood paneling, glass panels, and a modern, up-scale aesthetic. After all, if a newly legal industry is going to change its public perception, it will need to break out of the old-school black market, underground aesthetic that so many old-school stoners are used to. Think of a dispensary like an Apple store for pot!
It's likely that you've driven by a dispensary in town without ever even noticing it's there. That's why apps like Where's Weed exist, to help you track down the dispensaries hidden in town and make the best choice as to where to spend your hard-earned money.
The Modern-Day Luxury Dispensary
While pretty much every modern-day dispensary is built to be modern, sleek, and discrete, some go above and beyond in their design choices. These unique dispensaries feature all of the bells and whistles when it comes to exceptional design and, as a result, are some of the most luxurious dispensaries you'll ever step foot in.
With that in mind, we've assembled a list of some of the best examples of top-notch dispensaries around the country as examples of the best dispensary design possible. Here are some of the best:

For the first example on our list, we're heading out to Scottsdale, Arizona. Taking on the aesthetic of an upscale, modern-day apothecary, Level Up's interior design is the perfect mix of intimate and energetic. From its emerald green walls to the old-school lamps, hardwood floors, and glass display cases, this dispensary is a fusion of the modern with the old and new. It's visually striking to enter and leaves a serious impression on first-time customers. It's a subtle yet luxurious way to buy your cannabis, and we recommend it for sure!

For the next dispensary on our list, we wanted to highlight a place with a unique yet casual vibe. That's where Ajoya comes in! This gorgeous medical-only dispensary based in Lakewood, Colorado, is that perfect mix between old-school and modern cannabis culture mixed into one.
While the hardwood and checkerboard tile floors, glossy wooden front desk, and display set-ups give you that feeling of a newly built, modern dispensary, the jars and storage of cannabis on the shelves, vintage style tee-shirts, and groovy wall art all give the feeling of some of the original medical cannabis dispensaries to open in Colorado after medical legalization.
If you're looking to pick up some medical cannabis and want somewhere with a combo of throwback and new-school style, you can't go wrong with Ajoya.

For the last dispensary on the list, we wanted to include a truly unique and luxurious dispensary for anyone in and around the Portland, Oregon, area. This one-of-a-kind dispensary in downtown Portland is like stepping into another dimension. From its standout dark-colored exterior to the unique, old-school druggist-style interior, complete with a light-up sign reading "quality drugs," this dispensary is the epitome of modern cannabis luxury shopping experiences.
Full of natural light, incredibly stylish, and full of helpful and knowledgeable budtenders, a stop by this dispensary the next time you're in the Pacific Northwest is a must!
Did you find this guide helpful as a first-timer? Let us know below!