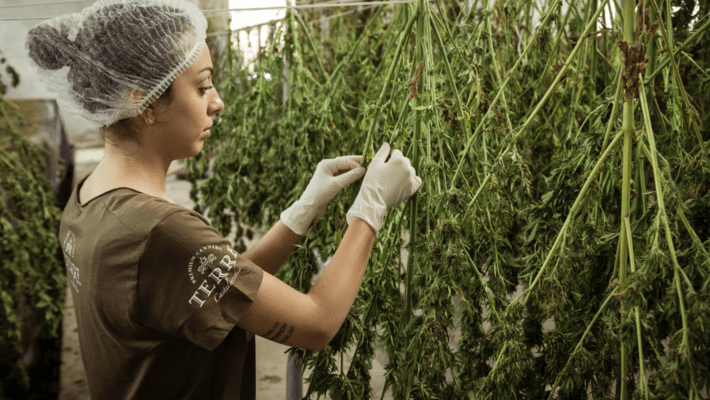 How to Get Hired at a Dispensary: Top Four Tips on How to Get a Job at a Dispensary
If you had to bet on what type of job is one of the fastest-growing, best paid, and most in-demand all over the U.S., which industries would you place your money on? Probably somewhere in the tech sector, right? Or maybe into something like the renewable energy industry? Well, surprise! Those jobs are actually in the ever-growing legal cannabis industry!
As of 2021, there are more than 321,000 full-time cannabis industry jobs. And that number is only going to grow larger as more and more states legalize either medically, recreationally, or both! Some of those jobs have already unionized offer competitive pay and reasonable hours. That's a key reason why so many who have left their retail, customer services, and food industry jobs have retrained and found homes in the legal cannabis industry.
So how do you get a cannabis industry job yourself? Well, thankfully, we here at Where's Weed have you covered on all things cannabis when it comes to how to get jobs in the cannabis industry. This article is going to be your go-to guide for how to look for and find entry-level cannabis jobs, what legal marijuana jobs and cannabis careers are available in mass, and finally, how to get a job at a dispensary. We'll even provide some helpful tips on what you should do to prepare and best equip yourself for the MMJ jobs of the future.
So with all of that in mind, let's get right into it!
The Most In-Demand Cannabis Industry Jobs
Just like pretty much every other growing and evolving industry, the legal cannabis industry is about more than just knowing how to be a good budtender. There are tons of different types of cannabis industry jobs that you can get, regardless of whether you have prior working experience, a specified degree like accounting, hospitality, or business admin, or are just an entry-level retail worker looking for better pay, working conditions, and hours.
Here's a quick breakdown of a few different types of highly in-demand cannabis industry jobs:
Budtenders
Business Administrators
Security Guards
Growers
Trimmers, Harvesters, and Cultivators
Dispensary Managers
Courier
Let's go a little bit more into detail on each of these jobs, what they pay, and the type of people that would be best suited to fill them!
Budtenders

If you're a people person, good at communicating and interacting with customers daily, and have a good bit of knowledge about the cannabis industry, then being a budtender is a good bet for you. This job offers the most direct line between customers and cannabis, gives you a chance to help those looking for the right strains and products for them, and usually pays somewhere between $21-40K per year. Overall, the budtender is one of the most important cannabis industry jobs in cannabis retail spaces.
Security Guards
Are you a retired cop, armed services member, or bodyguard/bouncer looking for a little bit of extra, easy cash? Well, look no further than the legal cannabis industry for that payday. It's a pretty easy job. All you need to do is check IDs at the door before letting people step into the dispensary, make sure nobody is there to cause trouble and keep the location safe. While it might not make for a proper full-time job, it's an easy way to make a few bucks and ensure that the legal cannabis inside that dispensary goes out to only paying customers.
Business Administrators

Like every other retail store in town, legal cannabis dispensaries are businesses. They're responsible for hiring, payroll, taxes, and following the business and cannabis laws of that particular state and community. To run smoothly, they each need someone whose job is solely to make sure things happen the way they need to. That's where the business admins come in.
While the vast majority of the business admin jobs at dispensaries currently have come from other industries over to the legal cannabis industry, many colleges and universities are now offering specialized cannabis-specific degrees and certificates.
Growers
One of the most important jobs in the legal cannabis industry is that of the grower. After all, without someone to grow and foster the plants, we wouldn't have a real industry at all.
Most growers tend to be cannabis industry aficionados with a highly specialized set of skills. They know how to nurture, feed, and cultivate plants to get the most yield, making them incredibly valuable to any legal cannabis business. That's a key reason why they fetch somewhere between $50-120K in salary.
Trimmer, Harvesters, and Cultivators

Usually working under the instruction of the master grower, these workers are the people who take the cannabis from its raw, plant form to the smokable product you get at the dispensaries.
Trimmers are in charge of cutting the excess plant matter away from the buds before drying them out. Harvesters are the people picking the buds and smokable material off the cannabis plants themselves, making them like apple pickers on the orchard. And cultivators are the folks who work directly under the master grower, getting hands-on with each plant on a daily basis to make sure it produces the best quality cannabis possible.
Dispensary Managers
Every workplace needs some type of manager. After all, the entry-level and part-timers need leadership, someone to ask questions to, and someone to point them in the right direction when they don't know what to do. That's where leadership like the dispensary manager is so needed.
These workers usually come into the industry with some level of managerial experience already. In recent years, we've seen workers from the retail and food industries find better working conditions, better hours, and better pay by making the switch to the legal cannabis industry.
Courier

In today's modern age, it's possible to get pretty much anything you want to be delivered. The COVID-19 pandemic brought the cannabis industry into this conversation as well! That's where couriers come in.
If you live in a state where cannabis delivery is available, someone needs to be on staff at the dispensary to do just that. This entry-level cannabis industry job is a great stepping stone to figuring out how to get hired at a dispensary!
Tips to Get a Cannabis Industry Job
Now that we've broken down in detail some of the most sought-after jobs in the cannabis industry, we have some helpful tips on how to land some of them! After all, you'll need to do more than just check the classified sections for ads that say "dispensary hiring near me" or read articles online about how to be a budtender to land those gigs.
Here are a few tips before you send that application to your local dispensary:
Know Your Stuff
If you were looking to hire someone to write a blog about sports, you would obviously prefer to hire someone really knowledgeable about sports to do so, right? So why would the cannabis industry be any different?
If you're looking to work in your local dispensary, do your research on the products the dispensary sells. Knowing what they offer and the upsides/downsides for each product will go a long way to getting you a dispensary job!
Be Adaptable

Legal cannabis is a new and ever-evolving industry. That means new products, trends, and developments are constant. That also means that you need to be adaptable. There aren't a lot of people with specialized degrees and certificates to work in the cannabis industry yet, which means most workers will be transplants from other industries. Bring the skills that helped you thrive with you into your new dispensary job, and you'll likely nail that next cannabis industry interview!
Start Small, Grow Later
The cannabis industry is a brand new thing. Most of the cannabis industry aficionados, the OG's of the legal weed game, are already well-established. But with the recent growth of the legal industry, more workers with less direct cannabis experience are needed. You can take advantage of this.
It's possible for you to come in as an entry-level job, do your time with better pay, working conditions, and hours, then grow into larger roles as the industry expands. You're getting in at the ground level of an ever-growing legal cannabis industry. That means a whole lot if you're looking to build and pad your resume for the future!
Be Willing to Chase Your Dream
If you live in one of the many states in the U.S. that still doesn't allow for legal cannabis, then you'll need to be willing to seize the opportunity to follow your dreams. If you need to move across state lines to get that legal industry dispensary job, you need to be prepared to do that!
While universal federal legality is coming, it's still a long way off in many places. If you're trying to work in the legal cannabis industry, getting in on the ground floor of a multi-billion dollar growing industry, you need to be prepared to relocate and chase those dreams!
Have you been thinking about a job in the cannabis industry? Did you find this article helpful? Let us know what tips worked best for you below!