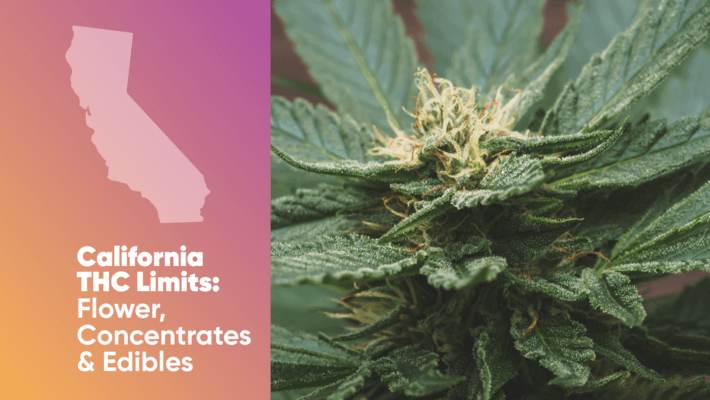 California THC Limits: Flower, Concentrates & Edibles
Because cannabis isn't federally legal and there is no unified regulatory body, every state has different consumption, potency, and purchasing laws and regulations. If you live in California or are visiting California anytime soon and want to know its laws and regulations regarding cannabis, this piece is for you. Let's take a dive into California cannabis limits for flower, concentrates, and edibles.
Cannabis in California
First off, is weed legal in California? Yes! California is a significant state for cannabis in the United States, as it was the first to legalize medical marijuana in 1996 with the Compassionate Use Act. Then, in 2016, it legalized recreational marijuana four years after Colorado and Washington became the first two states to do so. In 2022, California is one of 19 states (plus Washington, D.C.) to have legal recreational marijuana and one of 36 to boast a medical marijuana program of some sort.
California has the most lucrative cannabis industry in the nation, with $5.2 billion in 2021 legal recreational and medical marijuana sales. It is also important to note that while the use of cannabis is legal everywhere in California, the state leaves it up to individual counties, municipalities, and cities to determine whether they will allow the sale of marijuana. We will go into why this is so significant in a moment when we go over California weed laws.
Medical and Recreational Cannabis Laws
As we mentioned above, medical and recreational cannabis are legal in California and so are telehealth services with cannabis doctors. Recreational cannabis is legal for anyone 21 years or older, and medical marijuana is legal for individuals who qualify under one of the following conditions:
Acquired Immune Deficiency Syndrome (AIDS)
Anorexia
Arthritis
Cachexia (Wasting Syndrome)
Cancer
Chronic Pain
Glaucoma
Migraine
Severe Nausea
Persistent Muscle Spasms
Seizures
Chronic medical conditions that limit life activities or may cause series harm to your safety, physical or mental health
Additionally, doctors have successfully recommended patients with various other conditions, including insomnia, depression, anxiety, Post-Traumatic Stress Disorder (PTSD), and more.
As you've probably noted, many of the medical conditions and symptoms on the list above are very broad and may qualify a large portion of the population. Unlike many other states with legalized medical cannabis, California makes the qualification and process of getting a medical marijuana card relatively simple. Additionally, primary caregivers are also allowed to purchase and deliver marijuana to a patient enrolled in the state's medical marijuana program. Primary caregivers must be at least 18 years old and may include a parent or individual associated with a clinic, hospice, or home health agency.
While cannabis sales in California are massive, and the state itself is synonymous with cannabis culture, it's important to note that a whopping 62% of California cities and counties do not allow the cultivation, distribution, or sale of recreational marijuana of any kind. Medical cannabis is more accessible, but roughly 56% of cities and counties do not allow any sort of cannabis business. While the possession limits are the same in each of the municipalities that allow for recreational cannabis, the various equity laws vary slightly.
Age and Law

As with every other state that legalized recreational marijuana, an individual must be at least 21 years old to purchase, possess, and use recreational (adult-use) cannabis. However, you need only be 18 years old to apply for a medical marijuana card and use cannabis if approved under one qualifying medical condition.
There are a few other laws that apply to California the same way they apply everywhere else.
Consuming cannabis in public is illegal (this includes smoking, vaping, applying topicals, or eating edibles)
It is a criminal offense to sell or provide marijuana to a minor.
Cannabis cannot be possessed or consumed on federal land, including national parks, forests, and beaches.
It is illegal to take cannabis across state lines, even if you're traveling from California to a state like Oregon, where cannabis is also legal.
It is illegal to drive while under the influence of cannabis.
California Cannabis Purchase Limits
The amount of cannabis you can purchase should be the same regardless of what county or municipality you find yourself in. For recreational cannabis, adults 21 or older are allowed to possess up to 28.5 grams of plant material (roughly one ounce) and up to eight grams of cannabis concentrate (this includes anything from tinctures and edibles to topicals). This limit increases significantly for medical marijuana patients, who are allowed to possess up to eight ounces of cannabis. In fact, the California medical concentrate limit is tied to the cannabis limit - medical laws do not differentiate between plant matter and concentrate. For both medical and recreational users, the California THC limit in edibles is 10mg per serving, and there is no such limit given to plant matter. Possession over the legal limit may result in misdemeanor charges, fines up to $500, and jail time up to 6 months (although this level of sentence is often not given).
Do you live in California? Let us know how the laws affect you as a cannabis consumer and what you wish would change. Comment below!