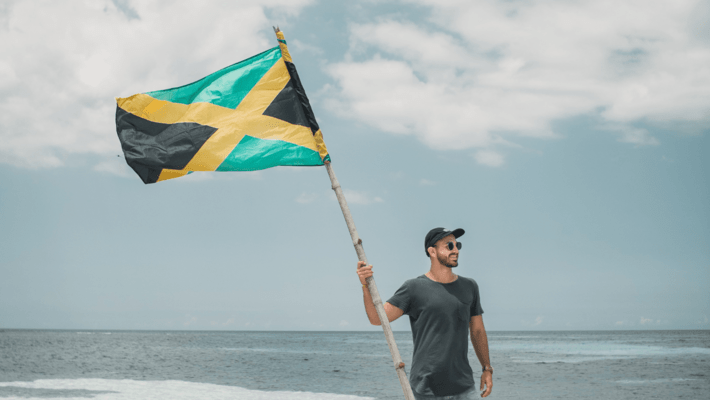 Can I Get Arrested in Jamaica for Smoking Weed?
When you think of Jamaica, the first thing that comes to mind might be the beaches and reggae music. Or it might be an icon like Bob Marley or Usain Bolt. Or maybe it's the weed.
Jamaican weed, or "ganja," is famous worldwide. It's a cornerstone of the Rastafarian religion and an essential aspect of island culture for some. But did you know that ganja was illegal in Jamaica until 2015? Until then, possessing any amount could get you arrested and thrown in jail.
Amendments to the Dangerous Drug Act in 2015 decriminalized ganja across the island. But decriminalization isn't the same as legalization. And you can't just buy weed in Montego Bay after landing at the airport like you're grabbing snacks for the road.
If you're planning to visit Jamaica for vacation, you might wonder if you'll get arrested for smoking weed there. Read on to learn about Jamaica's laws for tourists.
Jamaican laws and regulations on weed
In Jamaica, cannabis is only legal for scientific, medical, or research purposes. There's also an exception for practitioners of the Rastafari faith who smoke ganja as a religious rite.
Recreational ganja isn't explicitly legal. But you won't be prosecuted for possessing small amounts for personal use. How small, you ask?
Under current Jamaica weed laws, you can possess up to 57g (2 oz) of ganja for personal use without being arrested or charged. To put that in perspective, the average joint contains around 0.32g of weed (0.01oz.), so 2oz. is a lot for one person.
If you're caught carrying 2oz. or less in public, the police can fine you $500 (about $3.30 USD). On the flip side, carrying more than 2oz. of weed is still a criminal offense that can get you arrested.
Is it legal for tourists to buy weed in Jamaica?
Now that you know you won't get arrested for possessing up to 2oz. of ganja for personal use, how do you get your hands on it?
You don't have to look far for weed in Jamaica. You'll find it all over the island at local bars and beaches. Keep in mind it's illegal to buy from private sources in Jamaica.
Tourists can legally buy ganja from CLA-licensed herb houses with a medical cannabis prescription. An herb house is essentially a Jamaican dispensary, and all of them have medical personnel, a doctor or nurse, that will issue a medical card within a few minutes.
Forget the clinical dispensaries you might be used to stateside. Herb houses are unique, boutique experiences exclusive to the island. Imagine putting a MedSpa and an Amsterdam coffee shop into a blender.
You can buy tinctures, edibles, extracts, and other goodies from the budtenders. And, of course, the local ganja strains.
Another perk of buying from a dispensary is that medical cannabis isn't subject to the same $500 fine as recreational ganja. So, if you have a valid prescription, you won't be fined for carrying up to 2oz.
Do I need a Jamaican medical cannabis prescription to buy weed?
If you've got a valid medical cannabis prescription from your home country, you can use it at a Jamaican herb house.
Tourists can also get a medical cannabis card from a qualified Jamaican doctor. To qualify, you must be 18 years or older and have a valid ID.
Jamaican legislation doesn't specify qualifying conditions for a medical cannabis prescription. Doctors can provide recommendations for mild conditions like anxiety, nausea, or chronic pain.
Once you have the valid paperwork, you can buy weed at herb houses. You'll find them in popular tourist spots like Montego Bay, Negril, Kingston, and Ocho Rios.
Is it legal to smoke weed in Jamaica?
Once you've got your hands on some ganja, can you smoke it legally?
In Jamaica, smoking weed in public places is illegal. But that also goes for tobacco cigarettes.
Luckily, most herb houses have private smoking rooms where you can sample what you just bought. Another option is to stay at a 420-friendly hotel that are popping up across the island.
Looking to chill, soak in some sun, and score legal weed?
As you might expect, weed tourism is big in Jamaica. Ganja-friendly resorts are a prime example of that. These unique resorts have designated smoking areas where you can kick back and relax with other like-minded weed lovers. Believe it or not, some hotels even have a license to grow and dispense ganja themselves. No need to make an extra trip to an herb house.
Companies like GanjaVacations can even provide you with legal weed alongside your hotel booking. They can also help you book weed-related activities - like a ganja farm tour.
The GanjaVacations website is the only place to find the information you need to plan a weed-friendly vacation. Explore deals for ganja-friendly resorts, health and wellness spas, dispensaries, Rasta tours, and more.
Check out their 420 deals for a complete list of available vacation packages. Don't see exactly what you are looking for? They can customize a package just for you, whether you're traveling alone, as a couple, or with a group.